Although disposable masks are handy, they are also expensive, environmentally harmful, and require pre-purchase planning to have them on hand when needed.
If you feel this way, a reusable face mask is a great choice. Not only are they cheaper over the long run, but they are often more comfortable and more environmentally friendly. On top of this, if it's important to you, reusable face masks can even be fashionable!
These days, there is a massive variety of reusable masks out there, and a large number of them are excellent devices. Unfortunately, at the same time, there are also a lot of masks that don't meet expectations in regard to performance, fit, or comfort.
When it comes to the best reusable masks, you will often hear of the most popular brands. Namely, Cambridge Mask, Vogmask and Airinum. However, these are far from the only reusable mask options. Especially over the past couple of years, many companies have entered the space.
This makes it hard to figure out exactly which device is the best for your needs. With the significant market saturation and so many available devices, how can you choose which reusable mask is best?
In this article, I hope to help make this choice clearer. Over the time I've spent running BreatheSafeAir, I've had the opportunity to try hundreds of masks and respirators. Some of them I've even reviewed on this site!
With my experiences, I wanted to create a list discussing the best reusable masks and the pros and cons of each. When it comes to masks, there is no one-size-fits-all, so I won't recommend any particular device. Instead, I hope to provide accurate information and experiences about each device that can allow you to choose the best reusable mask for your needs.
With that being said, let's have a look at some of the best reusable masks currently on the market. Most of these mask brands are quite well-known, but there might be a few that you haven't heard about before!
Finally, before beginning, there are a few disclaimers that need to be mentioned:
Masks on this list are intended for general (public) use and should not be used in professional settings. If you are in a professional environment, get training and professional advice before deciding on a mask or respirator.
This article is intended to discuss masks in the context of air pollution protection.
No reusable face mask or respirator is effective unless it is fitted correctly. While fit testing requires professional training, some level of protection can be achieved by doing pressure checks and following the fitting steps.
I have only included masks that I have personally used and reviewed previously on this website. If a reusable face mask is missing, it's likely because I haven't yet had the chance to try it.
Note: This article is about the best reusable masks (all have filtration testing, but not all are certified/approved in a standard). You may be interested in these articles: Best certified disposable masks or best half-face respirators.
---
This post contains affiliate links. For more information, please refer to my affiliate disclaimer. I was sent a product for review, but the article is not sponsored. All opinions expressed in this post are my honest thoughts. I only recommend products that I genuinely believe in.
Information on this blog is for informational purposes only. Readers are encouraged to confirm the information herein with other sources. Furthermore, this information is not intended to replace medical advice from professionals. This website assumes no responsibility for the accuracy of the information, and information is subject to change without notice. Devices mentioned on this website are not medical devices and do not guarantee protection.
---
Why Pick a Reusable Face Mask?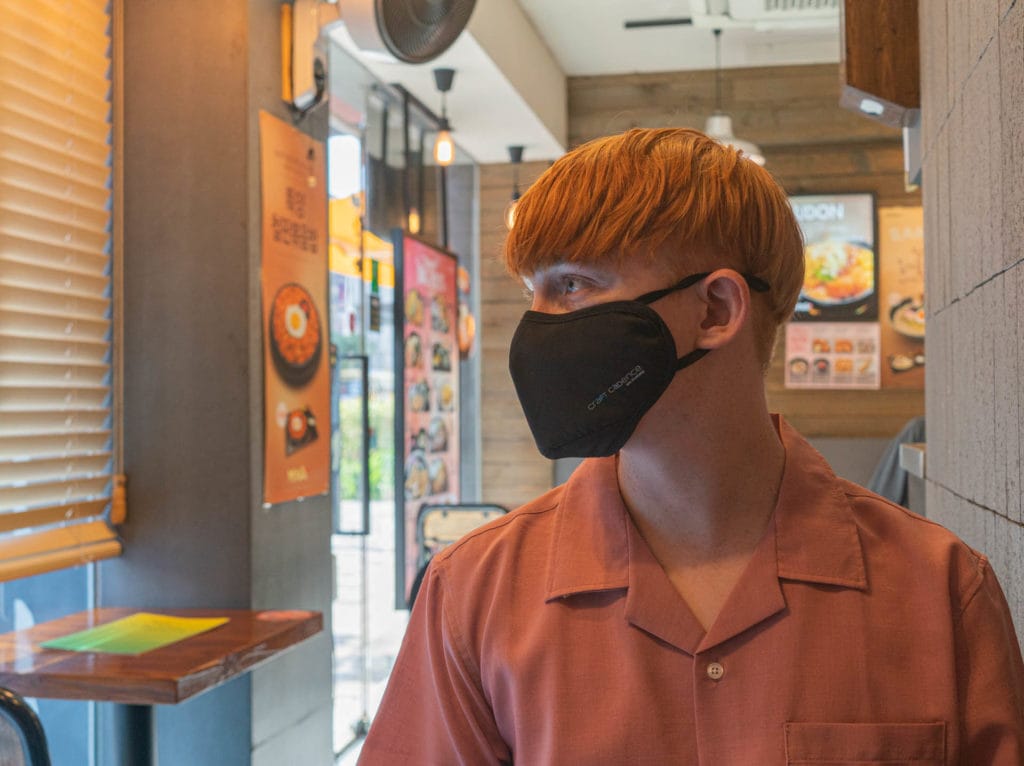 Looking for an anti-viral mask? Check out my Craft Cadence Nanofiber Mask review.
The introduction briefly touched on some of the benefits of a reusable mask. However, for anyone still on the fence about reusable masks, it's worth diving into some of these devices' benefits.
Reusable face masks are cheaper. Although they require a higher initial investment, reusable masks generally last longer. Disposable masks typically only last for around 8 hours each. On the other hand, reusable masks are often rated for 50+ hours (per filter). Over time, the costs balance out, and reusable masks become cheaper. Of course, some masks and replacement filters are more pricey than others.
Reusable face masks are more environmentally friendly. While reusable masks still create waste, they can significantly reduce our environmental impact compared to disposable masks. Filters last longer, filter media is smaller, and
Reusable face masks can be washed. This means it's possible to keep the mask clean and allows the mask to last longer. This is most applicable on masks with a user-replaceable filter where the filter can be removed when washed so as not to degrade filtration performance.
You can pick a mask design that suits you. Whether you want something that blends in or stands out, you can find a design that you like with a reusable mask.

---
Best Reusable Cloth Masks
There are many different reusable mask companies out there, and I couldn't include them all on this list. I will be making sure to update this list in the future and to add new companies when I encounter them.
I wanted to include companies that have a relatively strong international presence. Many countries have domestic reusable mask producers, but many of these (especially in the cases of countries like Korea and China) don't ship internationally.
If there is anything that you would like to see added to this list, please leave a comment, and I will add the mask when I can. Currently, all masks on this list have individual reviews. Please feel free to check out the full reviews for more details.
This list is in no particular order.
1. AusAir AirWeave
The AusAir AirWeave Merino Mask is a premium reusable mask I often wear. This is AusAir's second-generation mask, coming after the AirFlex listed below. In my opinion, it's also a better mask than the AirFlex in every way – the only downside in comparison is the higher price tag.
The AirWeave Merino Mask uses wool Helix filters from Lanaco in New Zealand. This filter media was chosen by NASA to be used on the ISS. It's a capable filter media that allows the device to filter ≥99.64% of particles at 0.3μm (most penetrating particle size). Against viral and bacterial particles at 2.9μm and 2.8μm, respectively, the device has ≥98.7% filtration efficacy.
While filtration is essential, comfort also matters. Luckily, both Lanaco's helix filters and the merino mask shell are very breathable. Breathing is not laboured, and it's easy to wear the AirWeave even for long periods.
The biggest downside of this device is that the filters can start to shed fibres after a few uses. These wool fibres can become somewhat irritating as they rub against your face. Luckily, this issue tends to occur mainly on older filters.
Read more – AusAir AirWeave full review
Pros
High filtration results with lab testing
Great breathability
Stylish mask
Uses replaceable filters
Comfortable design and earloops
Earloop sliders for easy adjustment
Cons
Pricey mask with pricey filter replacements
Although the mask is light, it retains heat
It can be hard to seal around the nose fully
Use the code 'BSA15' for 15% off your AirWeave Mask purchase!
---
2. Happy Masks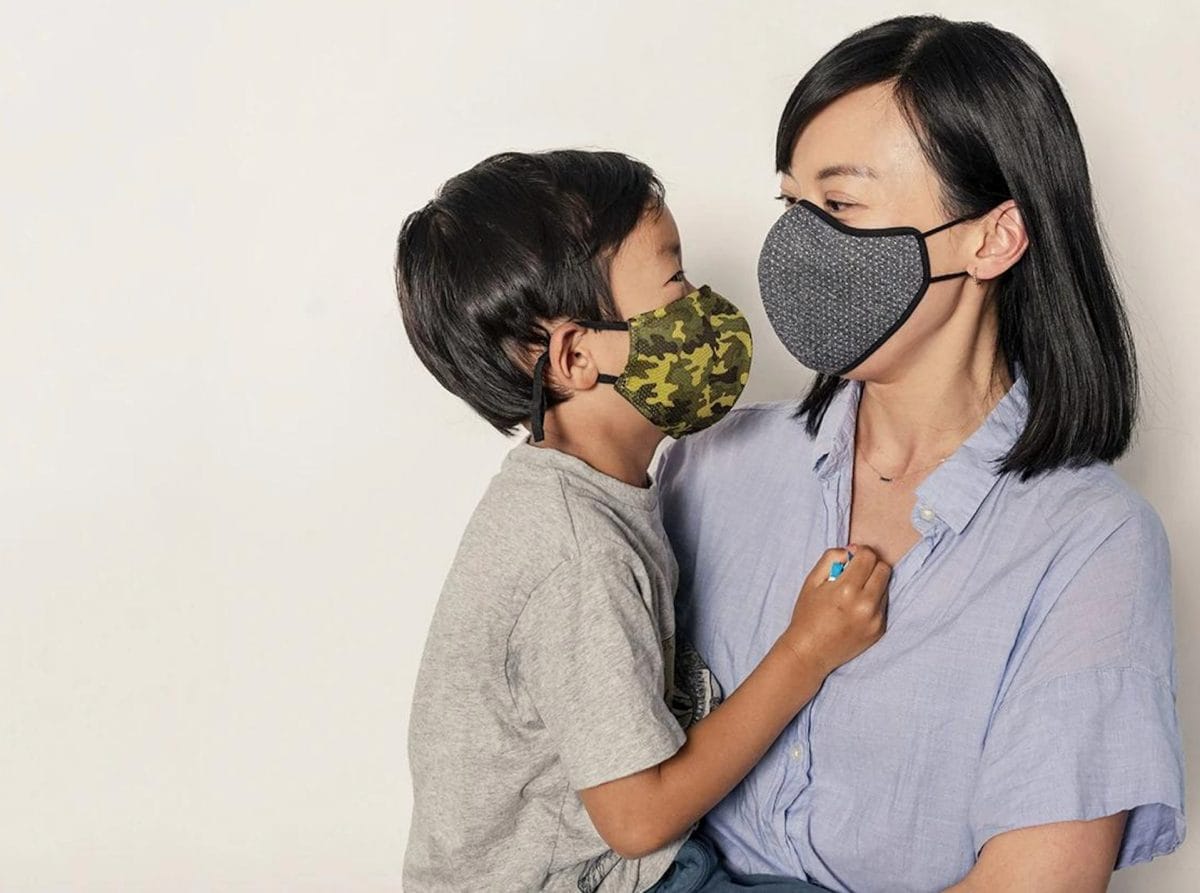 Happy Masks, not to be confused with Happy Mask (no S), are one of my go-to masks for daily wear. They make use of a nanofibre filter that offers high breathability and comfort. This makes Happy Masks easy to don for both long and short trips outside.
These masks have been tested for PFE (particle filtration efficiency), BFE (bacterial) and VFE (viral). In each of the tests, Happy Masks achieved > 99.9% filtration against the test particles. For more details on each test, please refer to the full review (linked below).
Due to the use of a nanofibre filter, Happy Masks are also washable over 50 times. After 50 washes, the recorded filtration under lab conditions was still > 99.9%. This makes Happy Masks truly reusable – especially when compared to masks using more traditional melt-blown filters.
Since experiencing Happy Masks for the first time, they've become my benchmark for breathability. The combination of lightweight materials and a nanofibre filter can make you forget that you are wearing a mask at times (at least when compared to other masks).
Read more – Happy Masks full review
Pros
High filtration results with lab testing
Washable (with minimal loss in filtration) more than 50x
Affordable
High breathability
Cons
No replaceable filters
Mask is very light and can become flimsy after multiple washes
The wire nosepiece lacks strength and can leak at times
---
3. Airpop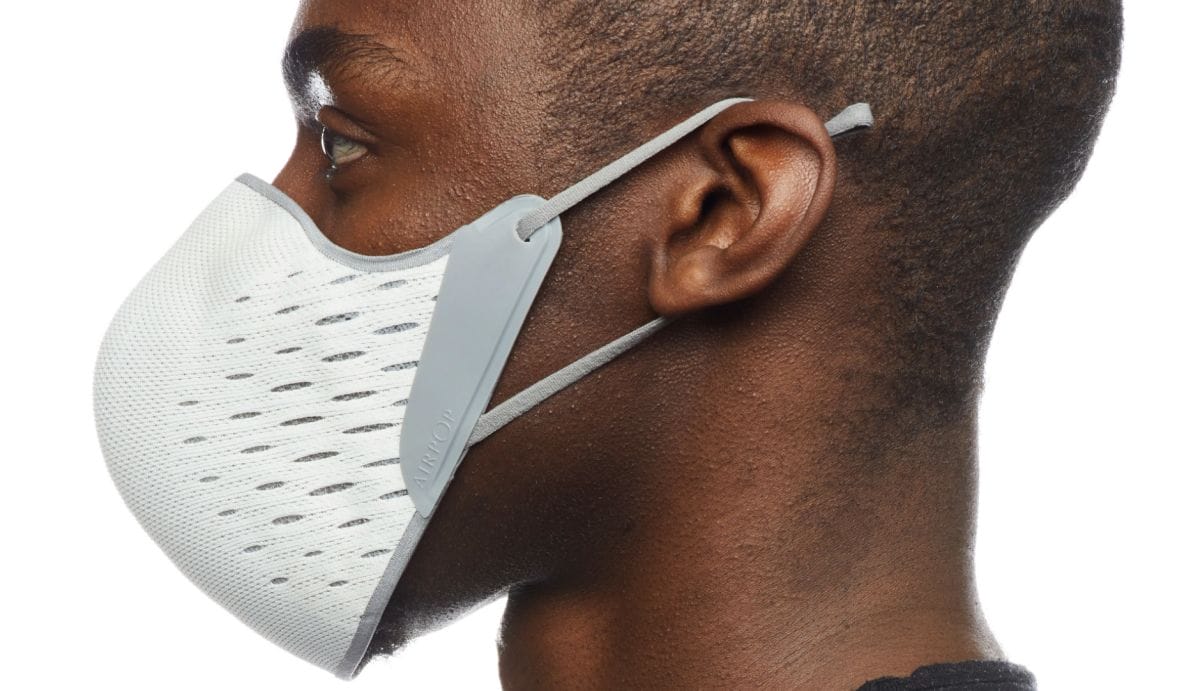 Airpop makes a strong lineup of reusable masks – The Original, Active, and Active+. While all of these masks are similar in design (and hence, fit), the original uses a microfibre outer layer whereas the Active and Active+ use a more breathable 3D Knit fabric. Most interestingly, the Active+ Also features a breathing rate monitor that can identify filters needing replacing.
All the reusable Airpop models use a replaceable filter with a built-in silicone seal. This design allows the filter to seal on all sides – especially around the nose bridge and chin areas. Since the mask is quite large, it also has a large surface area making it very breathable.
When under KN95 testing, all Airpop models passed with > 97% filtration efficiency. Further testing was conducted by SGS using particles at 0.1μm. In this testing, the filters used in Airpop masks showed > 99.29% filtration efficacy.
AirPop is committed to being transparent and strives to get local certifications. As such, reusable masks from AirPop have an extensive range of test results and certifications that are publicly available on their website. When it comes to transparency and testing, AirPop leads reusable masks.
Read more – Airpop full review
Pros
Over 97% filtration efficiency
Over 99% filter filtration efficiency
Large surface area allowing for high breathability
Silicone seal allows for low leakage
Cons
More pricey compared to other options on this list
Large mask that can stand out and partly block eyesight
The Original model can smell bad while new
Save 20% with the discount code 'Breathesafeair20'
---
4. Airgami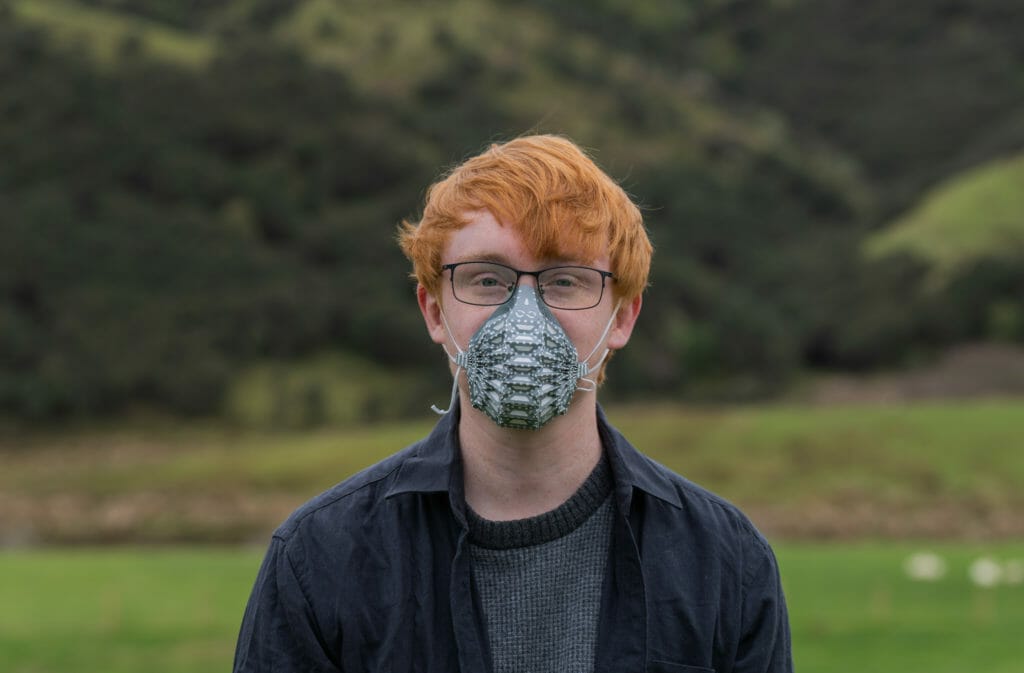 Airgami masks are some of the most interesting masks available. These plastic masks are inspired by origami, giving them a unique design. However, while you'd be forgiven for thinking the design is purely aesthetic, the origami-inspired mask is designed this way for more than looks.
The pleated design of the mask allows significantly more filter surface area to be exposed, allowing for an exceptional level of breathability almost unheard of on a mask of this form factor. With a pressure drop of only around 4mmH2O, this mask is 2-3x more breathable than the typical N95 respirator.
When it comes to filtration, Airgami has passed N95 pre-testing. This means that although Airgami is not currently certified N95, they have undergone filtration and breathability testing per the N95 standard. Airgami passed the filtration testing, and all tested samples achieved > 98% filtration.
Airgami sells masks with both headbands and earloops in a range of sizes. This means that everyone should be able to find a mask that fits them. The choice between headbands and earloops also allows customers to choose which design they prefer – headbands are better for comfort and fit, but earloops are a good choice for convenience.
Read more – Airgami full review
Pros
Has undergone N95 pre-testing
Exceptional breathability
Comfortable, even for long periods
Affordable mask with a long lifespan
No valves (and it doesn't need them)
Cons
The mask is somewhat easy to damage
It needs to be accompanied by a hardshell case for storage
Headbands/earloops can be hard to adjust
---
5. R-PUR FiiT Mask
R-PUR is a french mask company that I hesitate to call a mask company. In many ways, they are more of a fashion company. When you see its website and imagery, you'll quickly see what I mean – there is a strong focus on creating a bespoke mask with various customisations the user can make.
However, while focusing largely on the fashion side of the product, the FiiT Mask is also designed to provide protection. Unfortunately, this mask has only undergone internal filtration testing at this point. However, the filter material used is the same as on the R-PUR Nano Light, a mask with very high filtration.
Even at high flow rates, the breathability of the FiiT Mask and filter remained lower than a standard N95 respirator. Filtration remained high, at > 99%, throughout this testing. However, it's important to note that this testing applies only to the filter media and not the mask overall.
The R-PUR FiiT Mask's biggest downside is its price – it's far from a cheap product. However, the company offers a range of customisations that can be made to each mask, allowing customers to create a mask unique to them.
Read more – R-Pur FiiT Mask full review
Pros
It provides a good fit with the included memory foam
High filtration (albeit lacking third-party lab testing)
Very fashionable mask
Good breathability
Cons
Very pricey
Heavy and quite thick
Earloops can become uncomfortable
---
6. Styleseal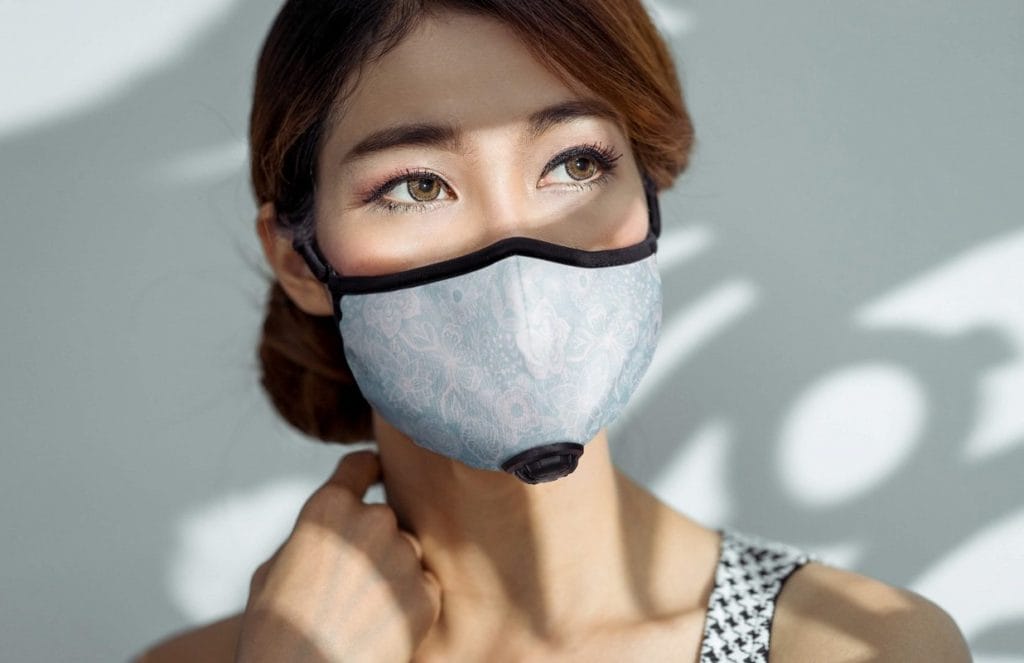 The next mask on this list, Styleseal, is another of my personal favourite masks. These masks are the cheapest on this list that utilises replaceable filters, and they come out at less than half the price of many competing cloth masks such as Cambridge Mask and Vogmask.
The biggest strength of Styleseal masks comes in the form of the filter system that they use. The mask uses a dual-filter system with two separate pieces of filter media that attach to the mask with velcro. These filters are very easy to change, and Styleseal sells a range of filters from > 80% filtration to > 99%. This allows the wearer to choose between filtration and breathing resistance at any time.
Styleseal masks also feature adjustable ear bands and a long wire nose-piece (that covers most of the top of the mask) for a good fit. I've found this mask to be one of the better-fitting cloth masks. Further, the mask is sturdy and doesn't interfere with breathing like other masks.
Styleseal masks come in valve and non-valve variants As such, the non-valved variant should be used when two-way filtration is needed. It's hard to fault Styleseal simply due to the affordability of its devices.
Read more – Styleseal full review
Pros
Very sturdy, meaning that mask collapse doesn't occur
Easily replaceable filters
Flexibility in which filters to use
Comparably very cheap mask and filter replacements
Valve & non-valve variants are available
It creates a tighter seal than many cloth masks
Cons
Some leaks between where the ear straps connect to the mask
Lacks some testing for specific filters
If you use the code SAFEAIR10 at checkout you can get a 10% discount on Styleseal masks.
---
7. Craft Cadence Mask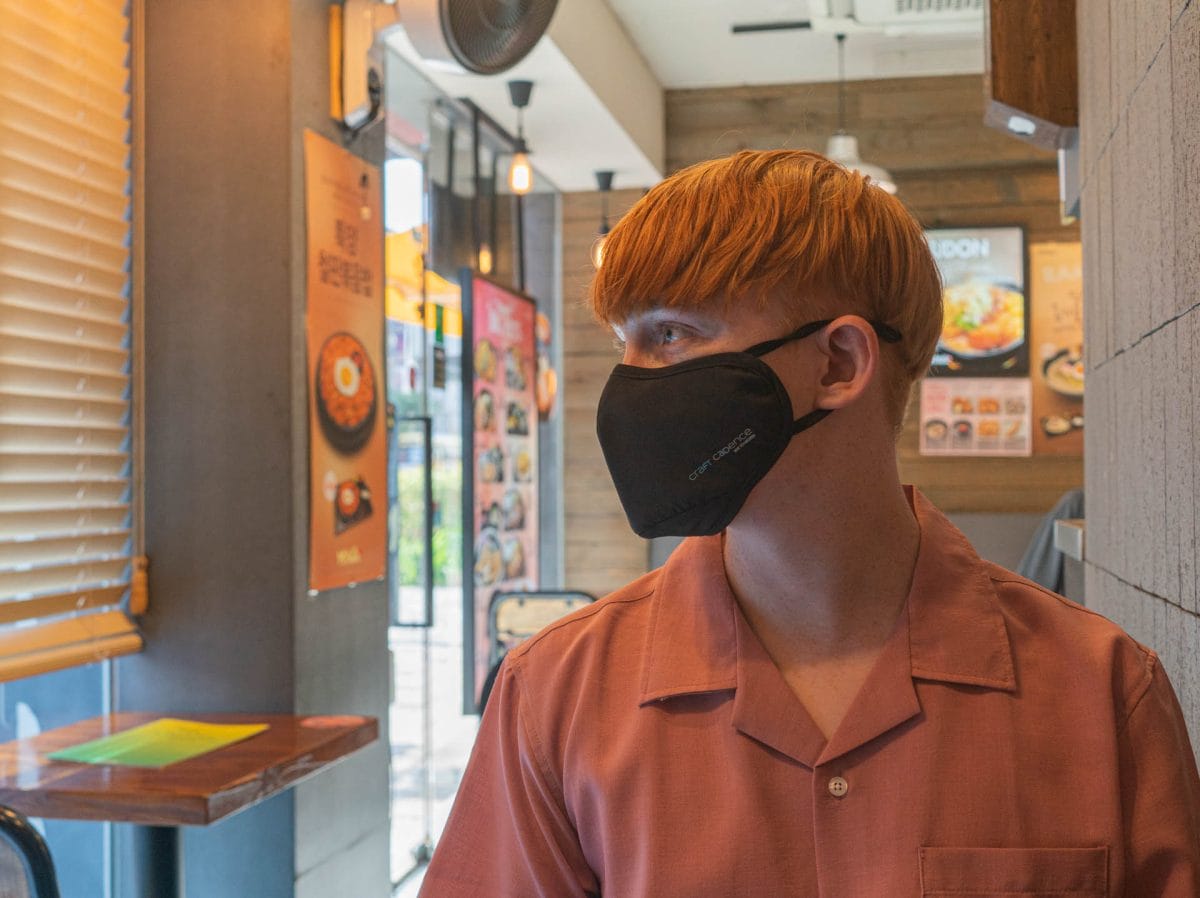 The Craft Cadence Nanofiber Mask is a mask that is somewhat unique in quite a few ways. Most interestingly is that, as the name implies, the mask uses a built-in nanofiber filter. Nanofiber tends to outperform traditional melt-blown filters in both filtration and lifespan – some nanofiber filters can filter effectively even after 30 washes.
On top of this, the mask also features a slot to add extra filters. This means that you can add an extra filter if you are worried about the built-in filter losing filtration efficacy over time. Considering that the mask is very affordable, this advantage makes the Craft Cadence Nanofiber Mask much cheaper than many of the alternatives.
Finally, the mask is also coated in ViralOff. This coating is designed to kill viral particles over a few hours and has been extensively tested. This is an excellent addition as it means that the mask can be left overnight and then is ready to wear again in the morning.
The addition of a chin-wrap on the device also means that there's minimal leakage around the bottom of the mask. Generally, this is part of the mask which commonly leaks. However, on this reusable mask, leakage here is not an issue.
Read more – Craft Cadence Nanofiber Mask full review

Pros
Nanofiber filter means a longer lifespan
ViralOff coating
Allows for replaceable filters
Affordable
Chin-wrap for better sealing
Cons
Thicker mask due to having many layers. This can mean that it's a hot mask to wear in summer
Replaceable filters are very hard to fit correctly
It can be hard to seal the mask around the nose
---
8. Honeywell Dual-Layer Face Cover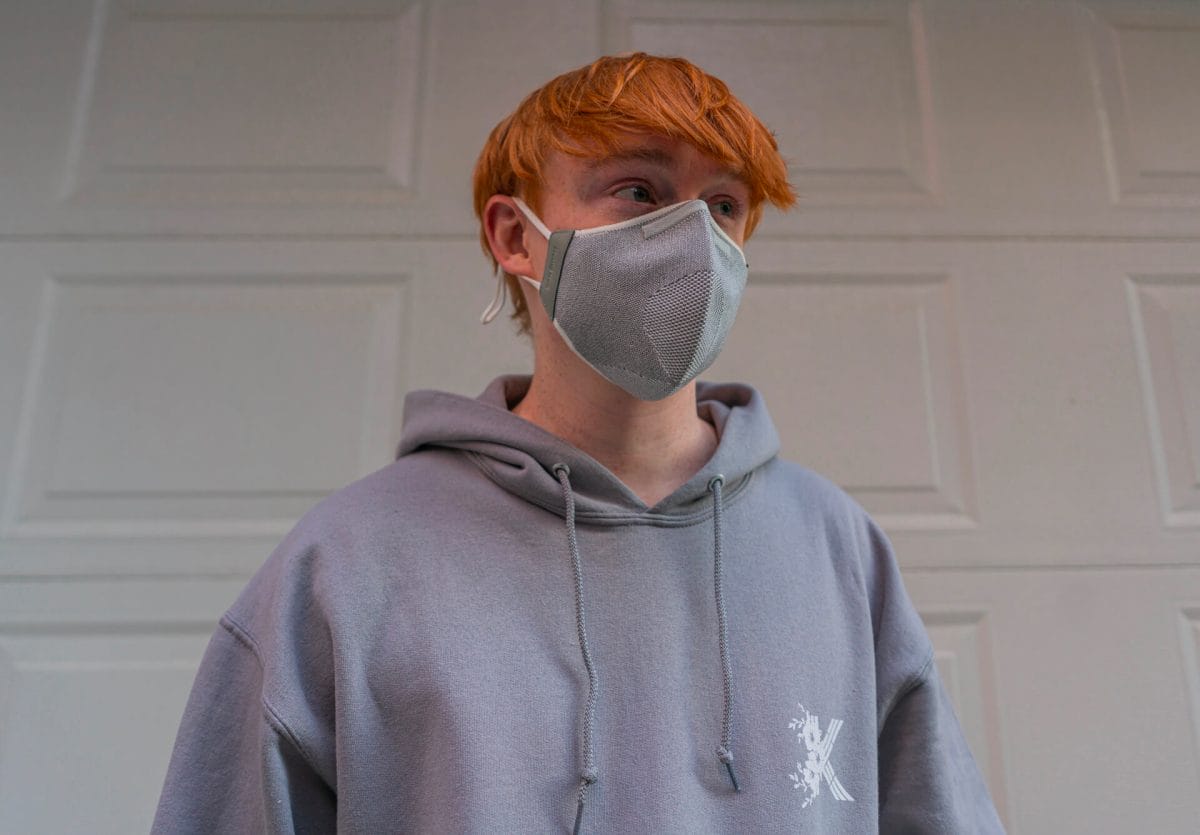 Honeywell is one of the most well-known companies in the world when it comes to medical and industrial respirators. In fact, they currently produce the second-largest number of masks in the world. Therefore, when they created a consumer-focused daily mask, I had to try it!
Unfortunately, Honeywell does not communicate at all, and it's hard to get information regarding the exact performance of the device. The one claim mentioned on the website is that the replaceable filters used within can 'block up to 97% of 3-micron-sized non-viable particles and 0.1-micron-sized aerosolized particles'.
The mask is breathable but not as breathable as masks utilising nanofibre, high-quality non-woven or wool filters. That said, I found this reusable mask to be more breathable than most respirators. The mask is also quite comfortable, and the sturdy wire nosepiece makes it possible to remove leaks.
The filters used in the Dual-Layer Face Cover are designed to only last for one day. As such, they should be replaced after each use. This means that while the Honeywell Dual-Layer Face cover does cut down on cost (each filter costs around $1), the device still has a large environmental impact.
Read more – Dual-layer Face Cover full review
Pros
Affordable mask + filters
Comfortable
Reputable brand with an extensive history in filtration
Sturdy wire nosepiece that allows for a good seal
Easy filter replacement mechanism
Cons
Mask quality feels lower than many other masks on this list
Filters should be replaced daily
Filters can get dislodged
Very large mask (even for the small adult size)
---
9. AusAir AirFlex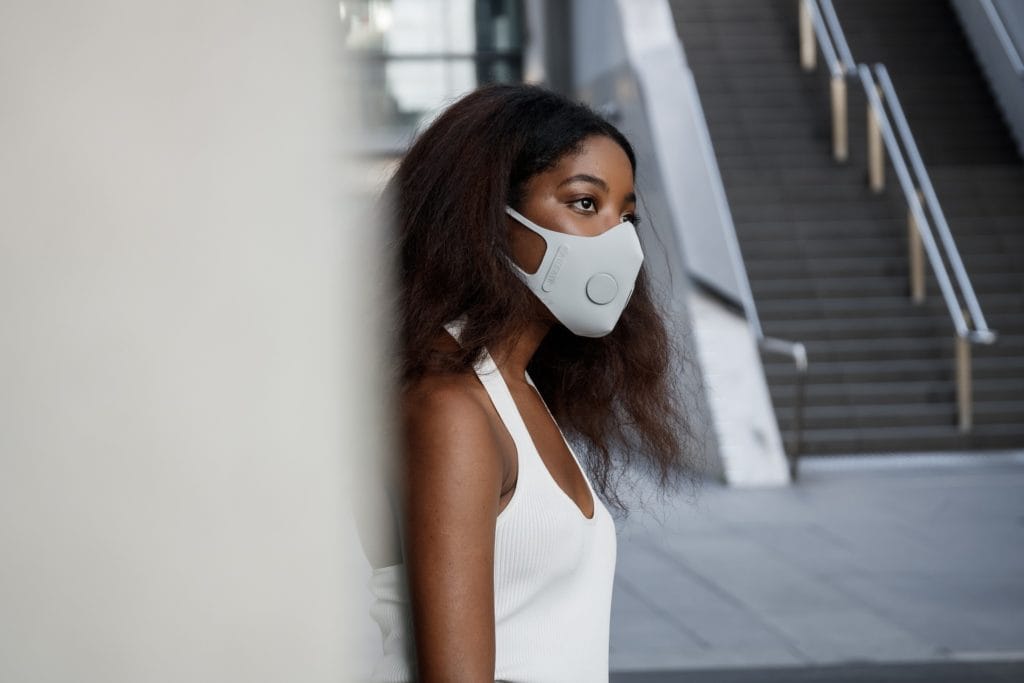 The AirFlex Mask from AusAir is a comfortable mask that offers < 99% filtration in PFE, BFE, and VFE tests. The filters that the masks uses are also unique in that they cover almost the whole inside surface of the mask and don't suffer from filter collapse.
While the AirFlex Mask does have a valve system that can't be removed (since the filters connect to the skin via the valve), the valves can be closed, and stoppers are included with every mask. This allows the user to choose when to block and open the valves.
Despite being a relatively heavy mask due to the stainless steel filter caps, the mask is very comfortable due to the soft outer skin (which is also used for the ear loops). This is one of the few masks I can wear for long periods without feeling much discomfort behind my ears.
As I mentioned in the AirWeave's entry, I believe the AusAir AirWeave to be an improvement over the AirFlex in virtually every way. However, some people may prefer the material and fit of the AirFlex. As such, it still deserves an entry on this list.
Read more – AirFlex full review
Pros
High filtration ratings with lab testing
Replaceable filter system with optional scented filters
Comfortable design and materials
Valve stoppers included
Very little mask collapse when breathing
Sleek look
Cons
Sliders can move over time, meaning that the mask can loosen
More expensive than some other masks on the list
Larger than most cloth masks on the list
Quite heavy for a cloth mask
Use the code 'BSA15' for 15% off your AirFlex Mask purchase!
---
10. Airinum Urban Air Mask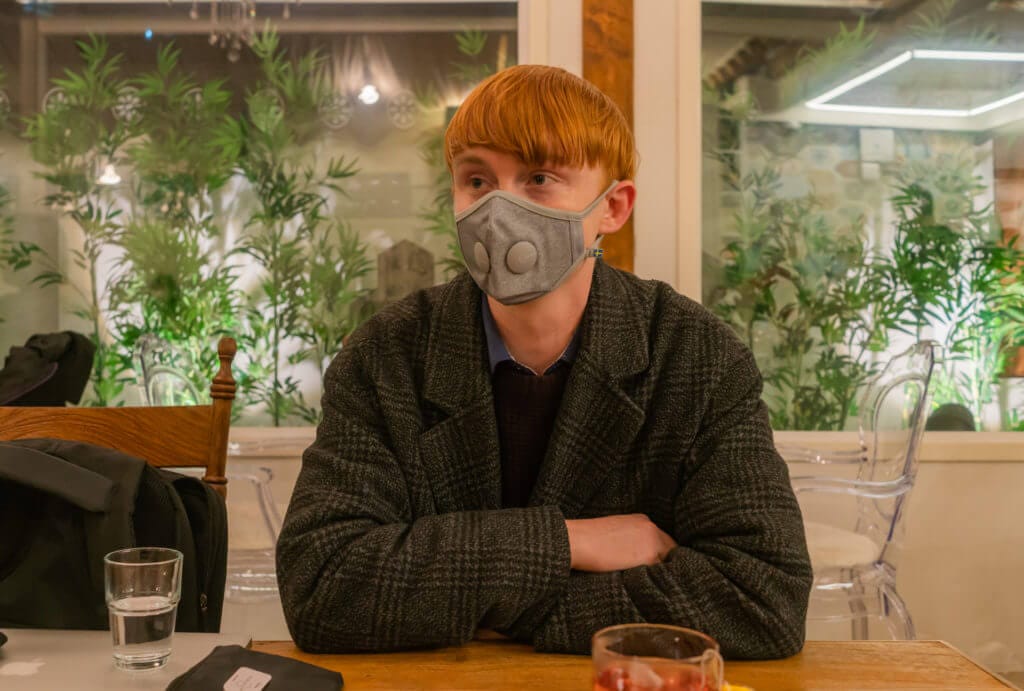 The Airinum Urban Air Mask has recently been updated to the Urban Air Mask 2. This new model has improved upon the previous one and made one of the most popular masks even better.
This is a premium mask and is more expensive than many on this list. However, it does also offer some unique benefits. Firstly, the dual valve design (the mask also comes with valve-stoppers for virus prevention) allows for low breathing resistance.
Secondly, the mask uses Polygiene's Stay Fresh technology, meaning that the mask should stay fresh as odour-causing bacteria won't be able to grow on the surface. On top of this, the mask also comes with an included headband.
Most importantly, the mask has extensive testing from Taiwan Textile Research Institute, RISE (Research Institutes of Sweden, Jiangsu Quality Supervision and Inspection Center for Special Safety Protection Products and CNTAC Testing Service Co. in Foshan. These show a high filtration rate of > 98%.
Read more – Airinum Urban Air Mask 2 full review
Pros
> 95% filtration on all particles tested (> 98% on larger particles)
Low breathing resistance due to dual-valve design
Included headband to alleviate pain on ears
Stay Fresh technology to reduce smells
Cons
More pricey than many masks on this list
Even when using valve stoppers, the mask may be identified as a valved-mask
Filter replacements are also expensive
---
11. R-PUR Nano Light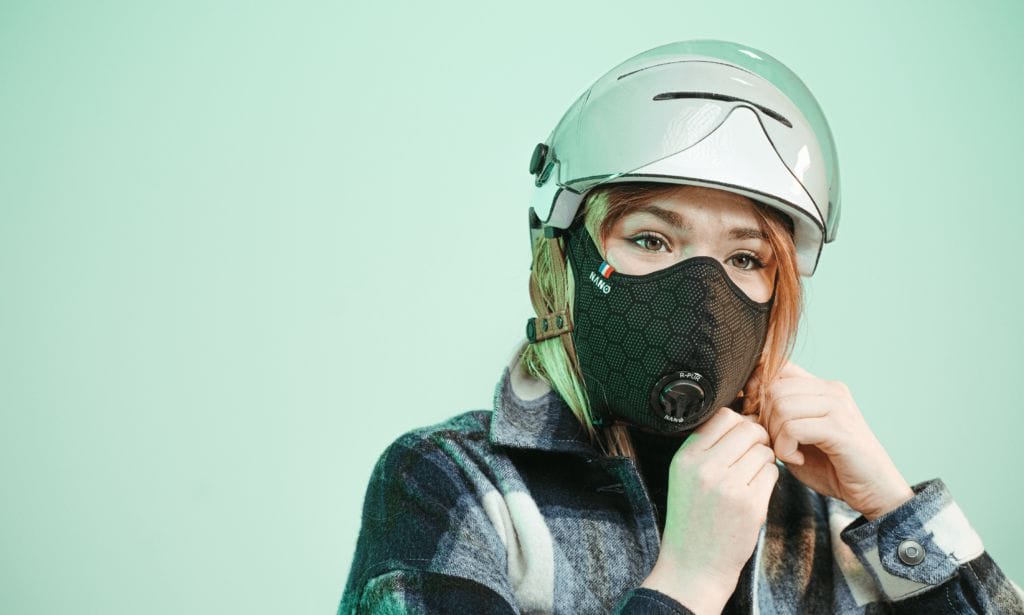 The R-PUR Nano Light mask is slightly different from most other masks on this list as it fills a different market segment. This mask is perhaps the most premium on the list, which is reflected in both the price and quality.
The Nano Light is designed with exercise in mind, which can be seen in many of the design choices of the mask. Firstly, the mask does feature a valve for lower breathing resistance. It also has a very high filter surface area and a dual headband design that allows for firm fitting.
Due to the thick headbands and velcro attaching system, this mask is exceptionally comfortable to wear – even for long periods of time. The device's weight is distributed well across the back of the wearer's head, and I never felt discomfort along the headbands when wearing this mask.
The mask has been tested on a range of face shapes and achieved over 99.8% filtration in hermeticity tests. Since most masks only have filter results, the testing carried out by R-PUR is comparatively thorough. If you are looking for a capable exercise mask, this is a good choice.
Read more – R-Pur Nano Light full review
Pros
High filtration results across a range of subjects
Very firm fitting
No pressure on the ears due to the headband design
High filter surface area, allowing lower breathing resistance
App to track filter lifespan
Cons
Expensive base price and filter cost
Very large, this mask is not subtle
Only valved variants are available
---
12. Airinum Air Mask Active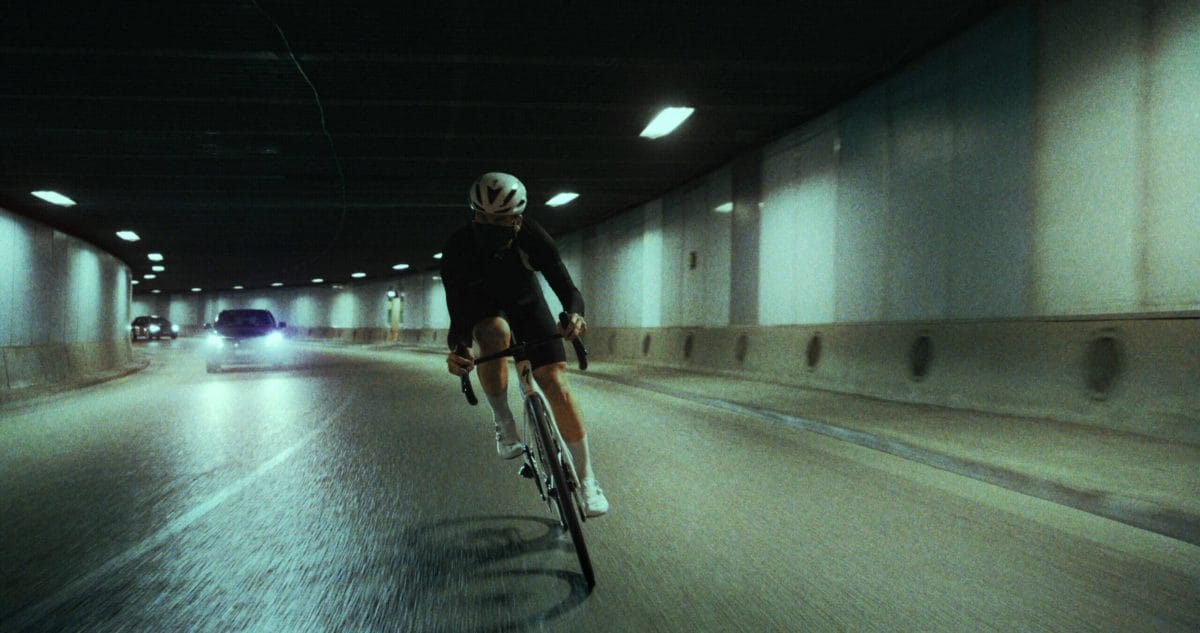 Airinum makes this list a third time for their Air Mask Active, a rather niche mask but one that might be perfectly suited for you. Now, to be upfront, this mask is not one I would recommend to general users. However, this could be perfect if you're looking for a mask to use while commuting via bike or motorcycle or if you want a mask to use while jogging, walking, or playing sports.
The Air Mask Active has a KN95 certification and > 99.99% filtration of both BFE and VFE. Furthermore, the surface of the mask is coated in Polygiene's antiviral coating, meaning it can deactivate viruses over a matter of hours. This is great for reuse and means it is ready to be worn every morning.
So, what makes the Air Mask 'Active'? Well, it sports two headbands that are sturdy and capable of keeping the mask in place even when active. On top of this, the mask uses a silicone seal to ensure it moulds to the wearer's face and prevents leaks.
The biggest downside of the Air Mask Active is the price. The mask itself is far from cheap, and replacement filters are also quite costly. However, if you're in the group of people this mask is designed for, it could be the best choice!
Read more – Airinum Air Mask Active review
Pros
KN95 certified
High BFE and VFE
Provides a secure seal
Comfortable headbands
Valve with included valve stoppers
Cons
Expensive
Quite large
Somewhat cumbersome
---
13. Metamasks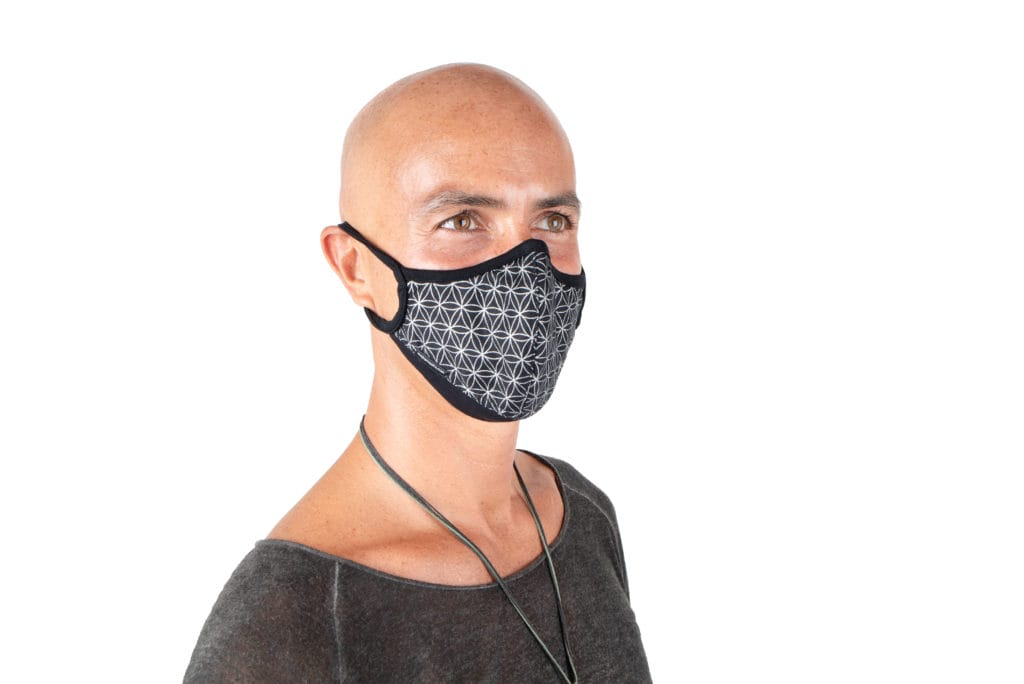 Metamasks is a mask brand based in Bali that uses filters made by Revolution Fibres in New Zealand. The filters used are the same as one of my favourite masks – Bloo Mask. Unfortunately, while Bloo Mask is only available in New Zealand, Metamasks can be purchased globally.
The filters used in Metamask have ≥ 98.5% BFE, ≥ 97.6% VFE and ≥ 97.5% PFE. These are high filtration results and mean that the filter can filter the majority of particles breathed in by the wearer. The filters slot into two separate slits in the mask and the middle of the mask has a built-in filter.
Metamasks uses a chin-wrap design that allows for a better fit. On top of this, the dual-filter media design prevents the wearer from being able to suck in the filter or mask when breathing. This is a welcome addition!
Finally, perhaps the biggest appeal of Metamasks is that many of their mask designs use natural materials. They offer organic hemp and linen masks, among others. Metamasks might be a mask worth checking out for people with sensitive skin.
Read more – Metamasks full review
Pros
Masks made from natural materials
High filtration (> 97.5% on all tested particles, 0.1μm, 0.3μm, 0.5μm and 1μm)
Dual-filter media design that prevents the filter from being breathed in
Chin-wrap design for a better fit
Cons
It can be hard to achieve a good fit around the nose
Natural fabrics mean less water/moisture resistance
Fabrics can smell a bit initially
---
14. Cambridge Mask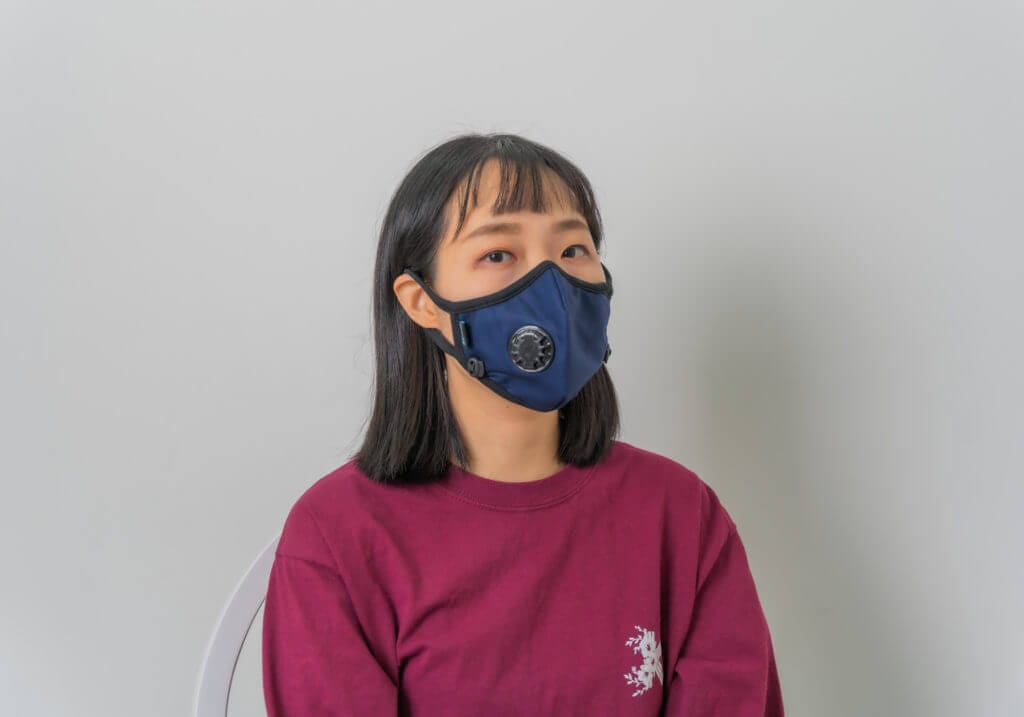 Despite the title of this article, I had to include Cambridge Mask. Perhaps the most famous reusable mask on the market, I get many questions regarding this mask, and a post on the best reusable masks wouldn't be complete without it.
Using a built-in filter, Cambridge Mask Pro can provide ≥98.9% filtration against particles at 0.1μm. At 0.3μm, this filtration increases to >99%. Both BFE and VFE filtration at 2.8μm is >99%, showing that the filter in Cambridge Mask pro is capable across the board.
When it comes to fit, Cambridge Mask uses a traditional approach. Two earloops keep the mask in place while a wire nosepiece creates a seal around the nose. The difference here is that Cambridge Mask also uses two toggles that can be adjusted below both cheeks. These toggles can be adjusted to enhance the fit of the mask.
Cambridge Mask Pro is rated to last around 250 hours (depending on local air quality), with handwashing possible over this lifespan. However, washing can decrease filtration efficacy (on all masks), and Cambridge Mask has not released wash-cycle test results publically.
Read more – Cambridge Mask full review
Pros
High filtration mask
Long lifespan
Affordable price
Toggles allow for extra adjustment and fitting
Cons
It doesn't use replaceable filters and therefore needs to be replaced
Leakage around the nose can occur
Often hard to acquire due to stock shortages
---
15. Mau Mask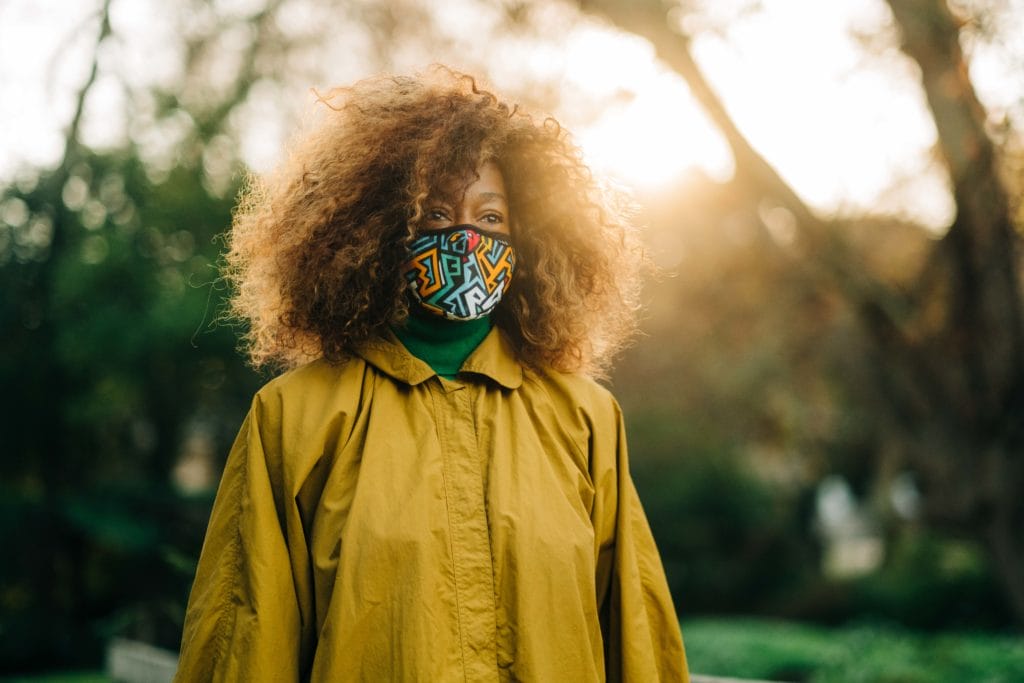 Mau Mask is a company that tries to combine fashion and protection. Where many other fashionable masks provide little or no proven filtration, the Mau Mask uses filters that have been tested by third-party companies.
The masks use no valve, so they are a good choice of protection when air needs to be filtered both ways. However, this means they can have slightly higher breathing resistance and interior temperature when used to protect from fine dust.
The mask has an average filtration of 99.47% of particles at 0.1μm. This puts it among the higher filtration masks on this list. The filters are also replaceable, meaning the mask can be used for many months provided it is cared for.
Breathability on Mau Mask is good but not exceptional. The mask is far from uncomfortable, and I could happily wear it for hours on end. However, it's not as breathable as some of the more breathable masks on this list.
Read more – Mau Mask full review
Pros
High filtration mask
Uses replaceable filters that can be changed by the user
Fashionable designs
Well-fitting for average adult faces
Cons
Only available in one size
The filter doesn't cover the whole interior of the mask
Fitting this mask can be hard as it is a looser-fitting mask
Some of the designs may be too flashy for some people.
Use the code 'BSA' at checkout for a $5 discount and to support Breathe Safe Air.
---
16. Airinum Lite Air Mask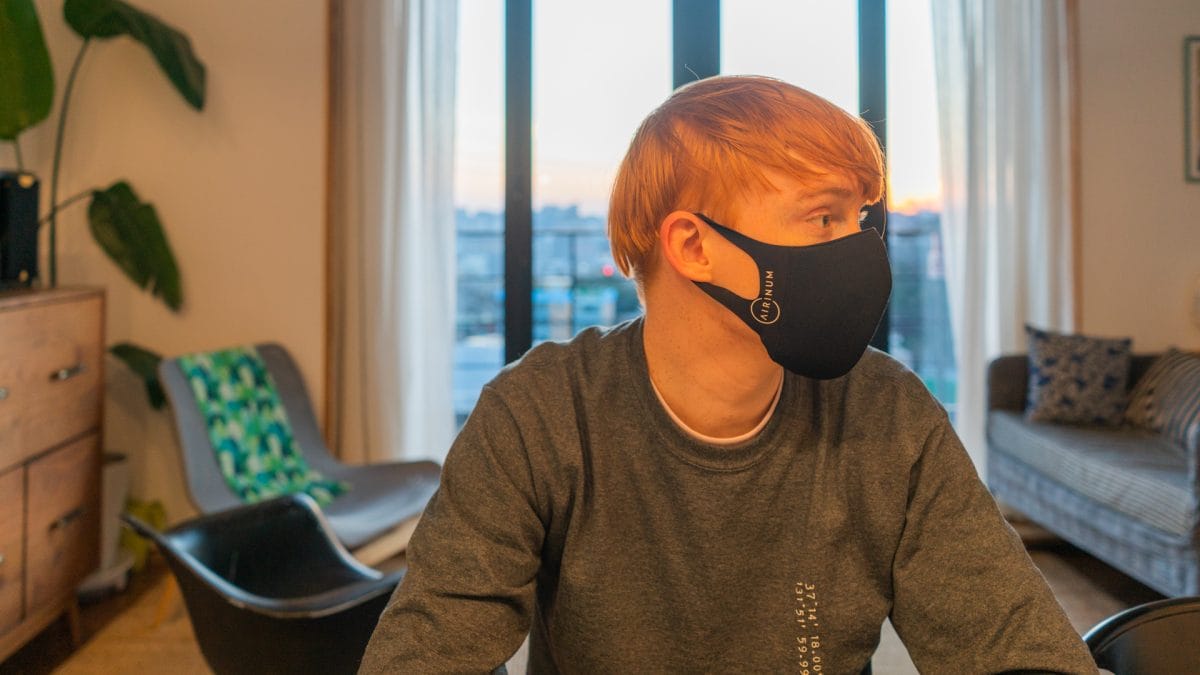 Airinum's second entry on this list, the Airinum Lite Air Mask is a cheaper alternative to the Urban Air Mask. However, the masks are not comparable – the Lite Air Mask is entirely different! As the name implies, the mask is much lighter and designed to be as comfortable and easy to don as possible.
When tested by CNTAC, the Airinum Lite Air Mask showed filtration greater than 98% across 20 test samples. The mask also adheres to the KN95 standard and received the certification. This makes it one of the few devices on this list to hold an official certification.
The device is very comfortable due to the elastic earloops used. Even after wearing the mask for a few hours, I noticed no discomfort around my ears. However, since the mask sits so close to your face, some filter collapses can be inconvenient at times.
I found that the Airinum Lite Air Mask is one of the best-fitting reusable masks. While everyone will have different experiences, this mask fit my face very well. The memory foam nosepiece allows for a good seal to be created.
Read more – Airinum Lite Air Mask full review
Pros
High filtration efficiency
Good seal and overall fit
Comfortable to wear, even over long periods
Easy to replace filters
Cons
More expensive than some other masks
Mask can suffer from filter collapse
---
17. Vogmask
Vogmask is one of the most prominent players in the reusable mask game. They have been around for a long time and create quality masks that are well-known and of good quality. While they offer valved and valve-less masks, they've switched most of their production to valve-less devices.
Vogmask products are standard reusable masks. By standard, I mean that they are fitted with straps behind the ear, have a wire nose-piece, and are a typical shape. Perhaps their most significant differentiating factor is that the masks are very light, especially compared to their competition. This means that the masks retain less heat and makes them more comfortable to wear in hot environments.
These reusable masks have over 95% particle filtration. However, please note that these masks DO NOT hold an N95 rating. Their filtration does meet the requirements of the N95 certification; however, they do not officially hold the rating. There was a lot of confusion surrounding this point last year!
I've had difficulty achieving a complete seal with Vogmask masks. However, I've also heard from readers and friends that Vogmask is the best fitting mask for them. Unfortunately, it's hard to determine which experience you will have without trying the mask yourself.
Read more – Vogmask full review
Pros
Over 95% particle filtration
Many different designs
Standard fit (if a disposable mask fits you, this should too)
Available in many different countries
Cons
Ear straps can cause pain after long periods of wear. A strap is available to remedy this.
Wire nose-piece can be a bit taught and hard to adjust properly
Many masks on this list have higher filtration ratings
Does not use replaceable filters
---
18. MeoAir Mask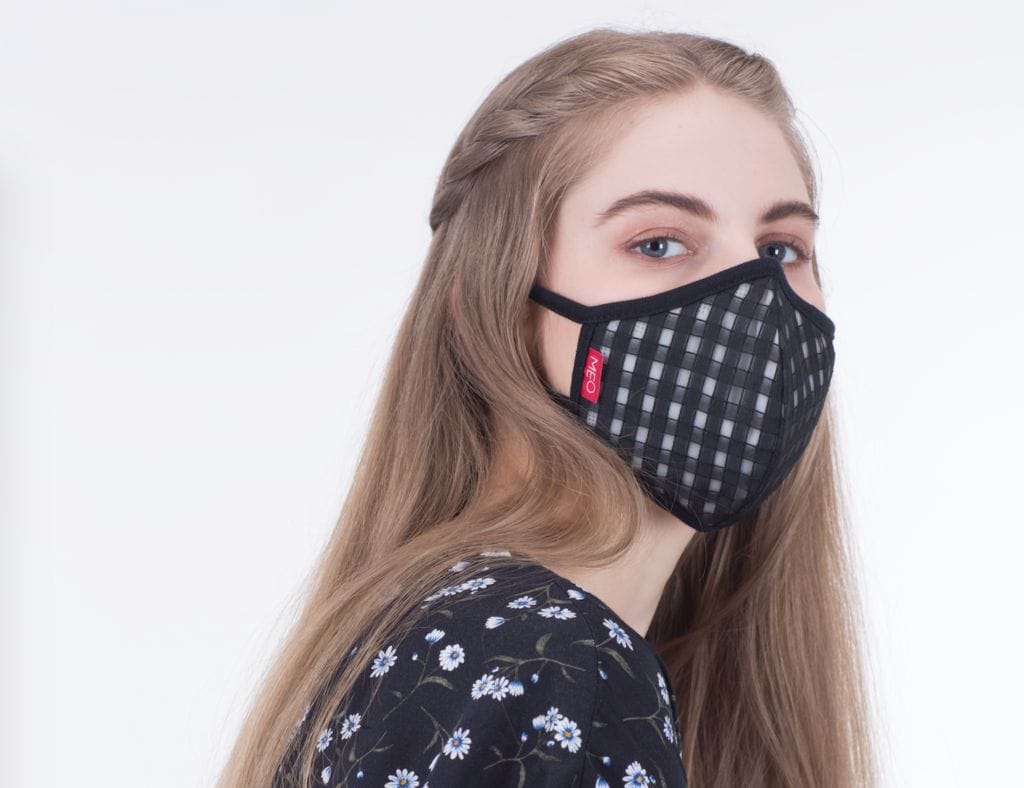 MeoAir is a mask made in New Zealand using a wool filter. This filter is named the Helix filter and is produced by Lanaco. This is the same filter you will find in the AusAir AirWeave mask and is the same filter material used by NASA.
The mask meets the NZ/Aus P2 standard, providing > 94% filtration. However, the Meo Lite actually offers significantly more, with test results showing a minimum of 96% filtration of fine particles. While this doesn't put it amongst the most capable masks on this list, it's a good result and shows that the mask can provide a good level of protection.
Since the mask is made from wool, it also offers best-in-class breathing resistance. When I tested the breathing resistance, I found it significantly lower than alternative masks. Test results show it to be as much as 5x lower than masks that offer comparable filtration.
The devices don't have any adjustment in the form of earloops or otherwise; this is their biggest downside. While I didn't find it an issue as the medium size fit me well, I can see this causing fit issues for some people.
Read more – MeoAir Lite full review
Pros
The wool filter makes breathing far easier than comparable masks
> 96% filtration at 0.3μm and > 99% at 0.1μm
> 99.99% bacterial resistance
Comparably cheaper than other options on this list
Replaceable filters
Cons
Lack of test results for viral particles
Masks ship from New Zealand, meaning that waiting times can be long
Lack of adjustments for fit
---
19. Purely KN95 Mask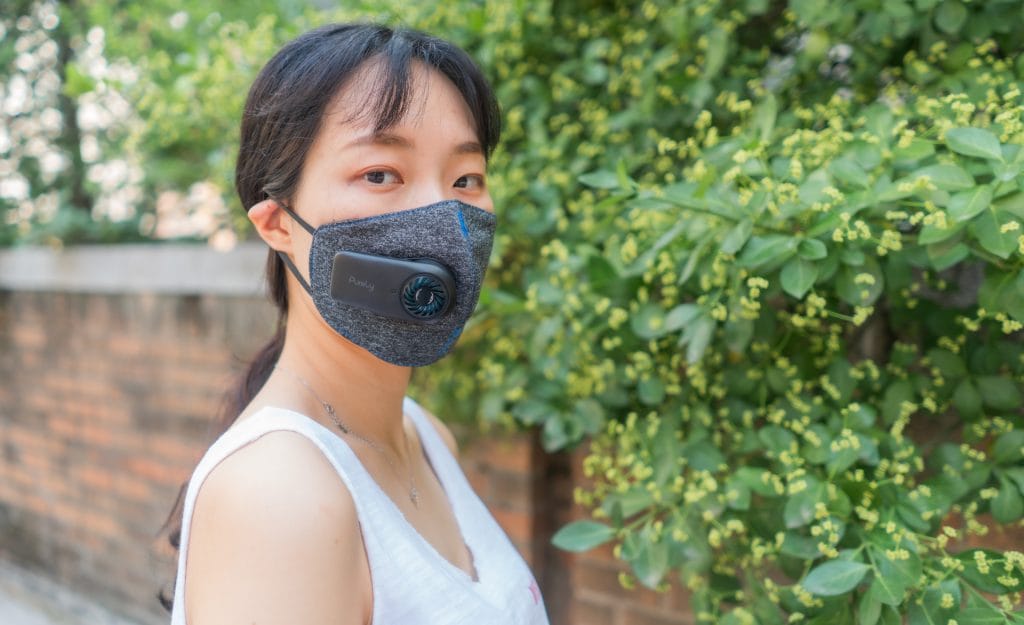 The Xiaomi Purely KN95 mask is unique as it is the only mask on this list that offers active cooling. That is to say, this mask has a fan and motor that allow it to intake air actively. Not only does this assist in breathing, but it also cools the mask inside.
Anyone who has worn a mask or respirator for an extended period knows that they can quickly become very uncomfortable. The Xiaomi Purely tries to solve this problem by ensuring that air is constantly flowing.
While the fan has limited impact (you can find my full review here), the mask is rated KN95, has interchangeable filters, and is quite comfortable. If you don't mind the size and extra weight of the fan, this is a good choice of mask.
Read more – Xiaomi Purely KN95 full review
Pros
A comfortable mask that comes with a headband included
Interchangeable filters that can easily be replaced
Clean, fashionable design
Cons
The mask is significantly heavier due to the fan module
The fan has limited impact. While it can help at times, it can also be loud at the faster speeds
---
Best Reusable Elastomeric Masks
An elastomeric mask is likely the way to go if you are looking for the best reusable mask regarding fit and overall protection. While these masks are generally heavier, less breathable, and stand out far more, they also tend to provide the best seal and protection.
Elastomeric masks provide a very different experience from standard cloth masks. As such, I recommend looking into the devices you are considering and comparing the positives and negatives, as both masks come with both benefits and downsides.
1. Envo Mask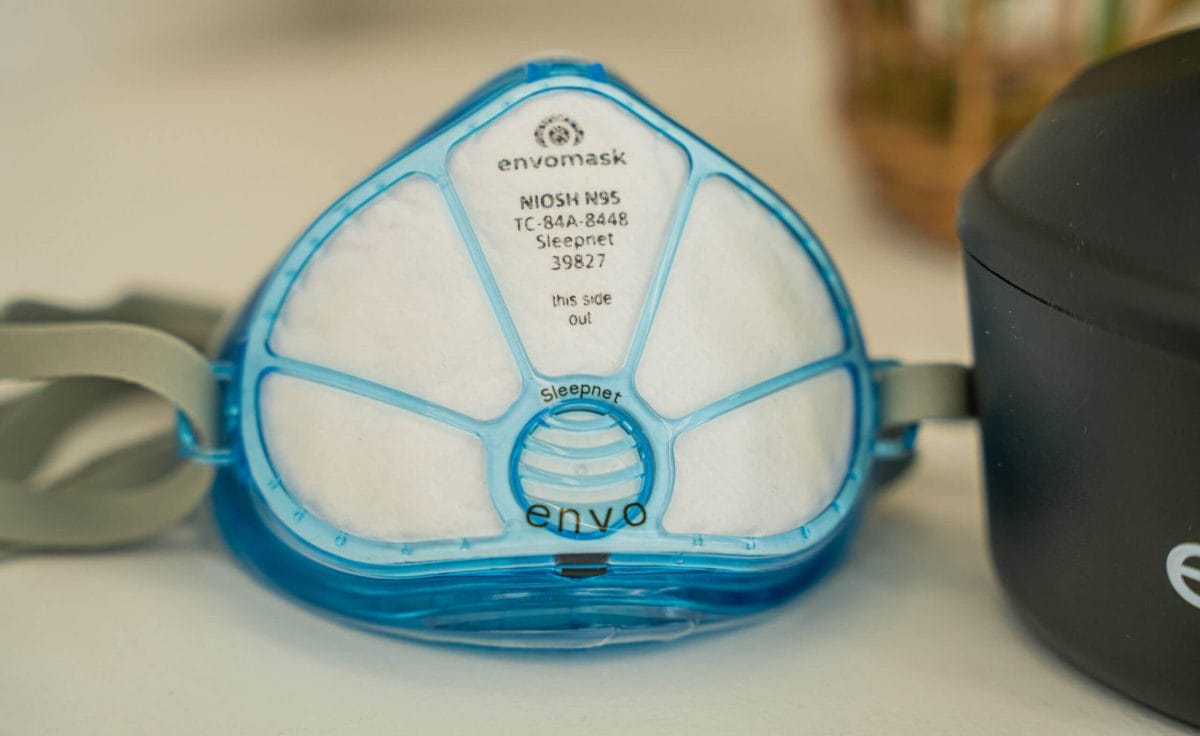 Envo Mask deserves the first place of elastomeric masks on this list because it's a very solid mask – its unique gel seal provides an excellent seal, it's very breathable, and above all, it's one of the very few N95 reusable respirators. Yes, this mask is officially certified N95 when used with the included parts.
Envo Mask offers two fitting mechanisms, and customers can opt for a dual-headband or dual-ear 'hooks'. While the ear hooks look good, I can't recommend them over the great fit that the dual headband provides. The upper headband splits in two and forms a circular strap at the top of the wearer's head. This ensures that the top headband never falls – something that often happens on headband-fitted masks.
The most significant advantage of Envo Mask is, of course, the N95 rating. While many masks on this list are capable of > 95% filtration in lab tests, there is a lot of trust that is built by the NIOSH rating. This is rightfully so, considering how stringent the standard is.
Envo Mask has a valve, but this valve can be blocked with an included valve-stopper. This allows the user to choose between lower exhalation resistance or two-way filtration. However, even with the valve blocked, I found the breathing resistance of the mask to be lower than most other similar masks.
It is worth noting here that I have heard about longevity issues with Envo Mask. Although I have not yet encountered these issues, readers have told me that the gel seal is prone to breaking after 3-6 months of use. While I still think Envo Mask is great while it lasts, this issue will prevent many readers from wanting the mask.
Read more – Envo Mask full review
Pros
N95 certification
Fantastic seal with gel design
Dual-headband design for good fit
Easily replaceable filters
Easily washable
Cons
Gel seal has questionable longevity
Filters have a lower lifespan than many masks
Expensive
---
2. Flo Mask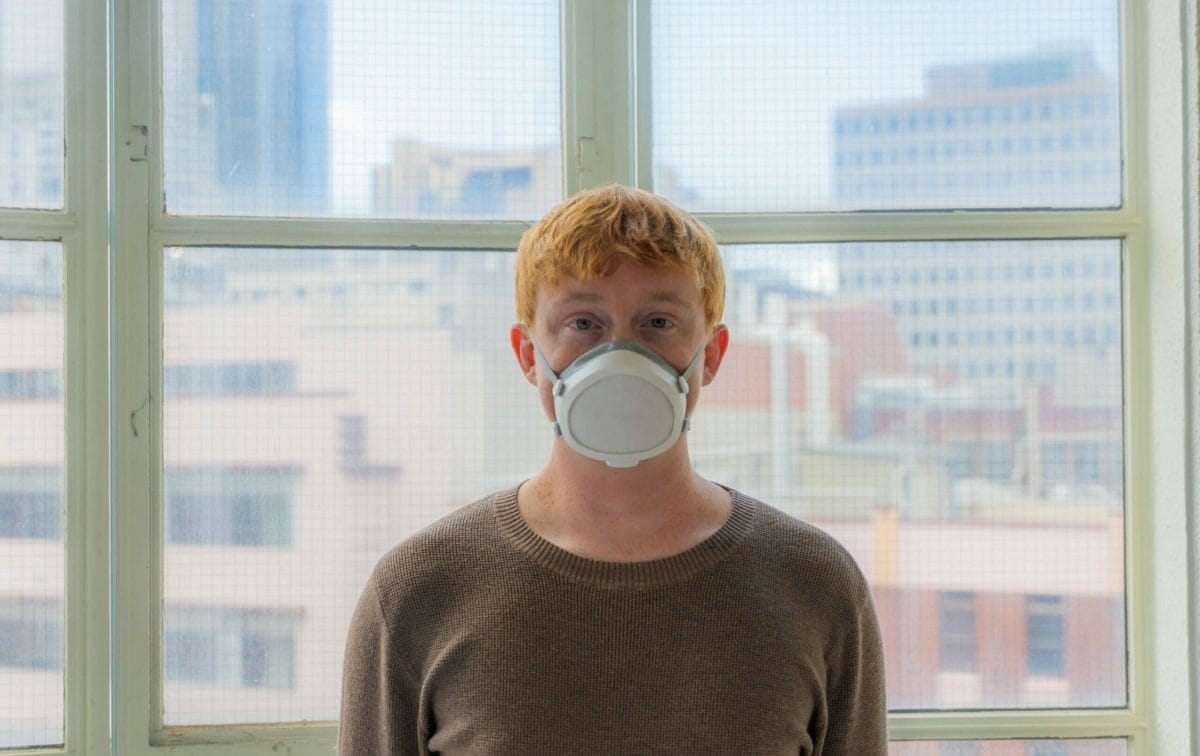 Flo Mask is an elastomeric quarter-face mask that has recently become very popular. While it has a smaller form factor than half-face respirators, it shares many of the same strengths, including the great fit it provides. Furthermore, Flo Mask is a relatively small form-factor mask compared to other elastomeric devices, making it a great choice for an everyday mask.
Flo Mask is not currently certified according to any standard. However, in BARDA's Mask Innovation Challenge, Flo Mask was a runner-up. Throughout this competition, Flo Mask underwent testing by both NIOSH and NIST and showed promising results. Currently, Flo Mask is in the process of being certified FFP2 and N95.
Conveniently, Flo Mask offers two different filters that users can choose from. The Pro Filter is the standard filter and it provides a high level of filtration with adequate breathability. However, an Everyday Filter is also offered, and this filter provides slightly lower filtration but far better breathability.
Since these masks rely on a large silicone seal, they provide a fantastic fit. While the fit isn't quite as good as a half-face respirator as it's more prone to movements, it's a very good seal which you won't find on other, smaller masks. I would rate the seal of Flo Mask as very similar but slightly weaker than Envo Mask.
Flo Mask also uses a modular design, meaning customers can replace any part of the mask if necessary. Since the initial price of the mask is quite significant, I appreciate the company allowing users to purchase replacement parts if needed easily.
Read more – Flo Mask full review
Pros
High filtration, as tested by NIOSH and NIST
Great fit
Smaller form factor than other elastomeric masks
Flexibility to choose filters
Comfortable
Cheap replacement filters
Modular design
Cons
Pricey
Pro Filter breathability isn't great
It can have minor leaks when active
---
3. ActiveMask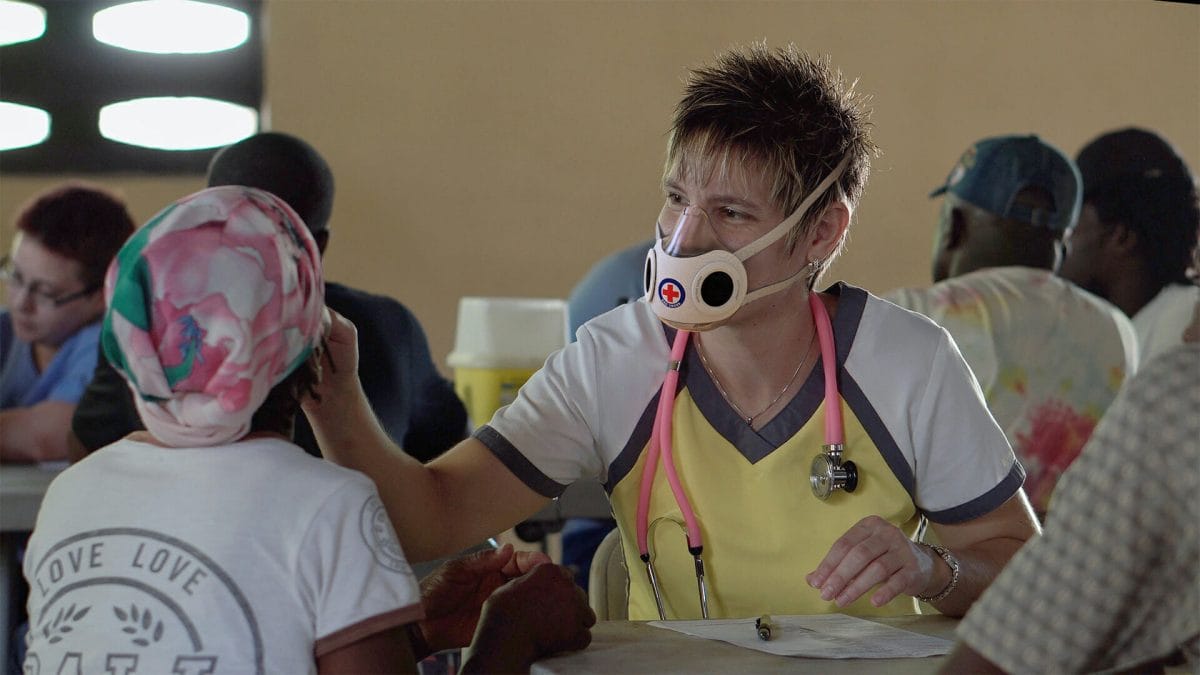 ActiveMask is an Australian-based company that has created a P2 (roughly equivalent to N95 of FFP2) respirator. While availability is currently limited to Australia, there are plans to expand, and hopefully, this product will be available more widely soon.
Being certified P2, you can rest assured that ActiveMask has been subjected to stringent testing by a certified body in Oceania. In the case of ActiveMask, the certifying body was SAI Global, a trusted body to certify devices according to AS/NZS1716 (the standard on which P2 is based).
While breathability on ActiveMask isn't as good as devices such as EnvoMask, it's comparable to the Stealth Respirator and Gill Mask (the original version). ActiveMask also has an advantage because it offers a carbon layer in its filters. This allows the mask to provide some protection against VOCs (volatile organic compounds).
The mask does include an exhalation valve, but an optional carbon filter can be used to cover this valve. While this won't provide the same level of filtration as the inhalation filters, it will filter some of the exhaled air.
For an added level of protection, ActiveMask also has a face shield attachment that can easily be attached to the front of the device. This removes the need for a separate face shield that is usually needed alongside a standard mask or respirator.
Read more – ActiveMask full review
Pros
Certified P2 device
Very easy to clean
Added carbon layer to filter
Comfortable to wear
Good fit
Cons
Limited availability
Heavy mask when the face shield is attached
Breathability is mediocre
---
4. Stealth Respirator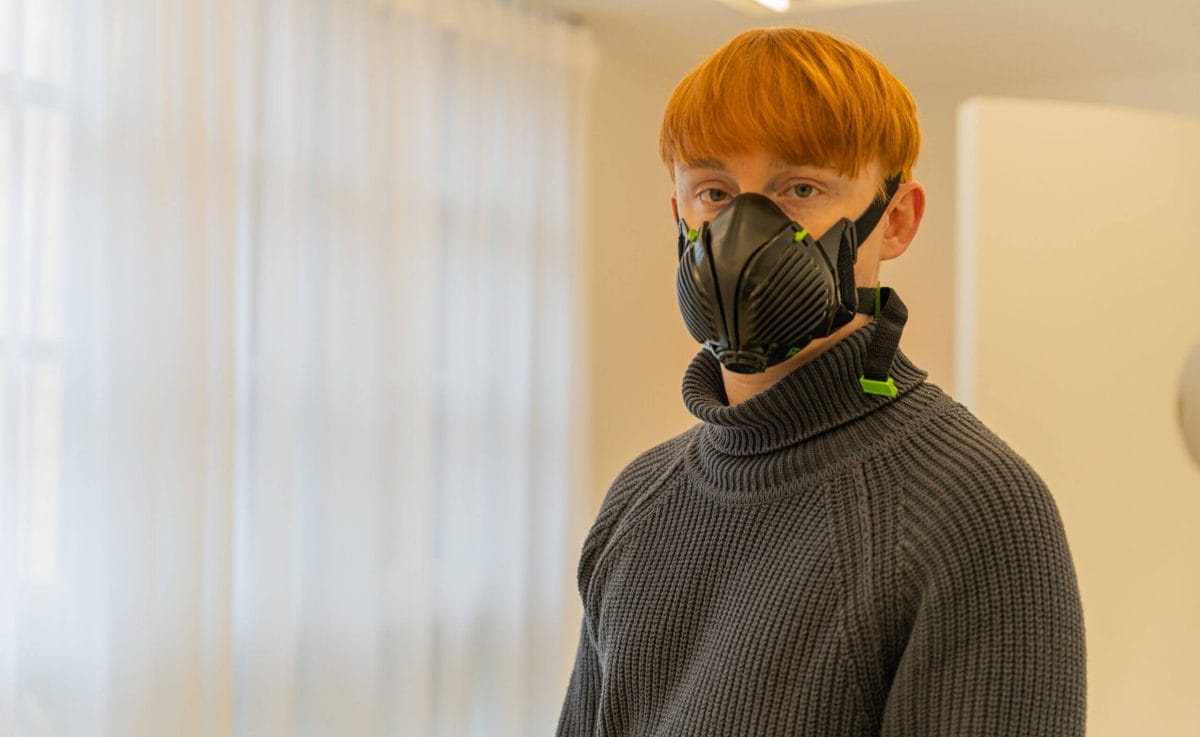 The most capable mask on this list, the Stealth Respirator, is an N100/FFP3 certified device, depending on the region in which you buy it. However, both devices are the same; they are just certified differently based on local standards.
Stealth Respirators are capable of > 99.9% filtration and are designed for use in workshops and industrial applications. However, the Stealth Respirator is available for anyone to buy, and it can be a great choice if you're looking for heavy-duty protection.
Although the mask is large and heavy, the headbands do an excellent job of dispersing the weight. Although I found the neck clips to cause minor irritations and pain after a few hours of wear, removing the mask for a few minutes prevented this issue.
Breathing resistance for both inhalation and exhalation on this device is fantastic. There are three valves inside the device, and these ensure that both inhalation and exhalation remain easy. Despite the big size of the mask, breathing feels effortless compared to many other elastomeric masks. If you're looking for a mask for wildfire smoke, this is a great choice!
Read more – Stealth Respirator full review
Pros
Very high filtration ( > 99.9%)
Filters have a long lifespan (28 days maximum)
Very breathable
Affordable
Headbands allow for a good seal
Cons
Heavy mask
Very eye-catching and attention-drawing
Mask can be uncomfortable to wear for long periods of time
Use code 'Breathesafeair10' to save 10%.
---
5. Airhead Mask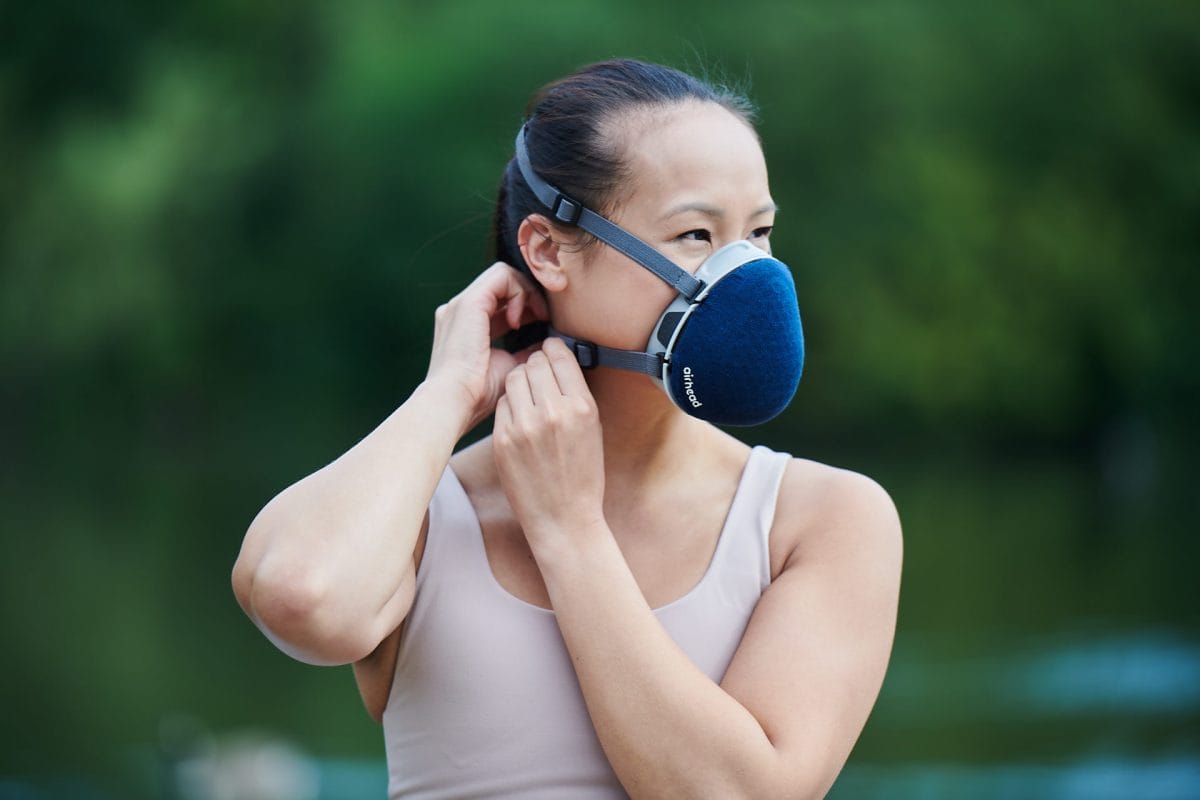 An innovative reusable mask, the Airhead Mask is a recent entry into the market. This device features two internal valves that can be covered by a filter if needed. This allows the user to choose whether or not two-way filtration is required.
The mask is fitted with two headbands. This headband design helps to disperse the device's weight and makes it comfortable to wear even though it's a heavy mask. The head straps also feature an incredibly useful magnetic locking mechanism. This makes it easy to don and doff the mask.
The filters in the mask are rated for up to 50 hours of use and offer > 98% filtration. This means that the filters are more capable than most disposable respirators, and the lifespan is significantly better. Over the long run, the increased lifespan will result in fewer costs.
One of my favourite features is the 'door' in the front of the mask. If you need to take a drink or need to get some fresh air after exercising, this door can easily be opened. This prevents the need to remove the mask for basic tasks such as eating, drinking, or simply breathing fresh air.
Read more – Airhead full review
Pros
High filtration
Easy to don due to the magnetic headbands
Seals well due to the silicone filter
'Door' allows for drinking and eating without removing the mask
Easily washable
Cons
The look of the mask isn't liked by everyone
Expensive device
Quite heavy
---
6. O2 Canada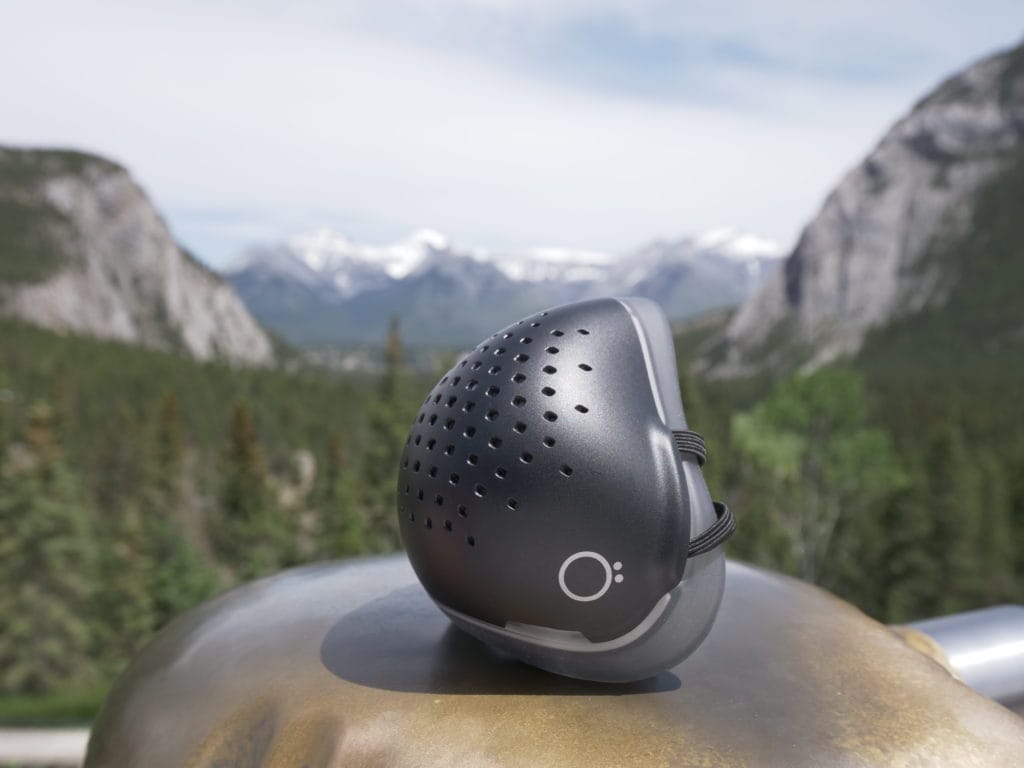 Please note that O2 Canada's website has gone offline, and the company appears to have been bought out by Ventus Respiratory. The mask is now available under the name 'Tactical Respirator 1' or TR1. If you already have an O2 Canada mask, you can purchase replacement filters there.
The Curve Respirator features ≥ 99.9977% viral filtration (VFE, 2.7μm), ≥ 99.99983% bacterial filtration (BFE, 3.2μm), and ≥ 87.8% particle filtration (PFE, 0.26μm mass median diameter). However, the PFE tests will soon be updated with new results from further testing.
The biggest benefit of Curve 1.2 is that it uses a silicone seal to prevent leaks. The mask is relatively small, and I found it to be the best-fitting small form factor silicone mask I have used. However, I have heard that people with larger faces have had trouble fitting the mask.
While Curve 1.2 provides significantly more breathing resistance than most cloth masks, it also offers great filtration and sealing. It compares to many other silicone-based masks such as the Gill Mask (original) and AirHead Mask.
The mask uses an ear-loop design, and while this design means that the mask stays in place, it can be quite uncomfortable over long periods. A sports headband is available, and this accessory will make wearing the mask much more comfortable.
Read more – O2 Canada full review
Pros
High filtration efficiency
Good fit for people with smaller faces
Extensive testing (filtration, fit factor, inward leakage)
Modular design allows for easy replacement of parts
It uses a valve for lower breathing resistance
Cons
More expensive than some other masks
Fitting the mask can be difficult on larger faces
Ear-strap design is uncomfortable over long periods
---
7. Gill Mask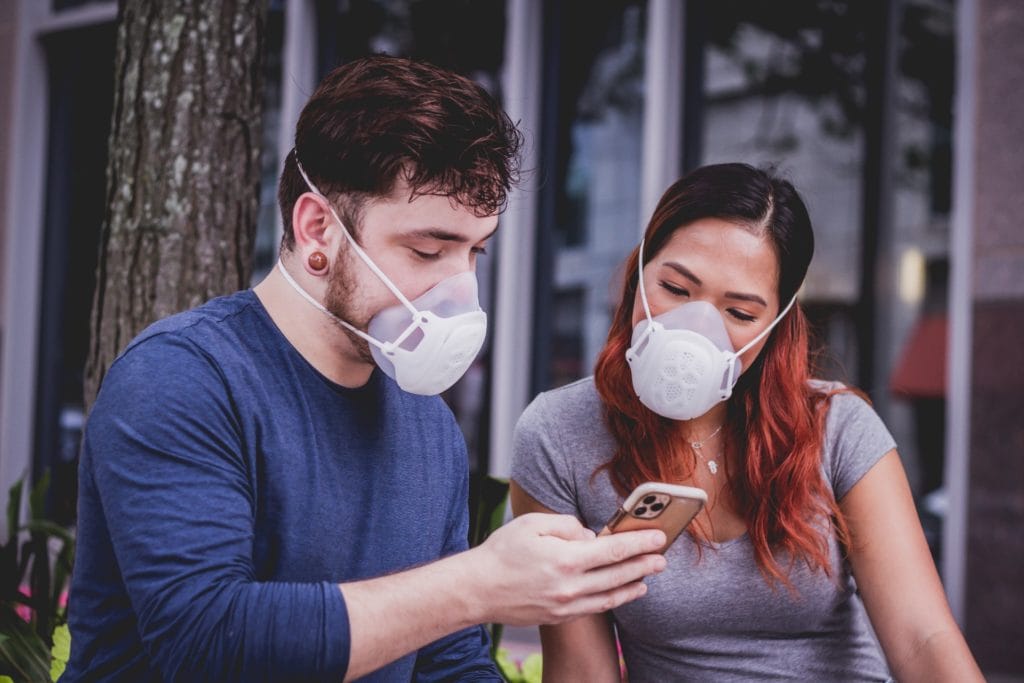 Gill Mask is one of the more interesting masks I have recently reviewed. This silicone mask is designed with three main goals: to decrease cost, decrease waste, and be easily cleanable.
The Gill Mask allows users to choose which filter they want to use. However, unlike most masks, these filters can be almost anything – they aren't brand or size-specific.
For example, if you are only looking for droplet protection or protection from larger particles, a surgical mask can be cut down to provide 4-6 filters for the Gill Mask. This decreases waste and is far cheaper over the long term.
For better protection, other filters can be used (after being cut down to size). Gill Mask also offers its own filters. Finally, the mask is also very easy to clean due to the easy removal of the filters and the plastic design. A children's model is also available.
Read more – Gill Mask full review
Pros
Almost anything can be used as a filter. This allows the user to choose which type of filter they need.
The silicone design allows for a great fit.
The mask is very easily cleanable.
Filtration depends on which filter is used. Nearly every type of mask/filter can be cut down and used in Gill Mask.
Head straps are very comfortable.
Cons
Mask can be difficult to breathe through due to the small filter.
Not a good mask for exercise due to breathing difficulty.
Bigger design that is conspicuous.
---
8. Gill Mask Pro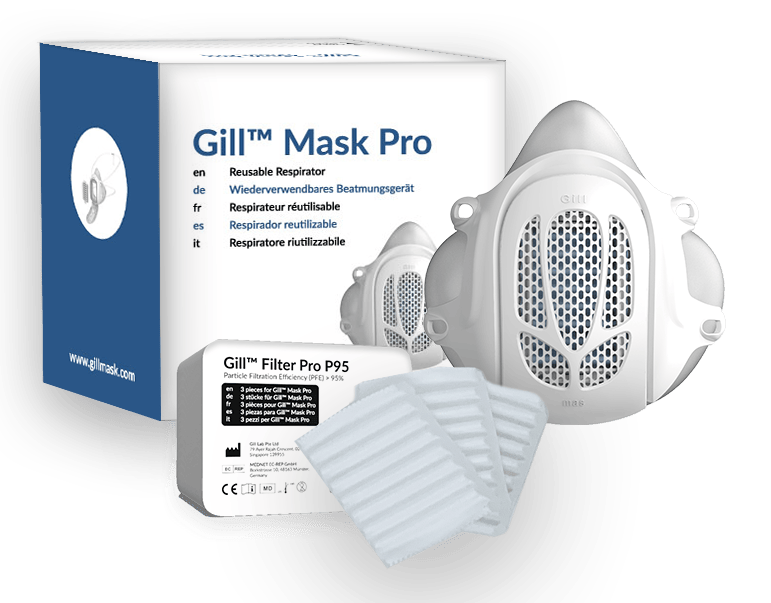 Gill Mask Pro is very similar in appearance to the original Gill Mask. However, its purpose and user experience are vastly different. As such, it deserves its own entry in this list of the best reusable masks.
Where Gill Mask allows the user to choose a filter based on their needs, Gill Mask Pro uses a custom corrugated filter. This corrugated allows the filter to have 2.5x the surface area, despite having the same physical dimensions. Therefore, the Gill Mask Pro loses the ability to use any filter media, but the breathability is greatly increased.
The difference in breathability is instantly noticeable. For this reason, I recommend the Gill Mask if you will utilise the custom filter aspect. However, if you plan only to purchase filters from Gill Mask, the Pro is a much better choice.
There are also upgrade kits available. Therefore, if you already have an original Gill Mask or want to experience the benefits of both masks, you can choose to purchase this kit.
Read more – Gill Mask Pro full review
Pros
Far better breathability than other small-filter elastomeric masks
The silicone design allows for a great fit.
The mask is very easily cleanable.
Head straps are very comfortable.
Affordable
Cons
More breathing resistance than cloth masks
Not a good mask for exercise due to breathing difficulty.
Bigger design that is conspicuous.
---
9. Totobobo Mask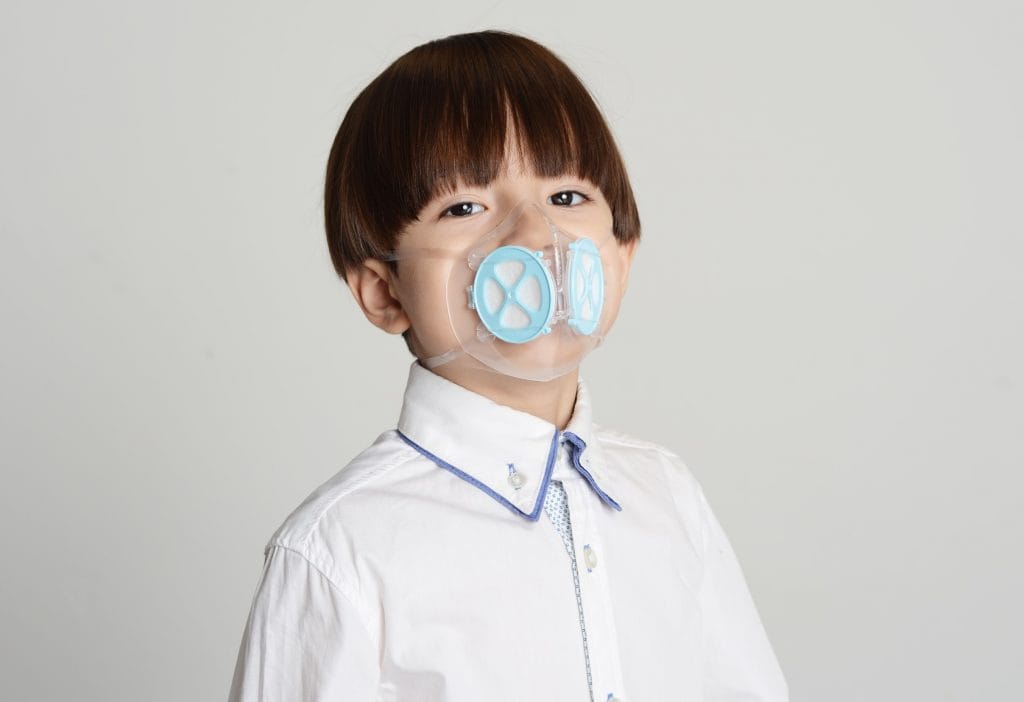 Totobobo is a company based in Singapore that offers one of the most unique masks on the market. The first thing that stands out about this mask is the look – it's transparent apart from the filters.
The transparent and plastic design of the mask offers many unique benefits. Not only can you self-fit-test the mask (this is the only mask to offer such a function), but you can easily clean it. You can even heat the mask up to mould it to your face!
Totobobo has many unique features, and it is one of the most interesting masks on this list. if you don't mind the look, then this is a mask that is well worth considering. It's one of the best-fitting masks that I have ever tried.
There is a range of filters available, and you can choose how you want to balance breathability and filtration. Since the filters are very small, breathability tends to be lower than in cloth masks. However, the environmental impact of the device is also much lower.
Read more – Totobobo full review
Pros
The only mask on this list that allows for self fit-testing
Adjustable in many different ways. This allows users to create the perfect fit
Filters are easily replaceable and cheap to replace
Different sizes covering children to adults
Cons
The look of the mask isn't liked by everyone
Not all filters have lab results yet. However, the F94 and F96 filters have full test results
Lower breathability than cloth masks
Use the code 'BREATHESAFEAIR' for 8% off your Totobobo purchase!
---
Which Reusable Face Mask Is Best?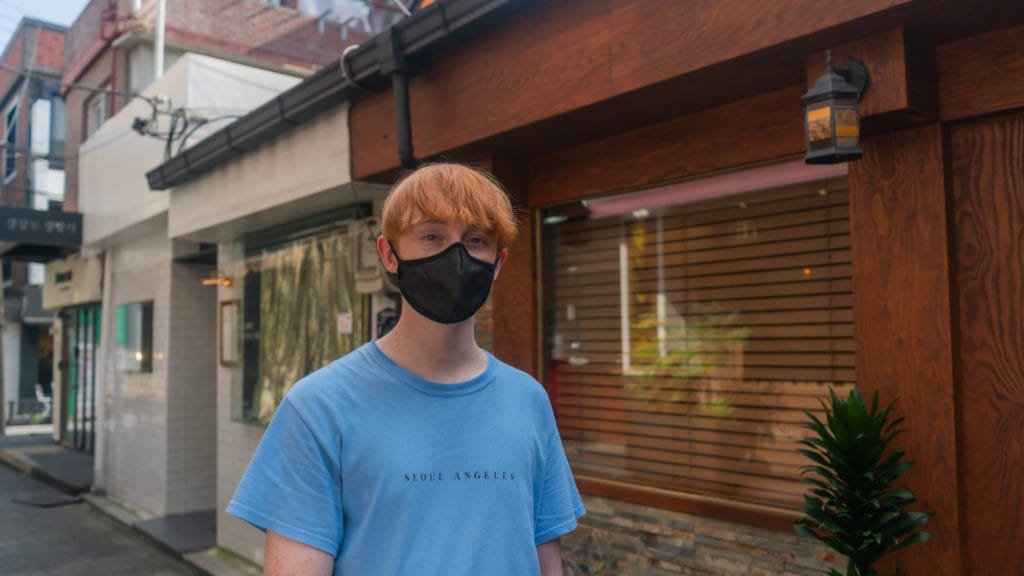 As much as I wish I could give an overall recommendation, it isn't that easy. It depends on the use case and the person in question. However, I hope this list has given some indication of which masks might work best for you.
Also, this list is far from exhaustive. There are a TON of different masks out there, and it's impossible to list them all. This list only contains masks I have reviewed, as I don't want to discuss or suggest masks I have no experience with. However, I will do my best to keep expanding this list.
Overall, all of these reusable face masks can provide protection. However, no matter which masks you purchase, I would say that a headband is essential. You can purchase these headbands from Amazon. Headbands will make whichever mask you choose far more comfortable to wear.
Finally, remember always to follow best mask practices when wearing and using masks. Masks do not guarantee protection.
---
Reusable Face Mask FAQ
How Long Do Reusable Face Masks Last?
This depends on the mask in question. However, most are rated for at least 100 hours. Many are rated for much longer and can be used for up to 300 hours.
Other factors, such as air quality, can impact how long the mask can be used.
Can I Wash A Reusable Face Mask?
Before you wash your mask, check the brand's manual and/or website. However, most reusable masks can be washed, and many even allow you to replace the filter.
Is a Mask With a Valve Better?
Regarding fine dust protection, reusable masks with a valve are generally best as they are more comfortable and are less humid inside. However, a mask without a valve is best if you are looking for viral protection, as it filters air both ways.
What Is the Best Alternative to Cambridge Mask?
There are many great alternatives to Cambridge Mask. Vogmask, Airinum, and Respro are all popular reusable masks that perform similarly to Cambridge Mask.
What Is the Best Alternative to Vogmask?
There are many different reusable masks on the market. Cambridge Mask, Airinum and Respro are the biggest competitors to Vogmask. However, many more reusable masks are also available that provide great filtration, such as AirPop and Airgami.
What Are Some Affordable Reusable Face Masks?
The most affordable mask on the list is Styleseal. Other affordable options include Gill Mask, Vogmask and Happy Masks.
What Is the Best Reusable Face Mask?
Unfortunately, there is no clear answer to this. It depends on the situation and use case. For example, some great choices for sports are the R-PUR Nano Light and Bloo Mask. On the other hand, masks such as the Airinum Lite Mask and Styleseal are good choices for daily wear.
What Are the Best Masks With Replaceable Filters?
While all masks on this list are reusable, only some have replaceable filters. Totobobo, Gill Mask, Flo Mask, Envo Mask, Mau Mask, MeoAir and Purely all feature replaceable filters.