Although reusable respirators do help us breathe cleaner air, they also result in a large amount of waste. Sure, they are better for the planet than disposable respirators, but many of them still need to be replaced every few months or less.
Gill Mask is one of the first masks that is seriously trying to combat the issue of waste. While some masks such as MeoAir masks take the approach of making biodegradable filters, Gill Mask takes the approach of making a mask that allows for the use of replaceable and very small filters.
In a time such as the present, when masks are essential in many areas, the issue of mask waste is greater than ever before. Millions of masks are used every day, and few of them are environmentally friendly.
Gill Mask also has many more benefits though. This is a mask that allows you to use any other filter – reducing the issue of availability. It is also easily cleanable, well-fitting, and affordable.
---
This post contains affiliate links. For more information, please refer to my affiliate disclaimer. I was sent a product for review, but the article is not sponsored. All opinions expressed in this post are my honest thoughts. I only recommend products that I genuinely believe in.
Information on this blog is for informational purposes only. Readers are encouraged to confirm the information herein with other sources. Furthermore, this information is not intended to replace medical advice from professionals. This website assumes no responsibility for the accuracy of the information, and information is subject to change without notice. Devices mentioned on this website are not medical devices and do not guarantee protection.
---
Filtration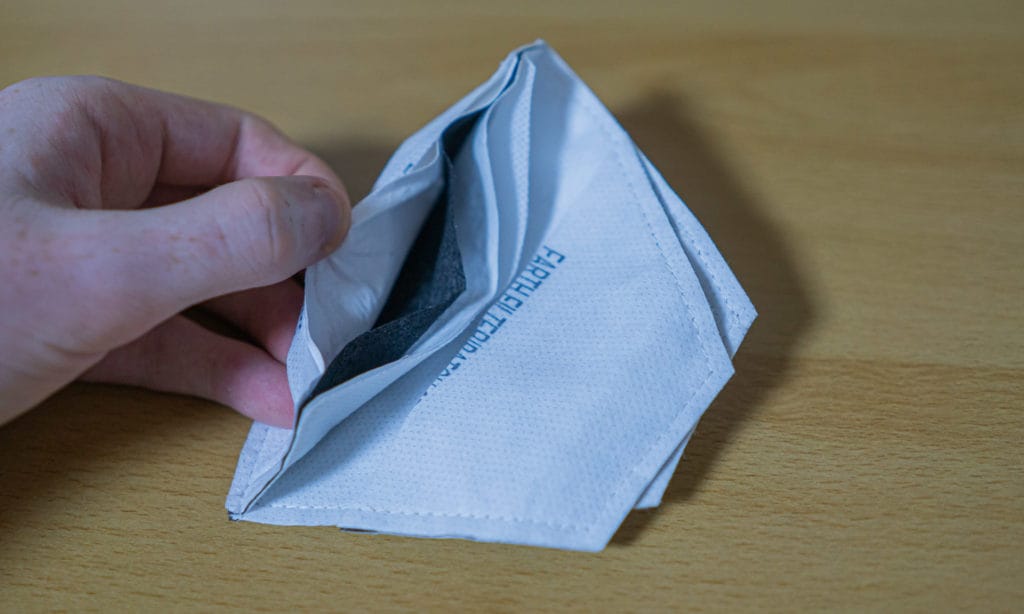 I used the Earth Filter with the Gill Mask.
The biggest benefit of the Gill Mask is that it doesn't require specific filters. Rather, you can place any filter within the mask. Since the actual filtering surface is also very small, there are a large range of different mask filters that you can place in the Gill Mask.
As with every mask, the Gill Mask is not effective unless fitted correctly. However, the gill mask makes it very easy to identify a good fit. Since the mask is made out of silicone, I found that it was relatively easy to achieve a fit without leaks.
When initially fitting the mask I noticed that there were leaks around the ridge of my nose. However, after adjusting the straps I was able to remove these leaks and to achieve a seal. When a correct seal is achieved, it's easy to identify as you will feel the whole mask move when you breathe.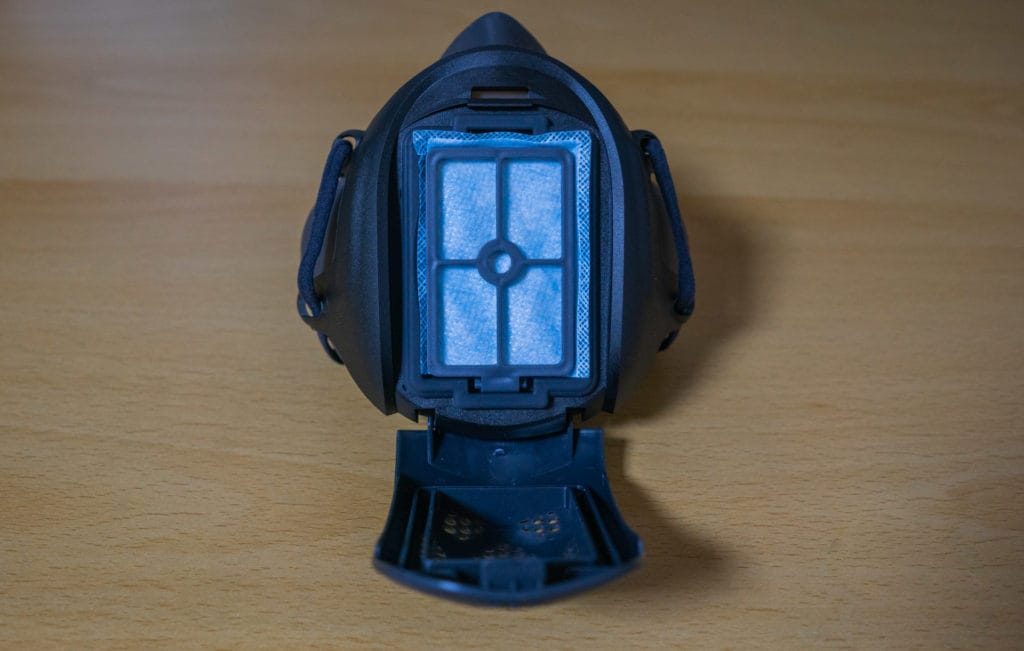 Once an effective fit is achieved, the mask will gain the filtration qualities of the filter that is used. Since the size of the filter in Gill Mask is very small, you will easily be able to cut a rectangle filter that fits from any other kind of filter that you may already own.
The downside to this is that it means that there is more breathing resistance. Since the surface area of the filter is smaller, the breathing resistance is greater. However, this is a trade-off that has been taken to allow for less waste and a better fit.
If you are looking to use cloth masks as recommended by the CDC, the Gill Mask will allow you to get longer use out of these masks. Rather than wearing each mask once, you can cut each mask into five or six separate filters.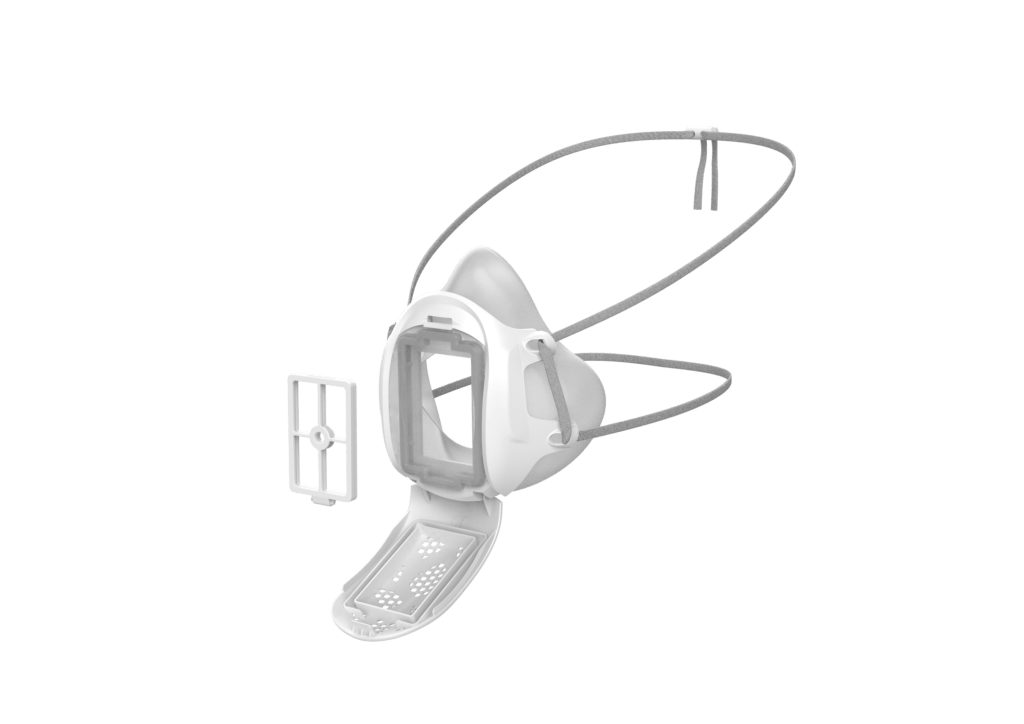 If you are looking for protection against particles (such as air pollution), then there are many masks that offer filters. These filters can either be removed from the masks and placed within the Gill Mask, or you can purchase replaceable filters.
Two filters that I found to work well (when cut down to size) were the Earth Filter and the MeoAir filter. Both of these filters can be cut down to two separate filters for the Gill Mask, and both have good filtration qualities.
Gill Mask does offer two of its own filters. These are the FS2 and the FP95. The FS2 filters are aimed at providing the wearer with bacterial particle protection, and they are capable of filtering out > 98% of bacterial particles at 3.0μm (EN14683).
The FP95 filter is designed for more complete protection, and this is the filter that is a good choice if you are looking for protection from air pollution. This filter adheres to the KN95 standard and has been tested by GTT. It provides ≥ 98.9% filtration of particles at the MPPS. It also meets the breathing resistance, flammability, and headband strength requirements of the GB2626 standard.
Finally, Gill Mask does not use a design that includes valves. This means that both air inhaled and exhaled by the wearer is filtered. This means that while the breathing resistance is higher, the mask can also be used for viral particles. Learn more about valves and when they are useful.
---
Fit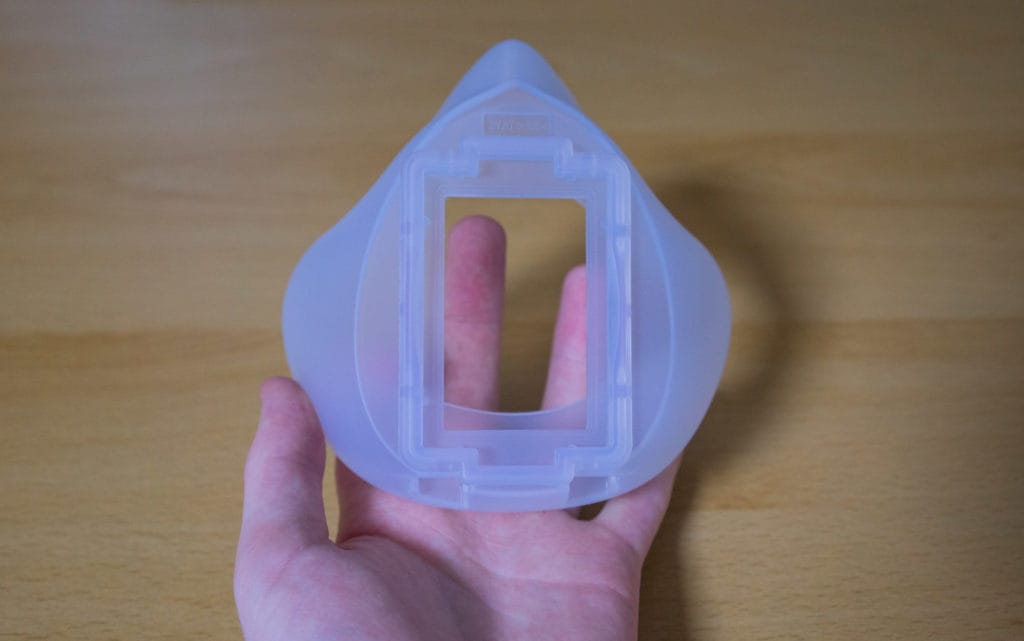 The Gill Mask has a rather unique fit, and that is attributable to the fact that the mask uses a silicone face mould. This allows a great fit to be achieved, as the material tends to allow for a much better seal than the traditional cloth face mask design that is commonly used.
Since the Gill Mask is tight fitting, I also found that it was easy to identify leaks. I could feel air escaping around the top of the nose seal, and this allowed me to quickly adjust the mask so that the air was no longer escaping.
Something that is instantly noticeable with the Gill Mask is that it feels very similar to a diving or snorkel mask. If you have ever done either of these activities, the feeling of the Gill Mask will be very similar. So far, I have encountered this feeling with all plastic/silicone masks that I have used, including the fan-powered Koolmask.
The company states that the inspiration for this mask came from a diving mask, and this was definitely in line with what I experienced.
The mask also features a double-head strap design. If you have ever read my reviews before, then you will know that I am someone that always complains about ear-straps.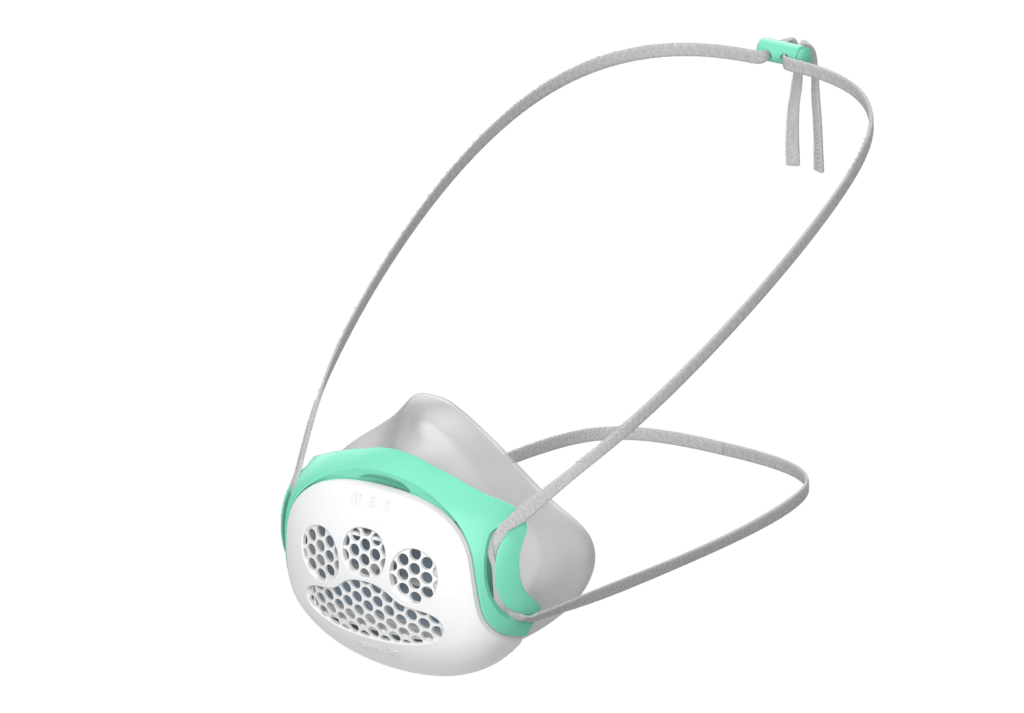 A children's model is also available.
Not only are ear-straps uncomfortable, but fitting masks with this design is also usually far more finicky. Further, it's often hard to achieve a proper fit that doesn't get dislodged with activity.
For this reason, the head strap design that the Gill Mask features is something that I greatly appreciated. I would even go a step further and say that the double strap design used on the Gill Mask is one of the best that I have used.
The elastic bands are strong, and the straps allow the user to firmly fit the mask in place and to ensure that the mask stays in place even after activity. The mask has one top headband and one band that goes around the wearer's neck.
---
Design
The Gill Mask features a plastic and silicone design. There are two distinct parts of the mask – the seal, which is the part that comes in contact with the users face and is made from silicone. The second part is made from a solid plastic, and this forms the front of the mask including the filter compartment.
The silicone seal is replaceable, and different size seals can be equipped. Currently, there are two sizes – regular and large. This seal is the most important part of the mask as it is the part that creates the seal on your face, and if used properly, will force particles to pass through the filter.
Although experiences will differ, I found that this silicone seal created a good fit. While there were some leaks near the top of my nose initially, these were easy to fix after adjusting the straps to create a tighter fit.
The plastic front-piece of the mask is a rather unique design and this is the part of the mask that houses the filter. The front panel of the piece features a mesh design, and this panel can be pulled down to reveal the filter square which will allow you to change the filter as needed.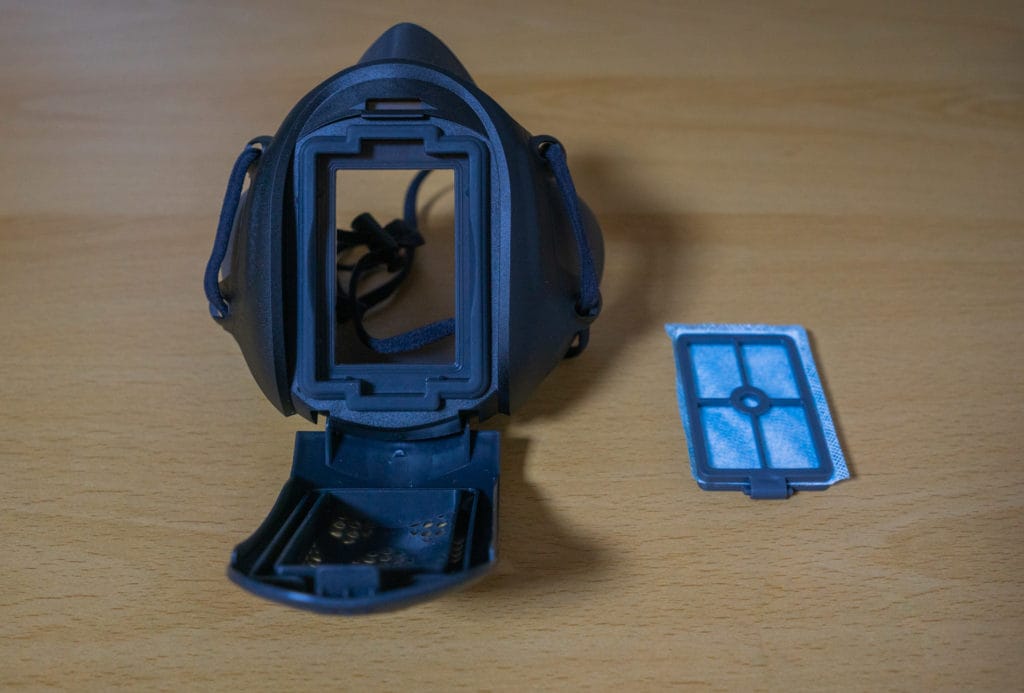 The filter itself is very easily replaceable. All that you have to do is open the front panel, remove the filter case, open the case, change the filter, and place the case back in the front panel of the mask. Once this is done, you can close the front panel and you are done!
Gill Mask excels in its simplicity. Although many masks have interchangeable filters, I have not experienced any masks that are as intuitive or straight-forward as Gill Mask is. I felt no need to refer to any manual or instructions when replacing the filter – I simply opened the mask and understood instantly what to do.
Gill Mask is bigger than most masks and you will notice that it protrudes further from your face. The effects of breathing are also far more noticeable, as the whole mask moves in and out when you inhale and exhale. These aren't necessarily downsides, but they are something to keep in mind.
As I mentioned previously, breathing through the mask feels like breathing through a scuba mask. If you have ever done so, you will know exactly the feeling that I mean. The silicon design and the fit feel very similar.
Although this mask feels very different from the more traditional cloth mask design, I actually feel more reassured when I wear this mask. Whenever I breathe I can feel the mask move, and this makes me feel like the mask has an adequate fit and that it is working as intended.
Of course, the most obvious downside to the design is the style. Where many other masks have even become fashion items, such as Mau Mask, Idontcare masks, and Re-Mask Sports, Gill Mask is far from this. It looks much more like a serious piece of respiratory protection, and it does stand out. However, with the bonuses that the design provides, it's up to you to decide what is more important.
---
Benefits of Gill Mask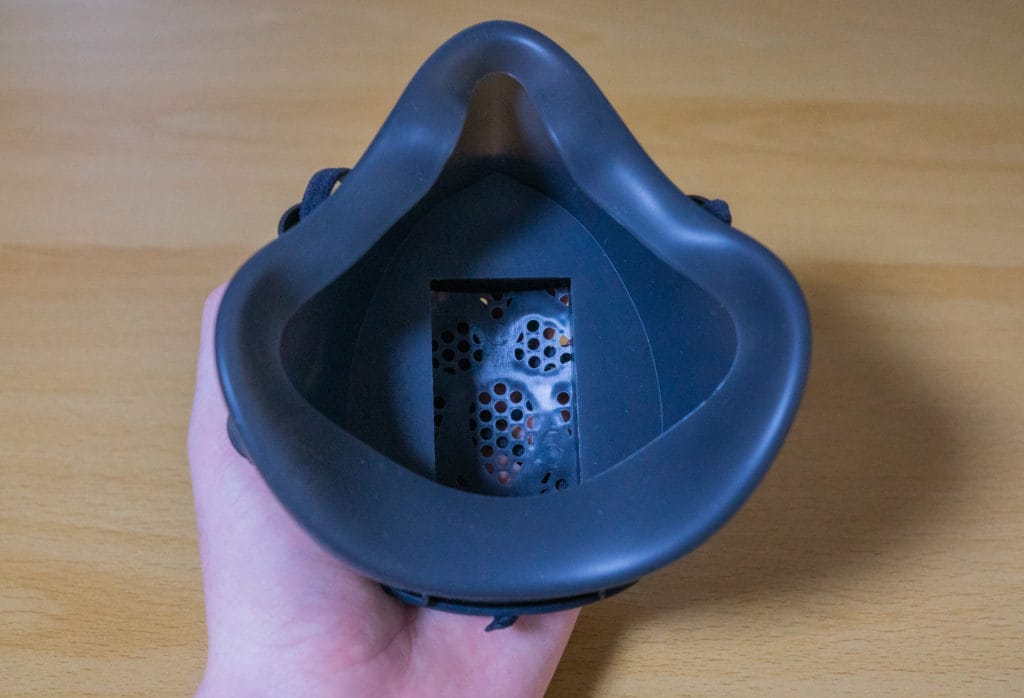 Although I have already covered many of the unique benefits that Gill Mask offers, it is worth discussing them further as they are what make this mask truly unique compared to other masks on the market.
The Gill Mask's biggest benefit is that it is far more environmentally friendly than the majority of masks currently on the market. Other masks either need to be replaced or use significantly bigger replaceable filters.
Not only does this filter system make the mask more environmentally friendly, but it also means that the mask is cheaper to use. Since the filters are so small, you can easily cut three or four filters from any larger filter. This is especially important in times of mask shortages.
The silicone and plastic design of the mask also means that it is exceptionally easy to clean. Currently, the most recommended disinfection methods involve heat and/or water, and the plastic nature of the Gill Mask means that both of these methods work very well – just remember to remove the filter first.
Of course, the plastic design also means that the mask is very easy to dry. Whereas cloth masks will often need to sit for at least one day to dry, the Gill Mask can easily be dried by hand.
Finally, I found that the Gill Mask provided a sense of security. While this may just be my experience, I found that it was very easy to identify leaks in the mask seal and to fix these. Once fixed, the mask felt like it created a strong seal and I could feel the mask pressure when inhaling and exhaling.
---
Is Gill Mask a Good Choice of Mask?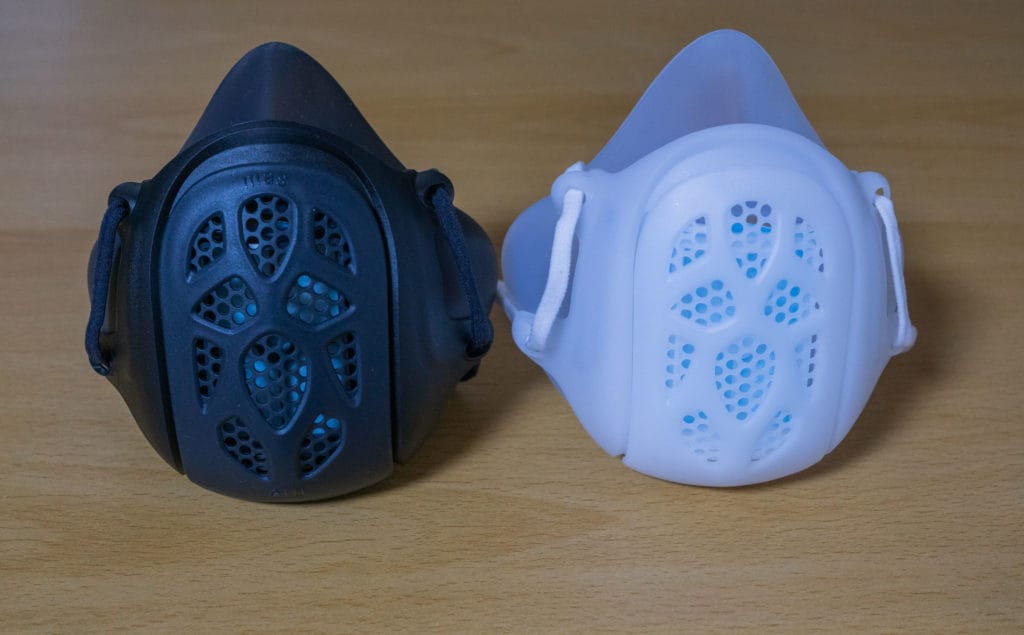 Overall I found that the Gill Mask is a very unique design and one that works very well. This mask is a great choice for anyone looking for mask to protect themselves from fine dust, viruses, or otherwise. Just make sure that the filter that you use is rated against whatever particle you are concerned about.
The biggest downside of the mask is that breathing through it is significantly more difficult than other masks. While the design brings many advantages, I can't recommend this mask for anyone that has difficulty breathing or plans to exercise while wearing the mask. If you have asthma or another respiratory condition it may be worth looking into other masks.
However, for anyone looking for a mask for daily wear the Gill Mask is a great choice. Not only is it cheaper and more environmentally considerate, but it's also far more user-friendly (you can use any filter) and creates a much better fit than nearly every other mask I have tested.
---
Gill Mask FAQ
What Rating Does Gill Mask Have?
Gill Mask itself does not hold a rating. This is dependent on the filter that you use. Since the mask allows the user to change filters at will, the exact filtration specifications depend upon the filter used.
Can Gill Mask Fit Children?
The standard Gill Mask is designed for adults. However, there is a children's version available.
What Filters Fit in Gill Mask?
The filter size for Gill Mask is very small, meaning that nearly every filter can fit the mask once it has been cut down to size. For example, a standard size surgical mask could be cut down into 4-6 separate filters for Gill Mask.
What Are Some Alternatives to Gill Mask?
Gill Mask is quite a unique mask, and currently there aren't any direct alternatives. The closest would be the Totobobo mask. O2 Canada Curve 1.2 is another popular alternative.
What Can I Use Gill Mask For?
Gill Mask can be used as a pollution mask or as a mask for protection from viral particles. Since the mask filters air both ways, and provides a strong seal, it is a good choice for many situations.