Re-Mask is a recent entry into the reusable mask market. This company, based in Hong Kong, has created a variety of different reusable mask products that are designed to do everything from protecting the wearer from small particles to replacing the filters in their current masks.
The company currently has five main mask types available. The Re-Mask Casual (with ICY & Organic models), Re-Mask Pro, Re-Mask Sports, and Re-Mask 2.0. However, I have already done a Re-Mask Sports review in a separate article.
Re-Mask masks are primarily designed to protect the wearer from particulate matter, viral, and bacterial particles. Depending on the model that you purchase, you can find models that offer valves as well as non-valve variants. 
Re-Mask offers a solid line up of masks and filters with different intended uses and audiences. In this Re-Mask review, I will look into the facts behind these masks as well as my experiences. I will also compare the different models and discuss the differences between them.
---
This post contains affiliate links. For more information, please refer to my affiliate disclaimer. I was sent a product for review, but the article is not sponsored. All opinions expressed in this post are my honest thoughts. I only recommend products that I genuinely believe in.
Information on this blog is for informational purposes only. Readers are encouraged to confirm the information herein with other sources. Furthermore, this information is not intended to replace medical advice from professionals. This website assumes no responsibility for the accuracy of the information, and information is subject to change without notice. Devices mentioned on this website are not medical devices and do not guarantee protection.
---
Learn more: Craft Cadence Nanofibre Mask
Re-Mask Models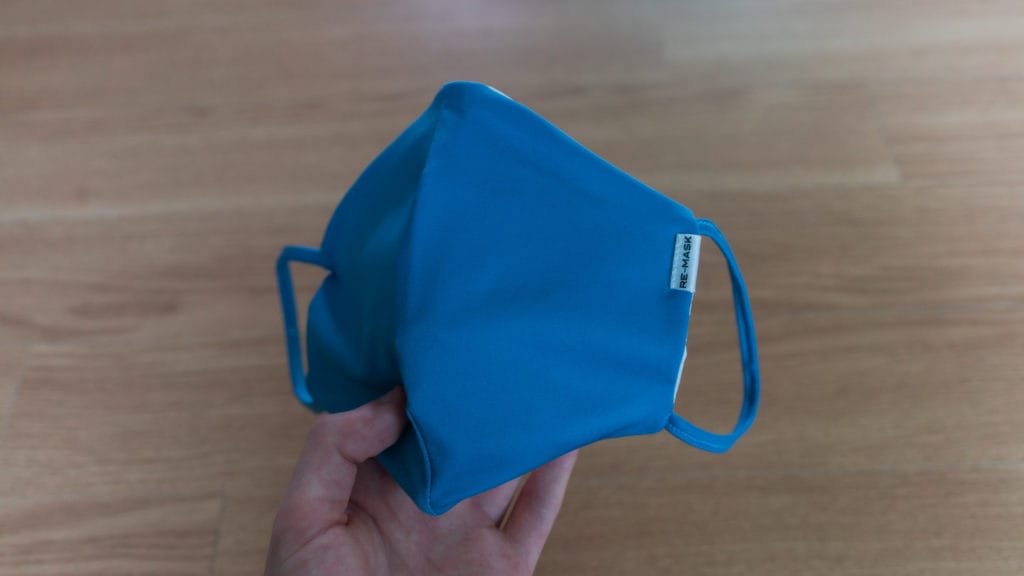 There are four different models of Re-Mask that are available. All of these masks use the same filtration technology (which I will discuss in more detail soon), but they all have small differences. When deciding which Re-Mask model to purchase, there are two main questions to ask:
Do you need a valve? If you are looking for a mask for spreadable particles (such as viruses) then you do NOT want a valve mask. Some countries have even recently banned masks with valves. However, a valve can be useful for fine-dust protection when only the wearer needs to be protected.
Do you want a mask with replaceable filters? Some Re-Mask models allow the user to change the filter when needed. This means that the mask will have more longevity and that it doesn't need to be replaced as regularly. However, it also means that the user will need to change the filters and make sure that they are fitted correctly.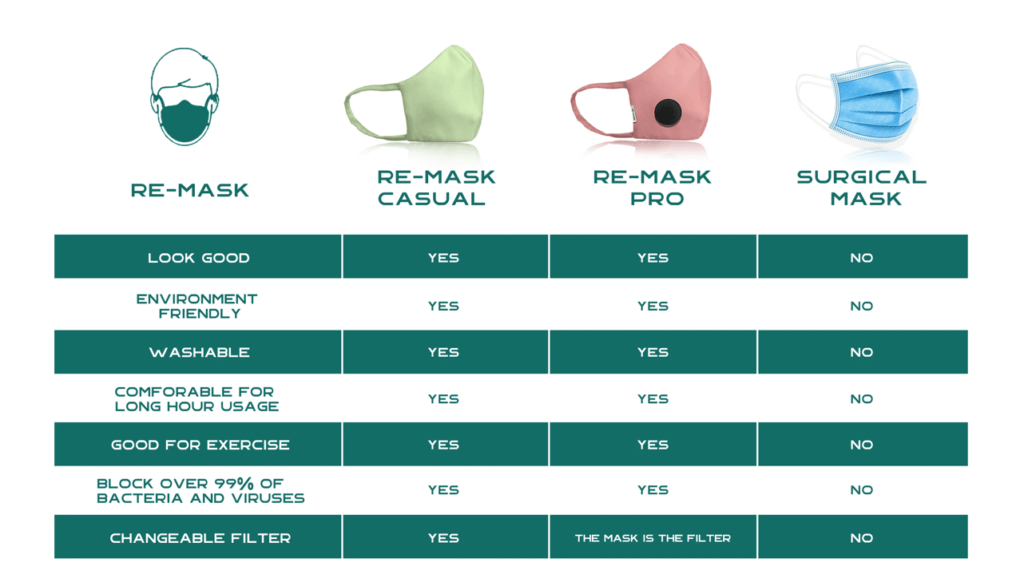 Depending on your answer to these two questions you can pick either the Re-Mask Casual or the Re-mask Pro. The Casual mask features a valve-less design but has replaceable filters. On the other hand, the Pro model has a built-in filter that can't be replaced but also features a valve.
For the majority of people, Re-Mask Casual is a better choice. This is due to the fact that there is no valve and since the mask uses replaceable filters. While the Pro may be a better choice for breathe-ability, it should only be used for pollution protection.
The ICY variant of the Re-Mask is the same as the Casual Mask except that it features a material that should make the mask cooler to wear. However, I have not tried this mask and I can not confirm whether this addition is worth it or not.
The Re-Mask 2.0 is very similar to the Casual Mask in design, however, it also builds on the design by making use of the cooler material used in the ICY mask. Again, I have not personally tried these materials but they should make the mask more comfortable in warmer conditions.
The Re-Mask 2.0 also features UPF 50+ protection from the sun. UPF measures the amount of radiation that can penetrate a fabric, and having a rating of 50+ means that less radiation will be penetrating the fabric when compared to the other models. While this might not seem like a big deal, it could be a nice benefit to have during summer!
Overall, if you are looking for the best pollution mask then the Re-Mask Pro is probably the best choice. This is due to the use of a valve, which can make the mask much more comfortable to wear over longer periods. However, if you want a more general-use mask, then the Re-Mask 2.0 is a great choice as it's similar to the Casual Mask but with a few extra features.
Get 25% off Re-Mask by using the code Breathesafeair at checkout. Or, use this link to have the discount automatically applied at checkout.
---
Filtration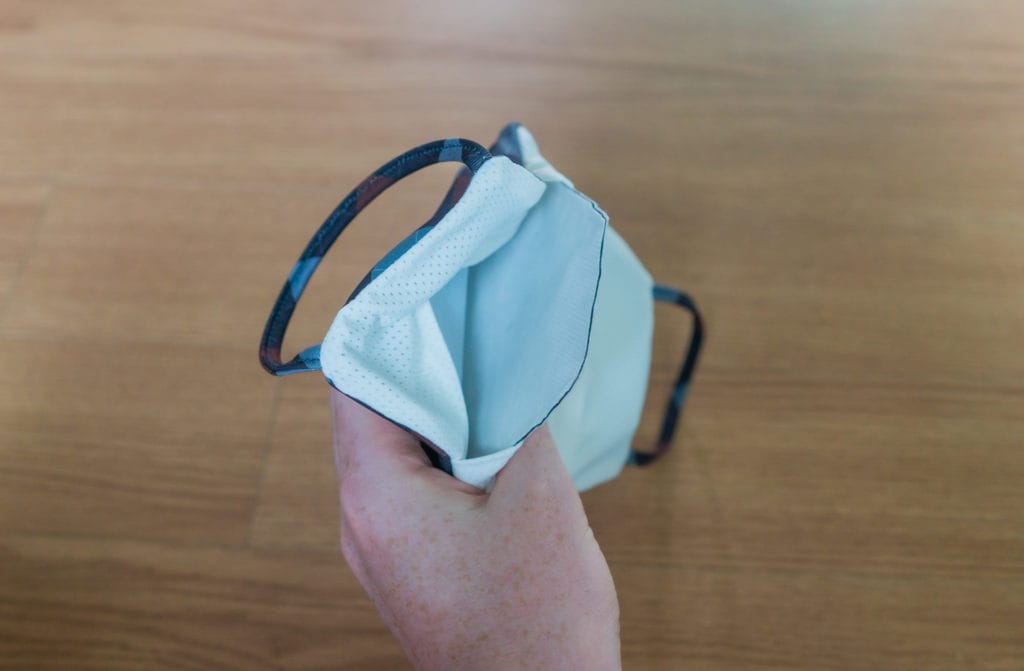 As mentioned above, the Re-Mask Pro (and other models besides the Re-Mask Casual) uses a built-in filter whereas the Re-Mask Casual uses an additional filter that can be changed. This means that the Casual mask will inherit the filtering properties of the filter that you use, assuming that it is fitted correctly.
Re-Mask currently offers filters from their own site for the Casual mask. The filtration specifications discussed here apply both the models that use replaceable filters, as well as the Pro mask with it's built-in filter. This is because the same filter media is used in both the replaceable filters and the built-in filters.
It's important to note that the below characteristics and filtration efficiencies apply only to the filters themselves (rather than the masks) and only in lab conditions. It's important to make sure that both the filter (in replaceable filter masks) and the mask are fitted correctly to achieve the best protection.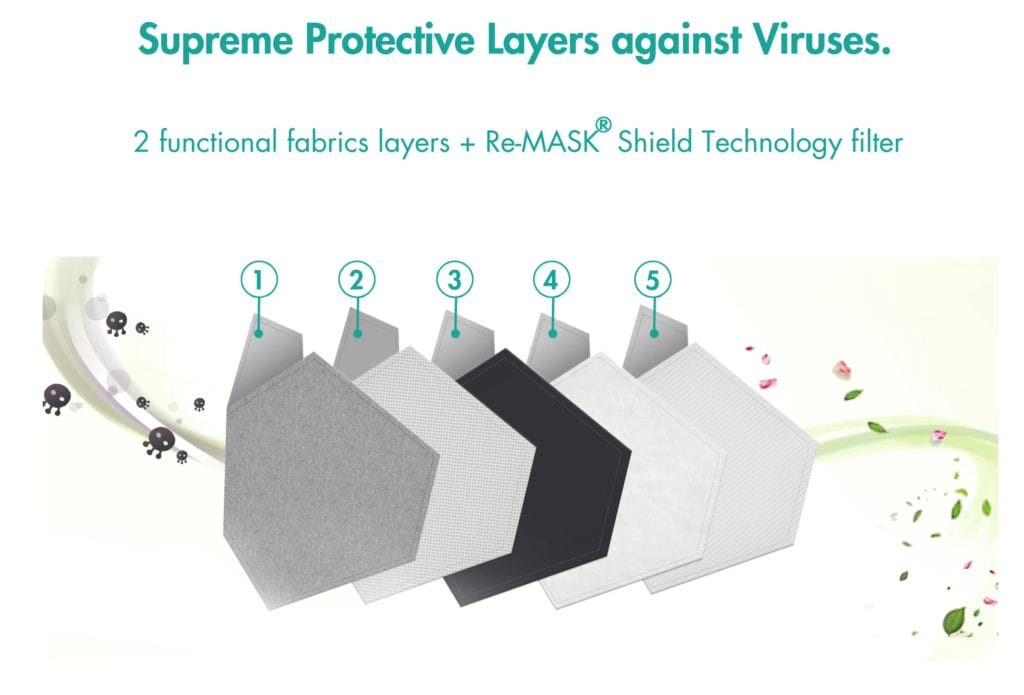 The filters have been tested by the third party laboratory Nelson Labs. They have had particle testing at 0.1μm, and viral and bacterial filtration testing at 0.3μm. 0.3μm is generally considered to be the MPPS or most penetrating particle size. This means that these results should theoretically be a worst-case scenario. The test results are shown on the table below.
| | | | |
| --- | --- | --- | --- |
| Re-Mask Filtration | Particle | Viral | Bacterial |
| Filtration % | ≥ 99.76% | > 99.9% | ≥ 97.3% |
All data used is from the Re-Mask Nelson Lab test results. These apply to the filter only.
These filtration results put the Re-Mask among the best reusable masks in regards to filtration efficacy. Many masks, such as Vogmask, filter to lower performance levels and are rated to filter only > 95% of particles at the MPPS.
A carbon filter is also included within all of the aforementioned filters. Carbon filters are designed to filter some organic compounds (such as VOCs) and are also effective at removing odours. However, they will not work against the majority of non-organic chemicals.
This is a welcome addition to the mask as it means that not only will the wearer smell fewer smells, but it can also keep the mask smelling fresher for longer. Some masks such as Cambridge Mask offer carbon filters, but it is not standard for most brands.
Overall, the Re-Mask masks offer some of the better filtration available among reusable masks. They are capable of filtering well over 99% of latex particles (standard test particles), over 99.9% of viral particles and over 97% of bacterial particles.
---
Fit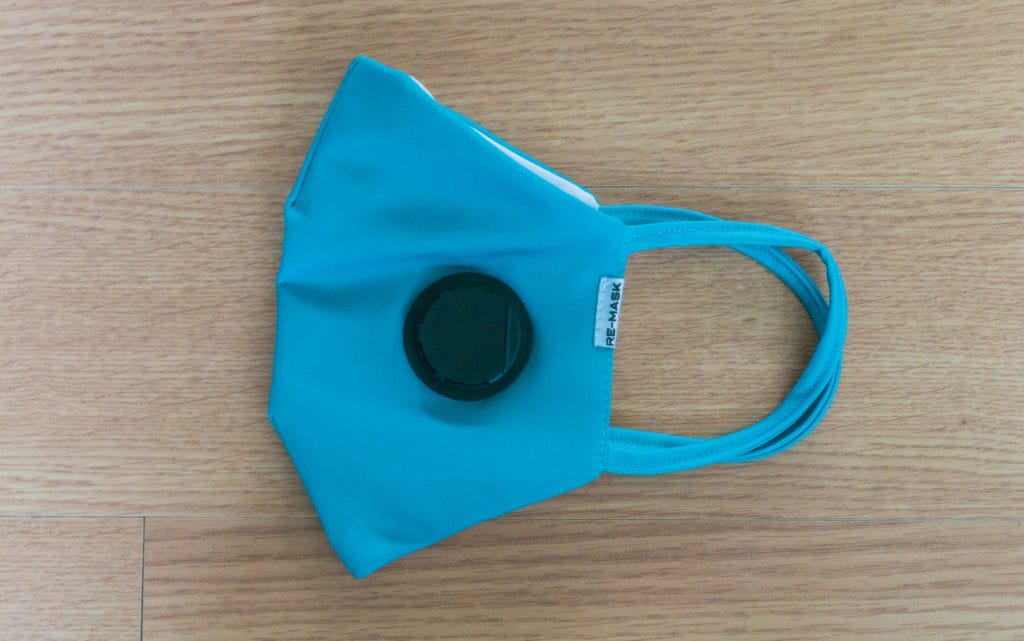 It is also important to note that mask & respirator fitting is vital. For the best protection, professional fit testing is required. However, for the vast majority of people that training isn't accessible. Further, masks tend to be much looser fitting than respirators. Although filters are often rated to filter > 99% of particles, this only applies if air is actually required to pass through the filter.
While there is no substitute for professional fit testing, there are many guides out there that can allow users to learn how to self-fit test to ensure that their masks are worn correctly. For respirators, this guide from the CCOHS is a good start.
I found Re-Mask masks to be quite loose fitting out of the box. I believe this to be due to the materials used. Re-Masks are very lightweight and they are very light on the wearers face. However, I found that this meant that they were harder to fit than other masks such as MeoAir and Cambridge Mask.
Where other masks tend to be more 'stiff' or 'taught' Re-Mask masks are very loose and while this does make them more comfortable to wear, it also means that it's much harder to remove leaks. I was able to achieve a decent fit after a few minutes of adjustment but I was not able to remove all of the leaks.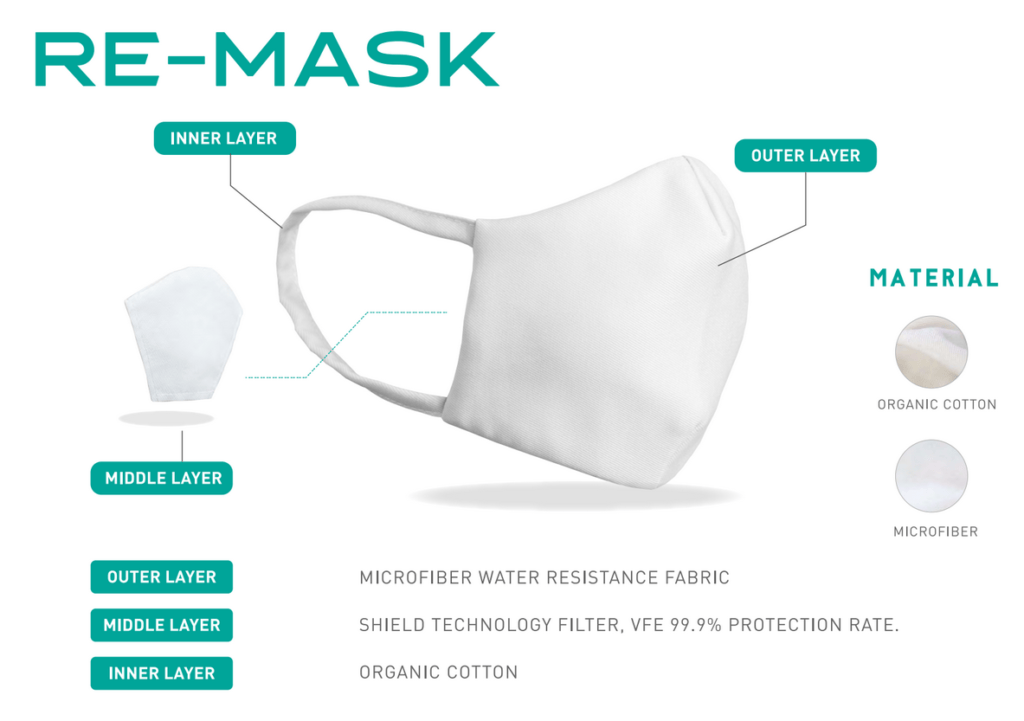 Something that is important to note is that Re-Mask sizes are larger than other masks. That is to say, a small Re-Mask is significantly bigger than most other small size masks. The same goes for comparing large Re-Mask to the large size of most other brands. For this reason, make sure to check their sizing guide. You may need to purchase a size smaller than you normally would.
Due to the lighter fit of the mask, and the lighter materials, the mask does feel comfortable to wear. I found this very noticeable in the past week when I have been wearing a Re-mask Organic (without a valve). It is currently summer in South Korea, and the air pollution in Seoul often means that wearing a mask is advisable. However, the temperature also often gets to 35 degrees.
I found Re-Mask to be more comfortable in this hot weather. While realistically no mask is comfortable in hot weather, compared to other masks that I have experienced I found this to be on the more comfortable side.
Overall, the Re-Mask models are comfortable but I would not wear them in situations where the best protection is needed. They much better protection that surgical masks and other lower-protection masks but they don't provide the same protection as tighter fitting masks due to leaks which are hard to remove.
With that being said, everyone has a different facial-shape and each mask will fit everyone differently. My experiences may be different to yours and the mask may fit you better or worse. Unfortunately, the only way to know for certain is to try it for yourself.
Get 25% off Re-Mask by using the code Breathesafeair at checkout. Or, use this link to have the discount automatically applied at checkout.
---
Design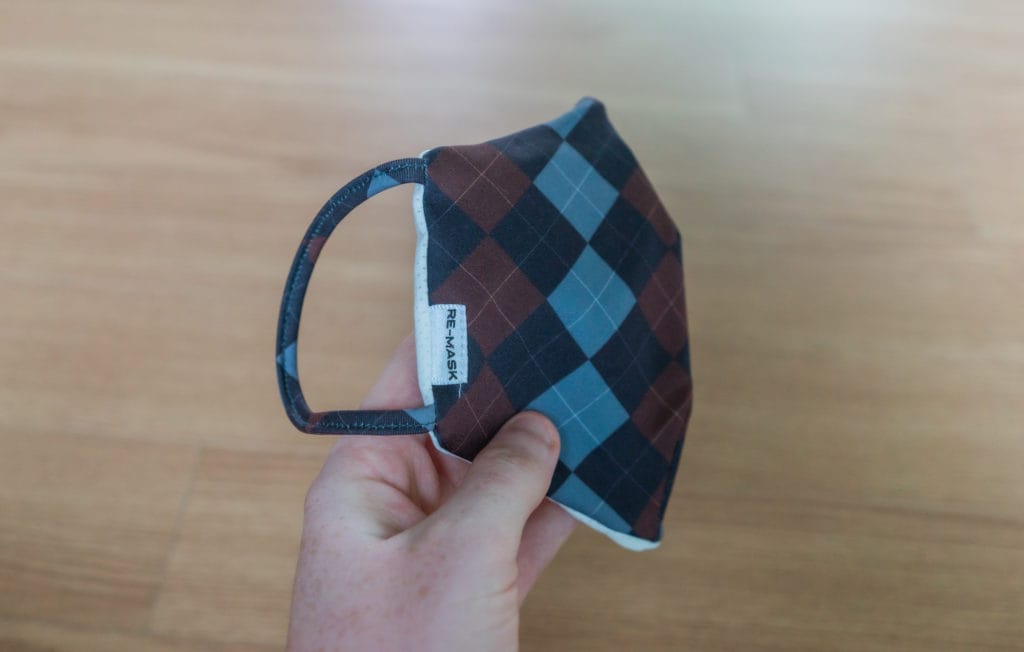 As I have already mentioned, the first two aspects to stick out to me in regards to design were the size and materials. The masks are quite large, so it may be necessary to purchase a smaller size than you normally would.
The materials also feel very light and thin. This does not imply anything about the filter – there are many factors that influence filtration efficiency other than thickness. However, this was quite surprising to me after experiencing many other masks that are often thicker and heavier.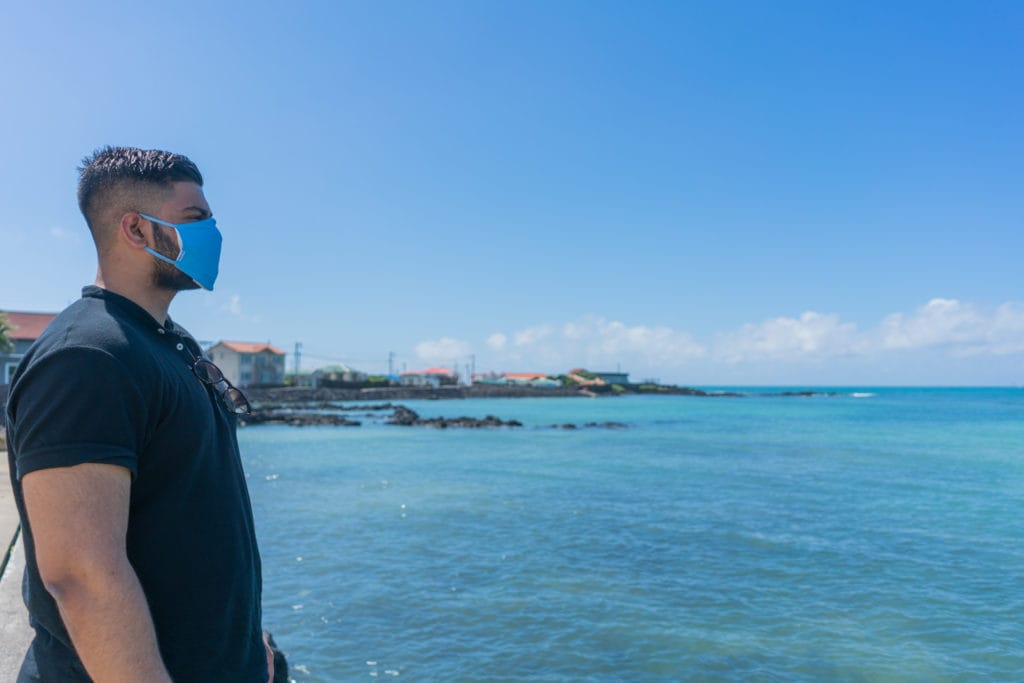 The mask follows a relatively standard cloth design. There is a wire nose-piece at the top of the mask that allows the wearer to mould the mask around their nose in order to minimise leakage. The wire is soft and easily malleable.
All Re-Mask models use a ear-strap design. This is not something that I am fond of as I prefer the more sturdy fit of a head-band. Luckily, this is something that is quite easy to fix. You can either use a head-strap accessory such as this one, or simple create a head-strap using your own materials.
Across all of their mask types, Re-Mask also offers many different designs. You can find everything from solid-colour masks to masks with dinosaurs on them! There is a lot of variety. The masks may not be as fashionable as masks made with fashion as a primary goal (such as the fashionable Mau Mask's and Idontcare masks), but there are a lot of choices to suit everyone.
---
Conclusion
Although being a relatively new entry into the market, Re-Mask has already created some good products that have been tested by one of the most trusted third-party labs.
The masks are comfortable and have had their filtration efficiency tested. The filters are easily replaceable (on the Casual model), and the masks are lightweight making them easy to wear for longer periods.
The only downside that I really experienced with the masks was with the fitting. It was quite hard for me to adjust the masks so that they fit well and removing leaks was difficult due to the loose fit. After adding an elastic string to create a headband and tightening the mask though, I was able to get a decent fit that I wasn't able to achieve with the earloops alone.
If you want to learn more about reusable masks you can find another article that I wrote about here. I discuss some of the most popular reusable devices on the market as well as their upsides and downsides.
Get 25% off Re-Mask by using the code Breathesafeair at checkout. Or, use this link to have the discount automatically applied at checkout.
---
Re-Mask FAQ
What Is the Difference Between Re-Mask Pro and Casual?
Re-Mask Pro comes with a valve, whereas the Casual does not. However, the Casual also has replaceable filters, while the Pro mask is the filter itself.
Is Re-Mask Better Than Other Masks?
When compared to other masks such as Vogmask, Cambridge Mask, Meoair, and more, the Re-Mask is comparable. The filtration qualities are similar or better, and the design is more lightweight.
Does Re-Mask Use Replaceable Filters?
Re-Mask Casual uses replaceable filters. However, the Re-Mask Pro does not have replaceable filters.
Is Re-Mask Third-Party Tested?
The filter in Re-Mask has been tested by Nelson Labs and has achieved > 97% filtration against viral, bacterial and latex particles.
Is Re-Mask N95?
No. Currently no cloth reusable mask has an NIOSH rating. However, the mask exceeds the filtration specifications that the N95 standard requires.