Re-Mask is quickly becoming a larger player in the reusable mask market. Since my recent review of their Re-Mask Casual and Re-Mask Pro, they have released a new mask series. This is the Re-Mask Sports Series.
These masks have been designed with two goals in mind. Where their other masks are more pricey, the Sports Series is designed to be much more affordable. This mask is aimed at families or large groups that need reusable masks.
The second goal was to make a mask that is comfortable during exercise or in warmer weather (hence the name 'sports'). In this review, I will look into the differences between the Re-Mask models as well as compare how well the Sports Series holds up to other reusable masks on the market.
Before I begin, it is worth noting that the Sports Series is quite similar to the Re-Mask Casual, a mask of which I recently did a full review. If you are interested in learning more, please visit my full review of Re-Mask.
While the Sports Series does differ in a few areas (especially price), it is also very similar to other models – especially in regards to sizing, design, and material usage. If you have already experienced a Re-Mask, you will have a feeling of how the Sports will feel.
In saying that, I do think that the Re-Mask Sports offers enough difference from the other masks in the series to warrant an article. With that being said, this is my full review of the mask.
---
This post contains affiliate links. For more information, please refer to my affiliate disclaimer. I was sent a product for review, but the article is not sponsored. All opinions expressed in this post are my honest thoughts. I only recommend products that I genuinely believe in.
Information on this blog is for informational purposes only. Readers are encouraged to confirm the information herein with other sources. Furthermore, this information is not intended to replace medical advice from professionals. This website assumes no responsibility for the accuracy of the information, and information is subject to change without notice. Devices mentioned on this website are not medical devices and do not guarantee protection.
---
Re-Mask Sport Review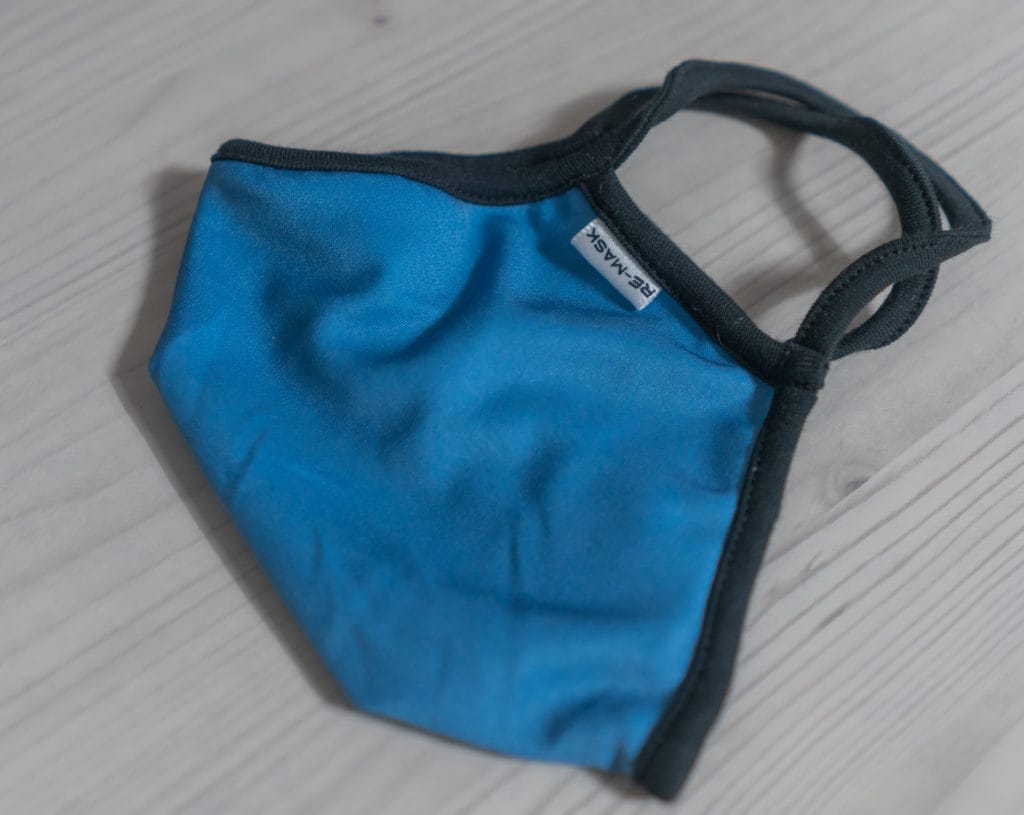 As previously mentioned, Re-Mask Sports is similar in build and design to some of the other Re-Mask masks. However, the biggest differentiating factor is price. This mask is designed to be purchased in bulk, and this makes it great for larger groups or families.
One mask starts at $25. However, once you get to two masks you are looking at $39 and then $49 for 4 masks. The pricing makes it obvious that they intend to sell this mask in larger packs. Considering that masks are becoming essential for many people (and that they are often very costly), this pricing is a welcome change.
There are also some other minor design changes. The fabric is designed to be cooler than the materials typically used in masks, the ear straps are bigger so as to provide more comfort, and there are more (and more unique) designs available.
In many ways, the Sports mask feels like a version two of the Re-Mask Casual. It has improved upon one of the downsides of the original mask (the ear straps), and a downside to all masks (the breathability) while keeping the strengths the same.
---
Filtration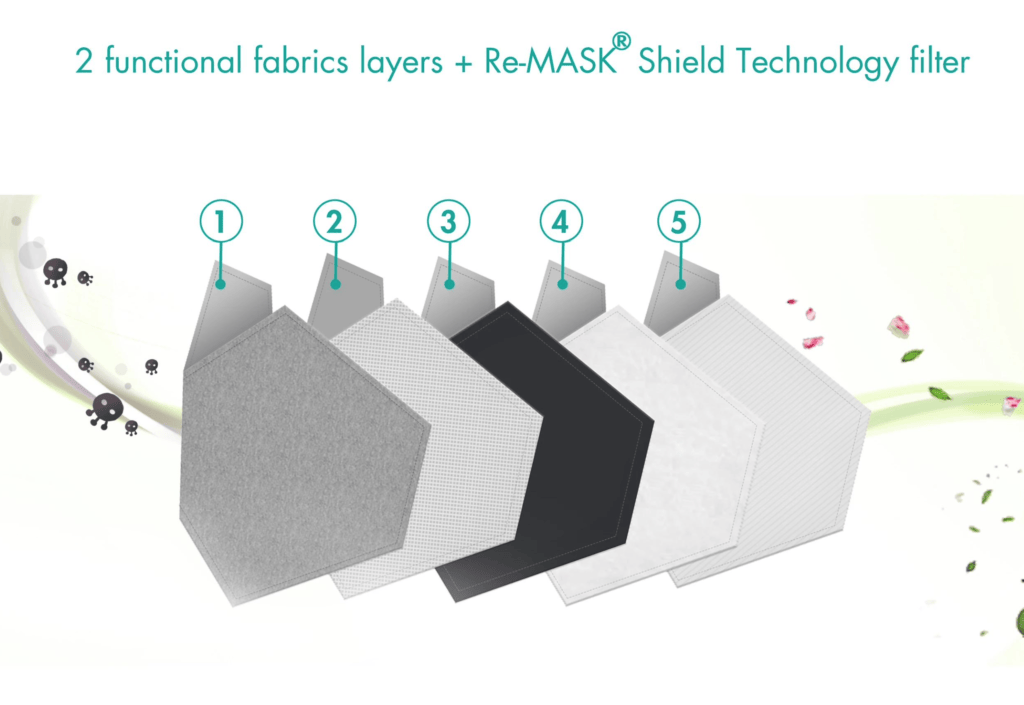 The Re-Mask Sports features a replaceable filter slot on the interior of the mask. This means that filters can be changed over the lifespan of the mask. This has a few implications that will be explained in more detail soon.
Most importantly, however, is that the use of replaceable filters means that the filtration efficiency is based upon the filter in use. Where some masks have filters built-in (and therefore have filtration qualities in the mask itself), the Re-Mask Sports filtration is based upon the filter placed in the mask.
If you choose to use any filter other than the one that is designed for the mask, make sure to check that the filtration capabilities are adequate for the situations that you will use the mask in. A universal filter that I recently reviewed, the Earth Filter, is also made by the company behind Re-Mask and it has good filtration capabilities.
The filter that was created for Re-Mask has been third-party tested by Nelson Labs, who found the filtration results listed below. Of course, the filter can only filter particles when they are drawn through the fibres, meaning that the filter must be correctly fitted.
| | | | |
| --- | --- | --- | --- |
| Re-Mask Filtration | Particle | Viral | Bacterial |
| Filtration % | ≥ 99.76% | > 99.9% | ≥ 97.3% |
All of the filtration tests above were carried out at 0.1μm, a standard particle testing size for masks and respirators. It is worth mentioning, that 0.1μm is lower than the MPPS (most penetrating particle size). This means that larger particles may have a higher penetration rate.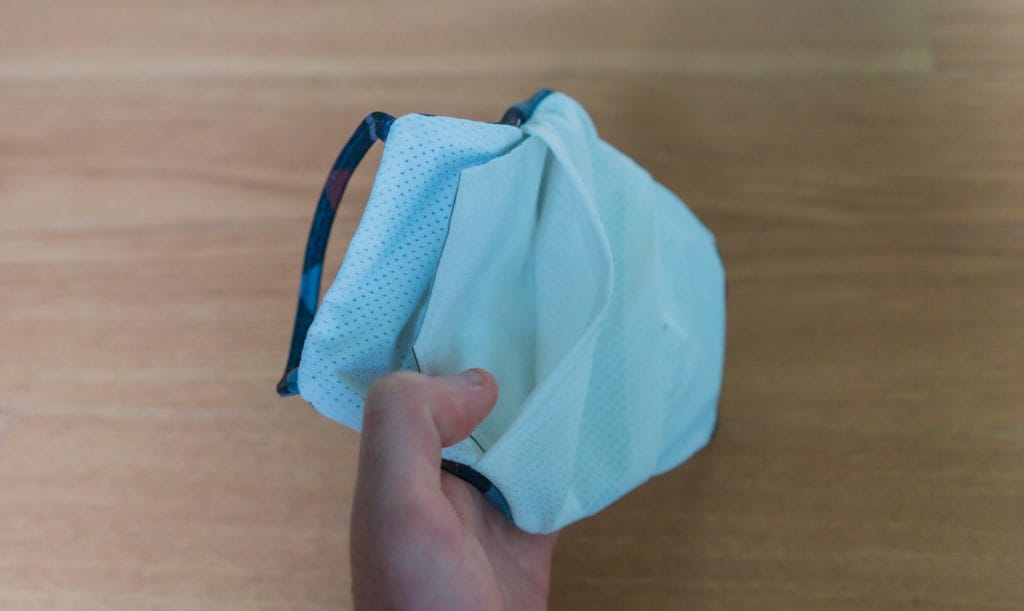 Particles both larger and smaller then 0.3μm (the MPPS) will be filtered at higher rates. Although this may sound unusual, it is caused by the different filtration mechanisms that are used to capture particles as they pass through the fibres.
Provided that the mask is correctly fitted, and uses the included filters, the Re-Mask Sports offers strong filtration qualities. The mask offers similar, or better filtration that other popular masks such as Cambridge Mask Airinum Urban Air 2 and Vogmask.
Purchase Re-Mask Sports and get 25% off with the discount code 'Breathesafeair'.
---
Fit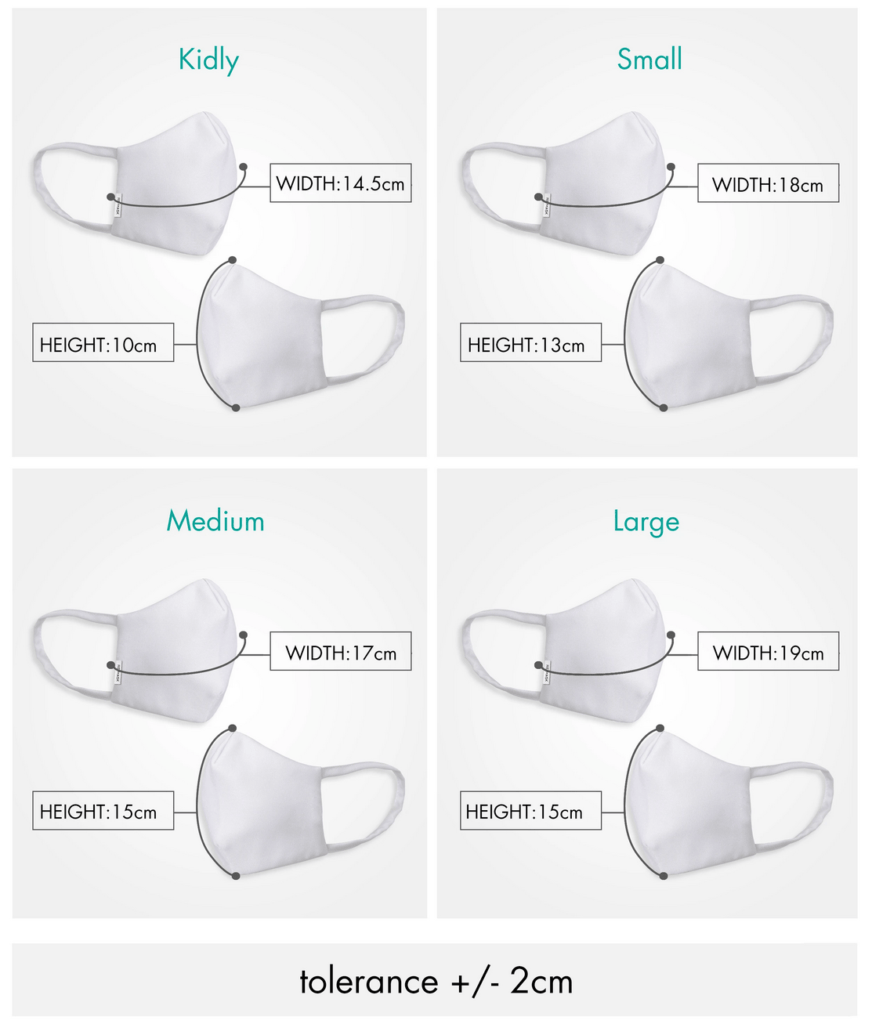 Re-Mask has always made relatively loose-fitting masks that are quite large in size. This is no different with the Re-Mask Sports. It's important to remember that fit is key when it comes to wearing a mask – a mask must have a good fit to be effective.
Before I discuss the fit further, it's important to keep to check the sizing guide before purchasing any masks. Re-Masks tend to be large in size, and I have found that it's best to purchase the masks in a size smaller than I would typically use.
Where I would usually purchase a medium-sized mask, I have found that is is better to purchase Re-Mask in a small size. If you usually purchase large masks, a medium may fit you better. They have a full sizing guide on their website for more details.
Wearing the correctly fitting mask, I have found that a decent seal can be achieved. The ear-straps on the sports mask are larger, and this means that they put less pressure on the ears. However, they are still ear-straps, and I would appreciate the addition of a head-ban accessory.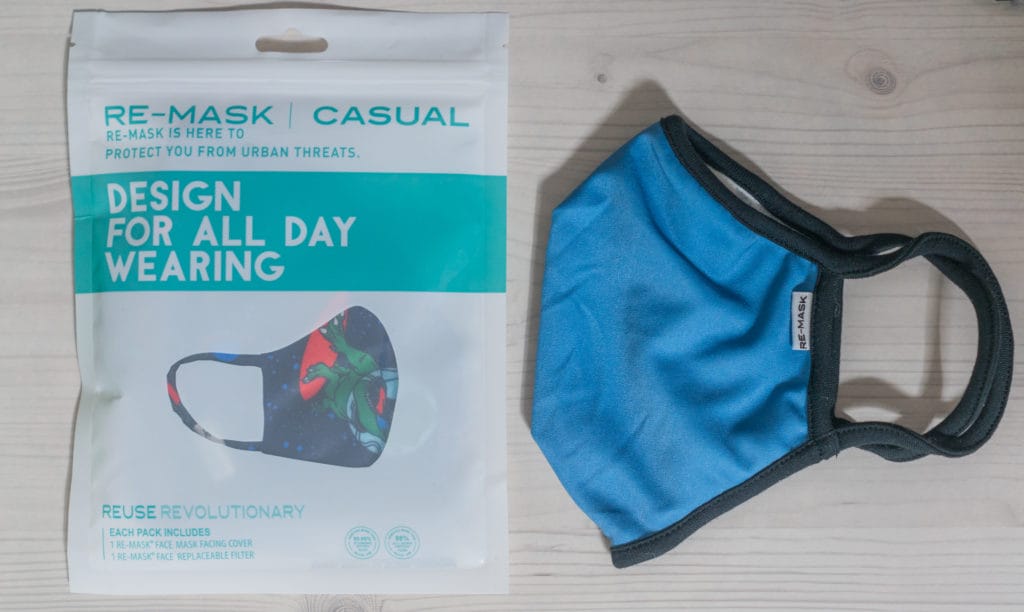 Luckily, these accessories are easy (and cheap) to purchase. Not only will they make the mask more comfortable, but they can also make it fit much better. While I did find the ear-straps to be loose, using a head-band fixed my issues and made the mask fit much better.
I may be wrong here, but I believe that the wire nose piece in the Sports mask is also slightly firmer. This is a very welcome addition as I found the nose piece to be very easy to adjust to achieve a correct fit. Although I may be wrong, this wire seems better than on the Re-Mask Casual.
Overall, the Re-Mask Sports won't provide as strong of a fit as masks such as the MeoAir Lite and Cambridge Mask. However, the loose fit still allows for a good seal provided that it is the right size and adjusted correctly. Some peolpe may even prefer the more loose fit.
Purchase Re-Mask Sports and get 25% off with the discount code 'Breathesafeair'.
---
Design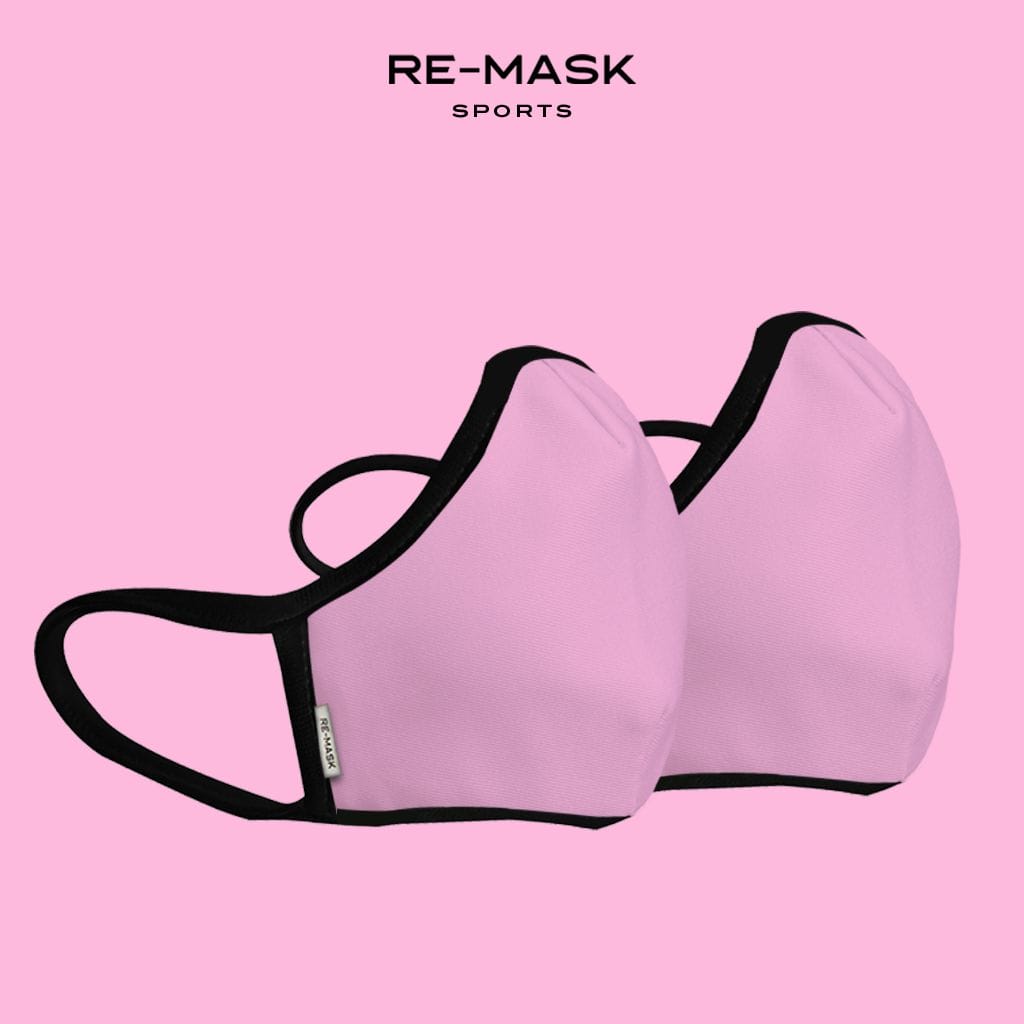 The Re-Mask Sports Series offers many different designs. There is everything from simple colour designs (from black, to blue, to white) to designs with dinosaur prints and unicorn prints. Again, this shows that the mask is targeted at families.
The masks themselves are very lightweight and they are some of the lightest on the market. Although not as light as the Bloo Mask (which is the lightest mask I have ever used), they are considerably lighter than many other cloth masks.
There is very little branding on the mask, and all that you will see is a small tag with the brand name. Other than that, the masks are very simple. I appreciate the fact that branding is kept to a minimum as it makes the masks blend in well.
The filter is made from five layers. The outer layer is a water repellent layer which is made to reduce moisture on the filter itself. I was able to run a tap on the mask for 30 seconds without the interior of the mask getting wet at all. I am sure that I could have kept running the water for longer too!
Inside the mask is the filter media itself. This filter is capable and can filter > 99.7% of particles, > 99.9% of viruses, and >97.3% of bacterial particles. The filter is protected by an interior layer that is made from cotton which reduces possible irritations on the wearer's skin.
Design-wise, the biggest difference from the Casual and Pro versions of masks is that the Sports features a black fabric outline around the edges of the mask. This outline makes the mask a bit more defined while still keeping it subtle.
Purchase Re-Mask Sports and get 25% off with the discount code 'Breathesafeair'.
---
Lifespan & Cost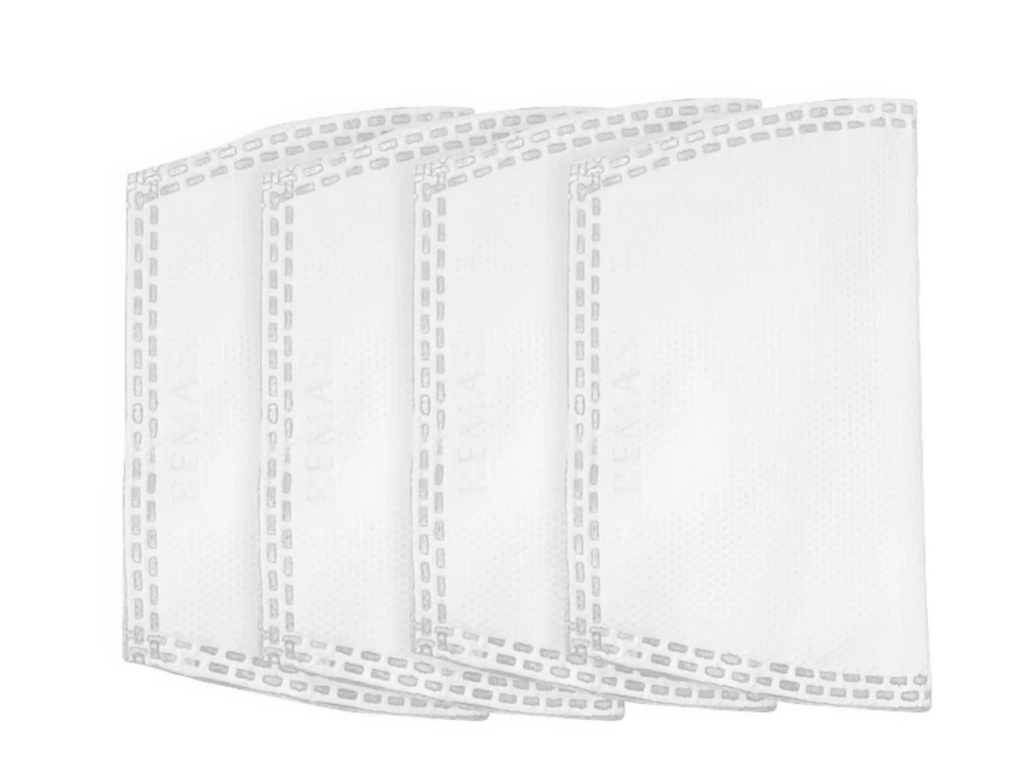 Since the Re-Mask Sports uses a replaceable filter, the mask itself can be used indefinitely. There is no specific recommended lifespan. However, if the mask gets damaged it should be replaced as soon as possible.
The Shield Filters that are available from Re-mask are intended for 90 hours of use – around one week of usage. These filters come in packs of 4 for $12 USD, making each filter cost around $3. Considering the indefinite lifespan of the mask itself, this can make the cost quite low over the lifespan of the mask.
The mask can be washed, but should only be washed by hand. This is in order to keep the mask intact and to make sure that it isn't damaged while washing. The filter should always be removed when the mask is being washed.
Re-Mask Sports begins at the price of $25 per mask. However, this drops down to $49 for 4 masks. Unfortunately, as of the time of writing all of these masks must be purchased as the same size. The complete pricing is listed below:
1 piece, $25
2 pieces, $39
4 pieces, $49
Each of these masks comes with one filter, and extra filters can be purchased at a price of 4 for $12. Although they don't fit as well, other filters such as the Earth Filter can also be used in Re-Mask Sports.
Purchase Re-Mask Sports and get 25% off with the discount code 'Breathesafeair'.
---
Is Re-Mask Sports Worth it?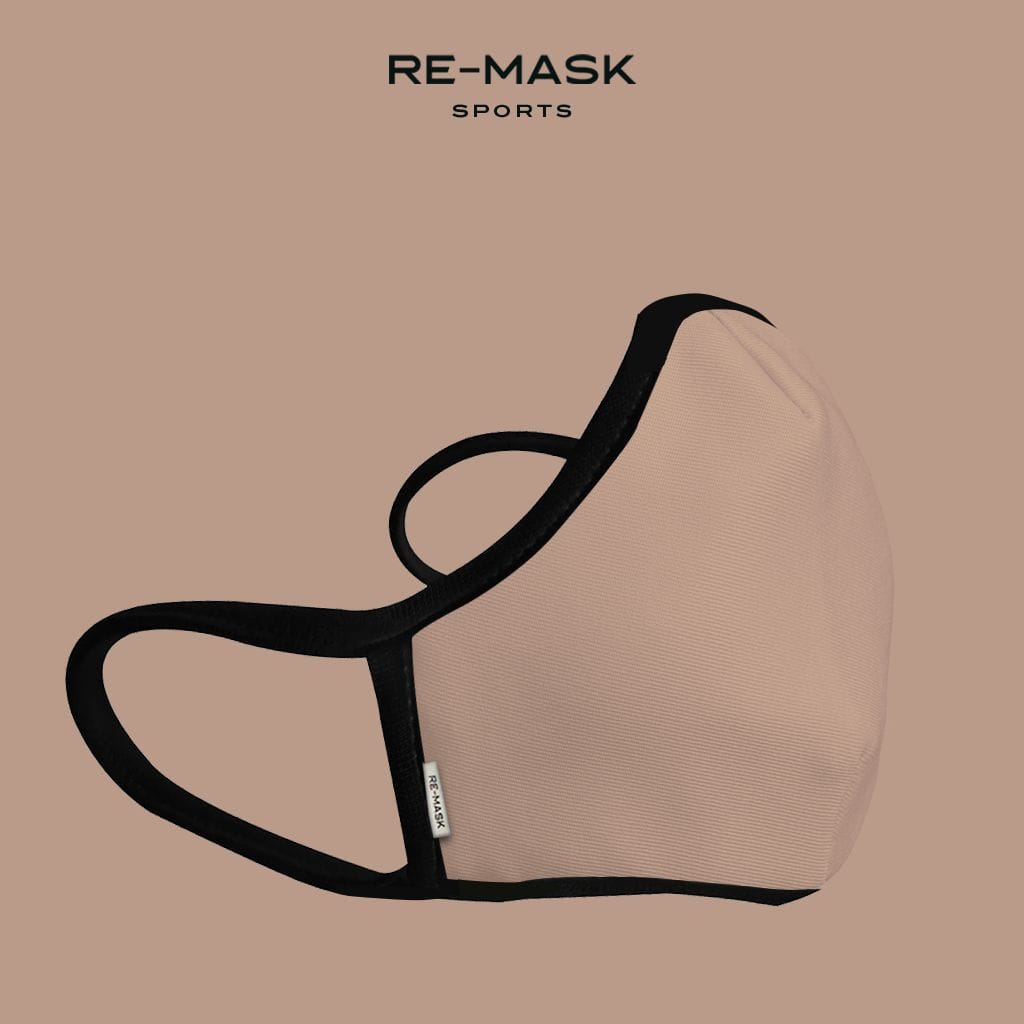 In many ways, this feels like a second generation of the original Re-Mask models. It feels like a mask that is very similar in regards to the basic elements, but it also feels like a mask that has been developed by building upon the downsides of the original.
The mask is not perfect – I wish that it came with a head-band, and I think the sizing and fit could be improved upon. This mask is loose fitting and I would not recommend it for someone looking for the best protection. Rather, it is a mask that people who feel claustrophobic when wearing tighter masks might appreciate. It strikes a balance by offering better protection than surgical masks while feeling as easy to wear.
The mask features reusable and replaceable filters (with a good lifespan) and the breathing resistance is relatively low. The ear straps are large so as to remove some pressure, and the material means that the mask is a bit cooler than others.
If you are interested in learning more about masks or learning more about other reusable masks on the market, I have many more mask reviews. I am constantly doing new reviews and writing new articles, so please feel free to check other reviews to find the best mask for you!
Purchase Re-Mask Sports and get 25% off with the discount code 'Breathesafeair'.