When I first moved to Korea, the Cambridge Mask Pro was my mask of choice for years. At that point, I didn't know much about masks and Cambridge Mask is one of the most beginner-friendly masks on the market. It's also one of the most well-known.
However, despite wearing the mask for years I've never actually done a full review of the mask. While I have done a comparison between Cambridge Mask and Vogmask and Airinum, I never got around to reviewing the mask itself.
In this post today I want to give my thoughts on Cambridge Mask as well as its strengths and weaknesses. This is my full review of the Cambridge mask – does the mask hold up compared to some of the other popular masks on the market?
I will focus on what I believe to be the most important aspects in order – technology (filtration), sizing & adjustability, design, and models. I think then conclude the post by mentioning for whom the mask might be a good choice and vice versa.
Please note that there are two models of Cambridge Mask – the Cambridge Mask Basic and the Cambridge Mask Pro. This review will focus on the pro model. Both masks are largely similar, except the Pro has a longer lifespan and makes use of a valve.
---
This post contains affiliate links. For more information, please refer to my affiliate disclaimer. I was NOT sent a product for review, this product was purchased by myself. All opinions expressed in this post are my honest thoughts. I only recommend products that I believe in.
Information on this blog is for informational purposes only. Readers are encouraged to confirm the information herein with other sources. Furthermore, this information is not intended to replace medical advice from professionals. This website assumes no responsibility for the accuracy of information and information is subject to change without notice. Devices mentioned on this website are not medical devices and do not guarantee protection.
---
Filtration Technology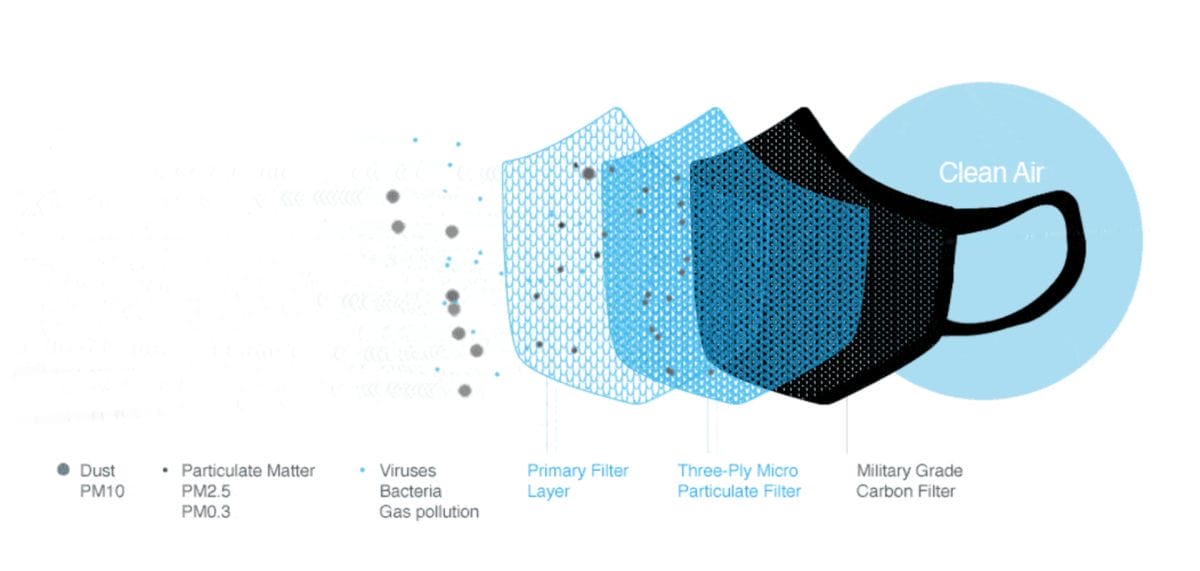 The most important aspect of any mask is the filter. The same goes for the Cambridge Mask. Luckily, it offers quite strong filtration qualities and is comparable to some of the better-performing masks on the market.
Before going any further in this section there are some important points to keep in mind. Firstly, the Cambridge Mask does NOT hold a NIOSH (N95/N99/N100) rating. There has been a lot of confusion around this fact in the past and it led to many people believing that Cambridge Mask was N99.
The confusion came because Cambridge Mask claimed that they had N99-level filtration. While this is a true statement, the mask does not officially hold the rating. In fact, there is currently no reusable cloth mask that holds a NIOSH rating as they are intended for medical devices.
While reusable cloth masks can't hold NIOSH certifications, there are other certifications that they can hold. FFP ratings given by the EU, KN ratings given by China and KF ratings given by Korea. Cambridge Mask holds an FFP2 RD rating. In regards to filtration, this is roughly similar to the N95 rating. You can learn more about European EN certifications here.
Since this confusion, Cambridge Mask has become much more transparent about its certifications and lab tests. In the past, they were never displayed publicly and I had to reach out to the company in order to write my initial review. Since then, they have now made everything public. Please feel free to refer to their certifications page for more information.
On top of the aforementioned rating, Cambridge Masks have also undergone filtration testing by Nelson Labs. These tests indicate the exact filtration efficacy at the most penetrating particle size and under the NIOSH testing conditions. Nelson Labs carries out these tests using latex, bacterial, and viral particles.
The specific filtration efficiencies of Cambridge Mask are as follows: PFE (latex particle) ≥ 98.9%, VFE (viral particle) ≥ 99.8%, BFE (bacterial particle) ≥ 99.0%. For each test 5 samples were used, and these were the lowest results from the samples. It is worth noting that, on average, the samples provided higher filtration as the table below shows.
Lowest Filtration Result vs Average
| | | |
| --- | --- | --- |
| Particle Type | Lowest Result | Average |
| PFE | 98.9% | 99.76% |
| BFE | 99.0% | 99.72% |
| VFE | 99.8% | 99.86% |
The above results were found using a particle size of 0.1μm (for PFE) and 2.8μm (BFE & VFE). Further, all of these certifications are new with the tests being carried out in July/August of 2020. This means that the information is up to date and accurate.
With all of that being said, Cambridge Mask's filtration results look good when considered in isolation. However, I wanted to compare the filtration to other popular masks to see how Cambridge Mask holds up against the competition
Particle Filtration
| | | |
| --- | --- | --- |
| Filtration Type | Particle (0.3μm) | Particle (0.1μm) |
| MeoAir | ≥ 96% | ≥ 99.74% |
| Cambridge Mask | ≥ 99.47% (old results) | ≥ 98.9% |
| Vogmask | ≥ 95.38% | NA |
| Totobobo (F94) | NA | ≥ 99.7% |
| Metamask | ≥ 98.7% | ≥ 99% |
As seen in the table above, Cambridge Mask provides very competitive filtration at 0.3μm (albeit using older test results). In fact, compared to the masks in the table above it performs the best at 0.3μm. At 0.1μm Cambridge Mask falls slightly behind when considering the worst-performing sample results. However, the filtration still falls within 1% of the other masks.
With filtration results this high, it may be best to use whichever mask fits you best. A well-fitted FFP2 or equivalent mask will provide better protection than a loosely-fitted FFP3 or equivalent mask with leaks. With this in mind, since the results are quite similar it might be worth picking the best fitting mask instead.
Viral & Bacterial Filtration
| | | |
| --- | --- | --- |
| Filtration Type | Viral (2.8μm) | Bacterial(2.8μm) |
| MeoAir | NA | > 99.99% |
| Cambridge Mask | ≥ 99.8% | > 99.0% |
| Vogmask | > 99.9% | > 99.9% |
| Totobobo | > 99.9% | > 99.9% |
| ConceptAR | ≥ 99.7% | ≥ 99.8% |
Viral and bacterial filtration with Cambridge Mask is also equal to or over 99% in both cases. While the results are lower than some of the competition, they are the worst-case results out of the samples tested. In reality, all masks should perform similarly and the best fitting mask is the best choice.
Cambridge Mask also features a carbon filter. This filter is very heavily advertised and is a big attraction for many buyers. Where the primary filter is designed to filter particles, activated carbon filters are designed to adsorb volatile organic compounds. Carbon filters are also effective against odours.
Breathability on the Cambridge Mask Pro is good but not the best. Some masks, such as those using wool (AusAir AirWeave) microfibre (NarooMask) and nanofibre (Happy Masks, Craft Cadence Mask, etc) filters have significantly better breathability. Cambridge Mask is comparable in breathability to masks such as Vogmask and standard KF94/KN95 respirators.
Overall, the Cambridge Mask Pro features a capable filter. The particle filtration provided is some of the best among reusable masks, however, it does fall slightly behind the competition in regards to viral and bacterial particle filtration. With this in mind, however, it's important to remember that no mask is effective unless fitted correctly.
---
Fit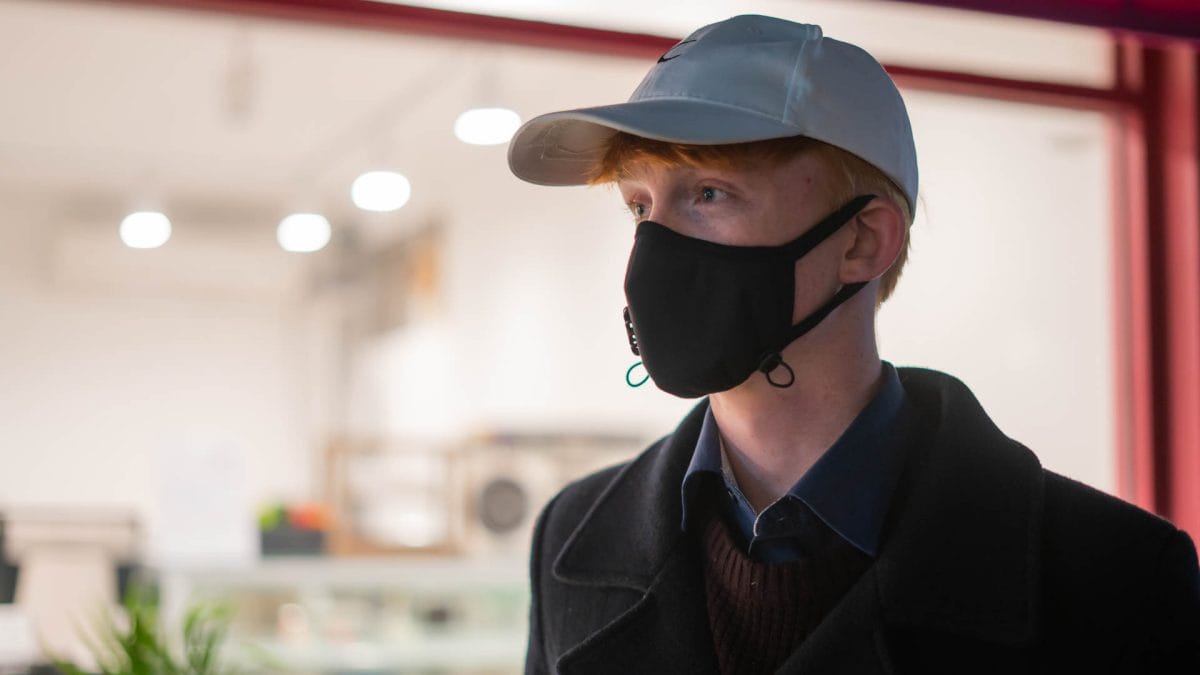 Fit is perhaps the second most important aspect of any mask. A good fit is vital for the best protection. If a mask does not create a seal on your face, particles such as fine dust, bacteria, and viruses can avoid the filter altogether and enter around the edges.
This means that the air (that comes through the sides) is not actually being filtered. While you may receive some protection, you will not receive it to the full extent that the mask can offer. For this reason, it's very important to make sure that you purchase the correctly sized mask.
If you need to know how to fit a mask correctly, please refer to official resources such as this guide from CCOHS. While the guide is designed for respirators, many of the same steps and processes still apply to cloth masks.
Cambridge Mask follows the standard reusable mask formula. This means that it uses ear-straps and a wire nose-piece for adjustments and fitting. However, Cambridge Mask Pro also has one bonus that is one of its greatest appeals for me.

This unique feature is the chin strap design that the Cambridge Mask Pro uses. Unlike other ear-strap masks, the Cambridge Mask features two adjustable straps on either cheek. These straps are elastic and help create a strong seal around the chin.
In times such as this, it's vital not to touch your mask. However, the adjustable straps give you an easy way to adjust the mask without touching the filter or ear straps. Adjusting these straps also makes it much easier to get a better fit.
The Cambridge Mask also features the wire nose-piece that is standard in most respirators. The wire nose piece has rather surprisingly always stayed in place during my wear (two masks, each of which were worn at least 100 times).
However, this mask runs into the same issue that all other ear-strap masks do. There is very strong pain behind the ears after long periods of wear. If you see yourself wearing your mask for long periods of time, make sure to purchase the optional headband accessory. This is a cheap addition and will remove the pain from your ears.
I far prefer masks that use neckbands (such as Purar Mask) and full headbands (rather than simply using a headband that connects to the ear straps). However, ear-straps are still the standard for reusable cloth masks and are far more common than these alternatives.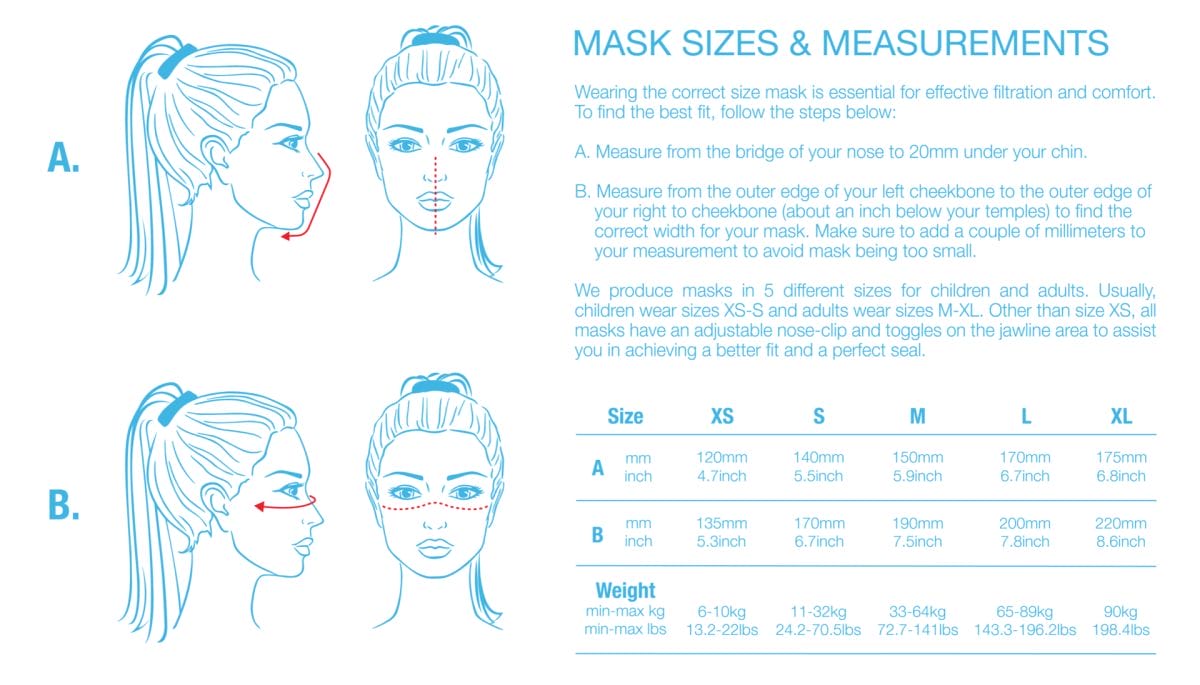 Cambridge Mask size guide. From Cambridge Mask.
One thing to keep in mind is that the Cambridge Mask is a bit heavier than some other competing masks. Although this doesn't make an impact initially, you may notice the extra weight (and the heat that it creates) over long periods.
Therefore, while the Cambridge Mask won't provide as good of a fit as masks such as the Gill Mask which use a silicone face seal, it is one of the best fitting cloth masks that I have tried. Cloth masks are often very hard to fit correctly, but I found Cambridge Mask to be one of (if not) the best so far.
---
Comfort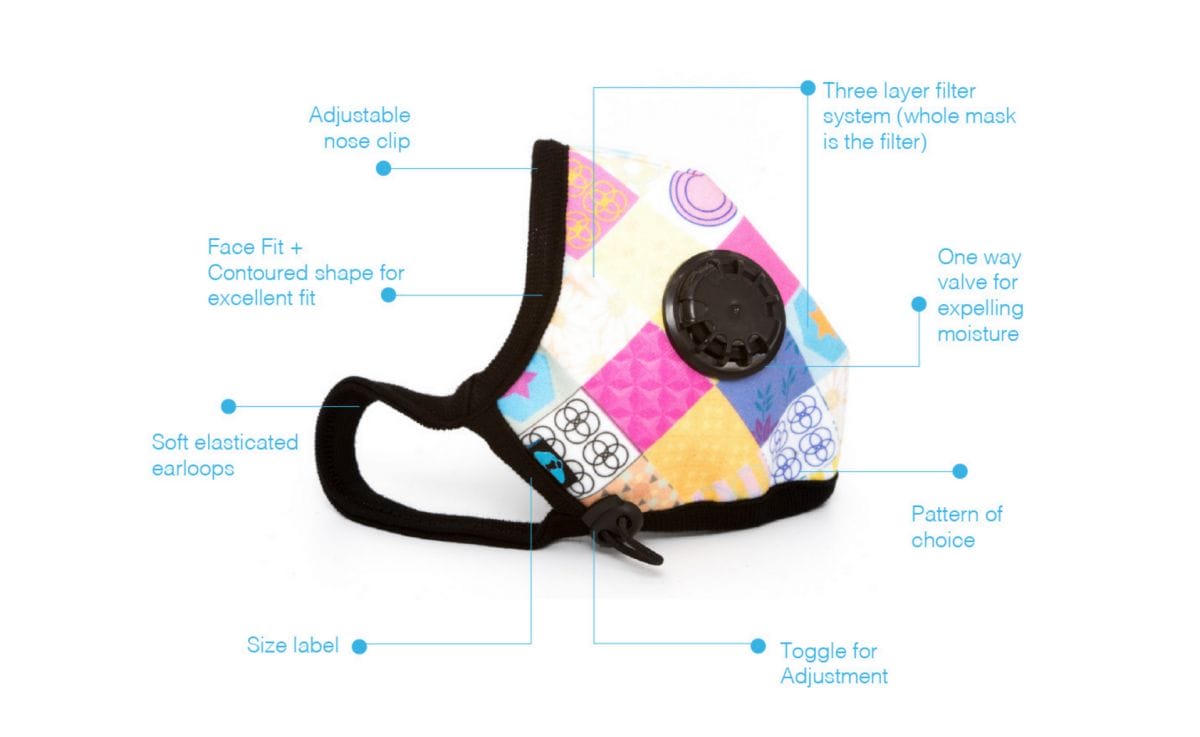 The unfortunate truth is that no mask is comfortable. If there is a comfortable respirator, I have not found it yet, and I would guess that I have tried over 50 so far. While some are more comfortable than others, the reality is that they all provide some discomfort. Cambridge Mask is right in the middle of this spectrum.
Although not the most uncomfortable mask, it is also not the most comfortable. The mask is quite heavy and (even with the valve) it can get very hot and humid inside the mask.
Some other masks remedy this by using lighter materials, or by using dual-valve designs. While masks will always have different air conditions inside compared to out, the Cambridge Mask can get very hot inside – especially in summer.
The second issue that I have with comfort is the use of ear straps. Ear-straps are just, by nature, far less comfortable compared to head-bands. Luckily, this can be remedied using an optional accessory.
---
Design
Cambridge Mask comes in many different colours and designs, and there are new designs being released over time. Whether you want a simple black mask or something that stands out, you can find it from Cambridge Mask.
If you want a mask that blends in, I recommend getting the Churchill or another plain-coloured mask. The mask is almost totally black and can work with nearly any outfit.
The biggest standout feature of the mask from the exterior is the dual chin straps. Cambridge Mask is the only mask that I know of that features these straps and they are the only standout feature from the outside.
The Cambridge Mask generally doesn't stand out due to the use of a relatively standard mask design. While some of the colour options are more eye-catching, there is a good balance of subtle and obvious colours. I appreciate the choice as I personally prefer masks that blend in.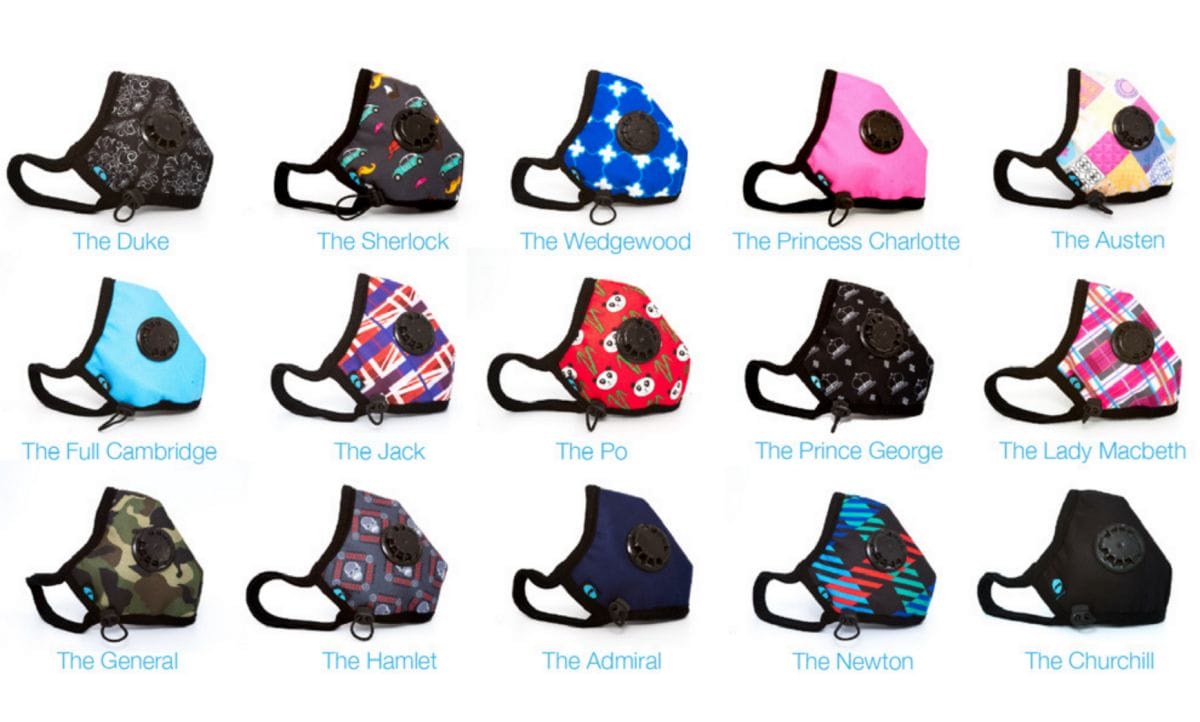 I would have appreciated the addition of some kind of microfibre inner layer, to prevent contact with the carbon filter. However, this is a very minor issue. I found that I did suck in the inner filter sometimes when breathing, but the issue was not as serious as with other masks.
As mentioned earlier, the mask is a bit heavier and warmer than some competing masks. However, when considering that the Cambridge Mask provides very high filtration levels, this is a minor downside. The mask might not be ideal for warm climates, but it is a good choice for people needing high filtration.
---
Lifespan
Cambridge Mask is a reusable mask, and therefore it can be used for extended periods of time. The masks do not feature a replaceable filter, so the mask must be replaced once breathing becomes difficult.
However, the mask's lifespan ranges from about 200-350 hours depending on the level of air pollution. Even for days of very high pollution (such as an AQI over 300), the mask has an expected lifespan of over 200 hours.
While there is no definite way to tell when the mask needs replacing, the general advice is to replace the mask once breathing becomes significantly more difficult. If you wear the mask regularly it should last a few months.
The mask can be hand-washed, but this will not increase the lifespan of the mask. Having the option to wash the mask can be very useful in certain situations, especially when they can start to smell after a few days of wear.
---
My Thoughts
The Cambridge Mask was my go-to mask for about 18 months before I started this blog. While I have tried a lot of different masks in the past few years, I always came back to the Cambridge Mask.
Personally, I come back to the mask because it is one that I trust. It fits me well (I have a very small face and use the medium size), and the masks last for a long period of time. It's very easy to wear, and it's a mask that I quickly got used to.
My biggest issue with the mask is that it is warmer than other masks. While this is no issue in the colder months, it can be very uncomfortable in the warmer months. Also, the head strap is essential for long periods of wear. Without the head strap, the mask starts to give me headaches after 4 hours or so of wear.
However, despite these small issues I often end up coming back to Cambridge Mask. I know that many others do too. For that reason, even today (when I have experienced many masks), I often find myself comparing to Cambridge Mask. For me, this is the benchmark of a good cloth mask.
---
Should You Buy a Cambridge Mask?
With all of that being said, this brings my Cambridge Mask review to a close. So, would I recommend the mask? Well, as you may have guessed after reading my personal thoughts on the mask, yes, I would recommend it.
The Cambridge Mask is a great reusable mask and the one that I usually turn to for my own use. If you are looking for a respirator that provides good filtration against fine dust, and viral and bacteria particles, this is a great mask and definitely one that you should consider. It's purchasable almost all over the world, and many countries have authorized resellers.
Of course, it's not perfect. There are other masks that provide better viral and bacterial filtration. On top of this, the Cambridge Mask is a very warm mask to wear and I found it to be uncomfortable during the warmer months. Despite these flaws though, the mask has served me well.
Pros:
> 98.9% filtration.
Proven to be child-safe.
Very adjustable, allowing for a good fit.
99.8% and 99.0% viral and bacterial filtration.
Long life-span.
Cons:
Warmer/heavier than some other masks.
Ear bands can cause pain after long periods of wear. This can be avoided with the head-band accessory.
Filtration efficacy will wear off over time (or as washed)
Considering Vogmask or Airinum too? Check out my Vogmask vs Airinum vs Cambridge Mask comparison. If you are looking for something else altogether, I also have a post on the best reusable respirators.
---
Cambridge Mask FAQ
What Rating Does Cambridge Mask Have?
Cambridge Mask holds the FFP2 RD certification. On top of this, it has over 99% filtration for all particle types (PFE, BFE, and VFE).
Is the Cambridge Mask N99?
The Cambridge Mask adheres to the NIOSH N99 filtration requirements. However, the mask does not hold an official NIOSH N99 rating.
What are the Best Cambridge Mask Alternatives?
How Long Can I Use Cambridge Mask For?
Usually, you can use a Cambridge mask for around 300 hours or until breathing becomes difficult. However, this depends upon the levels of pollution that you are wearing the mask in and the AQI.
Can Cambridge Mask Filter Viruses?
Cambridge Mask offers 99.8% viral filtration as well as 99.0% bacterial filtration.
Does Cambridge Mask Use a Valve?
Yes. Cambridge Masks make use of a valve. However, this valve can be covered using the optional valve stopper.