Over the past couple of years – primarily aided by the pandemic – I've had the chance to try hundreds of different disposable face masks. Although this blog usually focuses on the best reusable masks, I decided it was time to put together an article looking at disposable alternatives.
If you're new to Breathesafeair, you may be wondering who I am and why I'm putting this list together. Frankly, I'm just a mask enthusiast. That's a weird term, I know, but it's true. I love trying masks, and I find the science behind the devices incredibly interesting. I've run this website for a couple of years, and I've done my best to provide the best mask reviews on the internet.
While I am not sure if I've achieved that goal, I have had the opportunity to try hundreds of masks from around the world. This experience gives me a good point of comparison when it comes to the capabilities of a mask. If you're curious about what my regular review articles look like, please check out the review section of this website.
Anyway, with this experience, I wanted to write an article covering the best disposable (or semi-reusable) face masks that you can purchase right now. While I'm sure some of these devices will be familiar, there are also a few outliers that I'm sure you're less aware of. So, with that being said, let's jump into the best disposable face masks.
Requirements
Before going any further, I set a few requirements for masks to qualify for this list. Here are the requirements:
These masks MUST be certified. In addition, they must have at minimum > 80% filtration (KF80/FFP1). This makes most of the disposable masks technically respirators as opposed to 'face masks'. If you are unsure of the differences between the standards listed in the article (such as N95, KN95, P2, FFP2, etc.) please refer to my article comparing respirator standards.
All devices on this list must be at least somewhat common online and accessible to all. While local markets such as South Korea have a range of fantastic KF94 masks, these are very hard to source for most people reading this article. As such, I've decided to exclude many. With that being said, there are a few exceptional devices that I decided to include because they excel in one or multiple aspects.
---
This post contains affiliate links. For more information, please refer to my affiliate disclaimer.
Information on this blog is for informational purposes only. Readers are encouraged to confirm the information herein with other sources. Furthermore, this information is not intended to replace medical advice from professionals. This website assumes no responsibility for the accuracy of the information, which is subject to change without notice.
---
What to Look For in a Disposable Mask
When choosing the best disposable mask for your needs, some factors need to be considered. Some of these aspects can be hard to judge when purchasing masks online or even before donning the mask (such as the fit). Unfortunately, there's no way to judge how well a mask will suit you without purchasing and testing it.
As such, I always recommend purchasing individual masks first if possible. It's a terrible feeling to purchase a pack of disposable masks only to find out that they don't fit, are uncomfortable, or that you've otherwise wasted your money.
---
Authenticity
With COVID came a massive influx of fake, counterfeit, and subpar masks to the market. While this issue has existed for years, many saw an opportunity to make money with COVID-19 and since the market has been flooded with fake devices. A New York Times study found that out of the top 50 best selling KN95 disposable masks on Amazon, only a 'handful' were not fake, subpar, or otherwise poorly performing.
So, how can you identify a fake disposable mask? Well, for some standards, it's straightforward. NIOSH and MFDS maintain databases for N-rated masks (such as N95s) and KF-rated masks (such as KF94), respectively. Anyone can view these databases, and you can authenticate the manufacturer and mask model.
For KN95, P2 and FFP2 devices, it's more difficult to check the authenticity. The easiest way to check is to look for the required markings listed below:
N95
Approval holder (Manufacturers Name)
TC approval number
NIOSH logo OR block text
Classification (N95, N99, N100, etc)
Model/part number
FFP2
Manufacturers Name
Product Name or Model Number
Standard (EN149:2001)
Classification (FFP1, FFP2, FFP3) and R/NR (R = reusable, NR = non-reusable)
CE mark (European certification mark) and Approval Number
KN95
Manufacturers Name
Product Name or Model Number
Standard (GB2626:2006/2019)
Classification (KN90 / KN95 / KN100)
P2
Manufacturers Name
AS/NZS 1716
Classification (P1, P2, P3)
Size (if applicable)
While the most devious fake devices may falsify these markings, the lack of presence of these required markings is a good way to identify fake devices quickly. If you're still worried about a disposable mask being fake, try visiting the manufacturer's website and viewing the certification certificates.
Want to learn how to identify real respirators and masks? This article covers everything you need to know to identify real masks.
---
Filtration
Filtration is one of the key pillars that allow us quickly identify the best disposable masks. Along with fit, these two pillars will determine the performance of a mask. Luckily, filtration is relatively straightforward to explain.
Without delving into the testing methodologies (which I wrote about in this article on particle filtration efficiency), the filtration percentage represents the percentage of particles that the disposable mask will filter out before they reach the wearer. Many standards have the minimum filtration requirement in their name to make this straightforward.
For example, an N95 mask is required to filter, at worst, 95% of particles. The same goes for KN95 masks and KF94 masks (94% or more). FFP2 and P2 masks are less straightforward, but both of these devices must filter greater than or equal to 94% of particles.
For better protection, N99, N100, and other masks are available. While these disposable masks will provide more protection, they will also often cost more, and they sacrifice some breathability due to the thicker or denser filter media.
---
Breathability
Inhalation resistance of 3M respirators as found by the CDC from stockpile facilities.
A bit harder to understand than filtration, breathability is the third pillar of masks (along with filtration and fit). Together, these three pillars are how all disposable masks aim to differentiate themselves from the competition. Breathability is key to a comfortable mask as, ideally, you want to be able to breathe normally while donning your disposable mask.
More technically, breathability is measured in either mmH2O or mbar. One mbar (millibar) is approximately 10mmH2O. Certificates will almost always present breathability in one of these measurements. What do they mean?
Well, an N95 respirator must have > 35mmH2O inhalation resistance and > 25mmH2O exhalation resistance. Many other standards are similar, with the FFP2 standard allowing a maximum of 2.4mbar (24.5mmH2O) breathing resistance at a flow rate of 95L/min.
With these as the upper limits for masks to be certified N95 and FFP2, you'll be wanting to look for an mbar or mmH2O value as low as possible. Most N95 respirators, however, actually have inhalation and exhalation resistance around 8-13mmH2O. Therefore, if you're purchasing a mask with 5mmH2O breathing resistance, expect it to be easier to breathe through than an N95 respirator,
---
Comfort
While breathability is an important factor contributing to the comfort of a mask, we should also consider other factors. One of the most important things to factor in when choosing a comfortable disposable mask is the fitting mechanism – does the mask use earloops, headbands, or a neckband?
While earloops are convenient and don't interfere with hair, they tend to be uncomfortable to wear for long periods. On the other hand, although less convenient, headbands tend to be far more comfortable – especially during long periods of wear.
If you opt for a mask with earloops, make sure that the earloops are soft and thick enough to distribute the weight behind your ears. Thin ear loops often become uncomfortable quickly and painful not long after.
Otherwise, I always like to look for masks that aren't overly thick. Thick masks tend to have a more humid microclimate within, which can become bothersome, especially during warmer seasons. Valves can also help to drop humidity and temperature within a mask.
---
Valves
Speaking of comfort, filtration and breathability, it's also essential to discuss valves. I wrote an article dedicated to valves on masks and their purpose, and I recommend reading that for more detail. In short, valves are added to masks to reduce exhalation resistance and, therefore, humidity and temperature within the mask.
However, they also remove two-war filtration from the mask in doing so. That means that a disposable mask with a valve will filter only inhaled air rather than the mask filtering both inhaled and exhaled air. While this isn't an issue when using a mask in construction, for air pollution, or in many industrial applications, it can be an issue in other circumstances.
For example, with COVID, it's important to ensure that your mask has two-way filtration. This creates a 'double layer' of filtration if everyone wears a mask. In addition, it's far easier to catch expelled respiratory droplets that contain COVID before they are airborne, and a mask that filters exhaled air is essential for this.
Typically, masks with valves are good for non-infectious particle protection. When it comes to air pollution, masks with valves are fantastic. However, if you need to maintain a sterile environment to prevent the spread of sickness, a valve-less mask is the way.
---
Fit
When deciding on the best disposable mask, the final factor to consider is the fit. Fit is hard to judge without physically trying a mask, and unfortunately, it's almost impossible to tell whether or not a device will fit you. Even reviews (like those on this website) can't determine whether or not a mask will fit you.
Luckily, there are a few aspects that you can keep in mind when purchasing a disposable mask. Firstly, what fitting mechanism does the mask use? Headbands tend to provide a better fit than earloops as they are more sturdy and secure.
Secondly, how does the mask seal around the bridge of your nose? This is a common leakage area, and a piece of foam can significantly help contribute to a better fit. Alternatively, some masks use a strong piece of wire or even a silicone/plastic strip to create an airtight seal.
A third factor to consider regarding fit is the size of the mask. Many masks come in a range of sizes, and oftentimes we don't find this out until after we've already purchased our disposable masks. Make sure to check the size of a mask before purchasing it! I've made the mistake myself too many times to count.
---
Best Disposable Masks
This list is in no particular order. There are disposable masks for all needs, and different people will prefer different masks. Other than filtration and breathability, most aspects of masks are subjective – fit, comfort, look, and more. As such, I left this list unranked. Instead, any of the listed disposable masks are capable and can make for a great choice.
---
3M 1860
*I believe the mask shown above is fake due to the lack of an approval number and different formatting on the lot number. However, the authentic 3M 1860 will look identical with the addition of an approval number (TC-84A-0006).
The 3M 1860 and 1860s are two of the most familiar disposable masks on the market. Commonplace in hospitals and among medical workers, you've probably run into healthcare workers donning this mask at some point.
The reason it's such a common mask to see is because it balances affordability with performance. Coming in at the middle of 3M's range (regarding price), the 1860 is significantly cheaper than the 1870+, but also significantly more expensive than the 8200.
This price increase is caused by its dual-certification by NIOSH (as an N95 respirator) and the FDA (fluid-resistant surgical mask). Although fluid resistance isn't needed by general consumers, it increases the device's price. This begs the question – why should someone opt for this disposable mask over the non-medical 8200, which is around 50% cheaper?
Frankly, this mask is simply better. It seals better, and it's far more comfortable to wear. While my personal pick from 3M is the 1870+, it's a pricey mask, and the 1860 provides a more affordable option that still offers many of the same strengths.
Breathability with the 3M 1860 is good, and it's a more breathable disposable mask than the thicker options such as those offered by Benehal and Stealth Mask. With that being said, the mask isn't perfect, and I would like to see the headband staples replaced with a more comfortable system.
---
3M Aura 1870+
The 1870+ is a disposable mask with a unique look and feel. While still a flat fold respirator like many on this list, the folding is unique in that it has almost an 'enhanced' boat fold – think of a boat-style KF94 mask, but with significant improvements.
The 1870+ is rated N95 or P2, depending on your region. When you open the mask for the first time, you will see a long piece of foam covering the top of the device – this is the key to the Aura's excellent sealing ability. Also, along the top of the device, you will see a grid of holes – these holes act similarly to a valve, except that air passing through them is still filtered.
The 1870+ is a medical respirator, meaning that it meets both NIOSH's respirator requirements and the FDA's medical mask standards according to ASTM F2100. While intended for use as a medical respirator, it's commonly available, and you will likely be able to find it online easily.
Breathability is good but not great. I found it similar to the Benehal N99 disposable masks – far from the best on this list. With that being said, the fit of the device is fantastic, and I believe this makes the mask a good choice for many people.
---
3M 8200
I will be frank – I think the 3M 8200 is one of the worst 3M disposable masks on this list. However, it was worth including because it's one of the most affordable 3M devices and still provides good protection with an N95 certification. I do not think this mask is terrible by any means, simply that the other 3M options surpass it as they are great devices.
The 8200 is a very traditional cup respirator, meaning that it is circular in shape and 'cups' your face when worn. As with all N95 respirators, the 8200 uses dual headbands to fit in place and stay secure. These are supported by a wire nosepiece that is designed to seal around the bridge of the wearer's nose.
Breathing resistance with the 8200 isn't bad, but it isn't great. Compared to the other 3M respirators on this list (and many of the devices from other brands), the 8200 is comparatively more difficult to breathe in. Since the mask doesn't feature a valve, exhalation resistance is also higher than devices such as the 3M Aura and 3M 8822.
If you are looking for excellent protection on a budget, the 8200 is a great pick. Few masks on this list are as cheap, and even fewer are NIOSH-certified devices. For this reason, it's a great affordable disposable mask and worthy of a place on this list.
---
3M 8822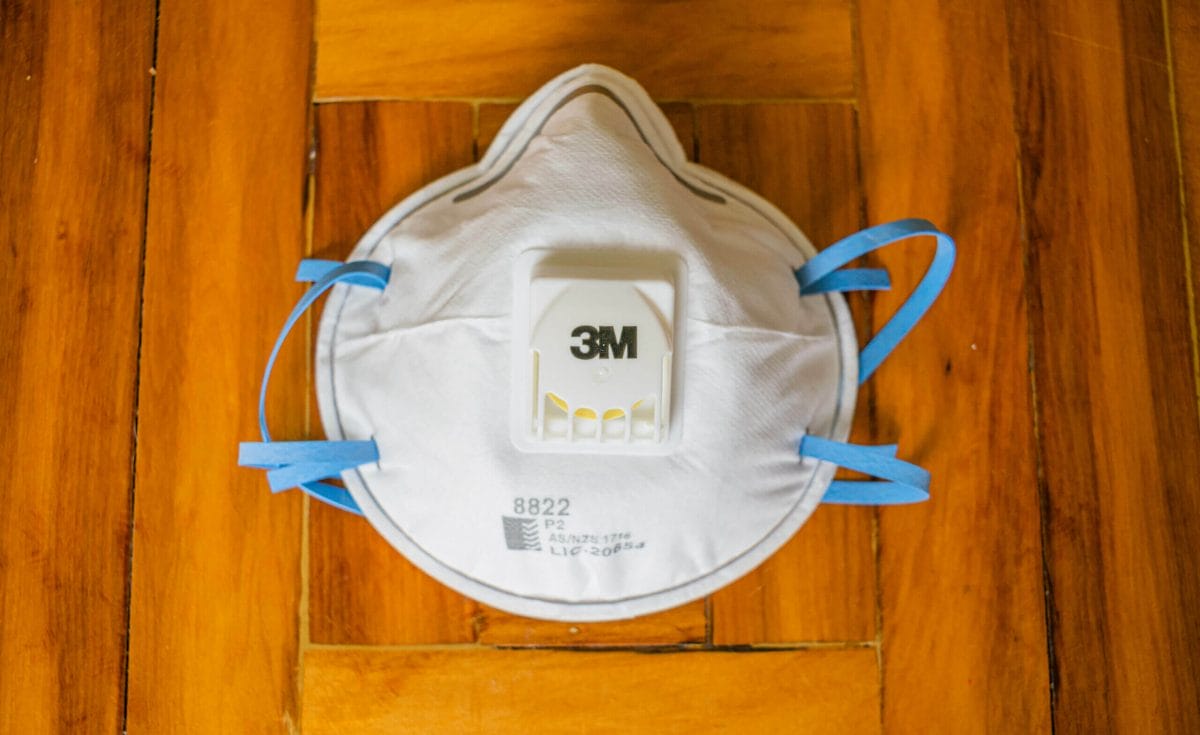 The 3M 8822 is a cup-shaped respirator with a very familiar design. Rated at P2 as per AS/NZS 1716, the 3M 8822 is a commonly used mask in Australia and New Zealand. However, you can also find the device in markets elsewhere.
This disposable mask is a good choice for anyone doing construction tasks, sanding, plastering, tiling, or for protection from bushfire smoke. Including a single valve at the front centre of the device ensures that air can quickly be expelled from the device due to the minimal exhalation resistance.
Inhalation resistance is also minimal and is not overly noticeable. So while breathing difficulty is slightly increased over wearing no mask, it's not uncomfortably hard to breathe through. That said, the filter media and outer shell are thick, which means that the mask's microclimate can become very hot.
This is a mask that is intended to be used for DIY, construction, and during wildfires. In all of these use-cases, it provides good filtration and a solid fit while remaining comfortable. The dual-headbands are tight, but I found them to only become uncomfortable after long periods of wear. 
The 8822 is a great disposable mask for situations when you are dealing with high dust concentrations. However, due to the warm interior of the mask, it's not ideal for wearing in day-to-day situations – in those cases, the 3M 9123 is a more comfortable albeit less well-fitting device.
---
3M 9010
I am including the 3M 9010 on this list for the same reason as the 3M 8200. I do not think the 9010 is one of 3M's better offerings – in fact, I would personally not choose to wear this mask if I had the choice. However, the 9010 is an affordable N95 respirator that deserves a place on this list due to its competitive pricing.
The 9010 can be found for less than $1 per mask when purchased in larger boxes. This is around half the price per mask compared to disposable masks such as the 3M 1870+ (one of my preferred devices). At this considerable discount, the 3M 9010 is worth considering. I also think it's a step above the 8200, and I would recommend this as a budget 3M choice, although it costs slightly more.
The 9010 is a bifold mask with elastic headbands that are stapled in. However, unlike cup-style masks, I found the staples on this mask to be more uncomfortable as they sit hard against my face. Where cup-style disposable masks tend to sit off the wearer's face, bifold devices sit against the wearer's cheeks. This was my biggest issue with the mask, alongside a chemical smell that most of the masks seem to carry.
On the positive side, the 3M 9010 has a durable wire nose piece that allows the mask to seal on a wide range of individuals. While I did find some leaks, the mask generally provided a good fit. That said, it wouldn't be my go-to for glasses wearers as it was difficult to prevent my glasses from fogging with this disposable mask.
Overall, the 3M 9010 is a good budget option. While it's not as comfortable as the 9501+/9502+ due to the use of staples, it's a good cheaper alternative. It still has the all-important NIOSH certification and is, therefore, a good choice for anyone not wanting to break the bank but also not wanting the 8200.
---
3M 9123 P2 Respirator
3M's 9123 P2 Respirator is a very common product across Australia and New Zealand. Unlike most of 3M's range, the 9123 is a flat fold respirator designed for general air pollution protection. Where most of the company's range is targeted at medical and industrial users, the 9123 is a more consumer-focused disposable mask.
The 9123 is similar to a typical KN95 mask with a flat fold design. Although I don't have the best experience with the fit of masks in this style, I know that many people find the flat fold style of masks to be the best sealing. If you're one of these people, this mask is one worth checking out.
Breathing resistance is comfortable but not best-in-class. Disposable masks such as the AirPop Light SE have lower breathing resistance and are more comfortable in that respect. However, the 3M 9123 is similar in breathability to a standard KN95 or KF94 device. This means that it's not difficult to breathe through, but it's not the best either.
This P2 disposable respirator uses an earloop design, but the five-pack includes one hook per mask. This allows the wearer to pull back the earloops and connect them to form a headband. While the fit isn't comparable to a proper headband-based mask, this removes the pressure from the wearer's ears and makes wearing the mask more comfortable.
---
3M 9501+/9502+
3M's 9501+ and 9502+ are two masks that are identical in regards to design and performance. However, the 9501+ is certified KN95 according to GB2626-2019 and is intended for use in China. The 9502+, on the other hand, is the same mask, but it was dual-certified KN95 and N95 for use in the U.S market during PPE shortages.
This flat fold respirator is very lightweight and feels far closer to a KN95 respirator than an N95 respirator regarding filter thickness. This means the device doesn't get as humid and hot as many disposable N95s. Further, this thinner material ensures that breathability remains high, and the 9501+ has great breathability for a disposable mask.
Fitting is done via a long metal nosepiece and two head straps. The nosepiece is sufficiently sturdy to retain its shape, even after being donned for many hours. The head straps help keep the disposable mask in place and are also thick enough to remain comfortable even after long periods of wear.
Since these respirators follow the traditional KN95 mask design (lightweight flat fold) as opposed to the N95 standard design (cup shape), I found them to be more comfortable but also to provide an inferior fit as opposed to typical N95-rated devices.
---
AirPop Light SE
AirPop's Light SE mask has been getting a lot of attention recently. It's a device that provides filtration above 97%, and it holds a KN95 certification from a CNAS accredited laboratory. Although the Light SE uses a melt-blown filter, the media is high-quality and highly breathable.
This breathability is a significant strength of the Light SE. Breathing resistance is about 50% lower than a typical N95 mask, making wearing the Light SE an easy experience. Although breathing resistance isn't quite as low as the highly-breathable, reusable Happy Mask Pro or Airgami Mask, it's still significantly better than most disposable face masks on the market.
The Light SE's biggest selling point is that it ditches the wire nosepiece for an interior silicone seal. This seal is designed to remove the finicky nature of wire nosepieces while providing a better fit. From my experience, I found this fit to be excellent and better than most masks that utilise wire nosepieces. The exception to this is the Stealth N95, Honeywell Surgical Respirator and 3M 1870+, which I found to provide more solid fits.
AirPop's Light SE uses two adjustable earloops to secure the mask. While I would prefer to see headbands for the superior fit and comfort, I understand the decision to use more convenient earloops. However, as with most earloop masks, I did experience some pain behind my ears after wearing the Light SE for extended periods.
Purchase AirPop Light SE – Save 10% with AWAP10
---
AirPop Pocket/Kid
The AirPop Pocket and Kid disposable masks are affordable with a 40-hour advertised lifespan. After using a Pocket on a recent trip (about 40 hours with layovers), I found this claim to hold – the mask remained comfortable throughout, and breathing resistance didn't noticeably increase.
The Pocket and Kid masks have recently become popular due to their low breathing resistance, good fit, and long lifespan. Especially in New Zealand and Australia, I've found these disposable masks at many stores.
Breathing resistance from the Pocket is very low, similar to the Light SE. However, unlike that mask, the Pocket uses a thick piece of memory foam instead of a silicone seal. I found the silicone to perform better as the foam provides a solid seal around my nose's bridge, but I sometimes noticed leaks at the end of the foam piece.
However, reading the mask reviews, this appears to be a rare issue. As such, I wanted to include it on this list. While the mask is very breathable, it can retain heat (like any mask), which can cause discomfort on hot days. However, this is a small issue, and I still found myself donning the Pocket.
Purchase AirPop Pocket – Save 10% with AWAP10
---
Air Queen Breeze Mask
The Breeze Mask from Air Queen is an FFP2-certified nanofibre mask made in Korea. However, besides the rating (which is almost identical to KF94, as the KF94 standard is based on the FFP2 standard), this mask is essentially a KF94 boat-style mask.
On top of being certified FFP2, the Air Queen Breeze Mask is also FDA cleared. Since the mask uses a nanofibre filter, the breathability is also very good compared to other disposable masks on this list. In fact, the Breeze Mask is one of the most breathable disposable masks on this list.
Compared to KF94 disposable masks, the Air Queen mask is very similar. However, the one key difference I noticed is that this mask is extremely lightweight. So lightweight that the shell of the mask feels like tissue paper. This doesn't mean that it will perform any worse (filter media is often extremely thin), but it does mean that it can be hard to fit the mask at times.
Each mask includes a clip for the earloops, which allows you to wear the mask as if it had a headband. While the clip isn't a replacement for real headbands (such as N95 disposable masks have), it is an excellent addition and can alleviate pain behind the wearer's ears.
Each Air Queen mask also has a wire nosepiece that allows for an adjustable fit around the nose. However, like most KF94 masks, this nosepiece was not fantastic. While I could get a seal, it would often require a lot of adjustment and could be finicky. That said, anyone with a larger face would likely find this less of an issue.
---
Benehal N95
Suzhou Sanical's Benehal N95 disposable mask uses an interesting design that isn't commonly found in N95 devices. At its core, the design is similar to a bifold N95 or KN95 mask. However, Suzhou Sanical changes the design by making the mask taller, mounting the headbands with a plastic attachment, and making the mask thicker than most.
The plastic piece that the headbands mount provides a far more comfortable experience than the staples used on some masks. The plastic is also sturdy and unlikely to break unless a lot of pressure is put on it. This makes the mask more durable than most masks where the headbands are melted to the mask.
Around the nose, a piece of foam lines inside the mask. While the foam isn't as comfortable nor as sturdy as that used on 3M's 1870+ or the Benehal N99 mask, it's a nice inclusion to have, and it will ensure a better mask fit on a range of individuals.
Breathability with the Benehal N95 disposable mask isn't as good as thinner masks, and the mask also tends to be quite warm to wear – especially during summer. This is not a mask to wear while active, but it can perform well in situations where you aren't exerting yourself.
The long design of the mask will mean that it fits individuals with larger faces well. However, I have a small face and encountered leaks around the bottom of the mask. I've heard good reviews about this mask from people with larger faces than mine, and I believe this mask will be a good choice if you find other masks too small.
Another small bonus – these masks are cheap for N95s. Compared to 3M's cheapest offerings, these are usually cheaper. They are also a more pleasant experience to wear!
---
Benehal N99
Manufactured by Suzhou Sanical, the Benehal N99 is a disposable mask that I didn't expect to add to this list. However, I purchased a 10-pack out of curiosity a few months ago, and I found them to be fantastic fitting respirators – at least for me.
What made them fit so well was the plastic seal surrounding the mask's interior. While this undoubtedly makes the devices less environmentally friendly, the leak-free seal that the mask provides is a logical tradeoff in many situations.
These cup-style respirators have a higher pressure drop and, therefore, higher breathing resistance than many of the other masks on this list. However, this is likely caused by the denser/thicker filter that allows this disposable mask to pass the N99 filtration criteria. Further, since no valve is included, the Benehal N99 respirator provides two-way filtration.
Comfort is also not as good as some masks, such as the 3M 9501+ or AirPop Light SE. While I didn't find the device uncomfortable, the plastic was pulled quite tight against my face and did cause some minor skin irritations. However, this was nothing serious, and the increased protection provided by an N99 device will be worth it to many people.
---
Bluna FFP2
The Bluna FFP2 is a Korean-made FFP2 certified boat-shaped disposable mask. While the mask is very similar to many of the other KF94/FFP2 devices on this list, it does offer a few minor differences that allow it to stand out from the competition.
The first difference is that the front of the trifold mask is taller than many other KF94/FFP2 devices. While this might seem relatively minor, it allows for easier breathing and speaking as the mask has more surface area. Not only that, but filter collapse is minimal due to the structure of the mask.
Bluna has also put the time in to give their masks dermatologist testing. Although this might not seem a big deal, mask-wearing has caused many people to suffer acne and other skin conditions. After wearing the Bluna FFP2 disposable mask for a couple of days, I noticed no irritation, and I found the mask to feel comfortable even on my sensitive skin.
Unfortunately, this mask suffers from issues that are common with KF94-style masks. The earloops are passable but too thin and stretchy for a good fit to be found without adjustments. Further, the mask materials are very light and hard to seal correctly.
However, I have heard great reviews of the Bluna mask, which made it deserving of a place on this list due to how many people have recommended the mask to me. While it's not a great fit for me, it may be worth checking out if you prefer boat-shaped masks.
---
Cleanwell New Style
Although there are a lot of Korean mask companies out there, few are as available as Cleanwell. Along with AirQueen, Cleanwell is one of the most common KF masks outside of South Korea. Their New Style masks (Newcleanwell Style) come in KF80 and KF94 variants.
As with most KF-rated devices, these masks are produced domestically in South Korea. With strict manufacturing standards, you can rest assured that Cleanwell's devices are performant – as long as they are fitted correctly.
These KF94 disposable masks follow the boat style often seen on KF-rated masks. Some people find that these devices fit fantastically, while other individuals struggle to achieve a complete seal. If you've tried boat-shaped masks before and found them to fit well, Cleanwell is a brand worth looking into.
While I generally don't recommend KF80 masks for air pollution, Cleanwell's KF80 masks provide little breathing resistance. This makes them exceptionally breathable and comfortable. All masks also include a clip to turn the ear loops into a headband.
Although I personally never find KF-rated masks to fit as well as masks like Stealth Mask and the AirPop Light SE, they are very breathable, easy to don, and, more importantly, much cheaper. Cleanwell's masks are the same. These devices are great if you want moderate protection without breaking the bank.
Purchase Cleanwell New Style KF94
---
DemeTECH Surgical N95
As someone outside the medical field, I was unaware of DemeTECH's surgical mask offerings until recently. Like all surgical respirators on this list, this DemeTECH device is not intended for consumer use. However, since they are widely available now, they are a mask worth considering.
Certified by both NIOSH (N95) and the FDA for fluid resistance (surgical mask), the DemeTECH is a highly certified disposable mask intended to protect surgeons and other medical workers. In these situations, fluid resistance is essential.
For anyone outside the medical field, fluid resistance is far less important. However, the DemeTECH Surgical N95 still deserves to be on this list as it has low breathing resistance and is one of the most comfortable disposable masks to wear for an extended period of time.
Using a bifold design, the DemeTECH mask is similar to many KN95 and FFP2 devices. However, unlike most of those designs, this mask also includes a thin foam strip around the peak of the mask. Sitting on the bridge of your nose provides a more secure seal that I found to ensure air never escaped from the top of the mask.
The mask has major filter collapse, but while this was very noticeable, I didn't find it to ever interfere with breathing or talking. However, it's cutting it close – a more sturdy material or a slightly bigger chamber would remove this issue.
However, due to the wide availability, low breathing resistance, secure fit, and comfortable design, the DemeTECH Surgical N95 is a disposable mask worth looking into.
---
EBe Mask
EBe has taken a different approach to KF94 masks in design and style. In design, they've opted for a bifold approach instead of the more commonly used boat-style design that KF94 masks normally use. They've also heavily emphasised fashion, being marketed as 'high class' in Korea.
EBe has KF94 masks in a range of colours, from hot pink all the way to khaki. Of course, not everyone will want masks that stand out; for these individuals, EBe also has basic white and black masks. While most people will stick to the standard colours (including myself), anyone a bit more fashion-focused can pick a colour that suits their outfit.
Of course, a mask is no good if it doesn't also perform well. In that respect, EBe does well – depending on your face shape and the mask size you buy. EBe comes in three sizes; small, medium and large. Make sure you don't make the same mistake as I did and initially purchase the wrong size! I would say that most adults will find medium to be the right size, with teenagers and children opting for small.
EBe masks are very thin, and this makes them very breathable. However, it also means that the masks suffer from filter collapse, and I sometimes found myself 'breathing them in'. Therefore, while these masks are good for day-to-day wear, I wouldn't wear them when exercising.
When I managed to get the correctly-sized mask, I found the fit to be good for a bifold mask. I typically find that cup-style masks and respirators fit me best, which holds true here. However, EBe provided a good fit for a bifold mask, and the earloops were the perfect size for me.
Compared to other KF94 masks (mostly boat-style), I would prefer to choose EBe. Although the filter collapse is unfortunate, the better fit and comfort I found with this mask make it my preferred option. Further, similar to many KF94 masks, these masks are very affordable.
---
Good Manner Yellow Dust Mask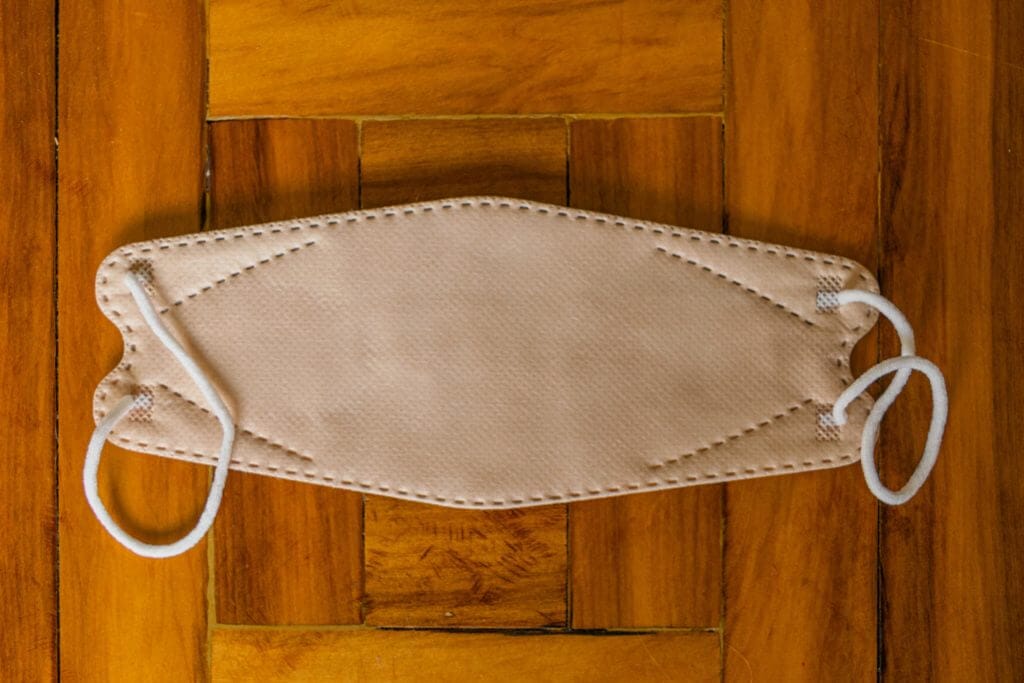 One of the most commonly found KF94 masks outside of Korea, Good Manner makes solid KF94 masks that don't do much to differentiate themselves from other KF94 disposable masks. However, this isn't bad considering that many people already prefer KF94 masks.
Following the traditional boat style that has become synonymous with KF94 masks, the Good Manner Yellow Dust Mask has good breathability that should never prove to be an issue. While not quite as good as the Air Queen FFP2 masks, breathability is still very good. However, you will notice some mask suction while breathing, which wasn't present on the Air Queen disposable masks.
No clips are included with the Good Manner masks, meaning that unless you have some on hand, you will need to rely on the earloops alone. The fit of the mask is quite loose, however, so I didn't find this an issue.
It is worth keeping in mind that the Yellow Dust Mask has multiple sizes. Therefore, you'll want to be on the lookout for the correct size – large is significantly too big for me and is intended for adults with larger faces. On the other hand, the medium size will better fit any adults with smaller faces.
---
Halyard Fluidshield Duckbill N95
Duckbill respirators aren't very common, but the Halyard Fluidshield N95 respirator shows that they should be more common. Compared to cup-shaped devices, I've always found duckbill devices to give a more secure and better seal. However, it's often quite hard to source them.
These duckbill masks are for medical use and are certified fluid resistant to ASTM Level 3 as per ASTM 1862. This makes these respirators technically surgical respirators, authorised for use as respirators by NIOSH and as surgical devices by the FDA.
While Halyard's Fluidshield is not meant for consumer use, they are widely available and worth trying if you can get your hands on some. While everyone is different, I always prefer duckbill style masks to cup-shaped masks, bifold and trifold designs – for some reason, they always seem to seal better.
The Fluidshield does suffer from some filter collapse, but not enough to interfere with talking or breathing. Breathing resistance is low but noticeable – there are more breathable masks on this list, but there are also many less breathable masks.
Where these masks shine is in the fit. The mask pulls down a little bit around my nose, which means that the wire nosepiece is always in close contact with the bridge of my nose. While this can be uncomfortable after hours of wear, it also ensures that the mask seals effectively and stays in place.
---
Harley Commodity N95
Although Harley Commodity disposable masks are N95 by certification, they have been found to filter well over the standard's requirements. In fact, testing carried out by the CDC found that Harley Commodity's N95 masks all filtered with over 99.5% efficiency. This makes them some of the most capable N95 disposable masks around.
However, filtration is nothing without fit. When it comes to fitting, these masks have a plastic-covered wire nosepiece designed to seal around the bridge of the nose. A thick piece of foam is placed on the interior to give a better seal. While I wish the wire nosepiece required more force to mould, this N95 provides an excellent seal.
As all N95s are, the Harley Commodity N95 is secured with two headbands. These headbands allow the mask to be fitted securely and to stay in place even with large head movements. Although I noticed some leaks around my nose's bridge from time to time, these were easily removed with some minor adjustments.
Breathability on the Harley Commodity disposable mask is good but not the best in class. It feels comparable to many of the 3M N95s (without a valve) and therefore is less breathable than masks such as typical KF94s. However, considering the extra protection, that's a tradeoff that many people will be happy to make.
---
Honeywell H910 Plus
Although not as well known as 3M, Honeywell follows 3M as one of the biggest disposable mask manufacturers worldwide. While they primarily focus on occupational-use respirators, the H910 Plus is Honeywell's consumer-focused KN95 device that you can find on sale in China.
The H910 Plus is similar to the 3M 9501+ and 9502+. Really, there isn't much to differentiate these two devices other than the brand and potentially the price (depending on where you live). Also, similarly to the 9501+, the H910 Plus is certified KN95. However, it is certified as GB2626-2006 rather than GB2626-2019.
The 2019 standard is more strict regarding breathability and is a refined version of the 2006 standard. While the differences (other than breathability) are generally minor, the 2019 standard is more consistent and, therefore, an improvement compared to the previous standard.
The H910 Plus is a bifold respirator, which means it fits very similarly to other Bifold KN95 devices. Interestingly, the H910 Plus disposable mask also has a thin strip of foam added to the peak of the mask. While this is seemingly a nice addition, I didn't notice that it improved the fit significantly.
When tightened, I found that the H910 Plus had minimal leakage. While I could fully remove leaks around the bridge of the mask, these leaks appeared only to be present on exhalation. If you find that bifold respirators fit you well, this device is worth checking out.
---
Honeywell Surgical N95 Respirator
Honeywell's DC365 respirator is a disposable mask that isn't intended for day-to-day use. Instead, it's intended to be used in medical settings where the high filtration of an N95 respirator needs to be supplemented with high fluid resistance.
With this use case, I wasn't going to include it on this list. However, I recently found a few DC365 respirators available online and decided they would be worth a try. I was actually quite impressed with the devices' performance, which is why I wanted to include them on the list.
Out of the N95 devices on this list, I found the Honeywell Surgical N95 Respirator to be one of the most comfortable. It's very breathable, and the mask's interior is soft and non-irritating on the face. The mask is also lightweight and relatively easy to wear for long periods.
Alongside being comfortable, the device fits exceptionally well. The disposable mask uses a cup design, but it differs from the 3M cup masks as it has a nose slot cut out. I found this to provide a better fit than the true cup-shaped devices that require more moulding around the bridge of my nose.
As with all N95 respirators, the DC365 uses dual headbands to fit and secure the mask. A short wire nosepiece lets the wearer properly seal the device around the nose.
Purchase Honeywell Surgical N95 DC365
---
Kleenex Daily KF94
Kleenex is a brand nearly everyone is familiar with, but not because they make masks. Instead, Kleenex is a famous tissue brand owned by Kimberly-Clark. So although it sounds weird (and it's tough to explain), this mask's interior feels like a tissue!
This bifold respirator is available only in Korea and in Korean packaging (to my knowledge), but it's widely available online due to resellers. Due to the power and reputation of the brand name, this has quickly become one of the most popular disposable KF94 masks overseas.
The mask is different from a typical KF94 disposable mask in that it uses a bifold design instead of a boat design. While some people will prefer this, I find that the boat design gives a better fit. Further, the Kleenex Daily KF94 mask is too large for me (in the L size) and will likely not be ideal for anyone with a smaller face. If you have a smaller face, make sure to purchase a smaller size.
With that being said, the mask is very comfortable. While I'm not sure of the exact material, the inner layer of the mask feels similar to tissue. This is a fantastic addition as it ensures that the mask does not cause skin irritation or other discomforts.
---
MaskLab KF-Series
MaskLab is a bit of an anomaly on this list in that they are the only company focusing on making respirators that are not only effective but also fashionable. With a massive variety of styles that vary greatly in design, everyone can find a mask that suits them at MaskLab.
It becomes a bit complex regarding certifications for MaskLab's KF-Series masks. You may notice that the masks in the image above lack the required markings for FFP2. Although all MaskLab masks have been tested by SGS and meet all criteria for FFP2, only MaskLab masks sold in the EU have the required markings.
I discussed this in my MaskLab review and concluded that this is likely a design choice as presenting the required markings takes away from the artwork. However, I decided to still include the products on this list, as they are fully approved FFP2 for European customers. For anyone else, the masks will perform identically but without the required markings and therefore without FFP2 compliance.
Regarding fit, MaskLab masks follow the traditional KF boat-style design, which provides a good fit for an extensive range of people. If you've found KF94 masks to provide a good fit, these will likely also fit you well. The opposite is also true, and if you find that boat-style masks usually don't fit you well, these won't either.
MaskLab's KF-Series masks are a bit pricier than KF94 masks. However, some people will be willing to pay the extra price to get some of the most fabulous disposable masks on the market.
One more note: If you're buying from MaskLab, only purchase its KF-Series masks. MaskLab also offers a range of surgical masks that are not certified FFP2. While these products are a decent choice for anyone wanting only the limited protection offered by surgical masks, MaskLab's KF-Series is a better choice for anyone wanting a higher level of protection.
Purchase MaskLab KF-Series Masks
---
Powecom KN95 Protective Mask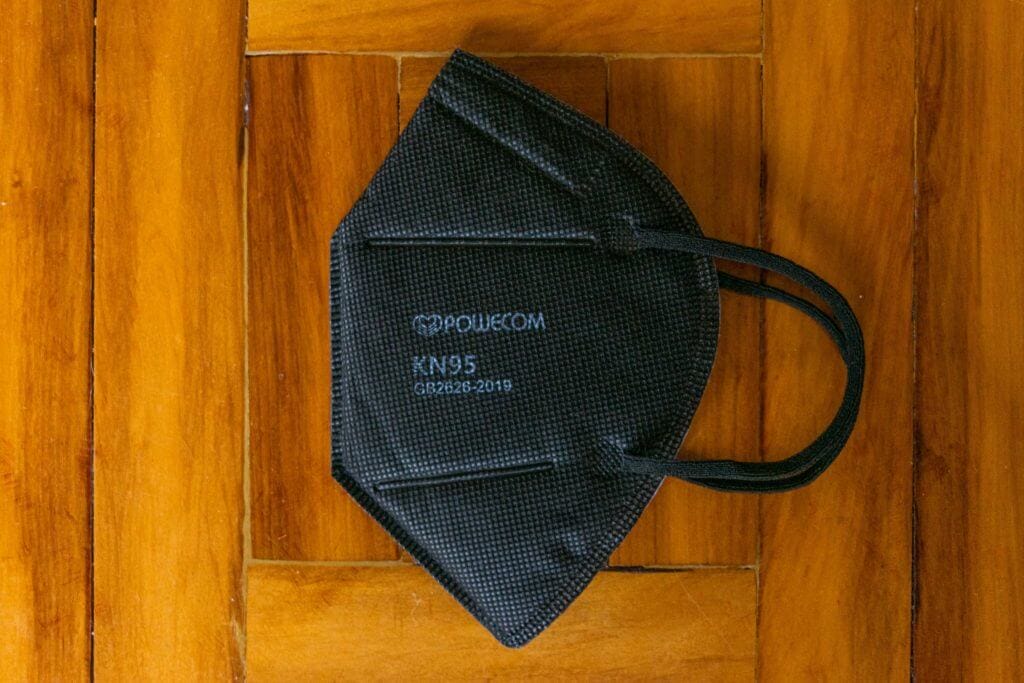 When it comes to KN95 devices, counterfeit and subpar products have been a big issue. However, Powecom KN95 disposable masks have achieved a good reputation during the pandemic, and these are some of the better KN95 devices on the market. Each bag also has an anti-fake label that you can check on Powecom's website to prevent counterfeit devices.
This GB2626-2019 device follows the design we expect from KN95 devices – it's a bifold design with a sharp top and bottom corner connecting to a curved seal. From this sealing area come two earloops. Unfortunately, while these earloops are adequate, they are far from the best I've seen as they are thin and somewhat flimsy.
The Powecom disposable mask has good but not fantastic breathability – it's not uncomfortable to breathe through, but the breathing resistance does leave something to be desired. That said, breathing is still manageable, albeit not as easy as some of the more highly breathable masks on this list.
One of the most significant advantages of Powecom's offerings is that these disposable masks are relatively affordable compared to many of the other offerings on this list – especially when compared to the N95 devices.
---
Purum KF94 Mask
The Purum KF94 mask is a standard boat-style or tri-fold mask made in South Korea. While this mask doesn't stand out much from most other disposable KF94 masks in the boat-style design, its wide availability makes it worth including on this list.
If you are someone who finds boat-shaped masks to be a good fit, then the Purum KF94 mask is worth looking into. Offered in a range of sizes, the breathability of the mask is good, and the boat-like design ensures that filter collapse is not an issue when talking or breathing.
I don't find trifold designs to fit as well as bifold and cups; however, many people prefer to don these masks for a better fit (for people with certain facial features). Further, these masks are lightweight and, therefore, easy to wear for extended periods.
Being produced in Korea under the stringent requirements set by the MFDS (Ministry of Food and Drug Safety), these masks are created in factories adhering to strict manufacturing requirements.
---
San QI (3Q) Surgical N95
This surgical N95 from San Qi is one of the only disposable masks on this list to use adjustable toggles on the headband. This allows the wearer to adjust the headbands to the best length for a good fit and to ensure minimal leaks in the device's seal.
That said, the adjustment toggles are only needed for people with smaller heads like teenagers. Even with a small head, the toggles were almost too small for me to wear. Luckily, the toggles can be removed, and you can rely just on the elastic as with most other N95 respirators.
The plastic-covered wire nose piece is sturdy and allows for a good range of adjustments. However, even after spending a reasonable period of time adjusting the nosepiece, I struggled to get a perfect seal. I often found my glasses fogging up, which was frustrating, to say the least.
Breathability with the San Qi Surgical N95 is good despite the thick material. Although the breathability is not as good as with most KF94 masks, it's more than acceptable, and I have no issues on this front. The mask can become warm inside but not significantly more than other N95 devices.
The price will be the most considerable appeal of the San Qi Surgical N95 for many people. Coming in cheaper than 3M and Honeywell masks, this is a good choice for anyone on a budget. For anyone looking for a budget disposable N95 mask, I recommend comparing this to the Benehal N95 and finding what suits your needs better.
---
Stealth Clarity
* Note: I was sent early samples, hence the approval number not being shown.
Stealth Clarity is a disposable mask from Stealth Mask. However, this mask is rated higher than the Stealth N95 mask (below) as it holds an N99 and FFP3 rating. This means the mask is certified for use in the U.S and EU.
While the N99 certification is already a good reason to get this mask, what makes it unique is the 'clarity'. This mask features a plastic window at the front of the device, allowing others to see your mouth and lower face. This allows the wearer to express emotion and communicate more easily.
Despite being from the same company, the Stealth Clarity shares almost no similarities with the Stealth N95 respirator. The design of this device is different, and the dual headbands connect to the mask on a protruding piece of the mask. This keeps the straps out of the way, and I found it to allow for a bit more flexibility with the fit.
Due to the strong wire nosepiece (the one similarity with the Stealth N95), this disposable mask prevented my glasses from fogging. As a result, I rarely encountered fogged glasses with this mask, something I can't say for many KF94 and KN95 disposable masks.
These masks are a bit more pricey than the Stealth N95 masks and are more similar to many 3M masks on this list. However, the extra protection that comes with the N99 certification and the plastic window are appealing reasons to choose this mask.
Purchase Stealth Clarity from Stealth Mask – save 10% with BREATHESAFEAIR10
---
Stealth FFP2/N95
The Stealth FFP2/N95 is a disposable mask that packs a punch. Before going any further, however, it's essential to clarify the name. The name changes depending on the site you purchase the mask from – FFP2 for European masks and N95 for global/U.S masks. However, the masks hold both certifications and are the same across both regions.
As the name suggests, these devices are certified to filter > 95% of particles. The masks hold the appropriate markings as officially certified devices, and you can find the NIOSH certification on the database. On top of the N95 certification, EU devices will also feature FFP2 NR (non-reusable) labelling.
This mask stands out among other N95 devices due to its incredible fit. It's important to note that there will be some variation between users – a mask that fits one person may not seal correctly on another person. However, from my experience, I've found that the seal provided by the Stealth N95 is among the best provided by any disposable mask.
The iconic pointed design ensures that this respirator never interferes with your breathing. A large chamber within the mask ensures you never have to deal with mask collapse or other communication/breathing issues.
One issue I noticed about the Stealth N95 is some inconsistency with the metal nosepiece. On some masks, I found the nosepiece to be perfect. However, I found that the metal was pointy and could be uncomfortable on some devices. This was avoidable by turning the tips of the nosepiece out slightly, but it was a little inconvenient on the first use of a new mask.
Purchase Stealth N95 from Stealth Mask – save 10% with BREATHESAFEAIR10
---
Stealth Mask Lite Pro
The Lite Pro from Stealth Mask is unlike any other disposable mask on this list. Certified N99/FFP3, the Lite Pro is a disposable mask designed to provide the best protection. While other N99/FFP3 devices are on this list (like the Benehal N99 and Stealth Clarity), the Lite Pro provides fantastic protection through its silicone seal.
Similar to the other masks from Stealth Mask, the Lite Pro is certified by NIOSH and under the European Standards. However, unlike their other devices, the Lite Pro is not dual certified. Instead, U.S customers will get an N99 variant, whereas EU customers will get an FFP3 variant. Both are the same, just certified for the local market.
The Lite Pro actually filters far in excess of 99% and offers filtration > 99.999%. On top of this, the strong headbands and silicone seal allow for a great seal. I've never had issues with leakage on this mask.
The Lite Pro has exceptional breathability and very little resistance, especially on exhalation. This is because a valve is placed in the mask's front centre. Although the mask doesn't offer two-way filtration, it's suitable for use in situations where the key concern is protecting the wearer.
Of course, the device is not perfect. The size and shape can make speaking muffled, the disposable mask is by far the heaviest on this list, and it can somewhat restrict head movement. You will also get a lot of attention wearing this mask in public and 'mask face' when you doff the mask.
However, if you are looking for the best protection in a disposable mask, you will want to consider the Lite Pro.
Purchase Lite Pro from Stealth Mask – save 10% with BREATHESAFEAIR10
---
Disposable Mask FAQ