Ever since I began writing articles on this website there have been a few mask brands that I get many requests to review. One of the brands that I have received the most requests to review is Metamasks.
Recently, I finally got the opportunity to experience these masks for myself and to write about them. I received four different masks from the company and have, at this point, worn them for about a week. In this post, I will share not only my experiences with the masks but also the science behind them.
Metamasks is a Bali-based company. However, the filters used within the masks are developed by Revolution Fibres, a company based in New Zealand. I have experienced their filters before in the Bloo Mask and I quickly became a big fan. I am interested to see if that experience carries over to the masks from Metamasks.
In this Metamasks review, I will cover the most important points of the mask, from filtration and fit all the way to style and design. This review will be in a slightly different format to usual as Metamasks offers a variety of masks created with different materials and I want to cover some of the differences between these masks.
Throughout my time with the masks I experienced the linen, organic hemp, Flower of Life, and Aria masks. Although this article represents my experiences with the masks in the short term, I will continue to update it in the future if I discover anything new with the masks.
Want to compare Metamasks with other popular reusable masks that are available? I have a comparison of the most popular reusable masks here.
---
This post contains affiliate links. For more information, please refer to my affiliate disclaimer. I was sent a product for review, but the article is not sponsored. All opinions expressed in this post are my honest thoughts. I only recommend products that I genuinely believe in.
Information on this blog is for informational purposes only. Readers are encouraged to confirm the information herein with other sources. Furthermore, this information is not intended to replace medical advice from professionals. This website assumes no responsibility for the accuracy of the information, and information is subject to change without notice. Devices mentioned on this website are not medical devices and do not guarantee protection.
---
Filtration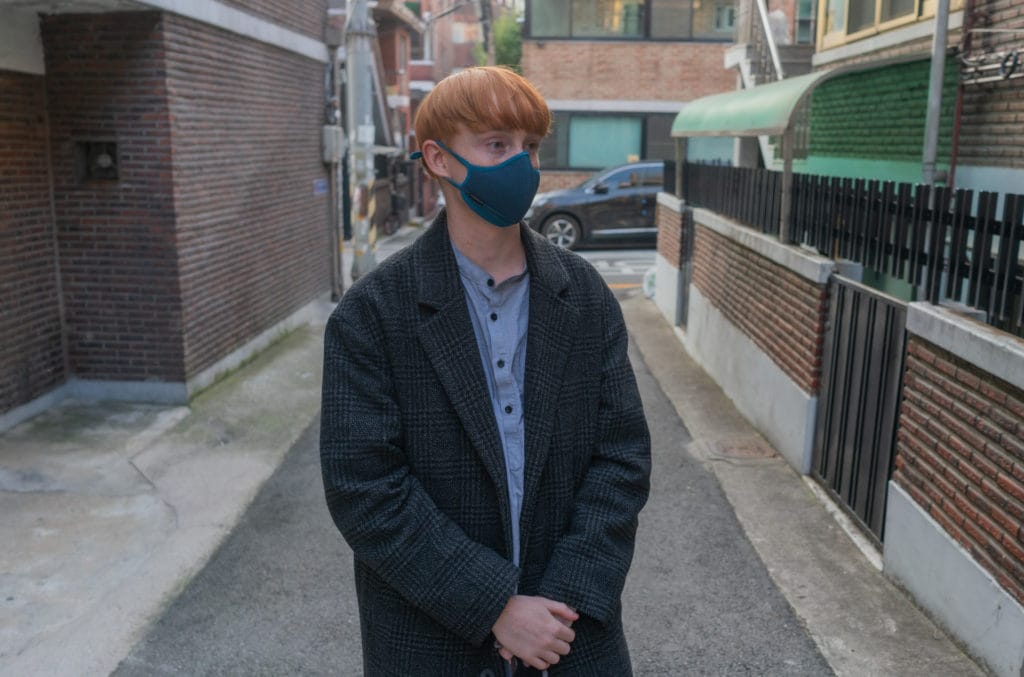 The most important element of any mask, the filtration, is the first thing to consider when choosing what mask best suits you. However, before discussing the filtration of Metamasks there are a few things that should be considered.
Firstly, lab results for filtration apply only to the filter (rather than the mask). This is often confused, as many companies advertise the results as though they apply to the mask. This is an important distinction to make though, as only air that passes through the filter media is filtered.
Secondly, masks must be worn and handled properly to achieve the best results. Although professional fit testing is not available for the majority of people, it's important to follow the manufacturer's guidelines and to seal-check a mask once you have donned it. A mask is not effective unless fitted correctly.
With that being said, let's have a deeper look at the filters used by Metamasks. The filters used are Nano-Coco-Carbon filters developed by Revolution Fibres in New Zealand. These filters have been tested by the third-party laboratory, Nelson Labs.
These filters are most famous for the low breathing resistance that they offer. This is a particularly important aspect to consider when choosing a mask to wear, especially if you will be wearing it regularly.
The filters have been tested in the three standard categories – viral, bacterial, and latex (particle) filtration efficiency. These are often referred to as VFE, BFE and PFE. The BFE and VFE tests were carried out at around 3.0μm, and the PFE tests were carried out at 0.1, 0.3, 0.5 and 1.0μm.
All of the test results are available publicly on the Metamasks website. I believe that all filtration lab results should be visible on all mask manufacturer websites, and while many companies do display such information publicly, there are also many that don't. If you want to read the results yourself you can find them here (PFE, BFE, VFE).
The Metamasks use the third filter in the test results (PP30-NF-PE20-C-Weld). If you don't want to read through the certificates, I have included the filtration results below. The results on the table are the worst results (worst case) recorded.
| | | | |
| --- | --- | --- | --- |
| Particle Type | BFE | VFE | PFE |
| Filtration % | ≥ 98.5% | ≥ 97.6% | ≥ 98.7%* |
* particle filtration at 0.3μm
| | | | | |
| --- | --- | --- | --- | --- |
| Particle Size (PFE) | 0.1μm | 0.3μm | 0.5μm | 1.0μm |
| Filtration % | 99% | 98.7% | 97.5% | 98% |
As the table above shows, the filter is more efficient at filtering smaller particles compared to larger particles around 1.0μm. This is due to the filtration mechanisms that filters use to capture particles. If you want to learn more about MPPS and why smaller particles are often filtered more effectively, please refer to this article on MPPS.
These filtration results place the Metamasks in a similar area as other popular cloth masks such as the MeoAir Lite, Totobobo mask and Mau Mask. Although these masks may differ slightly in filtration, they all perform within a few percentage of one another.
Purchase Metamasks | Replaceable filters
---
Fit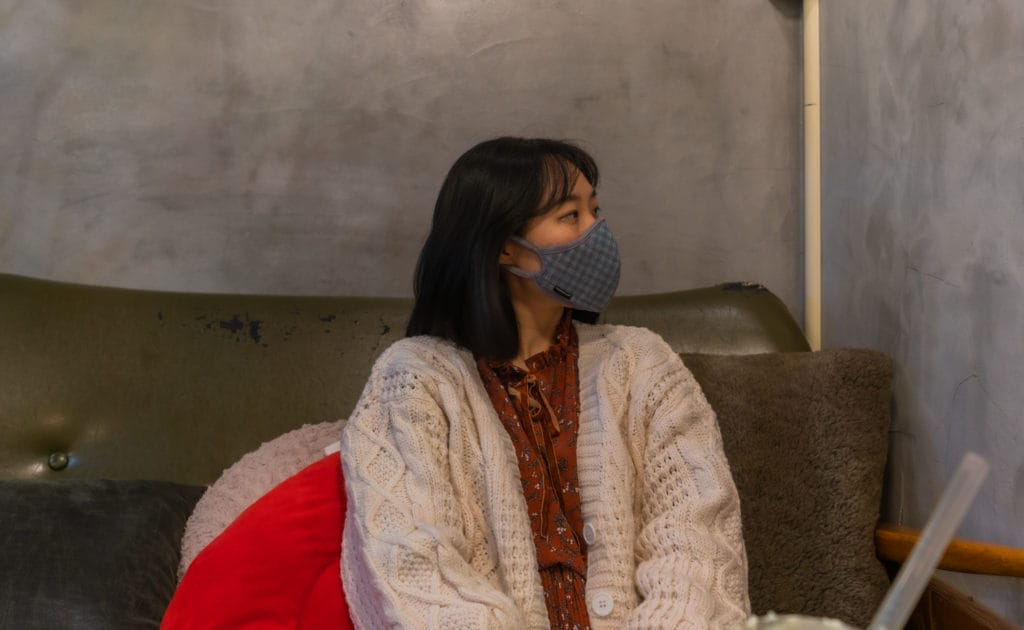 Fit is vital when it comes to any mask as without a good seal air will not pass through the filter. This will lead to unfiltered air entering the mask and being inhaled by the user. For this reason, fit is one of the most important factors when it comes to any mask.
Metamasks follows the relatively standard cloth face-mask design. That is to say, it makes use of two ear bands to stick to the wearer's face and utilises a wire nose-piece to achieve a good seal. This means that if you have worn a cloth face-mask before, you should have a general idea of how Metamasks fits and feels.
However, Metamasks does also have a few unique elements that are designed to create a better seal. Firstly, the masks come with foam bands which help to achieve a better seal around the nose. On top of this, the mask also uses a chin-wrap which keeps the mask in place.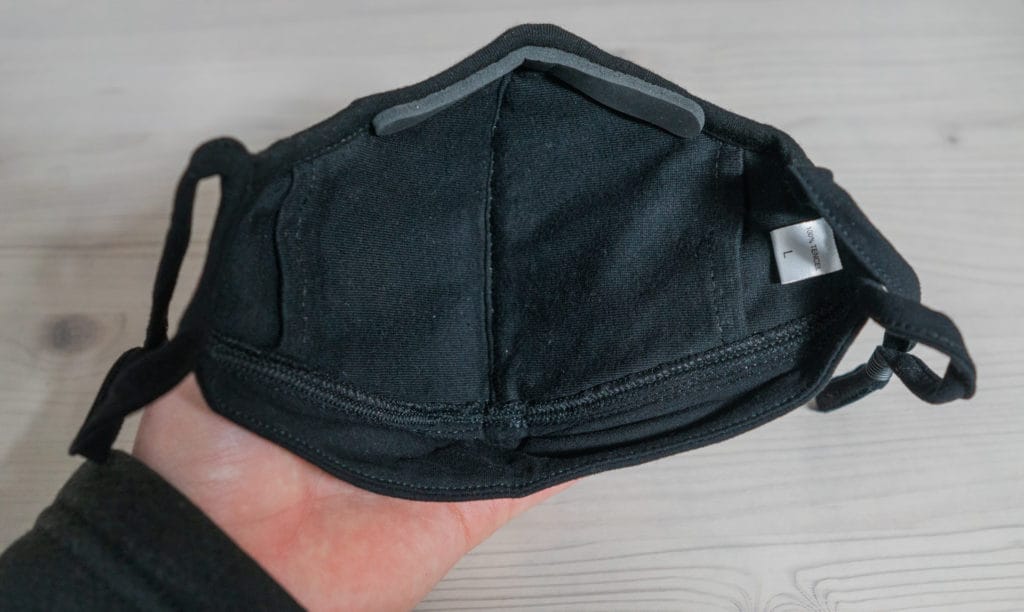 Another interesting element that I came across while wearing the mask was with the base of the ear straps. I've noticed that on most other cloth masks the ear straps attach to the mask with a bigger gap. However, on the Metamask the straps attach to the mask only a few centimetres apart.
Although this may seem very minor, I actually found this to mean that the mask fit me better. It does also place more pressure on the wearer's ears, but the better fit is a trade-off that I am willing to make.
Overall, I found that the fit of Metamask was good for a cloth mask. There are better fitting masks that make use of other materials such as silicone (Gill Mask) and memory foam (R-PUR Nano Light), but Metamasks was very comparable to other cloth masks.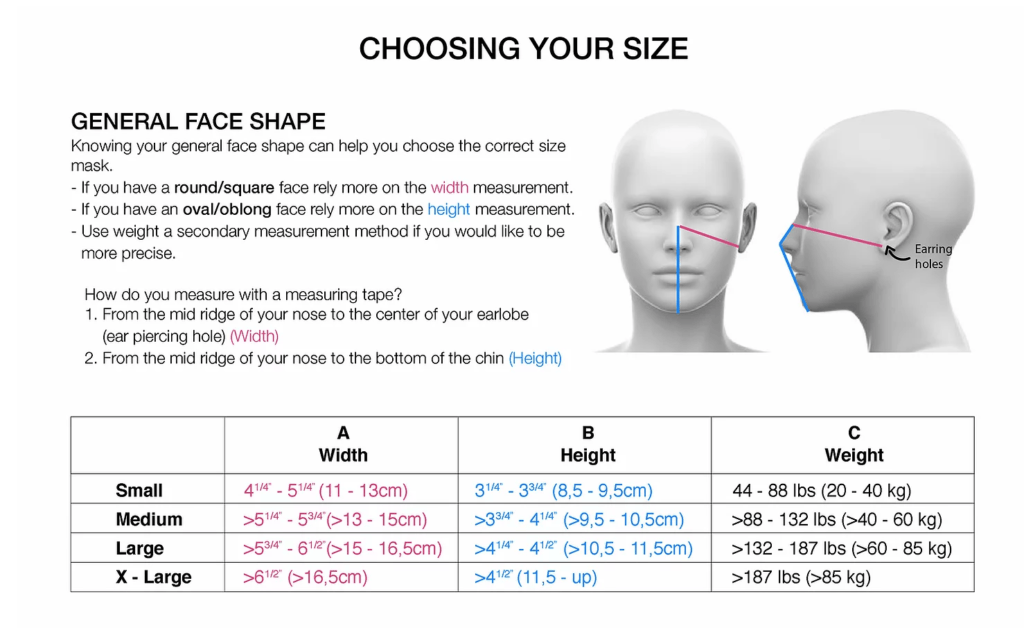 Metamasks offers many different sizes for a variety of different facial shapes. The guide above is provided on their website for finding the correctly sized mask. It is very important to pick the mask closest to your facial dimensions as the fit will greatly impact the effectiveness of the mask.
Purchase Metamasks | Replaceable filters
---
Design
The design of the Metamasks models is the most unique element of the masks. This is largely due to two main aspects. Firstly, the addition of a chin-wrap, and secondly, a design which prevents the possibility of the filter being breathed in when the wearer inhales.
The exterior of the mask is largely similar in design to many other standard cloth masks. This means that the mask follows the relatively standard formula of having adjustable ear straps (using a bead), internally replaceable filter, and a piece of wire in the nosepiece for adjustment.
If you have ever worn a mask such as Airinum or Cambridge Mask then you will have a general idea of how this mask feels when worn. However, there are also a few unique elements in Metamasks that make it stand out.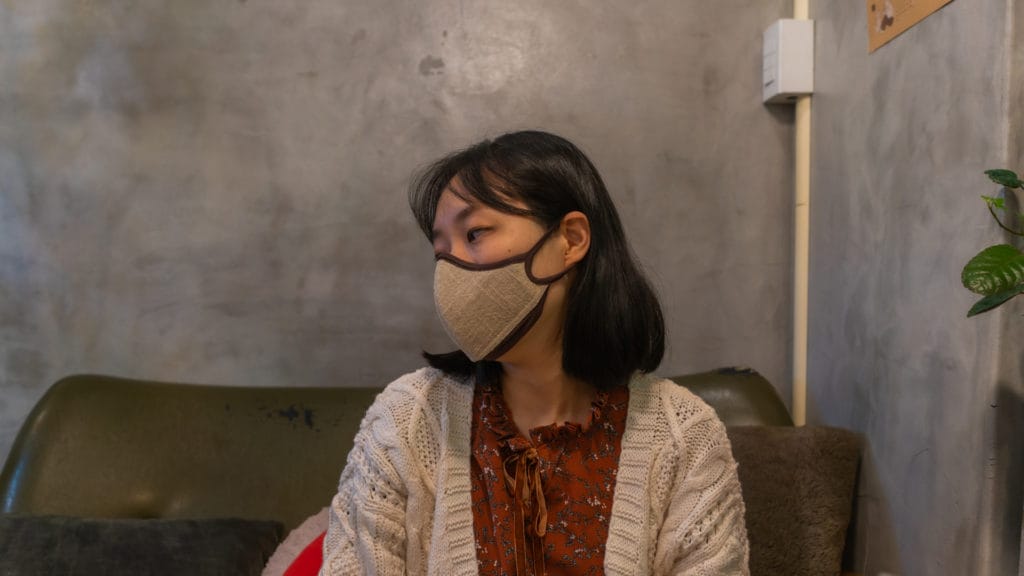 The largest factor that stands out is the mask material. Metamasks focuses on making masks that are not only environmentally friendly but also person-friendly. Some of their masks are sustainably sourced and use organic fabrics. I will cover the materials in more detail later in the article.
One issue that is frequently encountered on cloth masks with replaceable filters is the movement of the filter when breathing. This is especially an issue when the filter gets in the way of breathing and is being sucked in by the wearer. Metamasks has tried to combat this issue by splitting the filter into two pieces.
This means that the mask is stitched down the center and the two separate pieces of filter media sit on either side of the mask. Although this does make fitting the filters a bit more time consuming, it also means that there is no danger of the filter being sucked in when breathing.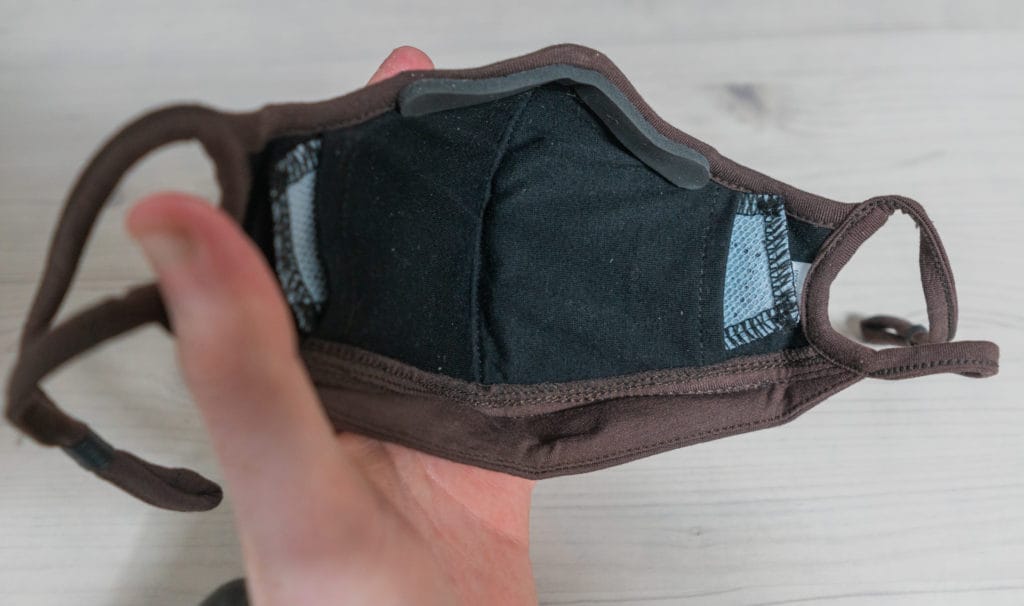 An issue which could arise from this design is that it leaves an unfiltered area in the center of the mask (between the filter pieces). To try and combat this, there is a sewn-in filter 1.5cm wide in the center of the mask. This piece of filter can't be replaced, but it ensures that the gap between the filter pieces is still filtered.
Another feature that I mentioned earlier that is quite unique to the Metamasks is the chin-wrap. A chin wrap is an area at the bottom of the mask that is designed to sit under the wearer's chin. This not only makes the mask less likely to leak, but it also makes the mask less likely to move during wear. I have only seen a chin-wrap on one other mask so far, the Bloo Mask.
Purchase Metamasks | Replaceable filters
---
Materials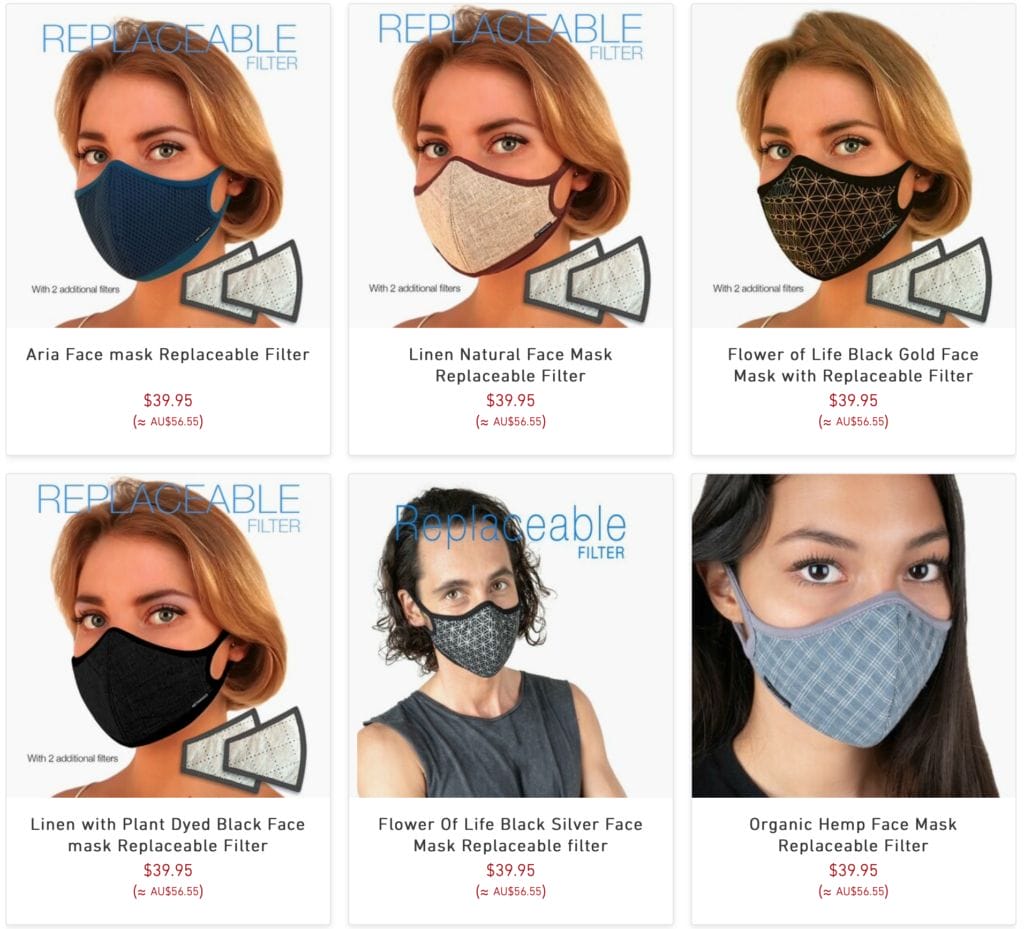 The most unique thing about Metamasks is the variety of materials that they use. There are a few different models of mask available, and they make use of different materials such as linen and organic hemp. The interior of the masks is also made from organic cotton, meaning that they are a good choice for people with sensitive skin.
The use of more natural materials is a great addition as many masks use entirely plastic-based and artificial fabrics. Although these are fine in the majority of cases, there are people who may have reactions to such materials. On top of this, there aren't any major downsides to using such organic materials.
The use of natural materials does mean that the masks are generally less water-resistant than other cloth masks, and significantly less water-resistant than masks with a resistant coating such as the Craft Cadence Nanofiber Mask and Conceptar. Since the materials are natural, there can be a bit of an initial smell with the masks. However, you will quickly get used to this.
Metamasks is a good choice for anyone with sensitive skin. There are many different varieties and it's easy to find something that suits everyone. It would be nice to see more masks include natural materials in the future.
Purchase Metamasks | Replaceable filters
---
Style
As you can see by the pictures included in this article Metamasks are quite simple looking masks that feature very minimal branding. The brand is only seen on a small tag, and the masks are bare otherwise. Since most people want a mask that blends in and doesn't stand out, this is a good design choice.
The colours of the mask vary depending on the material and colour choice that the user picks. Some of the materials (such as linen) are only available in their natural colour – although there is a dyed version sold also. Some of the masks are also available in black.
There are a few masks that feature basic designs. The Flower of Life and Organic Hemp Mask both feature basic designs. However, while they add something to the look of the mask they still don't stand out much. From my experience, most people prefer masks that are subtle and so this is welcome.
Although not the biggest variety in terms of mask styles available, there are still enough designs offered by Metamasks and I believe that among the designs on offer the vast majority of people will find something that they are happy with.
Purchase Metamasks | Replaceable filters
---
Conclusion – Is Metamasks Worth it?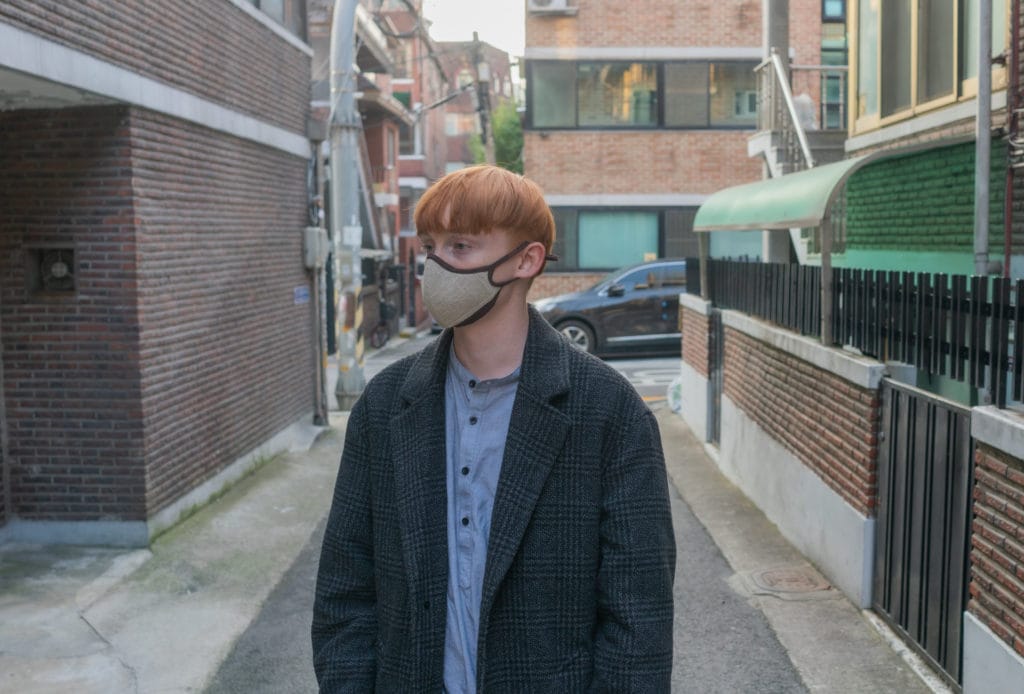 Metamasks makes a variety of different cloth masks that are a good choice for people with sensitive skin who may find typical cloth masks uncomfortable. However, at the same time, Metamasks is a mask choice that should be considered by everyone.
As with any mask, Metamasks is not perfect. I found it quite hard to fit the mask around my nose initially, and had to make use of the foam band. Three of these are included on purchase, but I do wonder about the longevity of them.
Further, although I am a fan of the double filter piece design, I found that they can move a bit during wear. This means that they will need to be readjusted at times. Although not the biggest issue, this can be a little bit frustrating over time.
Metamasks has some benefits too. As mentioned a few times already, the addition of a chin-wrap and foam band are welcome additions. Both of these factors help improve the fit of the mask, and fit is second only to filtration in the effectiveness of a mask.
On top of this, the design of the filter prevents the inner layer from being sucked in by the wearer. Anyone that has ever worn a mask with a loose inner layer will know how frustrating it is to breathe with these masks. Of course, the materials used also can't be overlooked. If you are looking for a more natural mask choice, Metamasks is one of the few choices.
If Metamasks sounds like a mask that you are interested in you can check out their store at the link below. If you are interested in seeing how Metamasks compares to some other reusable masks I have written a comparison of reusable masks. Thank you for reading!
Purchase Metamasks | Replaceable filters
---
Metamask FAQ
Where Can I Buy Metamasks?
Does Metamasks Have Third Party Testing?
The filter used inside Metamasks is made by revolution fibres and has been tested by Nelson Labs. You can find the results here.
What Filtration Does Metamasks Have?
The filter has ≥ 98.5% BFE, ≥ 97.6% VFE, ≥ 98.7% PFE (0.3μm).
What Are Some Metamasks Alternatives?
Does Metamasks Use Replaceable Filters?
There are models of Metamasks that use replaceable filters as well as models that don't. However, the standard models feature replaceable filters.
What Makes Metamasks Unique?
Metamasks is mostly unique due to the materials that the masks are made from. Organic Linen and hemp masks can be purchased from Metamasks. On top of this, Metamasks also features a chin-wrap and a dual-filter piece design to prevent the wearer from sucking in the mask.