Bloo Masks is a new mask company based in New Zealand. Although being a relatively new company in the field of masks, they have already managed to create a great product that is very exciting.
I must admit, when I first came across Bloo I expected a standard mask. After all, there is only limited innovation that can take place with cloth masks. In other words, I was expecting a mask similar to other cloth masks such as MeoAir, Cambridge Mask, and Mau Mask.
However, I was very surprised to learn that this is not the case. I always try to keep my review statements relatively neutral, however, my honest opinion is that Bloo Masks are the most comfortable mask that I have ever worn.
At this point in time, I have tried a wide variety of cloth masks and there are definitely more and less comfortable masks. Nothing comes close to the ease of breathing and lightweight design of the Bloo Mask though.
Purchase Bloo Masks here. Use the code 'BSA' for a small discount and to support my work.
---
This post contains affiliate links. For more information, please refer to my affiliate disclaimer. I was sent a product for review, but the article is not sponsored. All opinions expressed in this post are my honest thoughts. I only recommend products that I genuinely believe in.
Information on this blog is for informational purposes only. Readers are encouraged to confirm the information herein with other sources. Furthermore, this information is not intended to replace medical advice from professionals. This website assumes no responsibility for the accuracy of the information, and information is subject to change without notice. Devices mentioned on this website are not medical devices and do not guarantee protection.
---
Bloo Mask Review
Although I do have a lot of praise for these masks, they also have flaws. In this review I will cover all essential aspects of the mask – from filtration specifications to the fit and design of the mask. This is my full Bloo Mask review.
Before beginning this review, it's important to remember that no masks are effective unless fitted correctly. While fit-testing (and professional training) is required for optimal protection, this training isn't accessible for most people. For those who can't access this training, the CDC has a great guide on how to don masks/respirators.
---
Filtration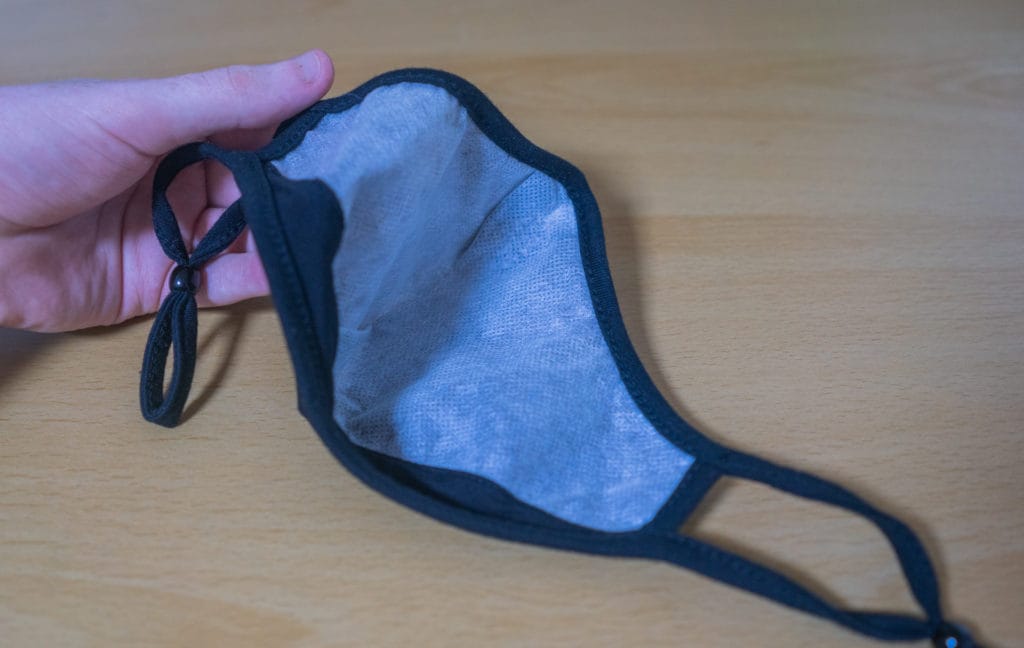 Bloo Masks use a welded carbon filter from Revolution Fibres. It is important to note that as with all testing, all test results in this section apply only to the filter and not the mask itself. It is vital to ensure a proper fit in order to make sure air is required to pass through the filter.
Currently Bloo Mask does not hold any official ratings (such as N95, KF94, KN95, etc). Although the filter does adhere to the filtration and breathing resistance requirements of these standards, the mask does not hold the official certification.
However, due to the nature of the NIOSH certifications, it is also important to remember that very few reusable respirators currently hold these certifications. However, some reusable respirators do hold comparable ratings.
With that being said, Bloo Masks have good filtration capabilities in regards to particles (0.1μm – 1.0μm, bacterial and viral). The filters have undergone third-party testing by Nelson Labs (the industry standard for filtration testing) and have achieved the results below.
| | | | |
| --- | --- | --- | --- |
| Particle Size | 0.1μm | 0.3μm | 0.5μm |
| Bloo Mask Filtration | ≥ 99.0% | ≥ 98.7% | ≥ 97.5% |
Bloo Mask filtration results as found by Nelson Labs. Learn more about why particles at 0.3μm are the most penetrating particle size.
The filtration results of Bloo Mask (with the Revolution Fibres filter) have been tested at four sizes – 0.1μm, 0.3μm, 0.5μm and 1μm. Typically masks are tested only at the MPPS of 0.3μm, and the different particle sizes used in the Revolution Fibres filter are extensive. These results were recorded as of May 2020.
| | | | |
| --- | --- | --- | --- |
| Particle Type | BFE | VFE | 1.0μm |
| Bloo Mask Filtration | ≥ 98.5% | ≥ 97.6% | ≥ 98% |
BFE – bacterial filtration efficiency, VFE – viral filtration efficiency. VFE at 2.8μm, BFE at 3.0μm.
These results place the Bloo Masks among the higher filtration reusable masks available. Although some masks such as Vogmask offer higher BFE and VFE filtration, these masks usually have lower particle filtration results. Overall, Bloo Masks provide a great balance, offering decent filtration against all tested particle types.
Purchase Bloo Masks here. Use the code 'BSA' for a small discount and to support my work.
---
Carbon-Weave Filter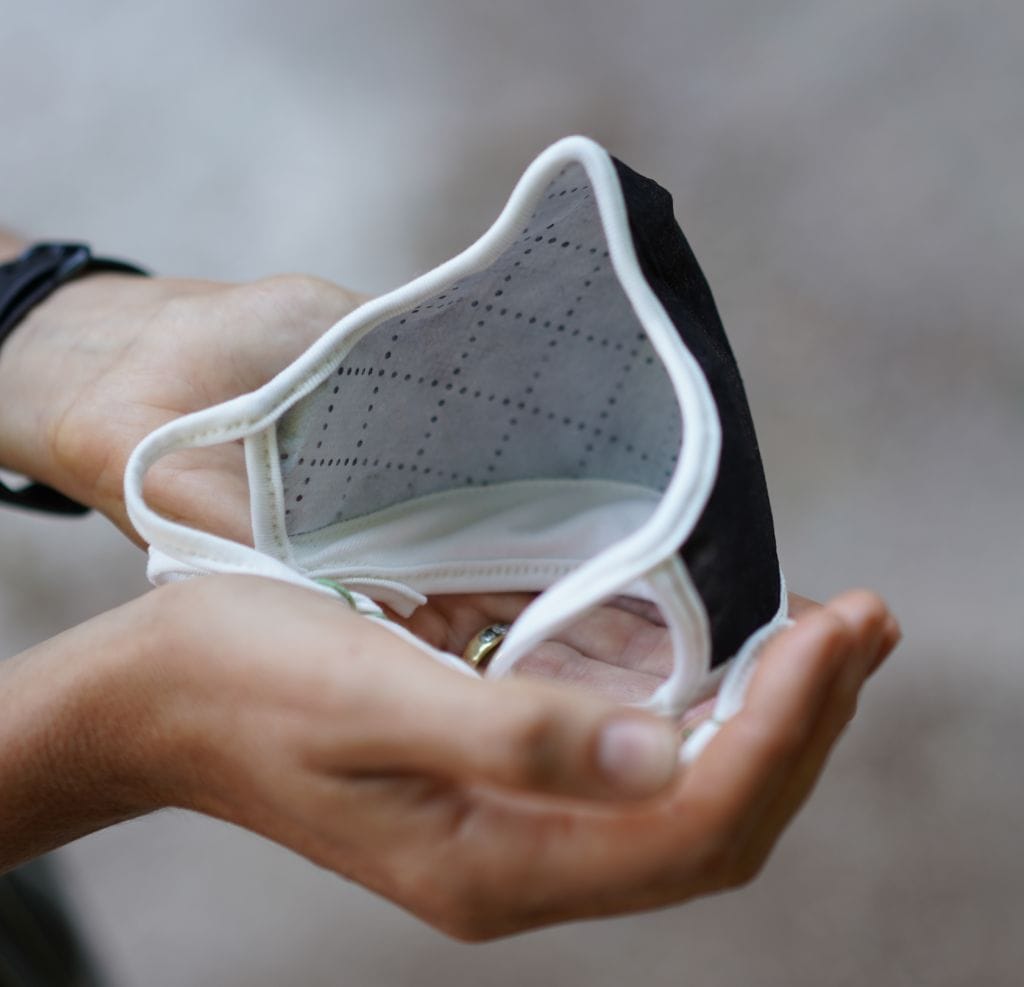 The filter itself is made of a nanofibre filter placed between a polypropylene, PET (Polyethylene terephthalate) and carbon fabric layer (source). While carbon filters aren't uncommon (for example, the Earth Filter has a carbon layer), I wanted to mention the filter design as it is something that has stood out to me.
Carbon filters add an extra layer of filtration against some particle types. They are useful at filtering many organic compounds (VOCs, such as benzene and butane), odours, and allergens (such as pet hair, mould, and pollen).
While some percentage of these particles can still pass through the filter, the addition of a carbon filter makes this mask a good choice for anyone that is looking for a mask that can help with allergies. I have also found the mask to be a good help with my asthma (which is often exasperated by the air pollution in Korea as well as the spring particles such as pollen).
The odour filtering capabilities of the mask are what particularly stood out to me, however. While I have worn many carbon and activated carbon filter masks, none of them prevented smells as much as the Bloo Mask.
While you will still definitely notice smells while wearing the mask, as soon as you take off the mask you will realise how much stronger the smells are. When I wear perfume, I am often unable to smell it. As soon as I take off the mask the smell becomes very obvious.
---
Fit & Breathing Resistance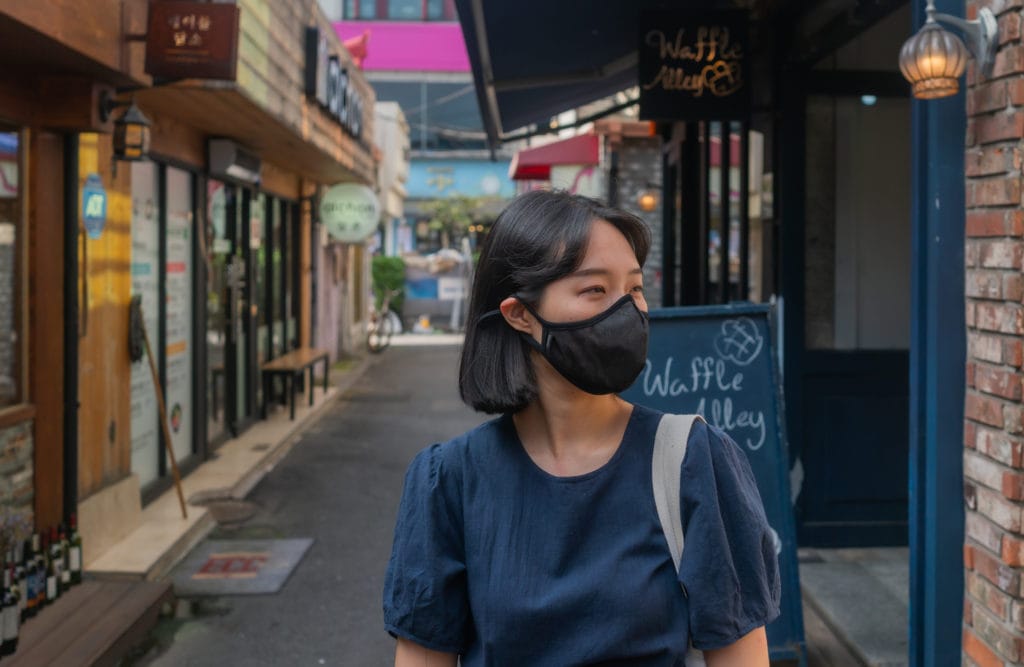 Bloo Masks have a similar shape and design to many of the common reusable masks on the market. That is to say, these are relatively fitting masks which fit very similarly to most cloth masks.
However, the masks do also have two elements in particular that enhance the fit and make them stand out. I will discuss these features in more detail in the design & comfort section.
I have a small face, and the usual cloth mask that I turn to for daily wear is the MeoAir Lite Mask. This is because the mask is relatively light, comfortable and fits me well. After around a week of wearing the Bloo Mask though, I can conclude that it actually fits slightly better.
The mask is quite tight-fitting and will sit closer to the wearer's face than some other masks on the market. This isn't necessarily a positive or negative aspect, but it is something to keep in mind. It also means that a tighter seal can be achieved.
One of the unique features of the mask is that it also features an angled chin wrap. This is essentially a piece of cloth that is intended to angle into the chin in order to create a better fit.
Compared to masks such as Vogmask and Cambridge Mask where the masks are just one panel, I found this chin-wrap to make the fit more sturdy and I didn't have to readjust the mask. This is something that I often have to find myself doing with other cloth masks as they gradually move up or down my face.
The breathing resistance of the mask is also exceptionally low. The mask features a filter with no cloth covering (as most masks feature), meaning that there are less layers to breathe through. This makes the Bloo Mask the easiest to breathe through mask that I have experienced yet.
Even compared to other masks that are easy to breathe through (such as MeoAir Lite and the Re-Mask Sports, both masks that specifically designed for lower breathing resistance), the Bloo Mask is a step further. It has an exceptionally low breathing resistance.
Purchase Bloo Masks here. Use the code 'BSA' for a small discount and to support my work.
---
Design & Comfort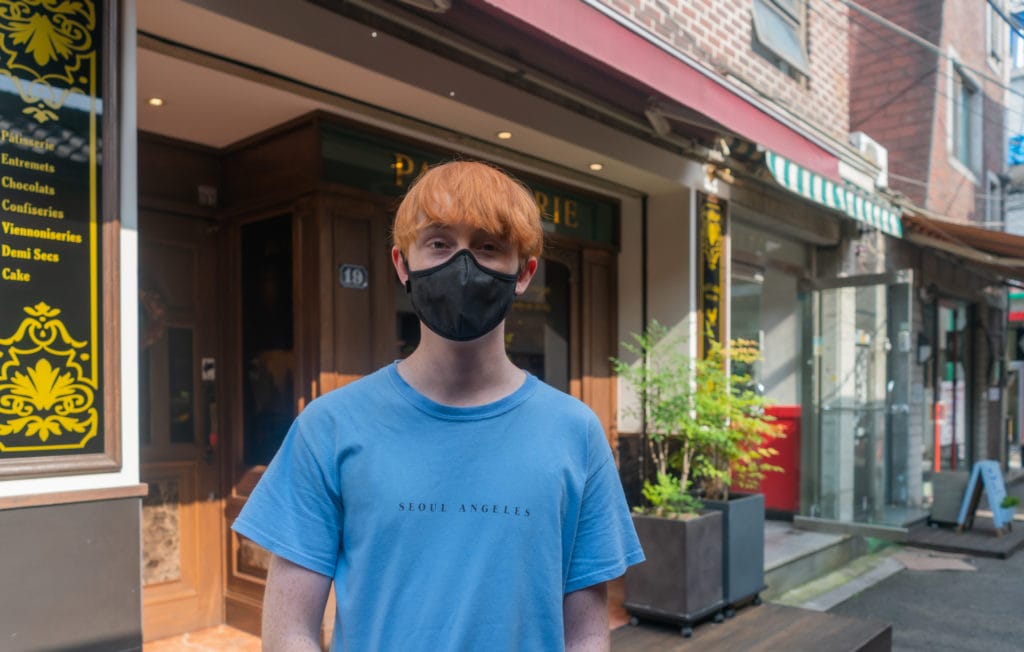 Bloo offers two variations of the mask – one with white edges and one that is fully black. Both of these masks look simple and don't stand out. Luckily, due to the simple colours, the masks can also fit with nearly every outfit.
There are no cloth layers on the mask, and you will notice that the outer layer of the mask is actually the carbon filter. This is how the mask manages to achieve its very lightweight design, and it also allows the wearer to look fashionable at the same time. However, since there is no protection for the filter it is important to take care of the mask, since the filter can easily get damaged or tear.
The masks feature a wire nose-piece that allows for more precise fitting around the ridge of the wearer's nose. This wire piece can be easily adjusted and feels quite sturdy – it should easily last the 200 hours of intended wear.
The mask also uses an ear-strap based design. This is something that I do not personally like, as ear straps can cause a lot of discomfort over long periods of wear. I've also found that after wearing masks with ear-straps for many days at a time that they can cause a lot of pain behind my ears.
Although I do prefer masks with headbands (such as the Gill Mask), this isn't a deal breaker as it is easy enough to purchase or make a head-band attachment yourself. Further, some people may even prefer the ear-band design as it is easier to adjust and to quickly put on/take off the mask.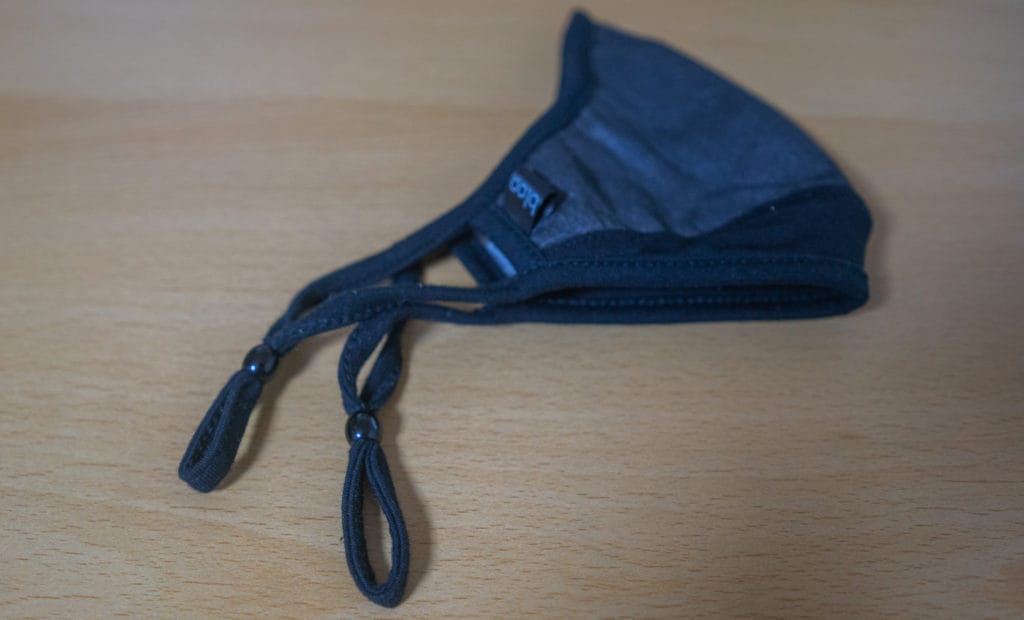 The ear-straps do have beads which allow the wearer to adjust the length of the ear straps without needing to make cuts or tie knots. This is something that I wish all masks included, and while they are purchasable separately, it is a welcome addition.
With a weight of only 10 grams, this mask is incredibly light. To my knowledge, there is currently no other reusable mask on the market that is close to this weight. This also means that the mask is a bit cooler to wear than most other cloth masks.
I found that the filter of the mask sits closer to the wearers face compared to most other masks. While this isn't really an upside or downside, I did find that it caused one issue – it would get moist very quickly on hot days.
Since it sits closer to the face, it's easy for the mask to get damp from sweat. This can cause a variety of issues from decreased filtration efficacy to higher breathing resistance. Since summer in South Korea is very hot and humid, I did find this to be an issue on days that I spent more than a few hours outside.
This issue shouldn't matter on colder days or if you come from an area with cooler summers, however, it is worth keeping in mind.
Purchase Bloo Masks here. Use the code 'BSA' for a small discount and to support my work.
---
Lifespan & Cost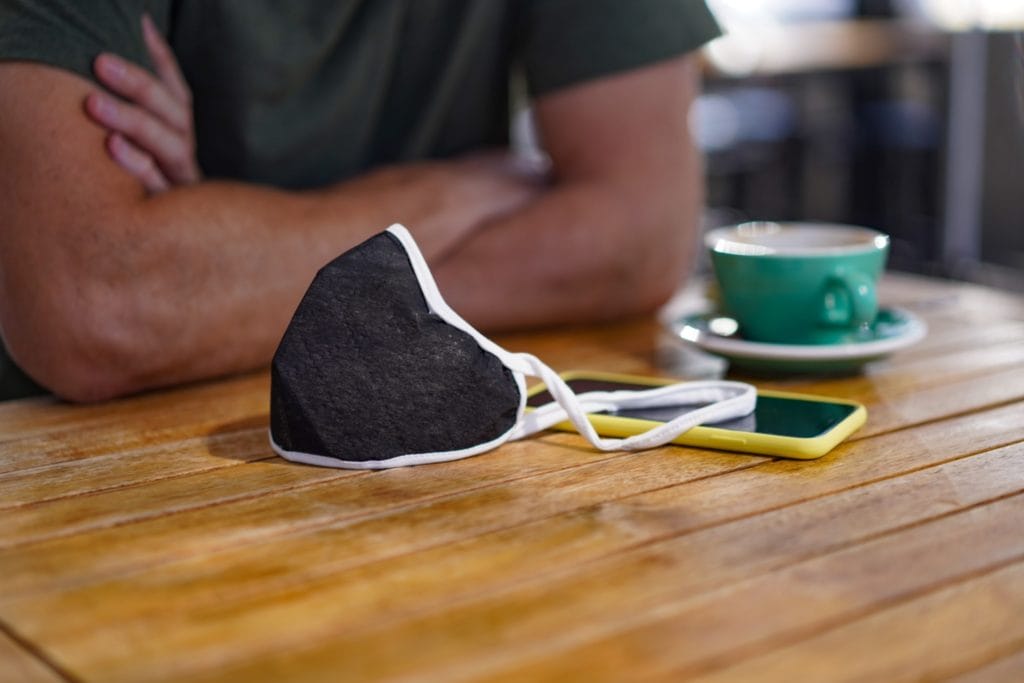 As with all masks, the lifespan will vary depending on the conditions. These conditions include the level of air pollution (usually measured using the AQI), airflow, and more. Officially, Bloo Mask states the following as the lifespan of the mask:
Worn as a Pollution / Allergy mask: Up to 200 hours.
Worn as protection against Bacteria and Virus droplets: We recommend that that mask is replaced more frequently; once or twice a week.
The lifespan for pollutant particles is similar to many other reusable masks on the market. The usual lifespan for a mask with a built-in filter is usually between 150-300 hours. On the other hand, masks with replaceable filters usually last for 50-100 hours per filter.
You will also be able to identify when the mask needs replacing based on the breathing resistance. As the mask gets older, the breathing resistance will increase and this signifies that it's time to replace the mask. Due to the addition of the carbon filter, you may also notice that over time the mask begins to smell bad. If this is the case, it's time to replace the mask!
Luckily, Bloo masks are also quite affordable. Currently priced at less than $20 NZD per mask, you are looking at around $13 USD per mask – far less than most comparable masks.
---
Bloo Mask – A Great Mask from New Zealand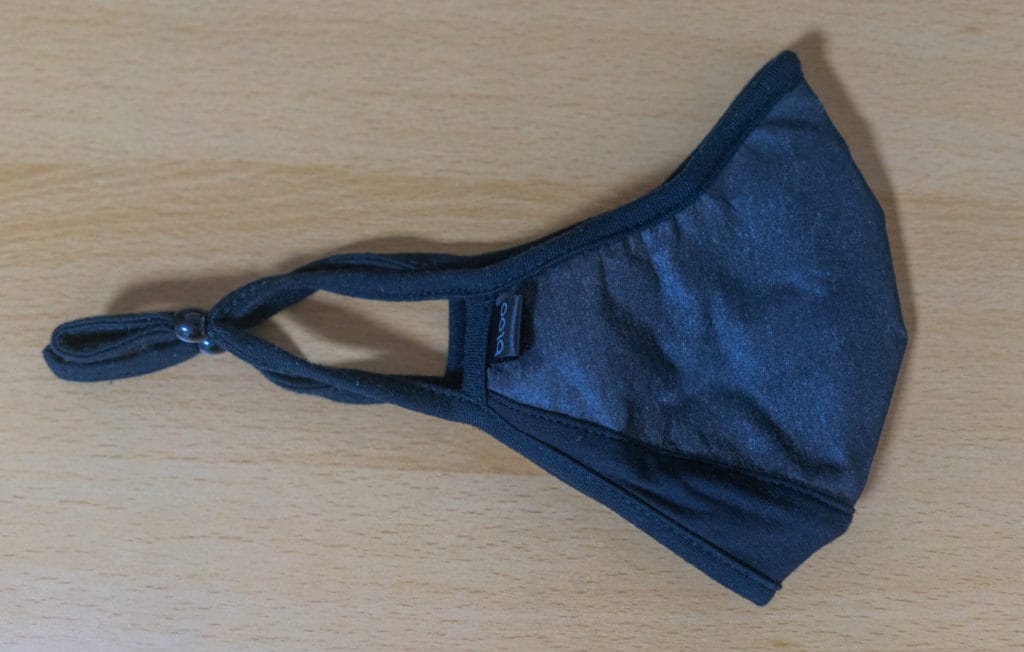 Overall, I recommend the Bloo Mask for anyone that is looking for a lightweight, easy to wear pollution or virus mask. It's a fashionable mask that looks great but also subtle – something that I appreciate in a face mask.
The mask is tight-fitting and allows the user to create a strong seal while still remaining easy to wear. This is a mask that is very easy to wear on short trips to the supermarket, but also on longer trips. While it's true that no mask is totally comfortable, this is the most comfortable that I have tried so far.
The only downsides that I have experienced with the mask are the lack of a head-band and the fact that the mask can stick a bit close to the wearer's face. Luckily, the head-band is easy to fix if you prefer the design (you can add an extra elastic strap or purchase a mask head-band).
Finally, both the price and lifespan of the mask are some of the most reasonable on the market. With 200 hours of usage and a cost of $18.50, you are looking at less than 10cents per hour.
Purchase Bloo Masks here. Use the code 'BSA' for a small discount and to support my work.
---
Bloo Mask FAQ
Does Bloo Mask Hold an Official Rating?
How Long Do Bloo Masks Last?
This depends on the situation, but for pollution protection, Bloo recommends replacing the mask every 200 hours. When it comes to viral or bacterial protection more frequent replacement is recommended (once or twice per week).
Do Bloo Masks Use Replaceable Filters?
No, the mask must be replaced in full. However, this has the benefit of meaning that the filter will always be fitted correctly.
Are Bloo Masks Comfortable?
Compared to the many other reusable masks that I have tried, Bloo Masks are by far some of the most comfortable to wear. They weigh only 10 grams and feature exceptionally low breathing resistance.
What Are Some Bloo Mask Alternatives?