Vogmask is one of the most famous reusable masks on the market. If you've ever looked into reusable masks, you will have come across them. Along with Cambridge Mask, Respro, and a few others, Vogmask is one of the most well-known mask companies out there.
With all of the good comments that I have heard about Vogmask, I knew that I wanted to get one and try it myself. I first purchased one in February this year, and since then I have tried five of their masks. In this Vogmask review, I will discuss everything that I have learnt about the masks in that time.
I want to look into Vogmask from a few different perspectives. I will look into the technology, design and fit on top of discussing my personal experiences. Since this is a mask, the filtration technology is the most important factor and I will be looking at that in the most detail.
Fit is also very important when it comes to masks and this will be another focus of the review. Since no mask is effective unless fitted properly, this is another very important factor that should be considered. I will discuss my experiences with the fit in daily wear.
If you believe I have missed anything in this review, or if you notice any inaccuracies, please don't hesitate to let me know. I have fact-checked everything as much as possible, but there is always the possibility that I missed something or made a mistake.
With that being said, this is my Vogmask review. If you are interested in how Vogmask compares to some of the competition, please feel free to check out my article on Cambridge Mask vs Vogmask.
Note: In this article, I talk about the Vogmask models that include a valve. However, since valved masks are not suitable for a pandemic situation, Vogmask has switched its production over to valve-less masks. Since the VM Organic and VMC masks are very similar to the VMCV (valved) masks, most comments in this article apply to both.

---
This post contains affiliate links. For more information, please refer to my affiliate disclaimer. I was sent a product for review, but the article is not sponsored. All opinions expressed in this post are my honest thoughts. I only recommend products that I genuinely believe in.
Information on this blog is for informational purposes only. Readers are encouraged to confirm the information herein with other sources. Furthermore, this information is not intended to replace medical advice from professionals. This website assumes no responsibility for the accuracy of the information, and information is subject to change without notice. Devices mentioned on this website are not medical devices and do not guarantee protection.
---
Filtration Technology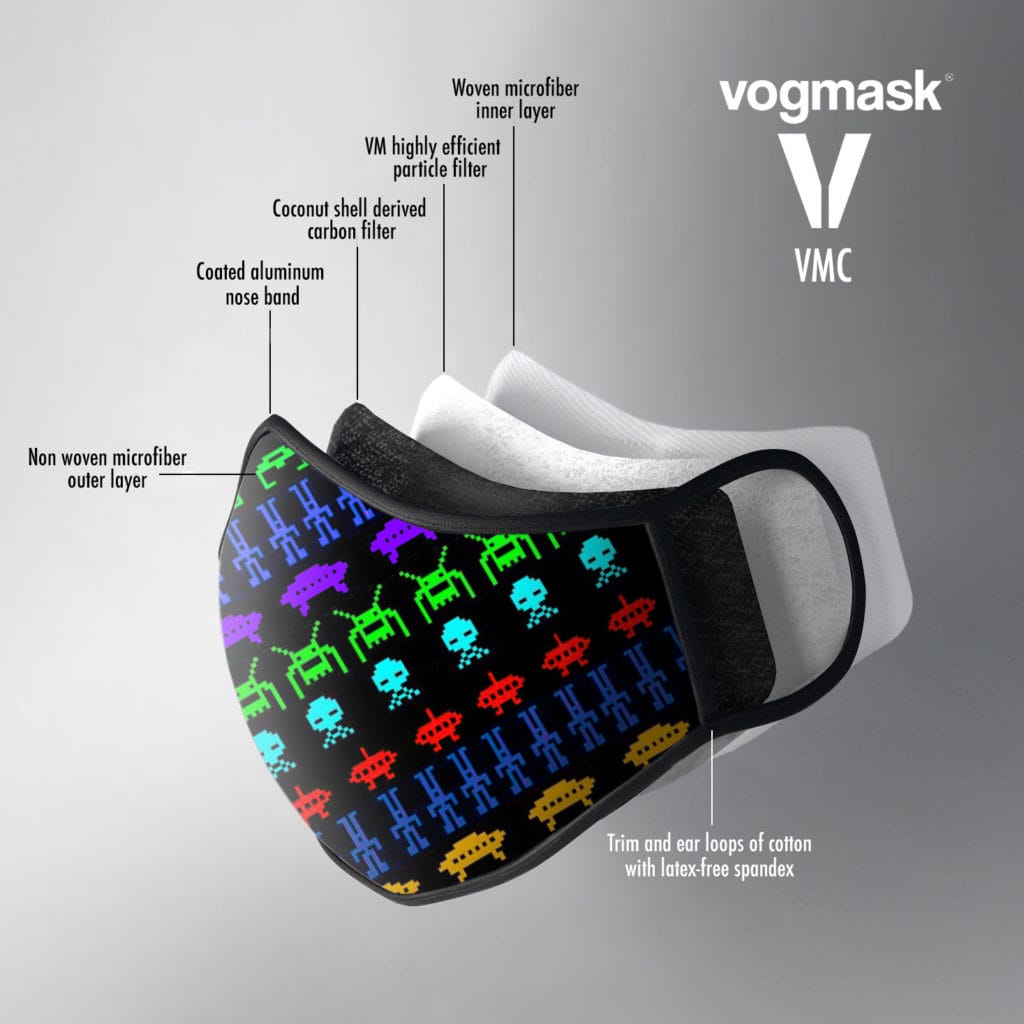 Being a mask, the most important aspect is, of course, the filtration. In this section, I will have a look at the filtration that Vogmask has with the built-in filter that it utilises. All of the below specifications are listed on their website.
One thing that I appreciate with Vogmask is that they provide links to their lab certificates. Although some mask brands show their certificates publicly, there are also many that don't. Vogmask thankfully has them available to everyone – something which I believe all mask brands should do.
Vogmask conforms to the KF94 standard from South Korea and is produced by Welcron in Seoul. KF94 is a globally recognised standard for fine dust protection and is roughly equivalent to FFP2 and performs slightly worse (in regards to filtration) than N95. This standard is given by the Korean Ministry of Food and Drug Safety.
The graph below shows the filtration capabilities of a sample of KF rated masks compared to N rated masks. As the graph shows, the KFDA (now Korean Ministry of Food and Drug Safety or MFDS) ratings perform similarly to N ratings in similar filtration brackets.
Aerosol and Air Quality Research, Comparison of Filtration Efficiency and Pressure Drop in Anti-Yellow Sand Masks, Quarantine Masks, Medical Masks, General Masks, and Handkerchiefs (source).
Vogmask does NOT officially hold a NIOSH rating. There was a lot of confusion some months back about exactly what certifications Vogmask has. However, they do not officially hold any NIOSH (N95/N99/N100) rating.
The confusion came because Vogmask advertised their masks as adhering to N95 filtering standards (must filter < 95% of particles at the MPPS. Therefore, while some of the specifications of Vogmask meet the standard, it does not meet all of the specifications and therefore does not hold an official rating.
Vogmask does, however, also conform to the NIOSH standards for inhalation and exhalation resistance along with valve leakage. This means that Vogmask should be comfortable to breathe through (Vogmask). On top of this, these masks also feature bacterial and viral filtration and have been tested by Nelson Labs for each. 
Vogmask particle filtration results.
For bacteria at 3 ± 0.3 micrometres, the masks feature 99.9% filtration. This will provide filtration against many kinds of bacteria. It is worth noting, however, that even though they may not be tested for it, many masks are capable of filtering even smaller particles (Vogmask).
For viruses at 3 ± 0.3 Vogmask also features 99.9% filtration. This means that Vogmask will be very efficient at filtering larger viral particles. Many viruses are smaller than 3 micrometres, however (Vogmask). If you are interested in an anti-viral mask, check out the Craft Cadence Nanofiber Mask.
As mentioned earlier, it is important to note that while Vogmask does not guarantee any protection against smaller particles, some N95 respirators were tested and found to be quite effective at small particle filtration even though they are not rated for it (3M). Most masks are far more capable at filtering smaller particles than those at 3.0μm due to the filtration mechanisms in play.
Particle Filtration
| | | |
| --- | --- | --- |
| Filtration Type | Particle (0.3μm) | Particle (0.1μm) |
| MeoAir | ≥ 96% | ≥ 99.74% |
| Cambridge Mask | ≥ 99.47% | NA |
| Vogmask | ≥ 95.38% | NA |
| Totobobo (F94) | NA | ≥ 99.7% |
| Metamask | ≥ 98.7% | ≥ 99% |
Compared to other masks on the market, Vogmask sits in the middle of filtration efficiency. There are some masks that perform better – certain Cambridge Mask (> 99% filtration) and Respro (> 99% filtration) models perform better, at least in regards to fine dust filtration.
Viral & Bacterial Filtration
| | | |
| --- | --- | --- |
| Filtration Type | Viral (3μm) | Bacterial(3μm) |
| MeoAir | NA | > 99.99% |
| Cambridge Mask | ≥ 99.3% | > 99.6% |
| Vogmask | > 99.9% | > 99.9% |
| Totobobo | > 99.9% | > 99.9% |
| ConceptAR | ≥ 99.7% | ≥ 99.8% |
As can be seen in the table above, Vogmask is very capable of filtering both viral and bacterial particles at the tested size. Although Vogmask lacks a bit in regards to particle filtration, it makes up for this in bacterial and viral filtration and it provides the best results out of the included masks (tied with Totobobo).
Vogmask models also may feature one or two valves depending on the model. Valves decrease resistance and make breathing easier. Single valve models make breathing more comfortable, and double valve models make this change even more substantial. Read here for more information about valves and how they impact mask filtration.
Valves can also decrease the humidity and temperature within the mask, making them more comfortable to wear for long periods or in high temperatures. However, valved masks should NOT be used for pandemic prevention as they do not filter exhaled air.
It is also worth noting that the Vogmask models with a C (VMC, VMCV, VMCV2) in their name feature a carbon filter. Carbon filters are added to masks to filter VOCs (volatile organic compounds) and they are also quite effective at reducing some smells.
Vogmask has an expiry date of 3 years from the date of manufacture. They also have a reuse period of a few months depending on the AQI. On their website, they state that 5-6 months of wear can be achieved – or until breathing becomes difficult. If you live in an area with a consistently high Air Quality Index (150+), expect this lifespan to be decreased significantly. 
Purchase Vogmask Organic Cotton Mask | Microfibre Mask
---
Fit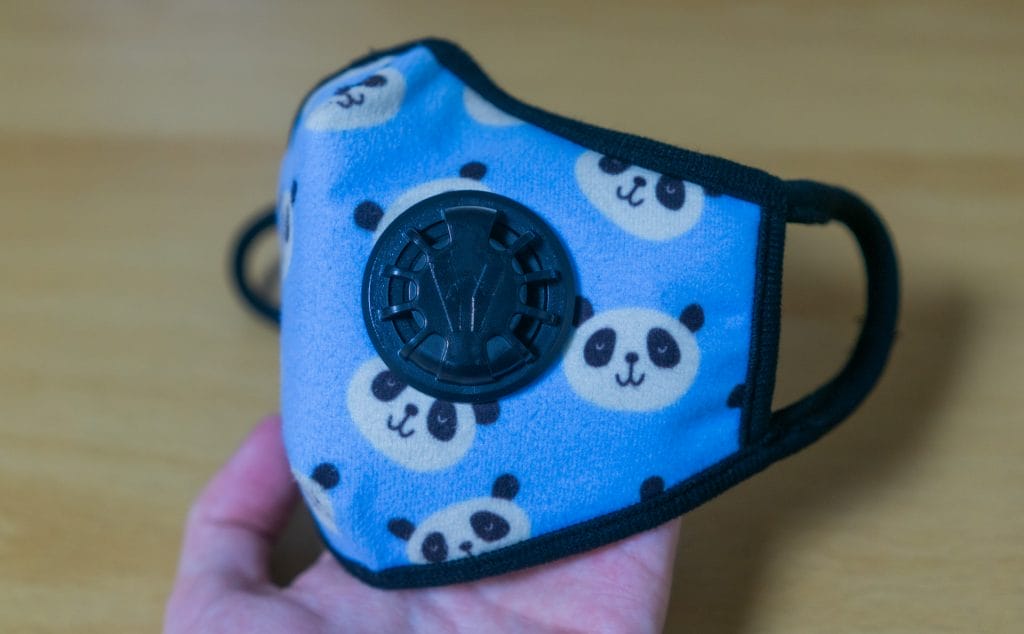 It's important to note that the filter standards (N95, KF94, KN95, etc) and lab results are irrelevant if the mask isn't fitted correctly. If there are gaps in the seal, particles can simply enter through these gaps rather than through the filter.
For this reason, the fit of a mask is vital. For the best fit, professional fit testing is required. However, this is not accessible for most people. 3M recently found that even without professional fit testing that some level of protection can be achieved if methods are followed to create a good fit (3M).
If you are wondering how to don a respirator properly, please refer to this guide by the CCOHS. Although cloth masks are not respirators, they should be seal tested and treated in a largely similar manner. When donning the mask, also make sure to follow WHO guidelines.
It is vital that a mask fits as well as possible and that a seal can be made between your mask and your face. For this reason, it is very important to choose the right size when you purchase the mask.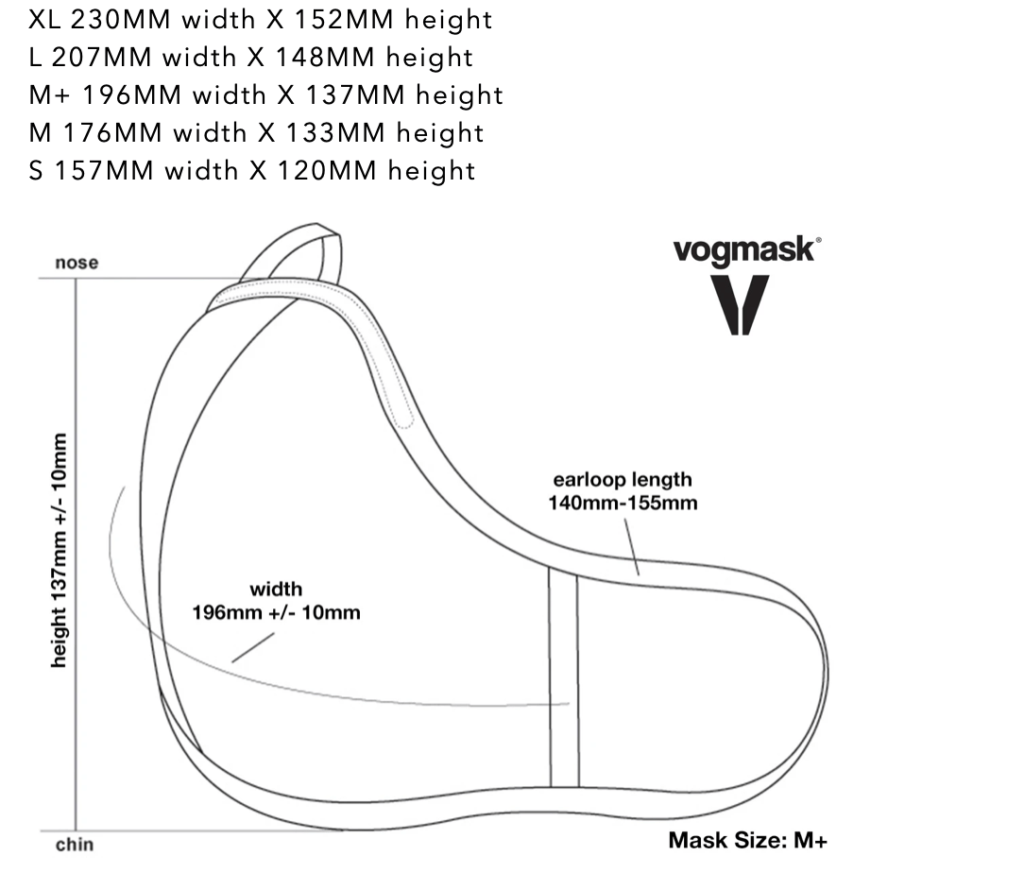 Vogmask offers 5 different sizes, each meant for different people. The mask sizing is meant to be easily accessible and is therefore based on the height of the wearer. However, if you have strong facial features, you may find achieving a fit hard. This is especially true if you have a big or small nose.
Vogmask uses ear-straps, and although common on respirators, this is one of my biggest issues with the product. Ear-straps are less sturdy than a head-band style of strap and mean that the mask is more loosely fitting. Further, these ear straps (as with all ear-straps) become very painful after long periods.
Luckily, a headband accessory is available. If you are purchasing a Vogmask and expect to be wearing it for long periods of time, I can't recommend this headband enough. Your ears will thank you for it!
The mask features a wire-nosepiece for adjustments around the nose. Although easily adjustable, it's important to try to retain the structural integrity of the product when storing it. This means, if possible, don't share the mask and don't store it in the sun, or somewhere where it can be crushed.
Another aspect that I noticed when first trying Vogmask is that the mask is very light. It is lighter than the Cambridge Pro Mask that I often use, and it also feels significantly lighter than most other reusable masks that I use. That isn't to say it is the lightest, however. Some masks such as Bloo Mask are still lighter and easier to breathe through.
This is great for long-term wear. Although the weight doesn't seem to make a big difference initially or in theory, in practice after long periods of wear it will be a lot more comfortable.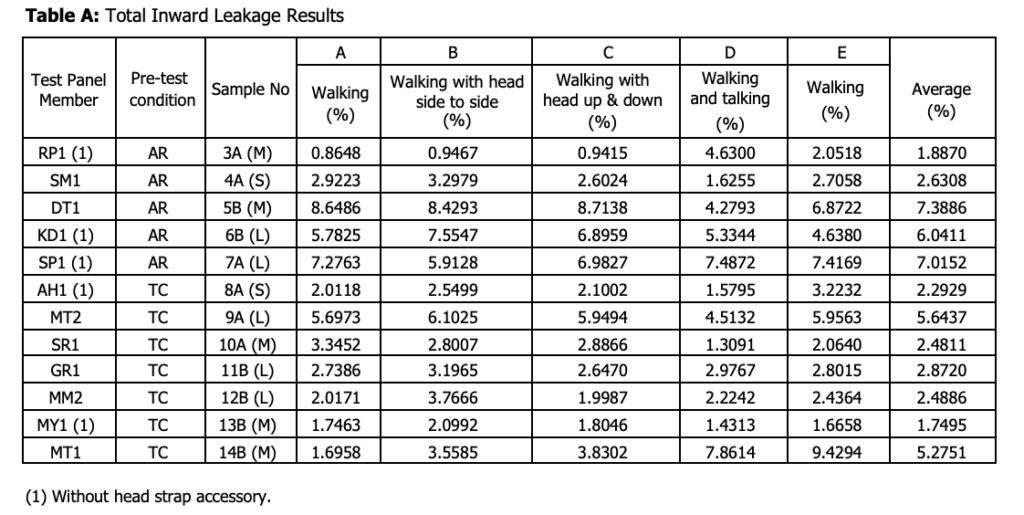 Vogmask total inward leakage results.
Vogmask has also has total inward leakage testing done. TIL is the percentage of particles that make it through a mask. In other words, it's the percentage of particles that the mask doesn't filter. More often than not, this isn't caused by a bad filter, but rather by a bad fit.
The results above show different Vogmask sizes on different people who then performed a range of activities. The results show that even in a worst case scenario (walking & talking, walking with head up and down, etc), the masks were capable of filtering > 92% of particles in all cases and often more than 95%.
Purchase Vogmask Organic Cotton Mask | Microfibre Mask
---
Design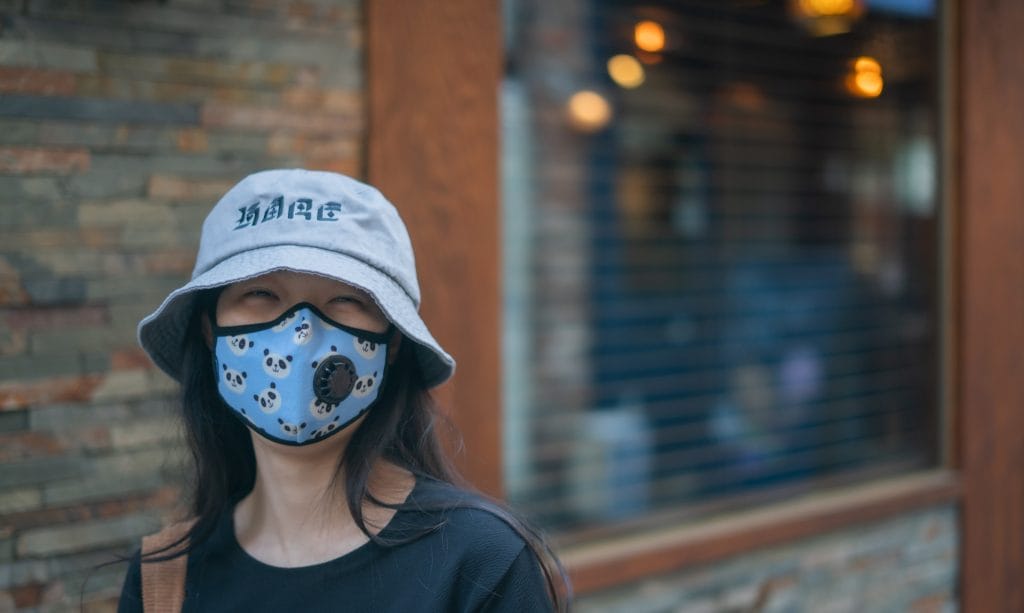 Vogmask features many different designs and they are always coming out with new designs. I recommend checking out their store for all of the different products that they create.
For people like me, they also thankfully provide simple, solid-colour designs. If you would prefer to fit into a crowd rather than to stand out, these designs are ideal. Although Vogmask doesn't have the same fashion focus of masks such as Mau mask, they offer some good designs.
One of the things that I appreciate the most about Vogmask is the use of an organic cotton layer (on some models). This layer tends to not only be more comfortable but to smell better in the long run. A few other masks such as the Re-Mask Sports also feature this, and it is a great addition for the longevity of the mask.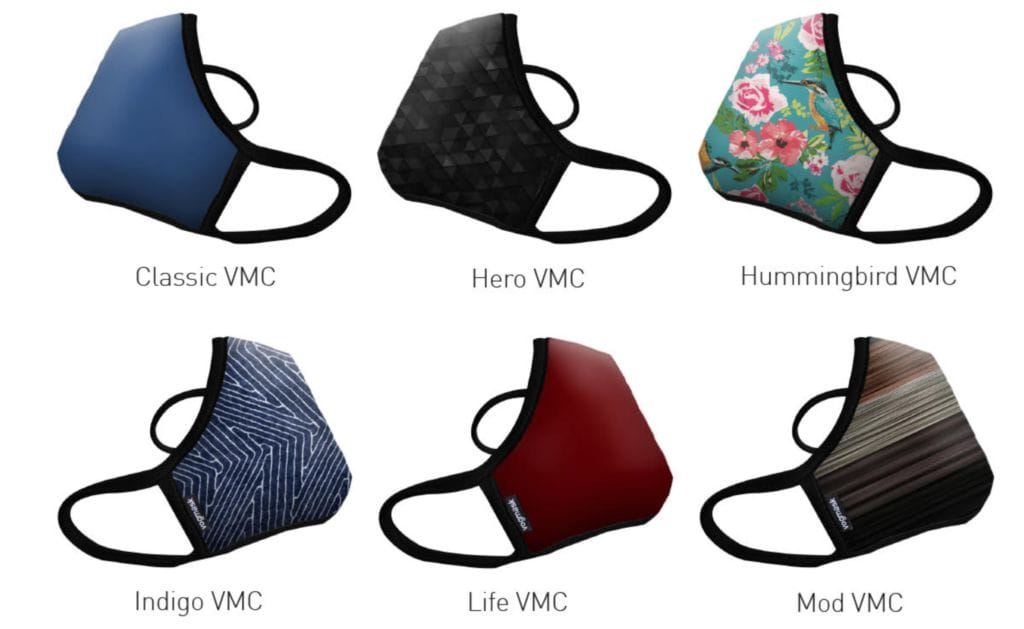 Vogmask has no obvious branding and features only a simple tag on the outside with their name. This is another aspect that many people will appreciate as it allows the mask to blend in.
Finally, as mentioned in the technical section, Vogmask can feature none, one or two valves. These valves don't impact filtration performance, but they do make breathing more comfortable and affect the look.
Read more: Totobobo 99% filtration mask from Singapore.
---
Models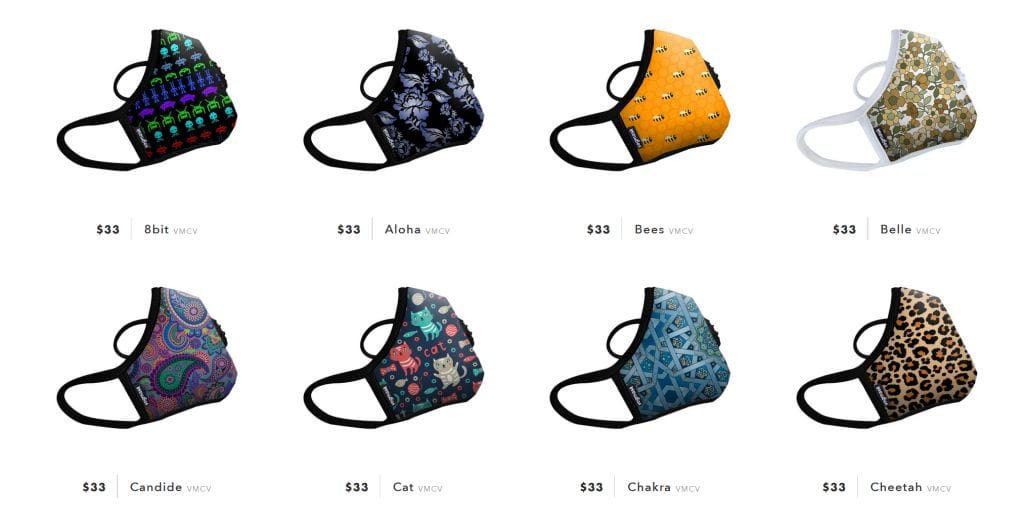 Vogmask features two different models, VMC Vogmask and VM Organic (also VMCV and VMC2V which feature one and two valves respectively. Vogmask's naming scheme is as follows.
VM = Vogmask, C = carbon filter, V = valve, 2V = two valve. The only exception is the 'Vogmask Organic' which is simply referred to as VM. With this naming scheme, you can see all of the variants below.
VM – Vogmask Organic
VMC – Vogmask + Carbon
VMCV – Vogmask + Carbon + Valve
VMCV2 – Vogmask + Carbon + 2 Valves
All masks use the same filtration technology (With the exception of the carbon filter), and the difference between the masks comes mostly in the form of comfort. The VM Organic and VMC2V masks both feature the organic cotton outer-layer. This layer provides extra comfort and as I mentioned earlier, tends to smell a bit better. At least in my experience!
VMC Vogmasks are also the masks that come in many designs. I am not sure why this is the case, but the VM Organic masks only appear to come in solid-colour designs. Although I am not certain, this could be due to the microfibre outer-layer (used on VMC and VMCV masks) being easier to print on.
It is worth noting that due to the banning by many countries on valved masks, Vogmask appears to have switched over to producing almost exclusively non-valve masks as of October 2020. In the future this may change again, however, if pollution becomes the greater issue again. For the moment, only VMC and VM masks are in production.
Purchase Vogmask Organic Cotton Mask | Microfibre Mask
---
Conclusion – Should You Get a Vogmask?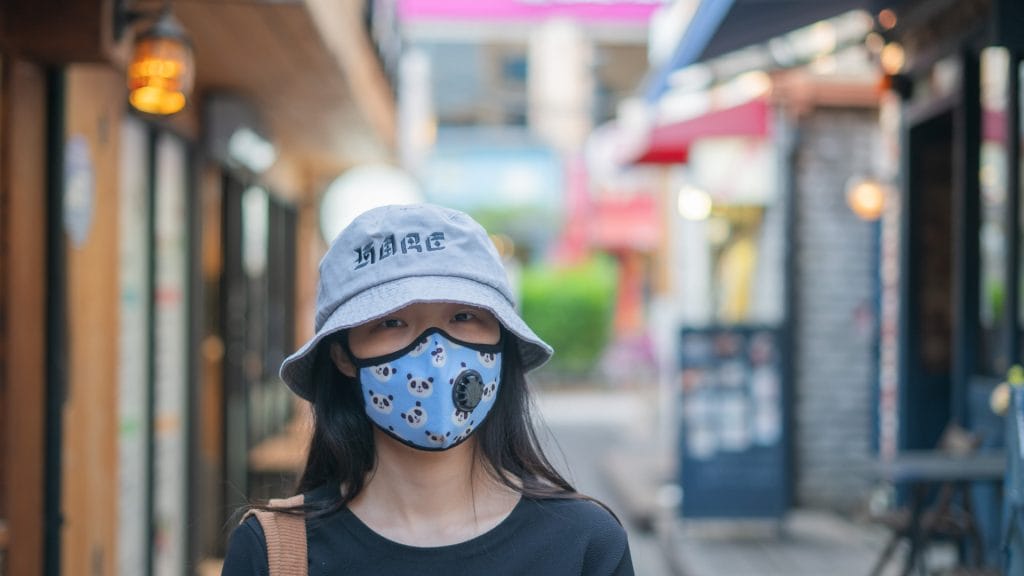 After this Vogmask review is said and done, would I recommend Vogmask for someone looking for a fine dust mask? Yes, I would. There are other masks out there that provide higher filtration – Cambridge Mask and Respro are two such examples.
However, Vogmask is a viable alternative to these reusable masks. In the end, the fit is often more important than filtration efficiency, and if Vogmask fits well then it is a good choice. Vogmasks are also widely accessible, especially when compared to some of the other masks on the market. They are sold globally and are also cheaper than some of the competition.
In saying this, though, there are more affordable masks on the market. $30 per mask is still quite costly when some masks, such as MeoAir Lite come in at under 20 (USD). If you are looking for the best protection, there are also masks that provide a better fit such as R-Pur and Gill Mask.
One thing that I would highly recommend if you purchase Vogmask, is that you also purchase the optional headband accessory. The headband will make Vogmask infinitely more comfortable.
If you are interested in learning more about other reusable respirators please check out my comparison. I also have a Vogmask vs Cambridge Mask vs Airinum comparison that might be useful for anyone wanting to compare the three.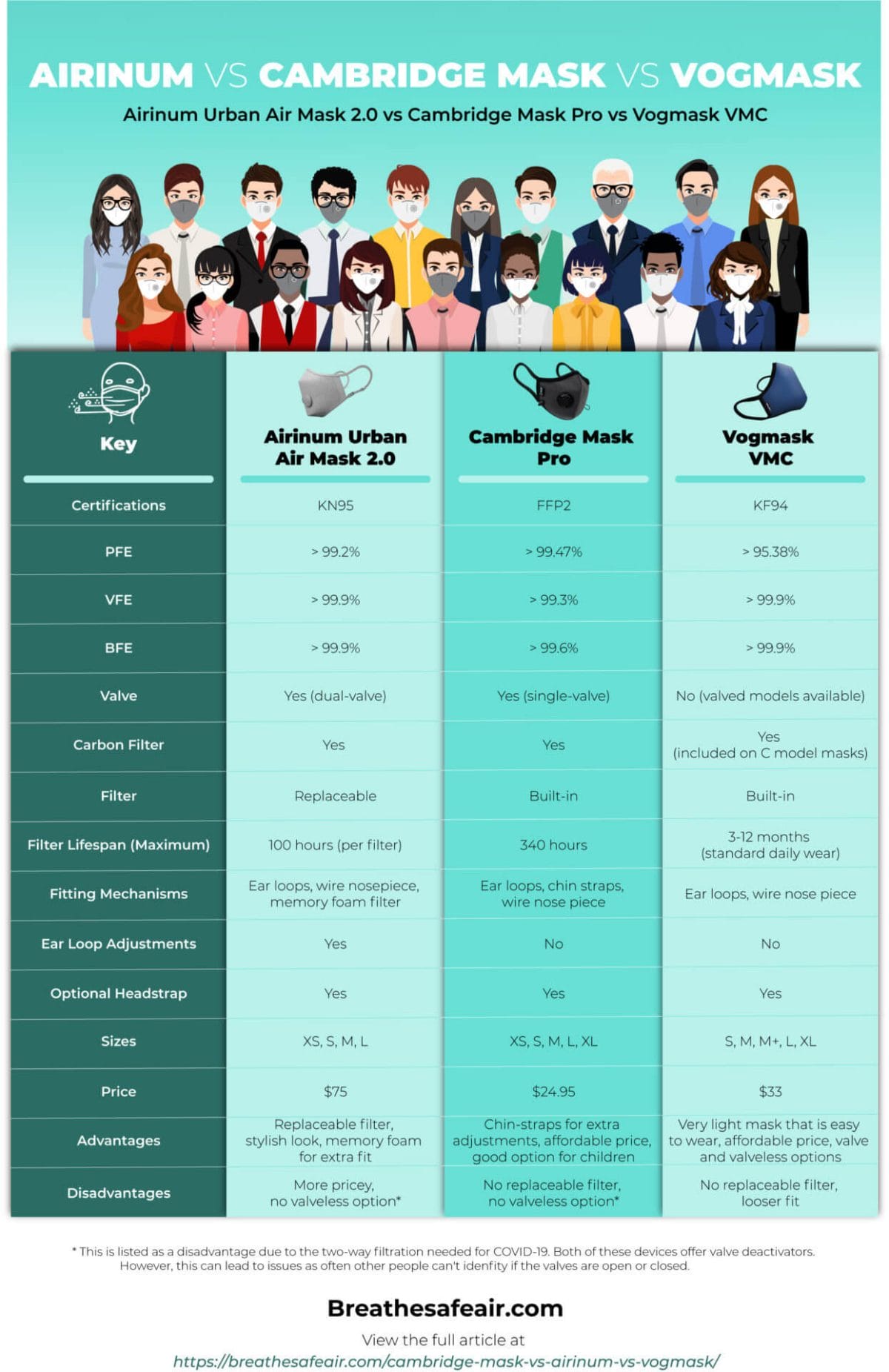 Purchase Vogmask Organic Cotton Mask | Microfibre Mask
---
Vogmask FAQ
What Rating Does Vogmask Have?
Vogmask meets the KF94 (similar to FFP2) standard. This is a standard given by the Korean Ministry for Food and Drug Safety and indicates > 94% filtration.
Do I Need a Mask with a Valve?
Vogmask offers multiple models, some with no valves, some with one, and some with two. A valve is not a requirement, but it will make breathing easier and more comfortable. If you intend to exercise with a mask, then a dual-valve variant is better.
What Are Some Vogmask Alternatives?
How Long Does Vogmask Last?
This depends upon the air quality. For most users, the mask will last around 300 hours. In real world usage, this is often 6 months to one year. However, with stronger pollution levels the lifespan of the filter will be decreased.
Is Vogmask N95?
While Vogmask conforms to the N95 filtration standards, it is NOT officially rated as an N95 mask.
What Are the Differences Between Vogmask Models?
The biggest difference between the VMC, VMCV and VMCV2 are the inclusion of valves. The VMC ask features no valve, the VMCV mask has one valve and the VMCV2 mask has two valves.
Is Vogmask Comfortable?
Compared to other cloth masks, the Vogmask is one of the more comfortable cloth masks that I have used. This is mainly due to the fact that the mask is very light and easy to wear.