The Craft Cadence Nanofiber Mask with ViralOff is one of the most interesting masks that I have reviewed recently. The mask offers a design that implements a few unique features – all of which comes at an affordable price!
Craft Cadence has a background in cycling equipment, and they noticed that there was little crossover between biking-focused masks and day-to-day masks. That is to say, masks that focused on cyclists were often not good choices for off the bike. On the other hand, more standard masks often didn't fit a cyclist's needs either – for example, most masks don't include a head strap (great for physical activities).
With this concern in mind, the Craft Cadence Nanofiber Mask was born. It's built to be a mask that provides good protection, versatility, and comfort – all in an affordable package. However, how does it compare to other popular reusable masks?
In my review today, I will be reviewing the Craft Cadence Nanofibre Mask with ViralOff. I will begin by looking at some of the testing backing the mask, such as the filtration efficacy. I will then move on and give my thoughts and experiences with other aspects of the mask such as fit.
You may already be familiar with Craft Cadence as they sold the Aropec anti-viral mask that I reviewed almost a year ago. While they are made by different companies, this mask feels like a successor in many ways – it takes the strengths of that mask (such as the use of ViralOff) and improves on the weaknesses (such as the lack of particle filter).
One unique selling point of the Craft Cadence Nanofiber Mask is that the basic mask pack includes two masks, two headstraps, and two resealable pouches. Further, if you purchase two packs, a free ViralOff pouch is included. When you purchase these masks everything that you need to go is included. There is no need to purchase a headstrap separately.
---
This post contains affiliate links. For more information, please refer to my affiliate disclaimer. I was sent a product for review, but the article is not sponsored. All opinions expressed in this post are my honest thoughts. I only recommend products that I genuinely believe in.
Information on this blog is for informational purposes only. Readers are encouraged to confirm the information herein with other sources. Furthermore, this information is not intended to replace medical advice from professionals. This website assumes no responsibility for the accuracy of the information, and information is subject to change without notice. Devices mentioned on this website are not medical devices and do not guarantee protection.
---
Filtration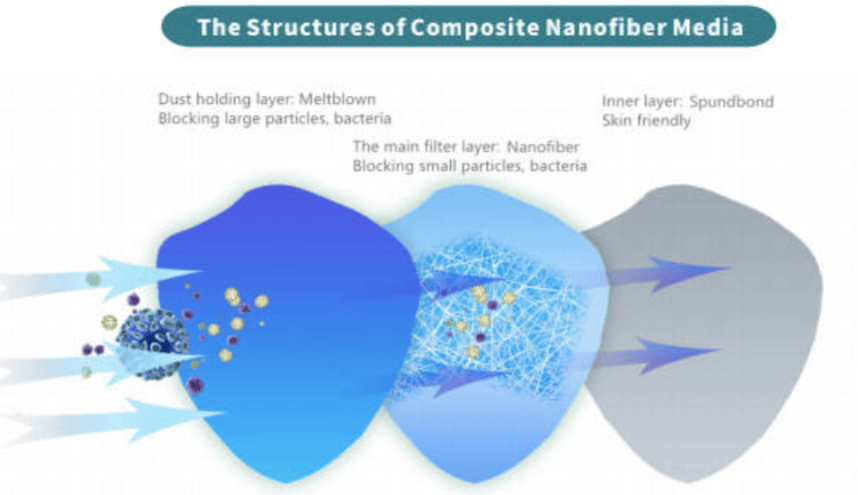 The Craft Cadence Nanofiber Mask uses two different filters. The primary filter is built into the mask, and there is also a slot on the interior of the mask that allows for extra filters to be added. Currently there are no filtration tests for the replaceable filters, however, the internal filter has been tested.
Under testing carried out by Microtest, an IAS accredited testing laboratory in Shenzhen, the filter media of the built-in nanofiber filter was tested. It's important to note that these results apply only to the filter media and not to the mask itself. Further, these testing results apply only to air passing through the filter and don't account for other factors such as fit and leakage.
In the testing carried out by Microtest the built-in filter media was tested 3 times against the EN 149:2001+A1:2009 standard. Tests were carried out using sodium chloride and paraffin oil at a flow rate of 95l/min. Breathing resistance was also tested against the EN standard.
In all of these tests each of the three filter samples reached the criteria for FFP3 (>99% filtration of tested particles at the MPPS while staying within the breathing resistance requirements). The lowest filtration among the tested samples was 99.41%, with the best result being 99.44%.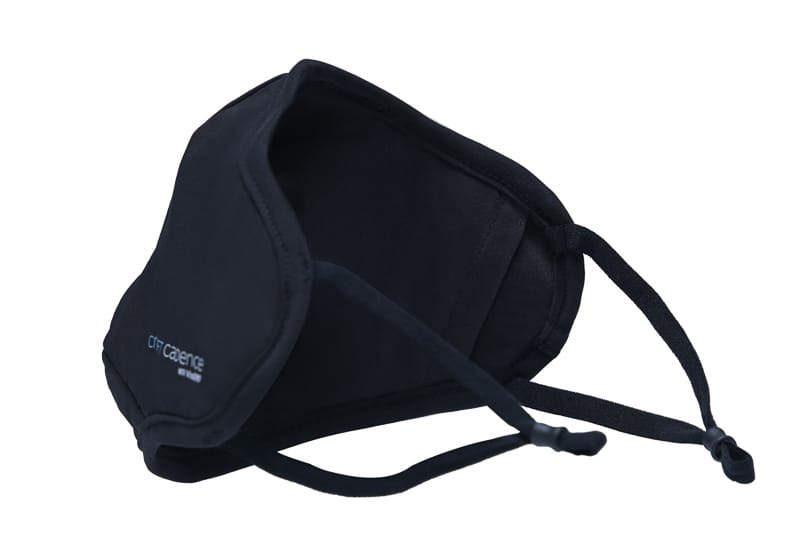 These are good filtration results and show that the filter is capable at filtering the vast majority of particles tested. However, it is important to re-emphasise that these results apply to the filter, not the mask itself. For a mask to be effective it must be fitted correctly and handled properly.
Since both the built-in filter and replaceable filters are made from nanofiber they have significantly longer lifespans than masks that use melt-blown filters. I recently looked into the reusability of nanofiber and in some tests, nanofiber filters can last 50 washes without losing significant filtration efficacy.
While washing should still be minimised in order to prevent the filter from potentially being damaged, it is safe to gently wash these masks if needed. In-house testing by Craft Cadence showed that after 5 washes the filtration efficiency reduced only by 0.2%. The ViralOff treatment is rated for only 30 washes, though, so this is important to keep in mind.
The filter slot in the mask is a relatively standard size and you will find that some other standard-size filters will fit inside the mask. However, these filters don't fit perfectly and they will often leave gaps around the edges. For this reason, I don't recommend using filters from other brands in this mask.
The filters are difficult to fit correctly due to the small opening.
With the filters provided by Craft Cadence I found it difficult to get them fitted correctly without gaps. Since the filter slot is very small, it's difficult to get the replaceable filters fitted correctly and it took me some time to be happy with their placement. Even then, there were some gaps around the edges.
Since the mask has a built-in filter I wasn't as bothered by these gaps as I have been with other masks. Even if unfiltered air could pass the replaceable filters it should be caught by the built-in filter. However, this is something to consider and it may be more of an issue as the mask gets older and the built-in filter loses efficacy.
One question I had was how would using two filters impact breathing resistance? Well, as it turns out the difference is minimal. This is most likely due to the fact that both filters are made from nanofiber – something which inherently has lower breathing resistance than melt-blown filters. Even with both filters in use the breathing resistance was very acceptable.
Purchase the Craft Cadence Nanofiber Mask
---
ViralOff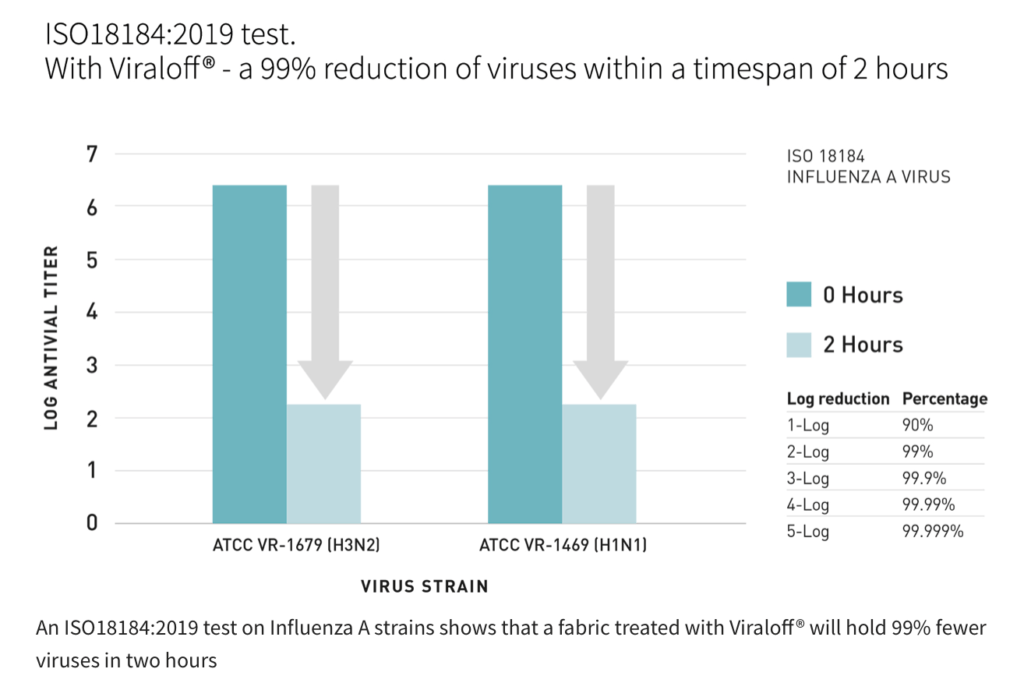 Polygiene ViralOff viral reduction. Image from Polygiene's website.
The Craft Cadence Nanofiber Mask also uses Polygiene's ViralOff technology – a technology designed to kill viruses on the coated surface. This technology is used in a few other masks such as ConceptAR masks.
ViralOff is a technology that is developed by Polygiene. They then license the use of this technology to other companies to use in their products. This is where the Craft Cadence Nanofiber Mask comes in.
ViralOff anti-virus technology has been tested according to the ISO18184:2019 standard for SARS-CoV-2, H3N2, and H1N1. The technology has also been tested by Boken Quality Evaluation Institute, a textile testing organization based in Japan. More recently, it has been tested against SARS-CoV-2 again.
ViralOff has been proven to kill viruses (in this case, H3N2 and H1N1) within hours. Within two hours, the technology was able to kill between 99.9 and 99.99% of the viral particles on the surface of the mask.
The testing process involves placing viral particles on the surface of the mask, waiting two hours, washing out the surface, and then testing the final viral count. This testing has shown a very large drop in viruses on the surface, and over a longer time span this will be even more effective.
Further testing has also been done with Influenza A, BirdFlu, Norovirus and Corona (SARS) viruses. All of these viruses reduced by > 99% over two hours (Polygiene).
At first thought, this may not seem particularly impressive. Killing viral particles over a matter of hours still leaves the wearer at risk within that time. However, it has a few very useful implications.
With the current viral outbreak, it has been found that the dangerous particles can exist on a mask surface for a week or longer. Considering that effective mask disinfection is a difficult process and that disinfection often damages filtration efficacy over time, there are two possibilities.
Either you need enough masks to be able to rotate through them leaving each for a minimum of 7 days before wearing it again, or, you need a disinfection method. The Craft Cadence Nanofiber Mask removes the need for this by allowing the user to re-use the mask after leaving it to sit for at least three or four hours.
With masks in such demand and with many shortages occurring, this can come in particularly useful. Further, the mask has an expected lifespan of 30 washes – even if you wash it after every wear, you can expect it to last for 30 uses. This is significantly more than any disposable mask.
Purchase the Craft Cadence Nanofiber Mask
---
Biostatic (Stays Fresh)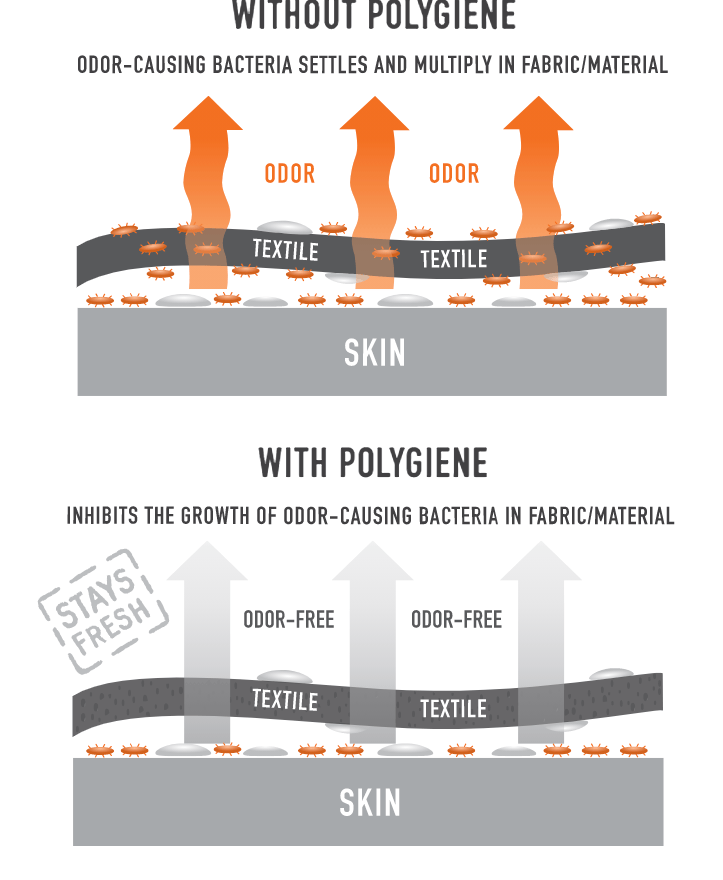 Polygiene Biostatic (Stays Fresh) odor reduction technology. Image from Polygiene's website.
Another unique aspect of the Craft Cadence Nanofiber Mask is that it features another technology from Polygiene – that is Biostatic Stays Fresh Technology. This technology uses silver salt (AgCl, silver chloride) to prevent the growth of bacterial particles that can often occur on masks over time.
This technology is especially useful on a mask, as you will be constantly smelling it since it is placed right in front of your nose. If you have worn a reusable mask for a few weeks before, you will quickly realise that they can begin to smell bad. This technology has been tested by ISML.
This technology is safe for both the wearer and the environment. In fact, it is made from Silver chloride which is naturally present in water and soil! Products that are coated in this technology can be recycled as normal.
From personal experience, I found that this technology was very useful. As I mentioned previously, I have tried tens of different masks, and I often find that they end up smelling bad after a few weeks. Since you are constantly breathing through them, they quickly become damp and humid, providing great places for bacteria to grow.
I have not yet noticed any bad smells coming from the mask and considering that I have used the mask for a couple of weeks (over 20 uses), this is quite impressive. Often I begin to notice smells coming from the mask after around this period of time – or as soon as they get damp.
The addition of this technology is very useful, and it's something that I hope will become more standard in the industry. So far, the only other mask that I have tested that is good at breaking down bad smells it the Bloo Mask from New Zealand. Being able to rely on your mask staying fresh and clean-smelling is a big bonus once it has been worn a few times.
Purchase the Craft Cadence Nanofiber Mask
---
Fit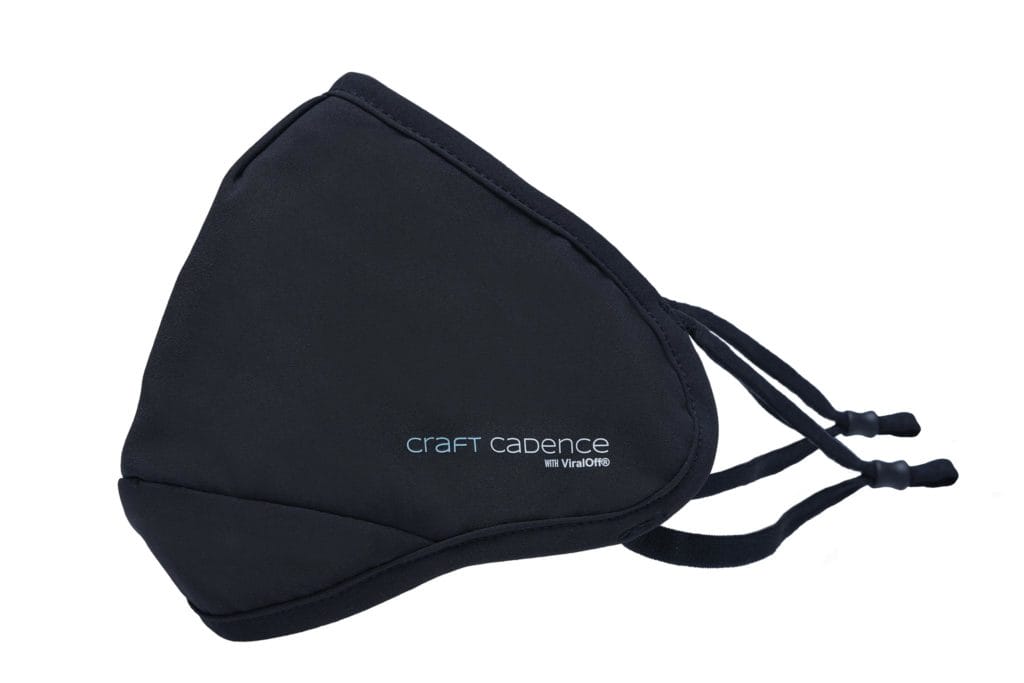 While fit is often not considered to be as important as filtration capabilities – likely due to how many companies choose to market their filtration capabilities, fit is actually just as (if not more) important. A mask that doesn't fit or one that is incorrectly fitted provides little protection.
For this reason, finding a mask that seals well without leaks is very important. I would rather take a mask with 95% filtration efficacy that fits well over a mask with 99% filtration efficacy that doesn't properly fit.
Please note that everything in this section is from my experience. Everyone has different facial dimensions and masks that fit me well may not fit you – and vice versa. Unfortunately, the only true way to tell if a mask will fit you is to try it for yourself.
The Craft Cadence Nanofiber Mask is available in three sizes – S, M/L and XL. These sizes each provide a 2cm step up in nose to chin and nose to earlobe dimensions. As an adult male with a smaller face, I found the M/L to fit me well while the XL was significantly too large.
I was also sent a small mask as I usually wear S-sized masks from other brands. However, I found the Craft Cadence masks to feel smaller – an M mask was more like an S mask from other brands such as Cambridge Mask. You will want to double-check the sizing on these masks before purchasing the same size that you use with other brands.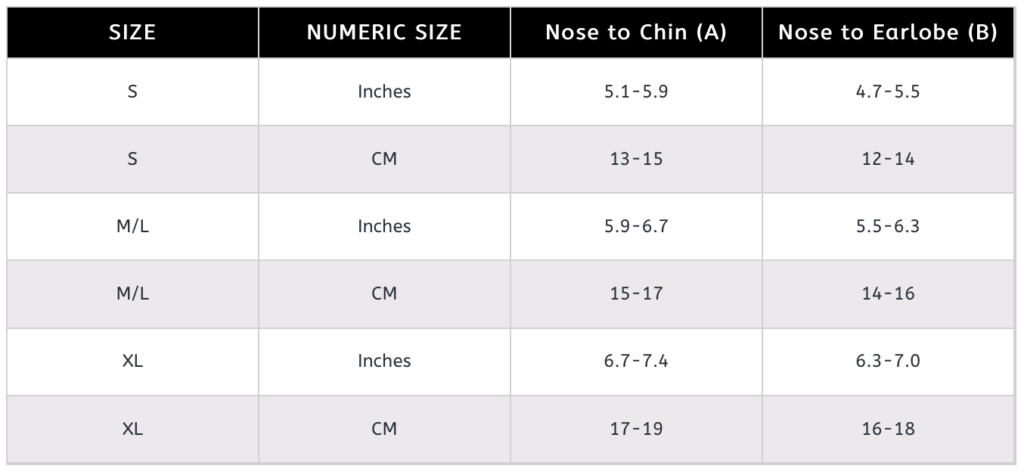 When donning the M/L mask for the first time I noticed that it also felt quite large and I was worried that it may be too large. After adjusting the ear loops I was able to achieve to get a much better seal.
However, in doing this I placed a lot of pressure on my ears and the mask was very uncomfortable to wear for more than a few hours. Luckily, there is a head strap included and I was able to use this to alleviate some of the pressure that was being placed behind my ears. The headband definitely helped a lot, however, I did still encounter some pain after wearing the mask for extended periods of time (2+ hours at once).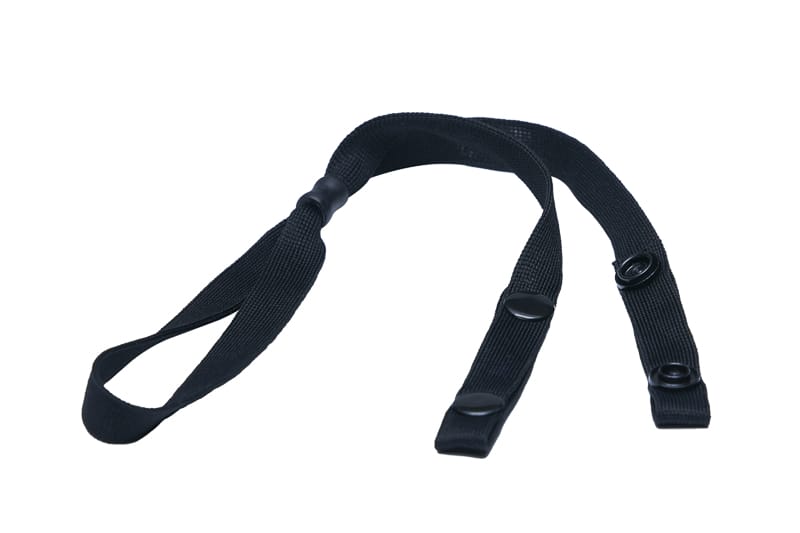 It is worth noting that this discomfort is very common with masks that use earloops and it's not an issue isolated to this mask. However, it is worth mentioning. The addition of the head straps in the basic mask kit is a big benefit though, as these are often included at an extra cost.
When I initially wore the mask I noticed leaks around the ear (near where the earloops connect to the mask). This was due to the fact that when the earloops are tightened a lot it creates a gap on the mask between where each end of the loop connects. This also occurs with the headband as it pulls the earloops taught.
I was able to mostly remove these leaks by loosening the earloop/headband slightly and this was how I achieved the best fit. I also noticed that when the earloops are too tight there can be leaks near the ridge of my nose due to the fact that the mask is pulled taught – meaning that the wire can't properly mould to my face.
After some adjustment, I was able to minimise most leaks with the mask. I wasn't fully able to remove leakage near my nose though. In order to remove all noticeable leakage, I used a strip of memory foam that is about 1cm thick and 7cm long and placed it on the inside of the wire nosepiece. This achieved a seal that I was comfortable with.
To achieve the best fit, I first donned the mask and tightened the earloops and headband as much as I comfortable could. I then loosened both slightly, to place less pressure on the mask (and therefore to decrease the leakage).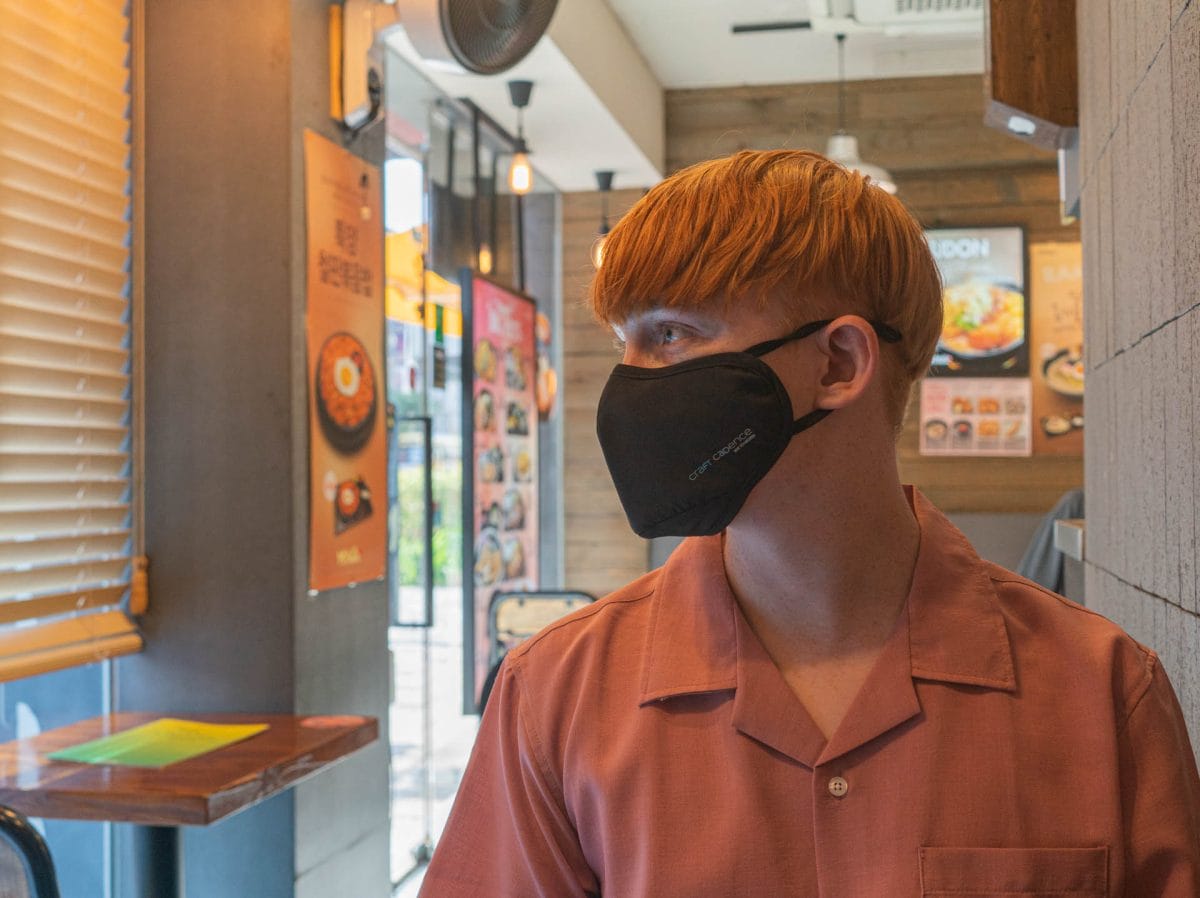 The mask features a large chin wrap.
The Craft Cadence Nanofiber Mask also makes use of a chin-wrap similar to that seen on Bloo Mask and Metamasks. Chin wraps are an addition that I always appreciate because they help decrease leakage and make the mask sit more firmly in place, making it harder to dislodge when moving. The chin wrap is quite significant and it sits deeply under my chin.
The ear-loops and head band used are both elastic, thick, and feel quite sturdy. They can get twisted and hurt at times (when the thinner surface is placed against the ears rather than the flat side) but overall I found these straps to be relatively comfortable when compared to other reusable cloth masks.
Purchase the Craft Cadence Nanofiber Mask
---
Price & Lifespan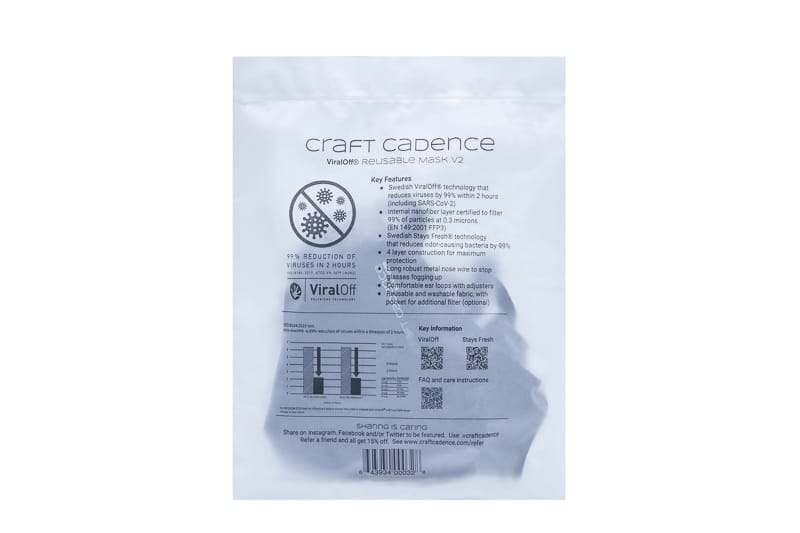 Two masks can be purchased for £44 (USD $59.94 + $4 shipping fee). There is no option for purchasing the masks individually, currently, and this is due to the fact that Craft Cadence believes that mask use should be alternated both for personal safety and to increase the lifespan of the masks.
However, I would like to see an option to purchase single masks. There may be times when one mask gets damaged and only one replacement is needed. This is a minor issue, though, and something which can easily be changed in the future.
At a price of £22 ($30) per mask, the Craft Cadence mask comes in at a similar or slightly lower price than other mask brands such as Cambridge Mask and Vogmask. However, it's also more expensive than some masks such as Styleseal and Happy Masks.
The unique value proposition that the Craft Cadence Nanofiber Mask offers is that it also includes a headstrap/lanyard (usually an extra cost) as well as a ViralOff coated antiviral carrying bag (on purchases of 2 mask packs or more). This bag can also be purchased separately for £10 ($14).
On top of this, since the mask comes with both a built-in filter and a filter slot, you are paying for a mask that is usable for a few hundred hours by itself. After this period, you can continue to use replaceable filters if you choose.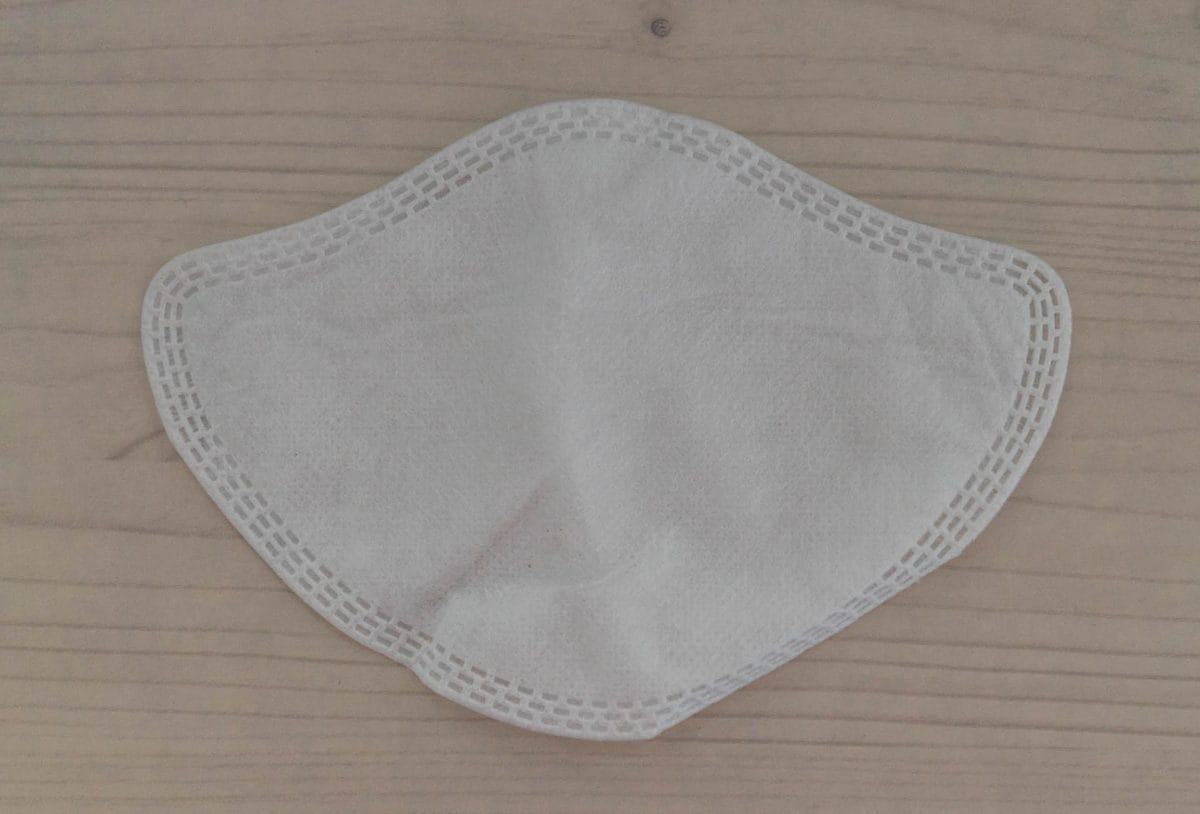 Replaceable filter (after some wear) for the Craft Cadence Mask.
Craft Cadence will offer replaceable filters later in 2021 at a cost of $9.99 for a pack of 5. This means that you should be able to use the replaceable filters at a cost of $9.99 for 1-2 months depending on your usage and the local air quality.
When considering these factors, the price of the mask seems fair relative to other masks on the market. In addition, I believe there is no other mask in this price range that currently offers ViralOff – with the exception of ConceptAR masks.
There is no definite lifespan for the mask, and it heavily depends on your usage. Factors such as air quality play a large part in how long you can expect the mask filter to last. Generally, built-in mask filters last for 200-300 hours before reaching the end of their lifespan.
Of course, once the built-in filter reaches this point you can continue to use the replaceable filters if you choose. However, some people may prefer to replace the mask itself.
Since the Craft Cadence Nanofiber mask uses a nanofiber filter, washing the mask should decrease filtration minimally. Most reusable masks use melt-blown filters, and these filters quickly lose efficacy once washed (due to a loss of electrostatic charge).
Nanofiber, on the other hand, relies largely upon other filtration mechanisms and has been shown to retain filtration efficacy even after many washes. Nanofiber reusable masks are much harder to find than masks that use meltblown filters. Happy Masks and Metamasks are two other masks using nanofiber filters.
Generally, once the mask becomes significantly more difficult to breathe through or gets damaged it is time to replace it. However, the use of replaceable filters means that there is no need to replace the mask unless the breathing resistance becomes too great to be comfortable. With a nanofiber filter, this should not occur quickly.
Purchase the Craft Cadence Nanofiber Mask
---
Pouch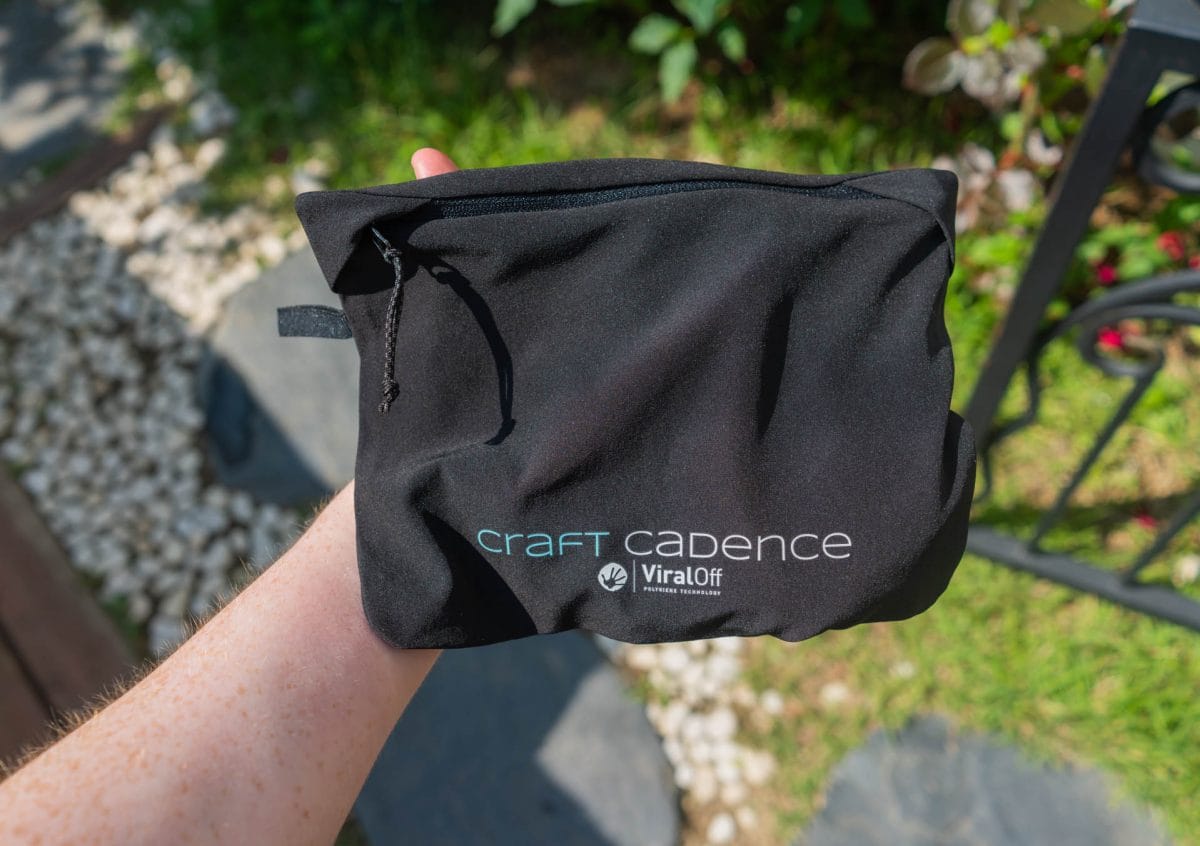 If you purchase two mask packs (two packs of 2 masks each) or pay an extra £10 you will also get a ViralOff mask pouch. This pouch is big enough to comfortably fit one mask and even has enough room for two if needed.
The bag is quite light and it has a zip along the top. The most useful feature, by far, is the addition of the ViralOff coating on the pouch. Similar to the mask itself, this means that viruses on the surface will be killed over a few hours instead of surviving on the surface for a long period of time.
Personally, I've mostly used the pouch when I am wanting to take off my mask. I'll put my mask in the pouch, and then put the pouch in my backpack. This way I know that the mask won't be damaged while in my backpack.
Whether or not the pouch is worth it is up to you and how you normally wear and use masks. However, it's a nice bonus addition for anyone looking to purchase multiple masks at once!
Purchase the Craft Cadence Nanofiber Mask
---
Conclusion
The Craft Cadence Nanofiber Mask is a solid choice of mask even without all of its unique factors. When the extra aspects such as the use of ViralOff and Biostatic (Stays Fresh) along with the nanofiber filter media are taken into account the Craft Cadence Nanofiber Mask becomes a very unique mask. There is no other mask that offers all of these benefits – especially within this price range.
While I'm not sure if this is due to my face shape or the mask design, I wasn't able to get a perfect fit due to leakage around my nose. This was luckily something that I could fix with memory foam that I had lying around. I would be interested to hear others experiences in this regard.
Once the mask fit, I had a good experience with it. It fits well, and it's a larger mask (it covers more of my cheeks than most masks) – something that's very useful since the mask surface is coated in ViralOff. The nanofiber filter provides very low breathing resistance and even when using two filtration layers I noticed no difficulty in breathing.
The price of this mask also makes it compelling – especially considering the longevity that the mask should offer. While Craft Cadence is a much less famous brand than many of the bigger companies in the mask industry, they have created a strong first mask. If you are looking for a new mask, this one is definitely worth considering.
Have you tried the Craft Cadence Nanofiber Mask? If so, please feel free to share your thoughts down below! I welcome everyone to share their experiences. Have further questions? Please feel free to ask down below and I'll do my best to answer.
Purchase the Craft Cadence Nanofiber Mask
---
Craft Cadence Nanofiber Mask FAQ
Does the Craft Cadence Nanofiber Mask Have Lab Testing?
Yes. The Craft Cadence Nanofiber Mask's filter media has been tested by Microtest, an IAS accredited testing laboratory in Shenzhen.
Does the Craft Cadence Nanofiber Mask Have an Official Certification?
No. The Craft Cadence Nanofiber Mask does not hold an official rating. However, the filter media meets FFP3 filtration criteria.
Where Can I Buy the Craft Cadence Nanofiber Mask?
You can purchase the Craft Cadence Nanofiber Mask from Craft Cadence.
What Are the Benefits of the Craft Cadence Nanofiber Mask?
The Craft Cadence Nanofiber Mask offers a few unique benefits over other reusable cloth masks. Firstly, the use of a nanofiber filter means a longer mask lifespan. The mask also makes use of Polygiene's ViralOff and Biostatic technologies.
Does the Craft Cadence Nanofiber Mask Use Replaceable Filters?
Yes. The mask has a built-in filter, but you can also add replaceable filters if needed.