Since I started Breathe Safe Air I have had the chance to review a few different air quality monitors. I've reviewed some popular portable air quality monitors such as the Flow 2 and the Atmotube Pro, and I have also had the opportunity to review some indoor air quality monitors such as uHoo and the Kaiterra Laser Egg.
All of these monitors are very app-based, however and I found myself searching for something that was easier to use in my day to day life. This means a monitor that can be glanced at quickly while providing important information on the local air quality.
This is where the HI-300 from Huma-i comes in. I hadn't heard of this company until recently, and I came across them because they are a local company also based in Seoul, South Korea. The HI-300 is a recently released product which was launched to sit alongside their portable air quality monitor.
I've used the HI-300 for a few weeks now and I wanted to share my thoughts on the product. Along with this, I will also share more details on the product including its accuracy, sensors, app design and more. This is my Huma-i HI-300 indoor air quality monitor review.
---
This post contains affiliate links. For more information, please refer to my affiliate disclaimer. I was sent a product for review, but the article is not sponsored. All opinions expressed in this post are my honest thoughts. I only recommend products that I genuinely believe in.
Information on this blog is for informational purposes only. Readers are encouraged to confirm the information herein with other sources. Furthermore, this information is not intended to replace medical advice from professionals. This website assumes no responsibility for the accuracy of the information, and information is subject to change without notice. Devices mentioned on this website are not medical devices and do not guarantee protection.
---
Sensors
The HI-300 is a well-equipped indoor air quality monitor that is capable of monitoring many of the most important indoor pollutants. As with most air quality monitors it is also capable of monitoring other ambient conditions such as the temperature and humidity.
CO2
VOC
PM1.0
PM2.5
PM10
Temperature
Humidity
With the range of sensors included I don't feel like anything obvious is missing. Some other devices will measure pollutants such as carbon monoxide and nitrogen dioxide, however, I haven't really felt like any sensors are missing. Carbon monoxide sensors in particular are a great emergency sensor, but I have not had a need for one myself.
With VOCs, PM2.5, PM10 and CO2 being covered, the biggest indoor air pollutants are all covered. The addition of temperature and humidity are also a welcome addition and both of these can be deceivingly important for indoor air quality.
For anyone looking to monitor indoor air pollution VOCs are normally the pollutants of the most importance. Particles such as PM2.5 and PM10 usually aren't as common in homes these days as the biggest source of them is typically wood fires (or other smoke-emitting sources such as incense or smoking) within homes.
---
Accuracy
Without lab tests I am unable to speak as to the scientific accuracy of the device. However, from my experience comparing it to the readings from other indoor air pollution monitors, the measurements followed the same trends. Although the exact readings between the monitors differed, the overall trends and changes were similar across all devices.
I also did some (un-scientific) tests with the device. I opened a bottle of nail polish near the device and it reacted promptly reporting a large increase in VOCs in the room. I then closed all of the doors and windows of a room with both the device and I inside. Over the next few hours, the reported CO2 levels increased as expected.
The particle sensors (PM1.0, PM2.5 and PM10) were the most different from other devices. They readings were usually around 25% different from those provided by the uHoo and Atmotube Pro. It also reacted quickly when incense was burned in the same room (emitting fine particles).
Although it's hard to say for certain, it definitely appears as though the HI-300 can provide semi-accurate updates on the air quality. It's also important to remember that with devices like this, none of them are completely accurate. The more important matter is that they can identify general air quality trends and are accurate enough to report on high concentrations of potentially dangerous pollutants. In this, the HI-300 is capable.
For sensors, the HI-300 uses a MEMS sensor for VOCs. For CO2 readings the device uses a electrochemical type sensor. The device also has an automatic recalibration feature would should offset some of the sensor drift that is often observed over time.
---
Display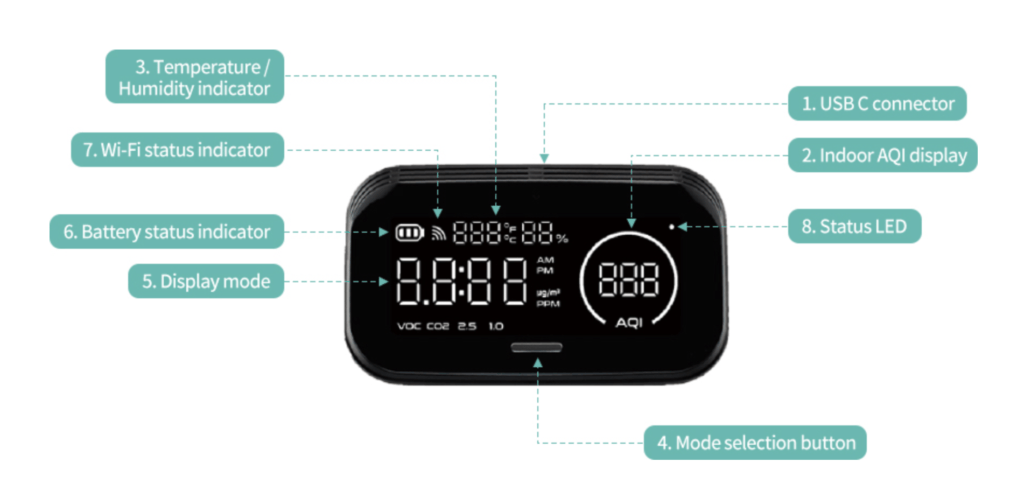 The display of the HI-300 is one of my favourite aspects of the device. Where some air pollution monitors try to blend in and are only accessible via the app, the HI-300 takes a different approach. It has a large display that reminds me of an alarm clock.
The display is simple and only displays basic readings in black and white. However, I find this simplicity and ease of access to readings very appealing. As someone who is somewhat of a minimalist, I have found this design to fit in very well on my desk.
On the display there is a single button at the bottom. This isn't a push-button however, and instead appears to be capacitive. Then means that when you touch the button it responds, without the user actually having to put force on the button.
Touching the button alternates the device through its different readings. The device will only display one reading at a time, but this is made up for by the fact that it's very easy to scroll through the different readings and everything is accessible within a few quick taps.
---
App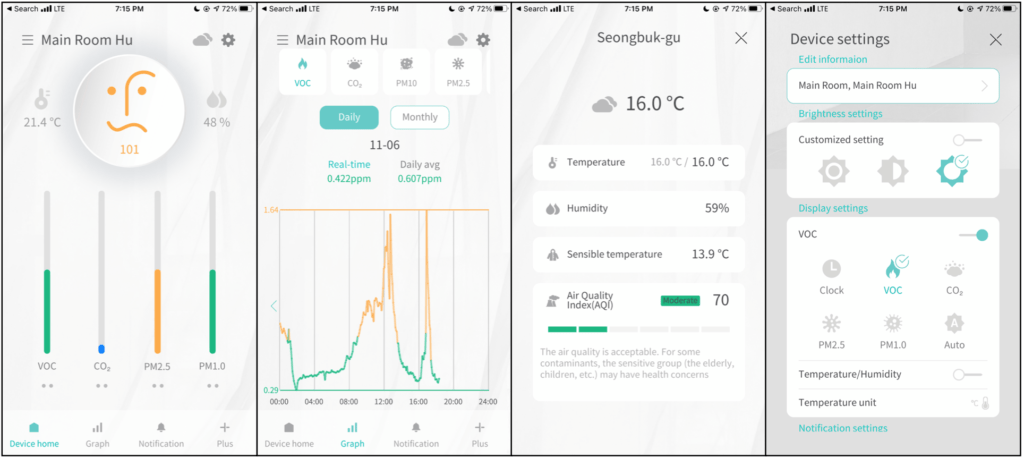 The Huma-i app is one of my favourite air quality monitor apps so far. Generally these kinds of apps function well, but I often encounter wait times when trying to view the data. This is understandable as there is a lot of data to retrieve. However, it can be frustrating.
Despite holding 90 days worth of data, I found the Huma-i app to be very smooth and fast on an iPhone. I imagine that the Android app would function similarly and be equally as fast.
The biggest downside of the app is that it still has some fluency issues. Since the company is Korean-based, the English translations aren't perfect. In saying that, they are more than usable and I personally found this to be a non-issue. However, it may bother some people.
From a technical point of view, the app works perfectly from my experience. Product registration and activation was the most flawless procedure I have had with any air pollution monitor – just make sure that both devices are connected to the same WiFi for setup (the HI-300 only uses 2.4ghz WiFi).
Once you add a device you will have the option to add a building/room. The app is designed in such a way that you can create a whole ecosystem of Huma-I devices, monitoring not only your home, but also your office or another location. You can also easily add other users within the app, giving them access to the data from the devices also.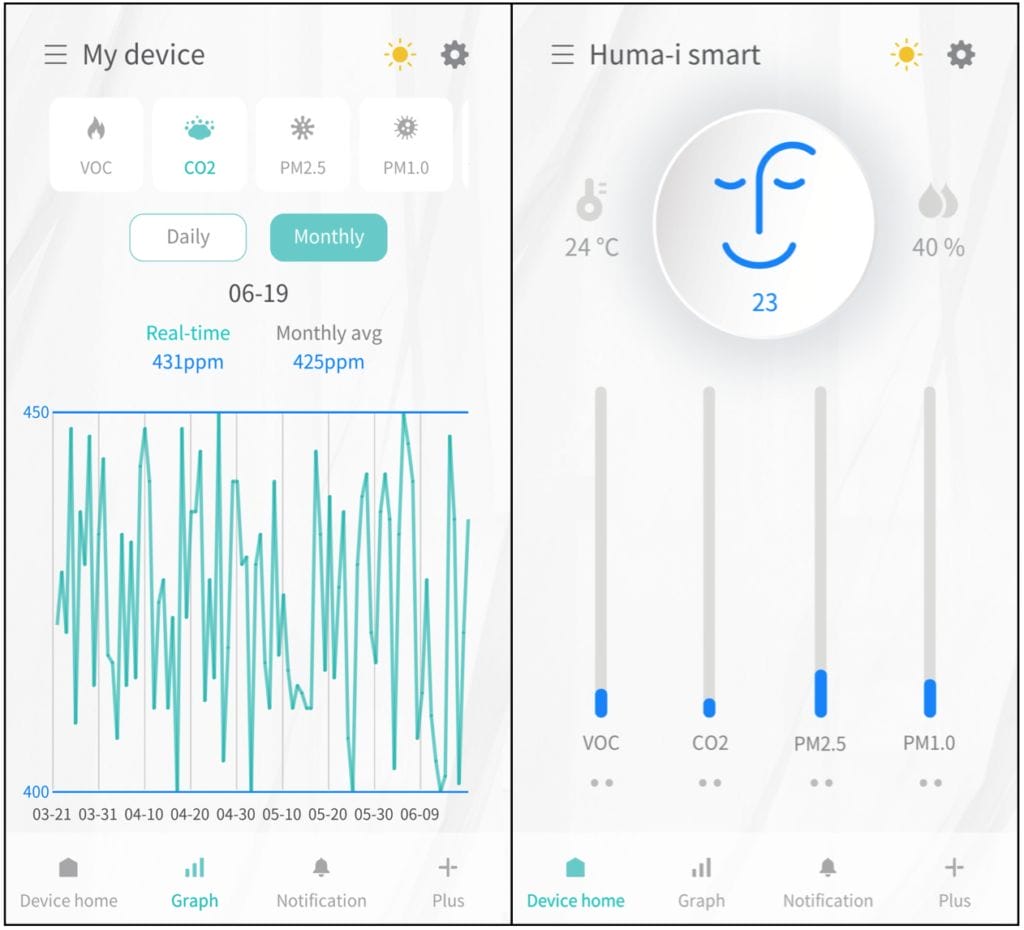 After you have set up your device and added a building/room you will be met with the main screen of the app. This screen shows you all of the sensor measurements with VOC, CO2, PM2.5 and PM10 displayed in bars. At the top, a face is shown in the colour and expression of the air quality. This is a very user-friendly home-screen and it's easy to quickly assess the air quality.
If you want further details then you can simply tap on any of the measurements. This will take you to the graph view for that specific pollutant/condition. The graphs show up to 90 days of data, and they can be changed between daily and monthly views.
The data on the graph is displayed at 5 minute intervals. Each point of the line can be tapped on for further details, including the exact sensor reading at the exact time. The graphs are not otherwise interactable. While the graphs work well, I would have appreciated a pinch to zoom function to see the graph in closer detail.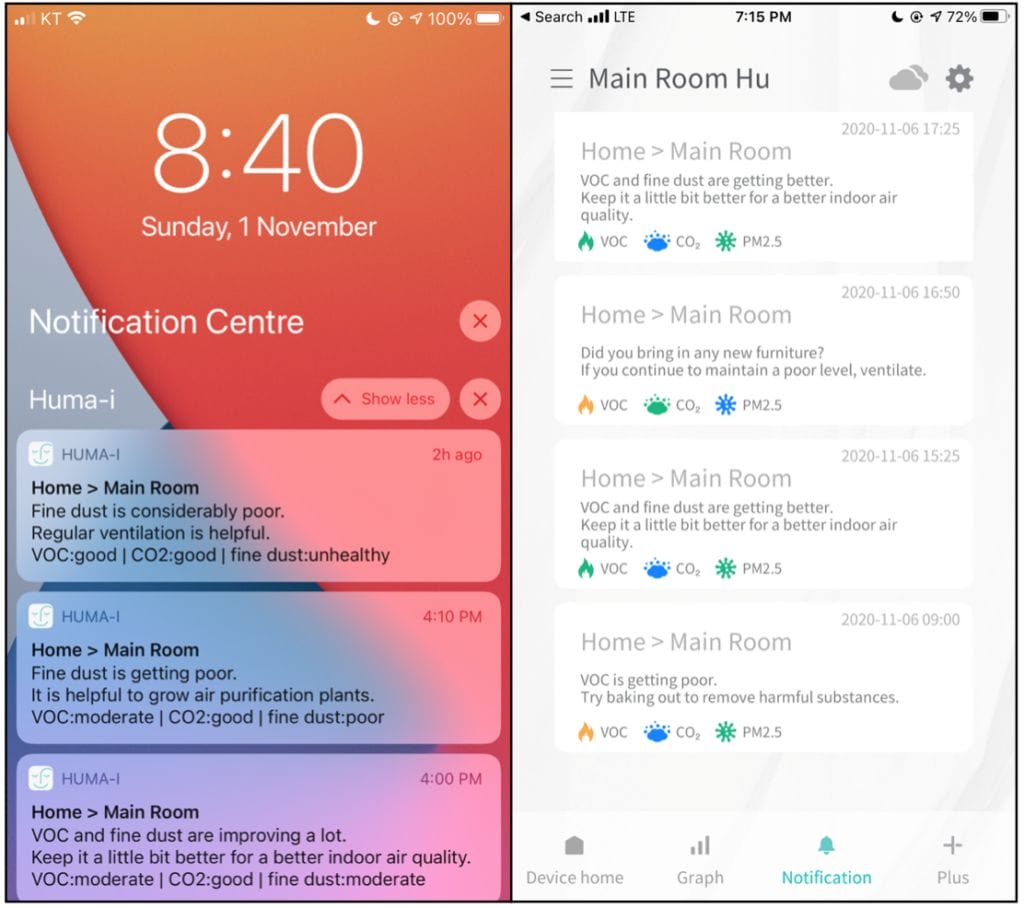 Next there is a notifications tab. The app does send you push notifications if you allow, and this tab aggregates the information from every notification. This is something that I haven't seen before, and I have to be very useful for identifying potential air quality issues that keep recurring.
The final section of the app, and perhaps the most important, is the settings menu. The settings UI is very simple and easy to follow. In the settings menu you can change many settings that you can change on the device via the button. These settings include the brightness and display settings. You can also find notification settings, Wi-Fi settings and firmware settings here.
Speaking of firmware, I had my first update for the device today. It was a painless process and took under a minute. An exclamation mark appeared on the settings menu and then on the firmware button. I tapped this and I got a warning letting me know to plug in the device. Once accepted, the update will take place with no further interaction from the user.
Data from the device is reported in the Huma-i app. The app will store 90 days of data for each measurement. However, it currently seems as though can't be exported. While few people will end up using the export data function from an air quality monitor, it is a nice addition to have.
---
Connectivity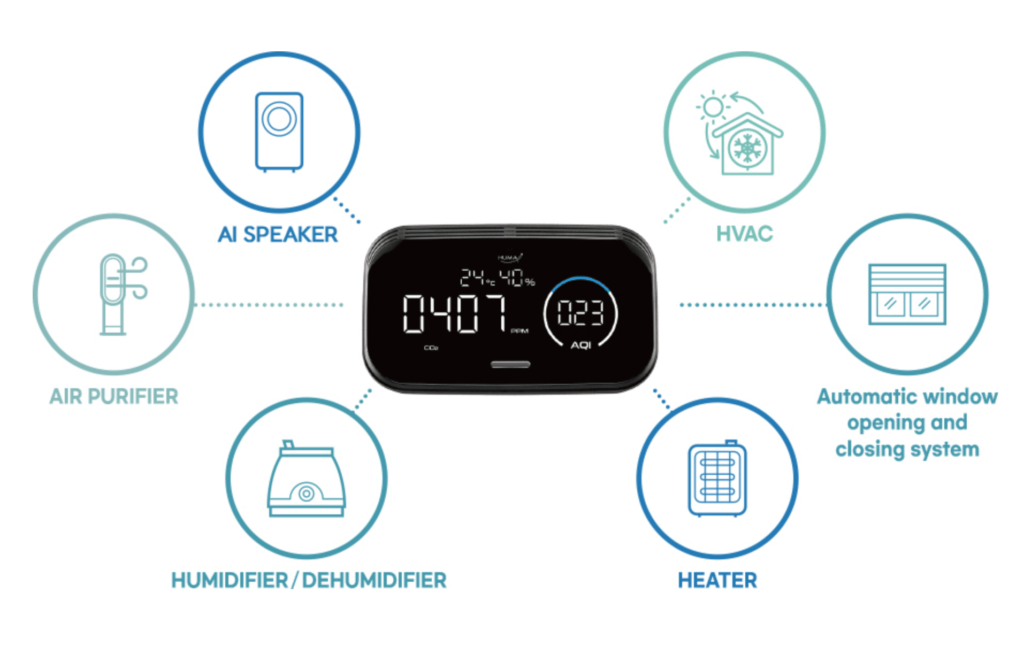 Currently, the device supports Alexa functions and can also be integrated with IFTTT. If you have an Alexa device you can ask Alexa questions about the air quality and she will reply with readings from the HI-300.
IFTTT is perhaps an even more useful integration. IFTTT is an app-based automation system that allows the user to create automations based upon certain actions. For example, if you have an IFTTT enabled air purifier you could set the app up to automatically turn on your air purifier when the HI-300 records a certain level of PM2.5.
IFTTT supports a very large range of devices and apps and the possibilities are truly limitless. However, you will need to make sure that the devices you want to connect are compatible. Currently, some Levoit, Samsung, Blueair and Wemo air purifiers are IFTTT enabled (just to name a few).
In regards to WiFi, the device supports 2.4ghz WiFi. Although the current standard of WiFi that is found on most modern devices is 5ghz, nearly everyone will have a router that is also 2.4ghz compatible. For power, the device uses a USB-C connection.
---
Other Features

On top of all of the aforementioned specifications the Huma-i HI-300 also features a few smaller benefits that I felt were worth mentioning. The first of these welcome additions is the use of a USB-C charging port.
USB-C is the latest iteration of USB and although it isn't as widespread as micro-USB yet, I am very happy to see that Huma-i decided to use the more modern connection. As more and more devices move over to the new USB standard, USB-C cables and adapters will become increasingly common. So far, the Huma-i is the only indoor air pollution monitor that I have used with a USB-C connection.
Secondly, the device features a battery. The battery is very small (650mAh) and it will only last a short while (I found it to last under an hour). However, this addition is very handy as it means that the device can be temporarily moved to a new room for air quality monitoring.
Further, the addition of a battery means that the device can be easily moved if needed. If the power temporarily goes out, or if the device cable gets bumped it won't instantly turn off. This is a small quality of life addition that I have only seen so far in the Laser Egg.
The app currently supports English, Japanese and Korean. Huma-i has also told me that they intend to support German with an update in the near future. It's also possible that other languages will follow in the further future.
Perhaps most importantly, however, is that Huma-i appears to be committed to updating their products with new features. While I had the product, an over-the-air update was released allowing the device to monitor PM10. While the product was only recently released, and this was an expected addition, it's nice to see that the company is supporting the product.
---
Conclusion – Is the HI-300 a Good Monitor?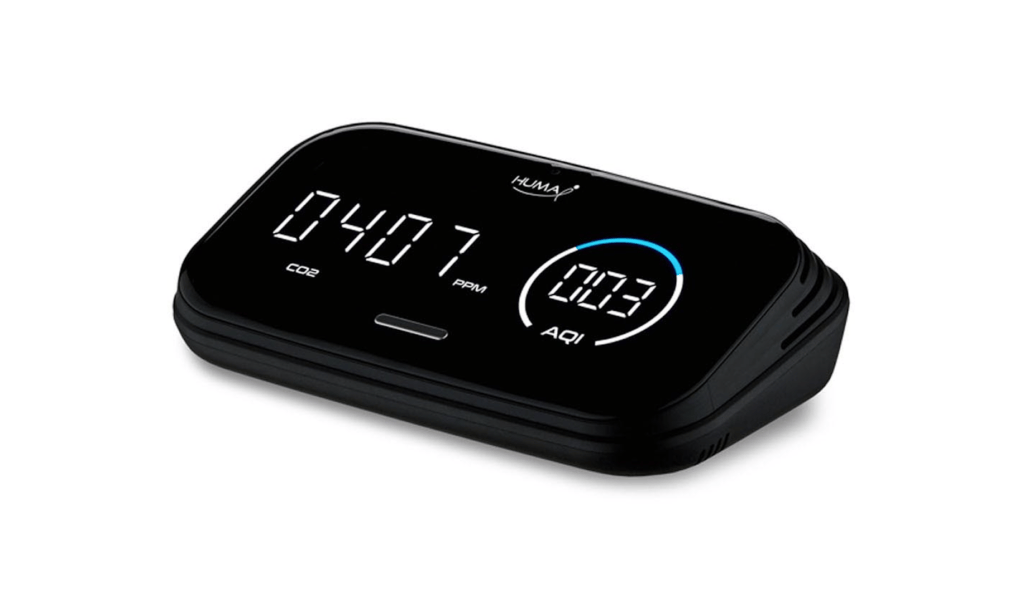 The Huma-i HI-300 is a great addition to their portable air quality monitor line-up. Although quite simple looking on the outside, the device is very capable and is also on the more affordable end of indoor air quality monitors.
This device will work best for anyone that is looking for a monitor that they can sit on a desk, next to their bed, or elsewhere for easy air quality checks. If you more detailed information then the app is there to provide. However, this device is best placed within eye-sight as opposed to being hidden as some other monitors are.
Although I have enjoyed using the device, and will continue to use it, it does have some flaws. Firstly, it doesn't have many sensors as some other devices on the market. Although it offers similar sensors to devices such as the Laser Egg + CO2, it also has less than other devices such as the uHoo.
Secondly, I have found that at times the touch button can be pressed. I have noticed this very rarely, but at times it appears to be touched either by something falling on it or by nothing at all. This isn't a big issue though, and it has only happened to me a few times.
I would also love to see some kind of integration with smartphone platform creators. This means Apple HomeKit or Google Assistant. Although I understand that integration with these two platforms is probably much more difficult that IFTTT and Alexa, I personally don't use either regularly. As such, I think that integration with either of these platforms would be a great benefit.
Overall, however, I have enjoyed using the HI-300 enough that I am going to keep using it. The device is accurate, looks great, and the app is well-made. If you are interested in purchasing an air quality monitor for indoors, make sure to check out the HI-300.
---
HI-300 FAQ
What Does HI-300 Monitor?
The HI-300 can monitor CO2, VOCs, PM1.0, PM2.5, PM10, Temperature and Humidity.
Is HI-300 Portable?
The HI-300 is portable for short periods of time. The device features a battery that lasts around an hour. If you want a fully portable device check out the HI-150, Atmotube Pro, Breathe Smart 2 or Flow 2.
Where Can I Purchase HI-300?
You can purchase the HI-300 from many different sites. Currently, the device is only available in the EU. However, it will soon be available on Amazon in the US.
Do I Need an Indoor Air Pollution Monitor?
While an indoor air pollution monitor is not essential, they are a great way to make sure that the air you are breathing is healthy. Indoor air pollution is very dangerous, and a monitor such as uHoo will allow you to identify the dangers.
Is the HI-300 Worth It?
Considering that the HI-300 is one of the cheaper air pollution monitors on the market, and that it monitors a great range of pollutants, it is a good choice.
What Are Some HI-300 Alternatives?