After having to wear a facemask every day during weeks of severe air pollution in Seoul, I have quickly figured out what the most important factors are for my mask usage.
Of course, a mask needs to provide at least adequate filtration – higher filtration is never bad. On top of that though, masks that I use also need to be reusable (even better if they feature replaceable filters), comfortable and breathable.
While many masks do well in some of these areas, few excel in all. Masks that offer high filtration often lack in comfort or breathability and vice versa.
R-PUR is a French mask brand that seeks to tick the boxes in all of these categories. They create premium masks that are supported by a few unique innovations that help to ensure that the wearer is protected. Before getting into my full review though, I do need to mention one thing:
R-PUR Nano Light and Nano-One masks feature a valve design. This means that they should NOT be used for viral protection as they only provide one-way filtration. They may protect the wearer if worn properly, but they will not protect those around the wearer.
---
This post contains affiliate links. For more information, please refer to my affiliate disclaimer. I was sent a product for review, but the article is not sponsored. All opinions expressed in this post are my honest thoughts. I only recommend products that I genuinely believe in.
Information on this blog is for informational purposes only. Readers are encouraged to confirm the information herein with other sources. Furthermore, this information is not intended to replace medical advice from professionals. This website assumes no responsibility for the accuracy of the information, and information is subject to change without notice. Devices mentioned on this website are not medical devices and do not guarantee protection.
---
R-PUR Nano Light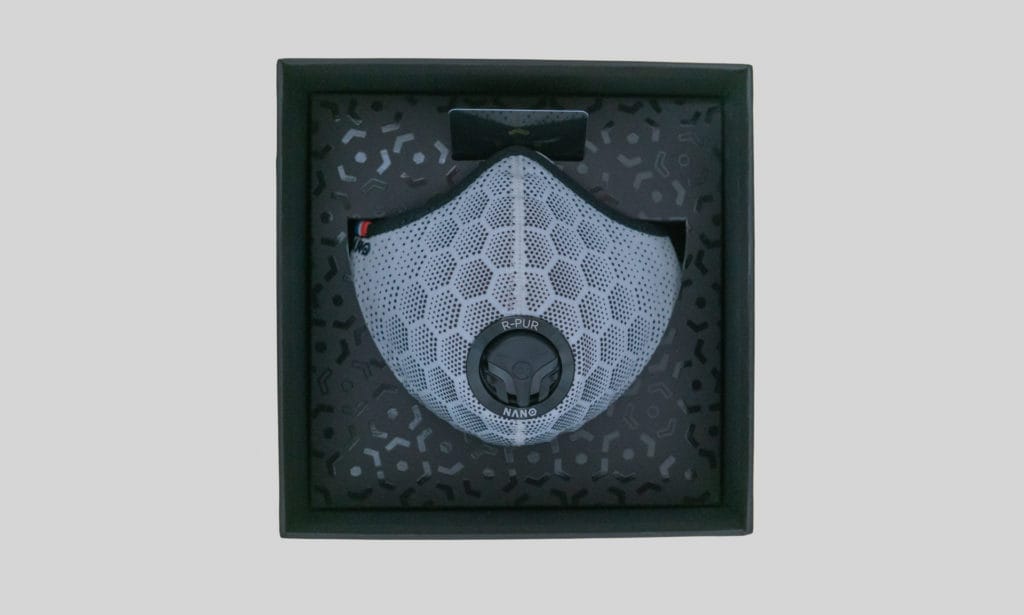 In this review I will cover all aspects of the R-PUR Nano Light. I will begin by covering the most important factors (filtration, design, and fit), before moving on to other, less important elements.
At first glance, the Nano Light is an expensive mask. It definitely sits in a different price range compared to most masks, and it is also intended as more of an 'active' mask. The double headband design, valve for quick and easy exhalation, and large filtering surface also show that the mask is intended for sports use.
Whether or not this mask is worth it for you will highly depend on the cases in which you intend to use the mask. While it may not be the best mask for day-to-day usage, it is a great pick for anyone looking for a mask that can be worn while exercising.
---
Filtration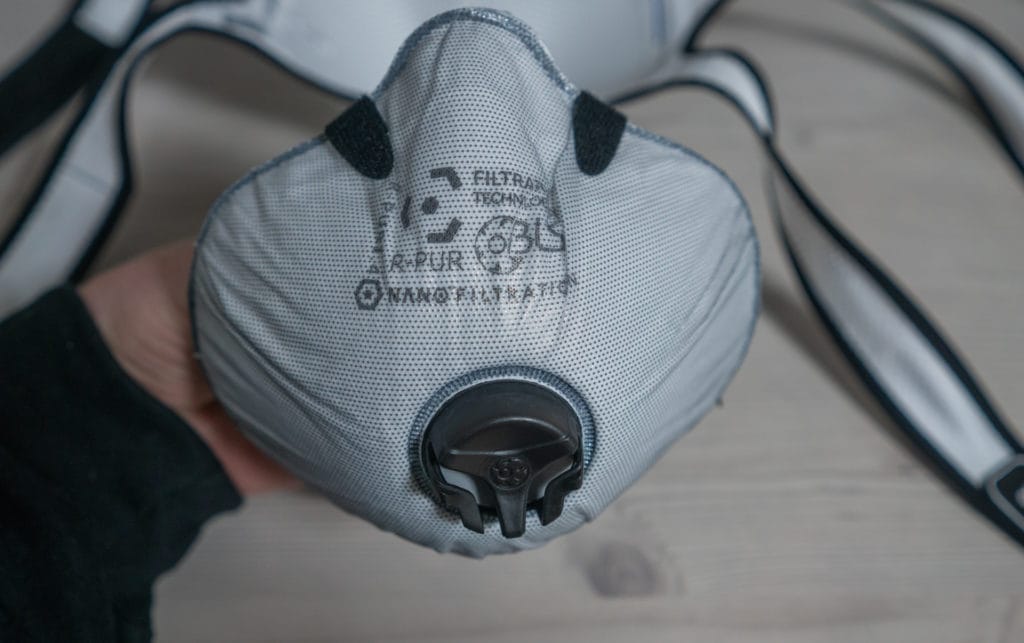 When it comes to any mask, filtration is always the most important aspect to consider. If a mask has a high inward leakage (the amount of unfiltered air that passes through a filter, usually measured in percentage) then it will provide the wearer with little, or no protection (CDC).
R-PUR has been tested by the third-party testing laboratory Italcert in Italy. The tests carried out also covered hermeticity, something which is often overlooked when it comes to mask testing.
These results are available on their website. This is an appreciated addition and something that all mask companies should provide.
As we know, filter media provides a certain filtration efficacy. However, the filter can only filter the air that passes through it – to make sure that air is passing through a filter relies on a few factors. Facial shape and dimensions, mask design, and size all play part in making sure the mask creates a tight seal.
Most masks provide only filtration results for the filter. But, these are only applicable in real life if the mask is fitted perfectly with no leakage at all. For this reason, they are often unrealistic.
R-PUR has taken this into account and Italcert did a variety of tests with different human subjects. These subjects varied in facial dimensions and performed basic tasks while wearing the mask (walking, turning head side to side, turning head up and down and then walking again).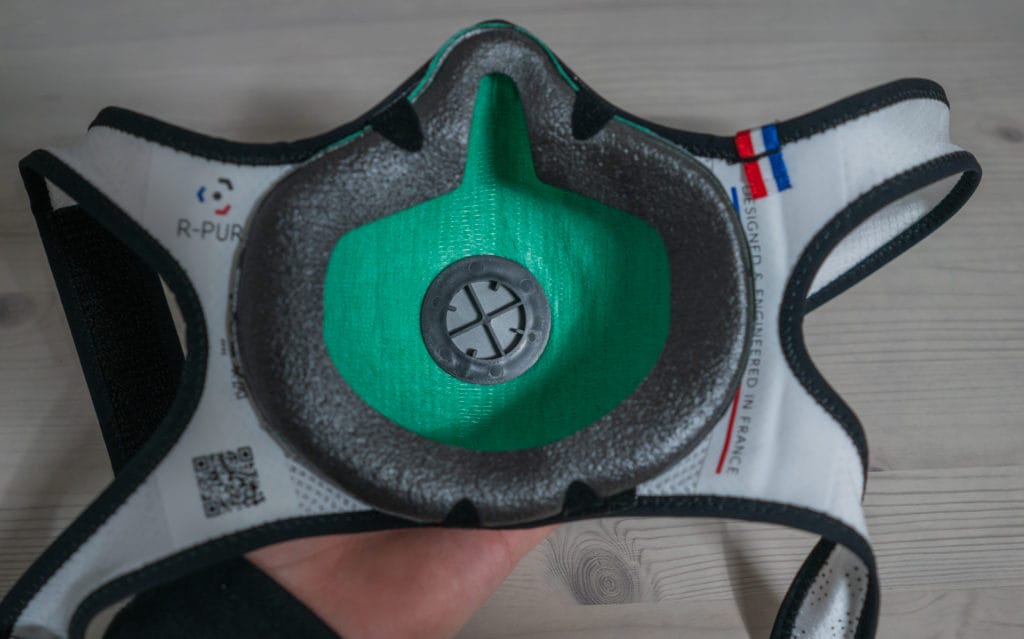 The total inward leakage (TIL) was measured after each of these exercises and then reported. The highest TIL reported from any of the subjects during these tests was 0.141% meaning that in the worst-case test, R-PUR still achieved over 99.8% filtration.
With these test results, R-PUR is one of the higher filtration reusable masks that is currently available. On top of this, the testing that was carried out on these masks was more thorough than most other masks that only provide filter media filtration results.
Before moving on, it is also worth mentioning that the R-PUR filters contain an activated carbon layer and a valve. The activated carbon layer means that the mask is capable of filtering some organic compounds such as VOCs and some odours.
The valve also means that the mask will not filter air both ways. It only filters the air that is inhaled by the user, not that which is exhaled. This provides some benefits to the wearer, by making the interior of the mask less humid and reducing breathing resistance. However, this also means that the mask should not be worn to prevent the spread of viruses.
Although the valve on the Nano Light mask functions very well from my experience, the mask does still provide significantly more breathing resistance than cloth masks without filters. Compared to other masks with high filtration, the Nano Light provides comparable breathing resistance. However, for anyone unused to masks with such filters, there is a very noticeable difference.
Purchase R-PUR masks. French Store | Asia Store
---
Design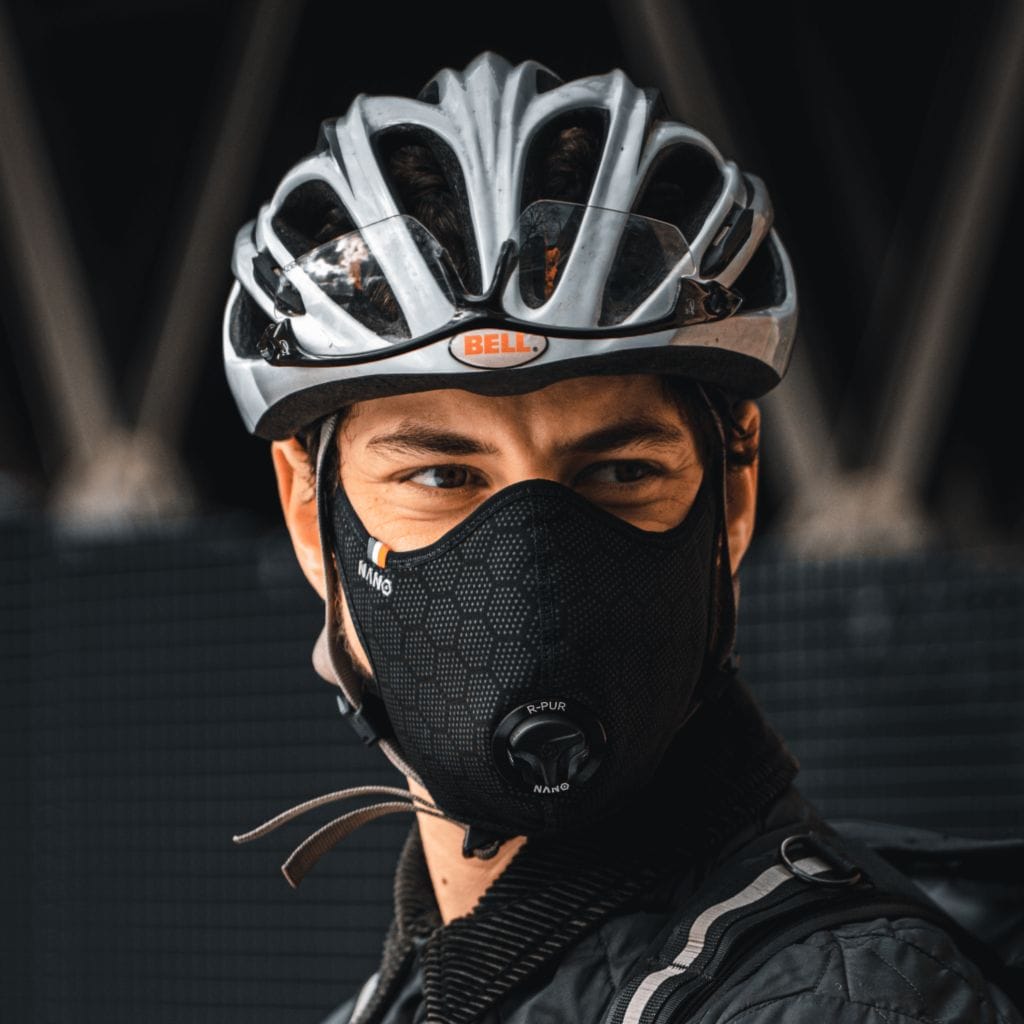 The design of the R-PUR Nano Light is one of the most obvious unique elements of the mask. At first glance, it looks a bit similar to other head-band masks such as Respro. However, the use of a dual-headband design sets the Nano Light apart from other masks.
The use of a head-band based design means that the mask is a lot more stable and sturdy on the wearer's face. This ensures that it won't be dislodged during daily activities and light movement.
The bands used velcro to connect to each other and this means that the mask is easy not only to don and doff but also to adjust. One of these straps is intended to be worn above the ears, while the other is designed to be worn around the neck.
The design of the mask also allows for very easy and accurate replacement of filters. The filter connects via a velcro strap to the interior of the mask, meaning that replacement of filters is not only very quick but also very easy and straightforward.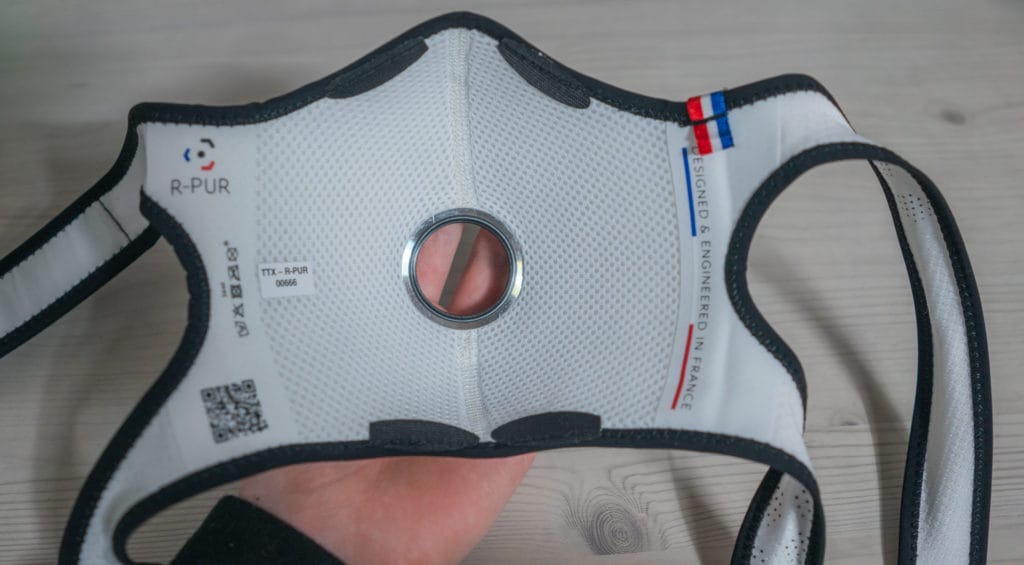 R-PUR masks feature a valve that is built right into the front-centre of the mask. From my experience, valves can be very hit or miss – some perform great, while others barely seem to have an impact at all.
However, I found this filter to be exceptional in regards to resistance. I am not quite sure what causes this, but it could be the location as it is placed right in front of the wearer's mouth, rather than on the left or right side. Since the filter is placed far from the wearer's mouth, there is also no chance of accidentally breathing in the mask material.
The overall design of the mask does feel premium. Whether it is worth the cost will depend on the user, but this is definitely one of the most well-designed masks that I have used. Branding is also kept to a minimum, with the logo only appearing on the headband and on the interior of the mask.
Finally, it is worth noting that this mask is rather large. It tends to sit quite far from the wearer's face and this makes it appear much larger than a typical cloth mask – this means that it stands out. At the same time, this can bring benefits such as allowing there to be a larger filtering surface.
Purchase R-PUR masks. French Store | Asia Store
---
Fit

Image from R-PUR Website.
Fit is another highly important aspect to consider when it comes to masks. Since an incorrectly fitted mask won't protect the wearer, it is vital that masks are fitted as best as possible.
Proper fit testing requires training, however, for many people such training is inaccessible. For this reason, it is always important to follow the manufacturer's guidelines and to perform a fit test (leakage test).
Although it is up to the individual wearer to make sure that the mask is fitted correctly, the R-PUR mask does have a few features that can help to create a strong seal and therefore, fit.
The Nano-Light is only available in one size, and this size is meant to be a universal fit for all adults. This mask will most likely not fit children or youths though, as it's almost too large for me (I have a small face).
The two headbands on the mask are a great addition and they ensure that the mask stays in place. Compared to ear-band style masks, headbands usually provide a far better fit and make sure that the mask won't get dislodged as easily.
As previously mentioned under the filtration section, this mask has also passed Hermeticity tests using a wide variety of different facial shapes and sizes. The results show that the mask should be capable of strong filtration on many different adults.
Purchase R-PUR masks. French Store | Asia Store
---
App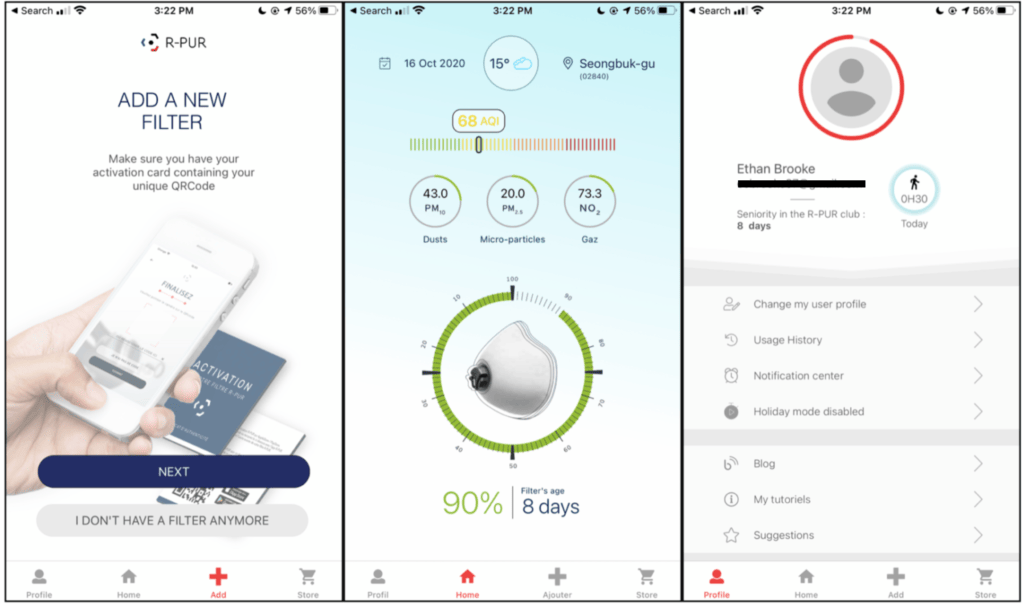 The R-PUR app is one of the most interesting innovations with this mask. The app is downloadable on both IOS and Android and is the best way to manage the lifespan of your mask.
The app has four main functions. The first function is to provide air quality data for your local vicinity. While this part isn't as fully-fledged as other AQI apps on the market, it is a nice, easily accessible reading.
The second and third functions of the app go hand in hand. One is to monitor the lifespan of your filter based on the duration that you wear the mask for, the air quality, and the level of exercise, and the other is to allow you to easily buy more filters when needed.
Finally, the last function of the app is the authentication method that I will discuss more soon. Through the app, you are able to scan the QR code on new masks/filters that you purchase to ensure the authenticity of them.
The app is quite basic currently but it does all of the above functions well. However, at the moment the store setting does seem to be broken as I wasn't able to get the store to function properly. I am not sure if this issue is mine alone, or if it is perhaps because R-PUR is currently out of stock.
Purchase R-PUR masks. French Store | Asia Store
---
Authenticity Verification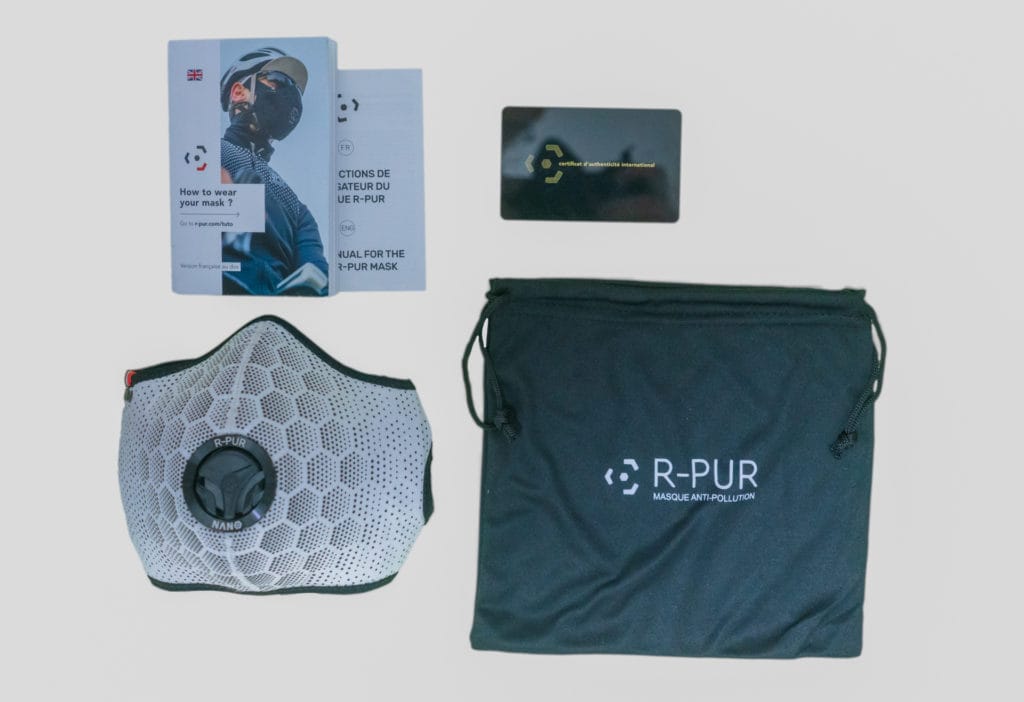 Perhaps the most unique element of the masks from R-PUR is the authenticity verification process. At the start of this year, I may have called this an unneeded addition. However, my opinion on this matter has changed.
With the massive increase in demand for masks in 2020, many sub-par masks have saturated the market. On top of this, many mask companies have run into trouble with counterfeit masks. For example, Cambridge Mask is now recommending users to only purchase from their own website due to a large number of knockoffs that are being sold.
These masks lack the quality of the original product and often provide far lower protection for the wearer. Theoretically, such an issue should not happen with R-PUR masks, however, due to their verification method.
Whenever you purchase a mask or filter it will come with a character code and a QR code. By simply installing the R-PUR app and scanning this QR code you can check to see if the filter came from R-PUR themselves.
In a time like this, such a system is a welcome addition. Although it may seem unnecessary (I definitely felt so initially), I can see the perks of having such a system. This is especially true considering that the R-PUR masks are premium and perhaps more likely to be copied.
Purchase R-PUR masks. French Store | Asia Store
---
Cost
The biggest downside to R-PUR masks is the cost. Both masks (Nano Light and Nano One) sit in the $130-$150 price range with replacement filters costing $30 per filter. This is significantly more expensive than most reusable masks.
Masks such as Cambridge Mask, Totobobo and Vogmask sit in the $20-$50 price range. You then have masks such as o2 Canada and Airinum that sit in the $50-$100 price range. However, not many masks go above that price point.
In fact, the only other mask that I have experienced with a similar price point is the dual fan-powered Koolmask which also costs $150. While the high price of R-PUR might be worth it over time, it will make it inaccessible for many people.
It is worth mentioning that the R-PUR Nano Light definitely feels like a premium mask. While it's not flawless, you will notice as soon as you see the box that the mask is designed to be a high-end mask. This feeling also carries over to the mask itself.
The filters come in at $30 each and you can expect each to last 5-15 weeks (depending on your local air quality). This is a lifespan that is significantly more than most replaceable filters which often last 50-100 hours per filter.
5-15 weeks is a very large variation and it can be difficult to know exactly how long your filter will last. The company has actually developed an algorithm that judges the lifespan of your filter based on your local AQI and the average length of wear per day (and type of exercise).
So far my mask lifespan has gone down to 93% (1% per day) and this is with an average AQI of around 50 and 2-3 hours of wear per day. With this usage, it seems that I can expect 100 days of wear per filter. However, this will depend upon your personal usage habits.
Purchase R-PUR masks. French Store | Asia Store
---
Conclusion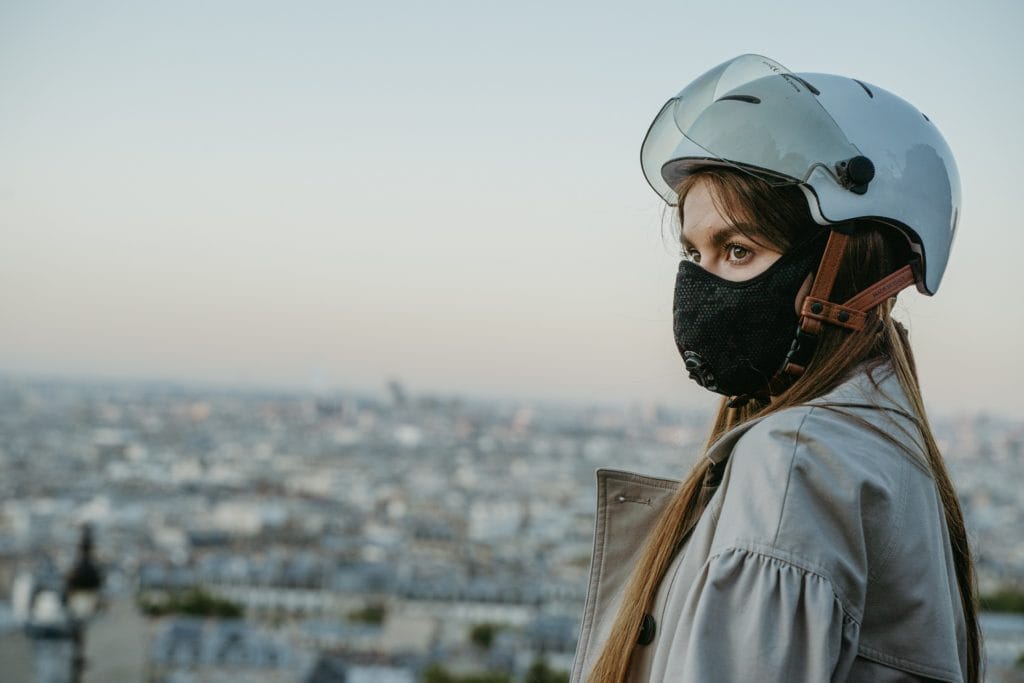 The Nano Light does have a few downsides, and perhaps the biggest of these is the cost. It's a big leap to go out and purchase a mask that has an initial cost as high as the masks from R-PUR and I think that it will stop many people from considering the mask.
Due to the high filtration of the mask, it's also significantly more difficult to breathe through than many other cloth masks and surgical masks. While it provides far more protection than the standard surgical mask, and more than many cloth masks, this does come at the cost of breathing resistance.
For this reason, the mask may not be ideal for many people looking for an everyday mask. The mask is mainly aimed at those that need a mask that provides a good fit to use while exercising, and I think that this is the best use case for this mask from my experience.
However, in saying this, the Nano Light from R-PUR is one of the best masks that I have had used so far. It is made from high quality materials and is one of the best fitting masks that I have used. On top of this, the valve does a great job of making the mask relatively (compared to other reusable, high-filtration masks) breathable even when exercising. I also appreciate the addition of the authenticity verification and app.
Comfort with the Nano Light is something else that I feel like I need to touch on. I found it to be very comfortable. Since there is less pain on my ears and no chance of breathing in the fabric on inhalation, I found the Nano Light to be a very comfortable mask to wear overall.
My biggest complaints are the size (it is not a subtle mask) and the cost. However, for someone that is looking for some of the best protection, the Nano Light is a mask that deserves a look. It is a fantastic mask that does well at all of the basics while also introducing some new innovations to the field.
Purchase R-PUR masks. French Store | Asia Store
---
R-PUR Nano Light FAQ
What Are Some R-PUR Mask Alternatives?
There are many reusable mask alternatives to the R-PUR Nano Light. Some popular alternatives are Cambridge Mask, Vogmask, and Respro.
Where Can I Buy R-PUR Masks?
How Long Do R-PUR Filters Last?
R-PUR filters last for 5-15 weeks of average use depending on the air quality. While this can be hard to track, the R-PUR app has an algorithm to judge the expected lifespan of the mask based on your local air pollution levels.
Who Are R-PUR Masks For?
Although anyone can use R-PUR masks, they are most intended for use during sports, biking, and motorcycling. The Nano Light is mainly aimed at sports, whereas the Nano One is mainly aimed at motorcyclists.
Are R-PUR Masks Good for Sports?
The Nano Light is one of the best masks for sports that I have tested. Not only is it relatively easy to breathe, but the headband keeps the mask in place even when moving. On top of this, the design of the mask means that it won't get pulled in when you breathe.
What Filtration Does R-PUR Have?
In testing done by Italcert, R-Pur filters where found to have a > 99.8% filtration rate for particles. They also feature a carbon filter.
Are R-PUR Masks Third Party Tested?
Yes. R-PUR masks have been tested by Italcert.
Does R-PUR Have a Valve?
R-PUR masks (including the Nano Light) do use a valve. This is very helpful in some situations but also means that the mask shouldn't be used for preventing the spread of viruses.