With masks becoming more and more of an everyday item of clothing, it makes sense that people are beginning to design masks that make a statement. Mau Mask is currently leading the trend by making some of the most stylish anti-pollution masks on the market.
While looks may be important, nothing is as critical for a fine dust mask as filtration capabilities. Unfortunately, while there are some fashionable masks out there, they often lack these capabilities. On the other hand, the masks that do offer high filtration often lack in style.
It is this gap that Mau Mask is trying to fill. The goal is to make a mask that not only protects the wearer from pollution and other fine particles, but one that does so in a fashionable way.
Mau Mask was kind enough to send me a sample for review. In this Mau Mask review I want to look into everything behind the mask, from filtration characteristics all the way to design and fit.
---
This post contains affiliate links. For more information, please refer to my affiliate disclaimer. I was sent a product for review, but the article is not sponsored. All opinions expressed in this post are my honest thoughts. I only recommend products that I genuinely believe in.
Information on this blog is for informational purposes only. Readers are encouraged to confirm the information herein with other sources. Furthermore, this information is not intended to replace medical advice from professionals. This website assumes no responsibility for the accuracy of the information, and information is subject to change without notice. Devices mentioned on this website are not medical devices and do not guarantee protection.
---
Purchase MAU Mask. Use the code 'BSA' for $5 off your purchase!
Filtration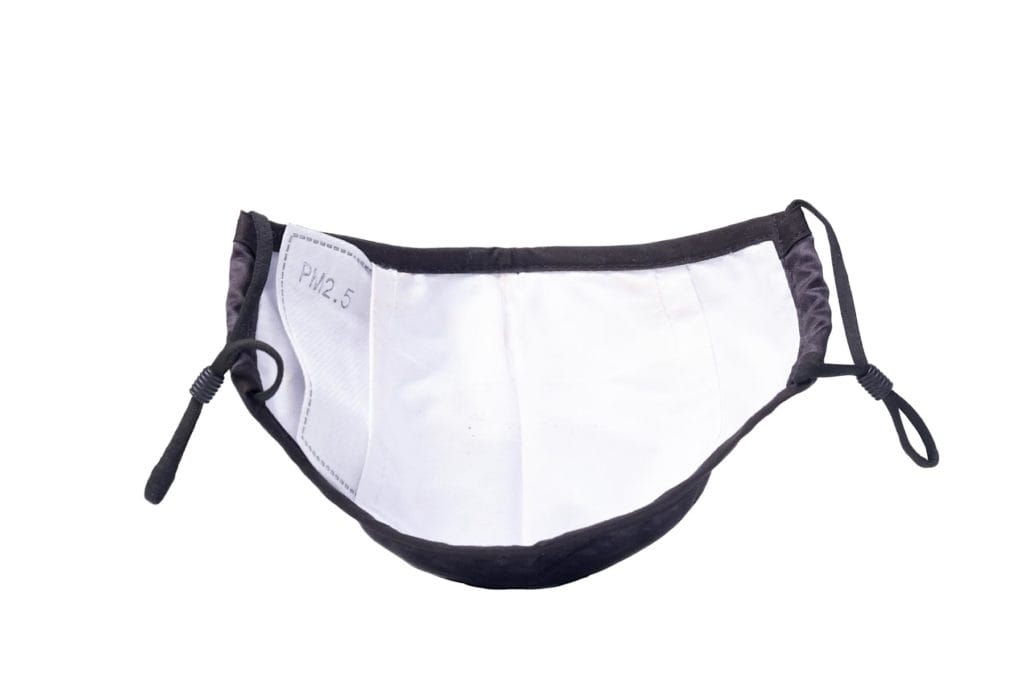 Although the style is a key aspect of Mau Masks, the actual filtration efficiency is always the most important element of a mask. The filters used in Mau Masks have been tested by the third-party laboratory, Nelson Labs.
Before talking about filtration, it is important to remember two key facts. Firstly, the test results that I will be stating here do not apply to the mask itself. Rather, these test results apply to the filter that is purchasable on the Mau website and that is intended to be used in the mask.
Secondly, no mask is fully effective unless it is fit tested. Proper fit testing requires training, however, this isn't accessible to the majority of consumers. For this reason, it is important to follow a fitting guide and to fit the mask as well as you are able to.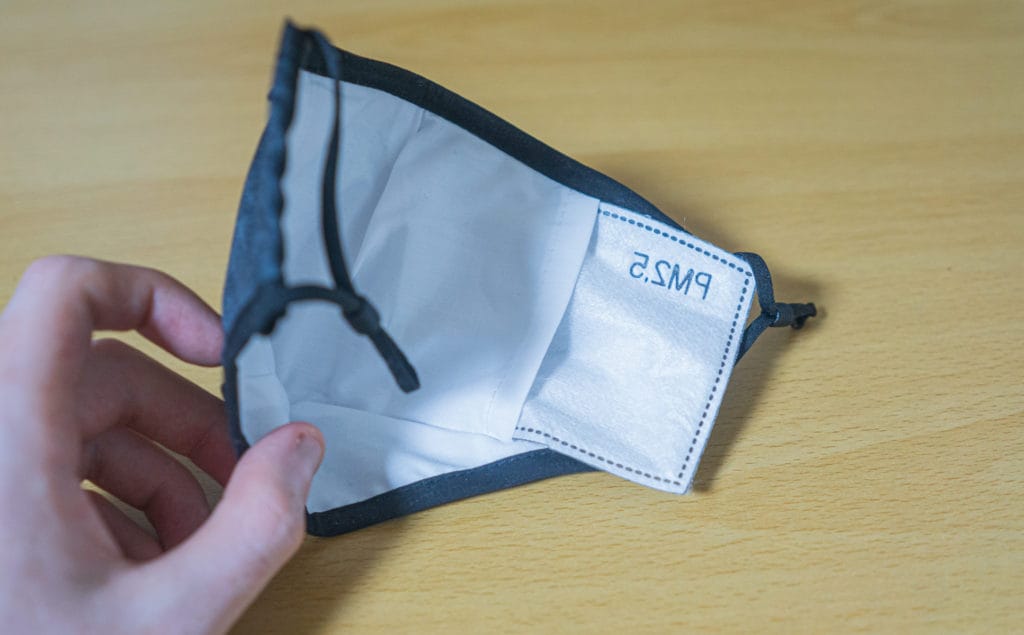 With that being said, the filters used within the Mau Mask have been proven to have > 99% particle filtration efficiency at 0.1μm. Typically mask and respirator testing is done at 0.3μm, and it is important to note that at 0.3μm particles are actually MORE likely to penetrate. This is due to the MPPS phenomenon.
| | |
| --- | --- |
| Test Number (#) | Filtration (0.1μm) |
| 1 | 99.58% |
| 2 | 99.38% |
| 3 | 99.45% |
| 4 | 99.41% |
| 5 | 99.51% |
Average filtration of 99.47% of particles at 0.1μm.
With an average filtration of 99.47% and worst case filtration of 99.38%, the filter used in the Mau Mask offers some of the higher filtration values out of all reusable masks. For comparison, I have included a table comparing the filtration rates of some other popular reusable masks below.
* Results at 0.3μm
Currently, Mau Mask does not have BFE and VFE (bacterial and viral filtration efficiency) results. While this doesn't mean that the mask can't filter such particles, it means that the mask hasn't been tested against such particles and there are currently no third party results.
However, while these results are from the basic filter that is included, it's also worth noting that the filter can be changed or replaced by other filters that are of a similar size. Larger filters such as the universal Earth Filter won't fit this mask though as the filter slot is quite small.
I measured the filter and found the size of it to be around 12 cm by 8 cm. This is quite a small filter size compared to most other masks. It seems to cover about 75% of the front panel of the mask, but it leaves two small sections on the sides that aren't filtered.
For this reason, you will want to make sure to purchase the correct size mask and to make sure that it sits tight on your face (so that the filtered area fully covers your mouth).
Purchase MAU Mask. Use the code 'BSA' for $5 off your purchase!
---
Fit & Breathing Resistance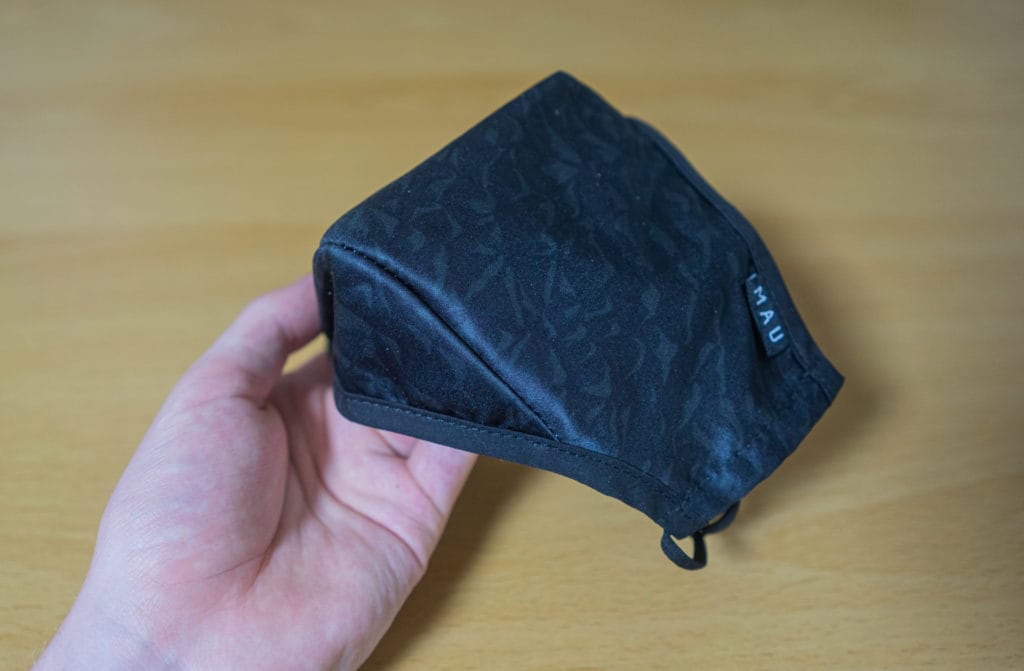 The Mau Mask uses a design similar to many other cloth masks. However, it has a few unique elements that may allow it to fit some people better.
Following the usual formula, the mask uses an ear-band design that makes use of a wire nose-piece for adjustability around the ridge of the wearer's nose. What makes the mask unique though, is the addition of a separate panel for covering the chin. The only other mask I have seen with a similar design is the Bloo Mask from New Zealand.
A mask relies on a tight seal to provide protection to the wearer, and I have found that this chin strap helps achieve that goal. While the seal is usually achieved around the jaw, this extra panel adds a bit of extra protection and also makes the mask more comfortable.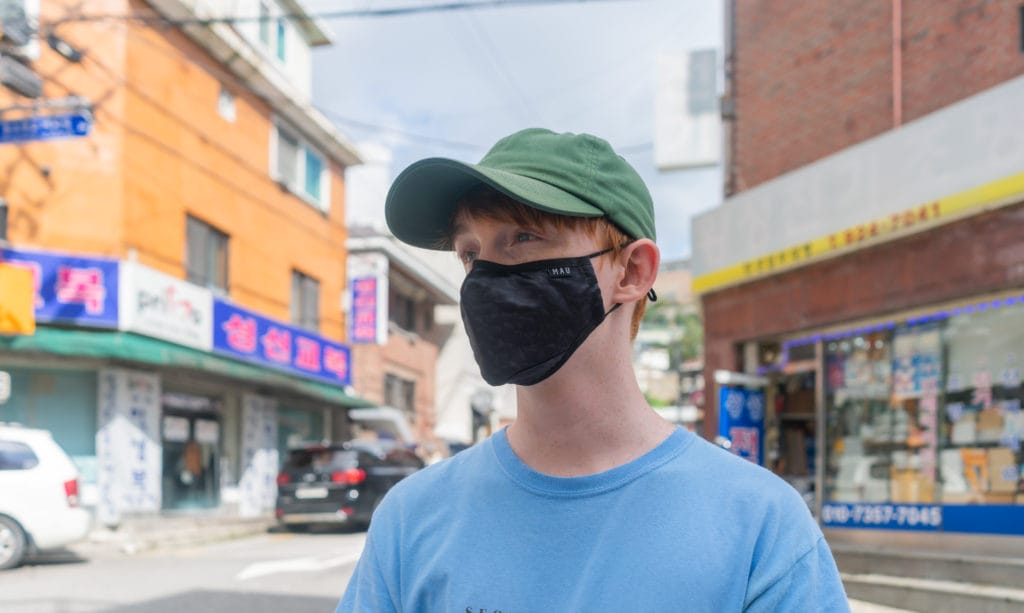 The wire nose-piece is one of the more firm nosepieces that I have experienced and it reminds me of that used in the Cambridge Mask. I found it quite hard to achieve a perfect seal with this nosepiece as my nose is quite sharp (around the ridge), meaning that it was hard to mould the wire to it.
I did, however, manage to achieve a decent seal after adjusting it for a while. Though I did find that I would have to adjust it occasionally as I moved around while wearing the mask. I imagine that this would also be less of an issue for people with larger faces and smaller noses.
Mau Mask currently only offers one size. This size is intended to be a universal size and should fit most adults. For me, I found it to be slightly too large (I have a very small face) but this mask should fit most adults well.
| | | |
| --- | --- | --- |
| Mau Mask Dimensions | Length | |
| Length* | 5.28 inches (13.4 cm) | |
| Height* | 4.53 inches (11.5 cm) | |
| Chin Wrap (depth) | 0.96 inches (2.4 cm) | |
length = distance from nose point to beginning of strap. Height = top of nose to bottom of mask.
In regards to breathing resistance, the Mau Mask is comparable to some of the easier breathing masks that I have tried. I found it to be easier to breathe through than masks such as Cambridge Mask and Airinum. The breathing resistance was more akin to the Re-Mask and MeoAir Lite.
That is to say, it's one of the easier masks to breathe through. While the breathing resistance does depend on the filter that you use, the default filter is breathable and you should find it good to breathe through.
---
Design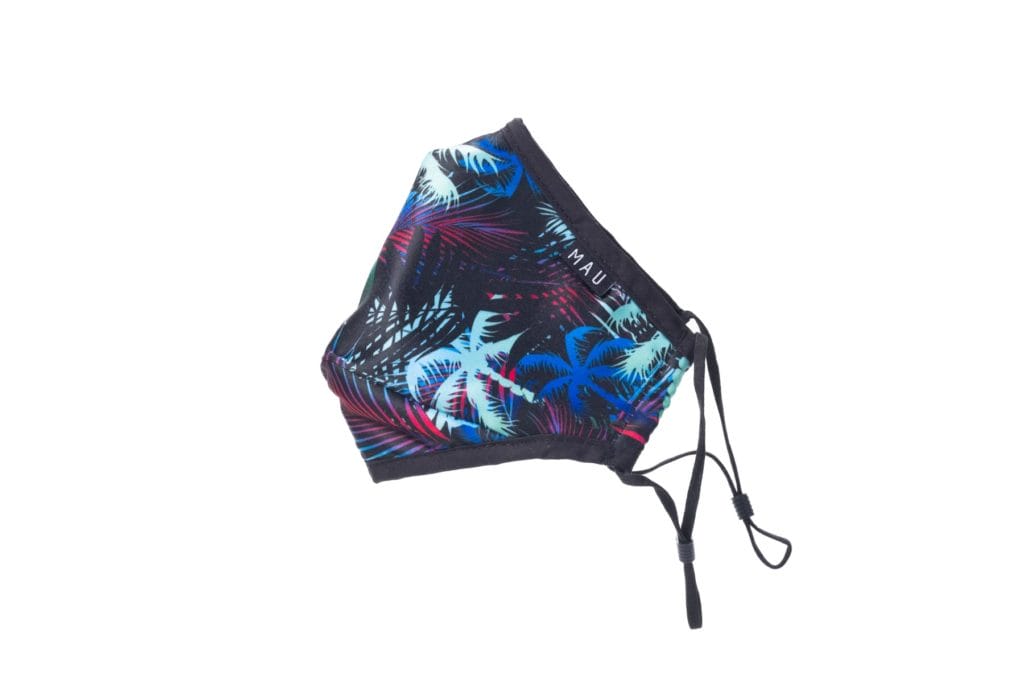 Mau Mask Dimensions:
5.28 X 4.53 X 0.96 Inches (13.4 X 11.5 X 2.4 Cm)
0.54oz (15.3g)
8 cm x 12 cm (filter dimensions)
Mau Masks are made to be eye-catching and you will quickly realise this when you view their designs. While most are animal-pattern based (think tigers, panthers and zebras), they also have some other designs such as the tropical mask shown above.
Although I am usually a fan of more subtle masks (I received the panther mask), I appreciate the design of the Mau Masks and I know that many people will love them. Rather than just having a simple black mask, the panther mask has a few highlights that make it stand out.
Mau also makes many limited edition masks, so the masks that are featured on their website will change every few months (they are largely seasonal designs).
The mask is quite light and it feels comfortable to wear. Although no mask is as comfortable as breathing freely, the Mau Mask is one of the more comfortable masks that I have tried. After wearing the mask for five and a half hours the other day, I was impressed with how it still felt comfortable after that time.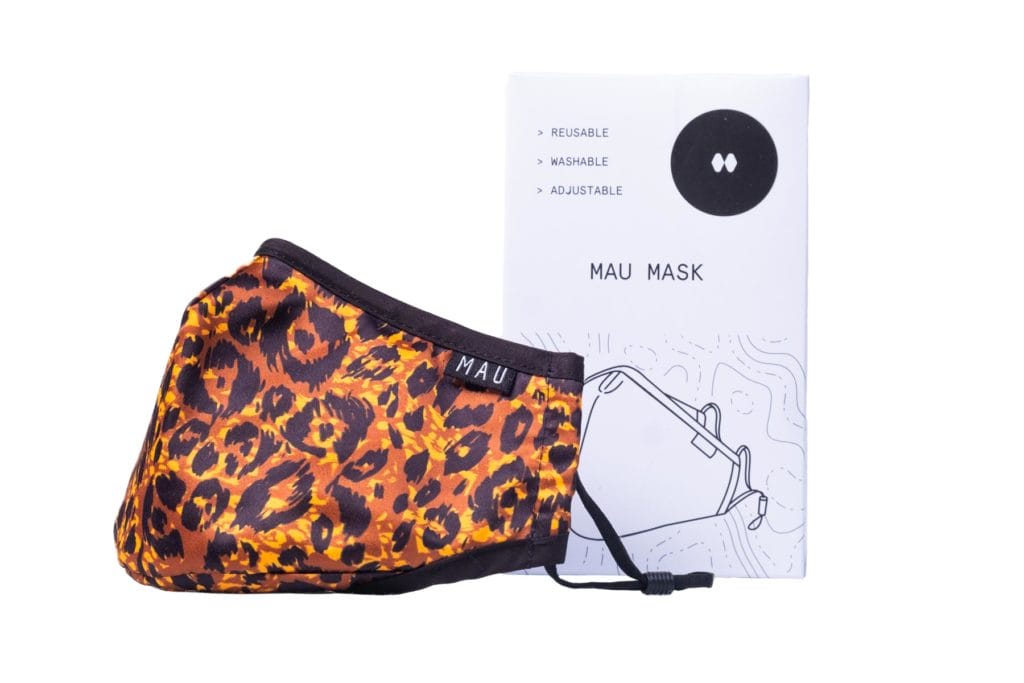 Mau Masks use an ear-strap design with a bead that can be moved to adjust the tightness of the straps. As always, I prefer head straps. Not only do they alleviate the pain on the wearer's ears, but they allow for a more firm fit. Luckily there are many head strap accessories that can be found very cheap.
The included ear-straps are relatively comfortable though, and they are quite loose fitting. This means that they shouldn't place as much pressure behind your ears – a place that is typically a pain point after wearing a mask for a long period of time.
As I mentioned previously, the mask also features a chin-wrap design, and this is a great addition. Not only does it allow for a better fit, but it also means that the mask is less likely to move when you are wearing it. I wish that more masks included such a feature!
Overall, the Mau Mask is definitely one of the more comfortable masks that I have tried. It provides a good balance of filtration and breathing resistance, and it is very lightweight. If you are someone who wants a unique mask that stands out, Mau is a fantastic choice!
Purchase MAU Mask. Use the code 'BSA' for $5 off your purchase!
---
Lifespan & Washing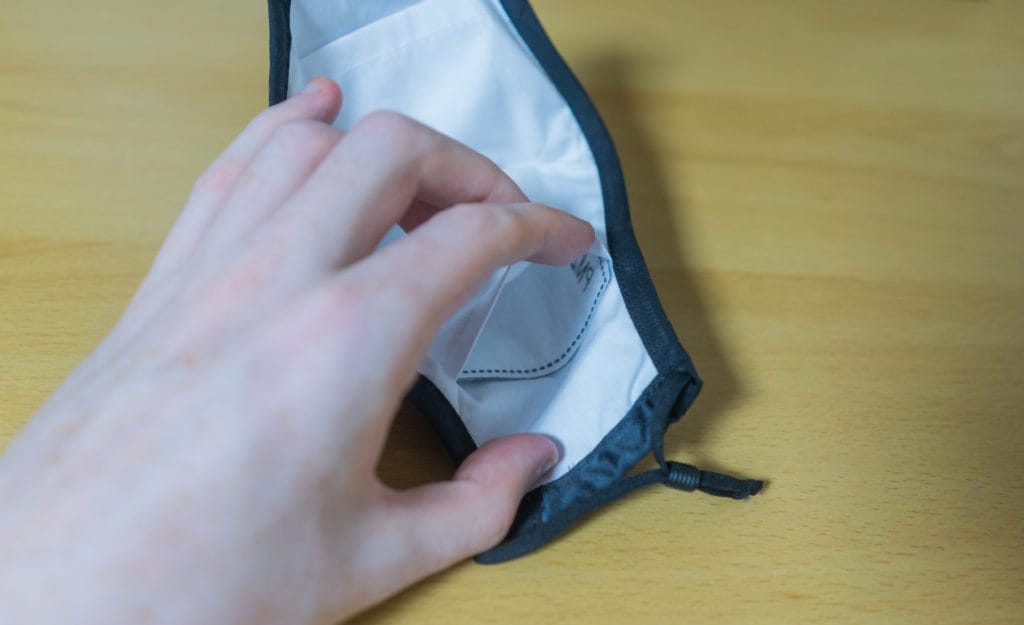 As the official website lists under their FAQ section regarding cleaning the mask and how long it will last:
Washing: Hand wash with warm water and soap.
Mask Lifespan: Our mask will last months depending on how you care for it. Do not machine wash.
Filter Lifespan: When the filter is used actively, daily, one filter may be used for up to 2-3 weeks. The filter does not expire if you are not using it daily. We recommend you immediately change your filter if it is wet or has discoloured due to impurities/pollution.
In more detail, the mask should easily last six months if you take care of it. This means hand washing it when needed, and making sure to store it well.
When storing a mask, make sure that it is out of direct sunlight and in an area that isn't exposed to very hot/humid air. On top of this, you will want to make sure that the mask isn't bent out of shape or placed in any potentially damaging positions when being stored.
The mask itself should last for many months, however, the filters must be changed more regularly. While the site recommends changing the filter every 2-3 weeks, this highly depends on the air quality index (air pollution levels). For example, when the air pollution is higher (150+ AQI), you may find yourself needing to change the filter more often.
Luckily, changing the filters is very easy and can be done in a matter of seconds. The use of replaceable filters also means that the outer shell of the mask can be easily washed. When washing the mask, make sure to be gentle and always make sure to remove the filter first.
---
Should I Buy a Mau Mask?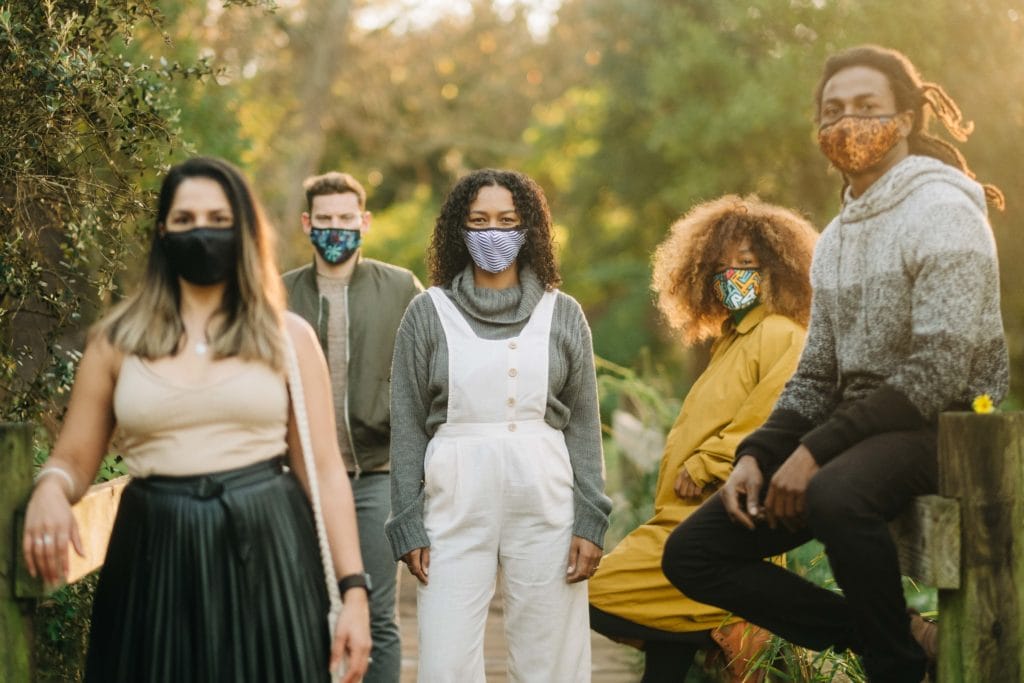 With wearing masks being mandated in many countries around the world, more and more companies are turning to making cloth masks. This includes many fashion brands that have recently begun producing such products.
However, many of these companies are producing cloth masks that are fashionable only. They have no science or laboratory testing behind them. Mau Mask, on the other hand, fills this gap by creating masks that are fashionable but also proven. It is for this reason that I would recommend Mau Mask to anyone wanting a mask that makes a statement.
Like every mask, Mau is not perfect. I would have appreciated a headband design (or at least the inclusion of a headband accessory) and the wire nose-piece requires quite a lot of adjustment to get right. I also think that if the filter was designed to be a bit longer (so that it reaches further towards the ears) it would be a good change.
With all of this said, the Mau Mask is one of the better fitting and more comfortable masks that I have tried. It's a mask that can easily be worn for hours on end, and it's one that will make you look great while doing so. If looks are important to you, Mau Mask is an ideal choice.
Purchase MAU Mask. Use the code 'BSA' for $5 off your purchase!
---
Mau Mask FAQ
Can I Wash Mau Mask?
Yes! The mask is washable. However, when washing make sure to remove the filter and to gently wash the mask by hand.
How Long Does Mau Mask Last?
The filter can last between 1-3 weeks depending on the level of air pollution. The outer shell (the cloth mask) can last over six months if it is well taken care of and kept out of the sun.
Where Can I Purchase Mau Mask?
Mau Mask can be purchased from their website. Currently, they offer international shipping. If you use the code 'BSA' at checkout, you can save $5.
Does Mau Mask Hold an Official Rating?
No, neither the filter nor mask officially holds a respirator rating (such as N95, KF94 or KN95). However, the filter has been tested by the third party lab Nelson Labs and has a > 99% filtration rating.
What are Some Mau Mask Alternatives?
Why Is Mau Mask Better Than Alternatives?
Mau Mask is an exceptionally light mask that features low breathing resistance. The mask also has a chin-wrap which is a great addition for better fit-testing and sealing. On top of all of this, Mau Mask also has some of the best designs in the industry.
Does Mau Mask Have a Valve?
What Size Is Mau Mask?
Mau Mask currently only offers one size. The dimensions of that size are 5.28 X 4.53 X 0.96 Inches (13.4 X 11.5 X 2.4 Cm). The mask is designed to fit medium-size adult faces.