With dust masks becoming an essential part of everyday life for many people, more and more people are turning to fashionable alternatives.
As an essential item of clothing, people are looking for ways to express themselves, and that has caused a rise in the market of fashionable dust masks.
However, while fashion is important, it's more important to make sure that your dust mask doesn't sacrifice any protection. In this article, I want to look at a recent fashionable yet protective face mask that I came across in Korea. 
Idontcare is a Korean brand that has recently entered the market of fashionable and stylish face masks that offer protection from fine dust. Check out this post if you are interested in more reusable dust masks.
Not only does Idontcare offer some of the most stylish dust masks on the market, but it also has some other bonuses – namely, it is the most comfortable fine dust mask that I have ever worn. I have worn a lot of dust masks and respirators.
Purchase Idontcare masks here!
---
This post contains affiliate links. For more information, please refer to my affiliate disclaimer. I was sent a product for review, but the article is not sponsored. All opinions expressed in this post are my honest thoughts. I only recommend products that I genuinely believe in.
Information on this blog is for informational purposes only. Readers are encouraged to confirm the information herein with other sources. Furthermore, this information is not intended to replace medical advice from professionals. This website assumes no responsibility for the accuracy of the information, and information is subject to change without notice. Devices mentioned on this website are not medical devices and do not guarantee protection.
---
Technical Specifications
When purchasing any kind of respirator or dust mask, it's important to check for an official rating. These ratings differ between countries, but it is important to always check them to make sure your fashionable mask is actually providing you protection.
In Korea, the standard rating system is the KF system. The KF system is very similar to the European EN Standard (FFP1, FFP2, and FFP3), and has three tiers – KF80, KF94, and KF99.
Similar to N ratings, the number after the letters represents the fine particle filtration. This means that KF80 offers 80% filtration at 0.3 micrometres, KF94 offers 94% and KF99 offers 99%.
Idontcare filters provide around 92% filtration and have been tested by KATRI a textile testing lab in South Korea. 
92% filtration means that Idontcare masks fell short of the KF94 filtration requirements, however, they do perform closely.
Further, it is possible that in a real use-case that Idontcare masks may actually perform similarly or more effectively than a respirator with a KF94 rating.
It's important to remember that respirators will not perform as labeled (N95, KF94, KN95, etc) unless they are professionally fit-tested.
Of course, for the vast majority of people, this training isn't accessible. While it has been proven that respirators provide some level of filtration without professional fit-testing, they do perform worse than their rating.
However, the seal that Idontcare masks provide is the best that I have experienced. It requires little adjusting, and provided you purchase the right size, the masks fit well out of the box.
For this reason, it is possible that an Idontcare mask could perform better than a respirator with a higher filtration rating that isn't fitted correctly.
Further, the Idontcare dust masks provide far lower breathing resistance than even a KF80 respirator.
It's common for a higher filtration respirator (N100, KF99, etc) to have far higher air pressure. However, the Idontcare fashion mask provides lower breathing resistance than even KF80.
This will translate into less difficulty breathing for the wearer. I can personally attest to this fact – even compared to respirators with valves (such as Vogmask, Cambridge Mask and Airinum), I found this mask easier to breathe through.
Xiaomi Purely review. One of the most unique masks on the market.
---
Fashionable Dust Mask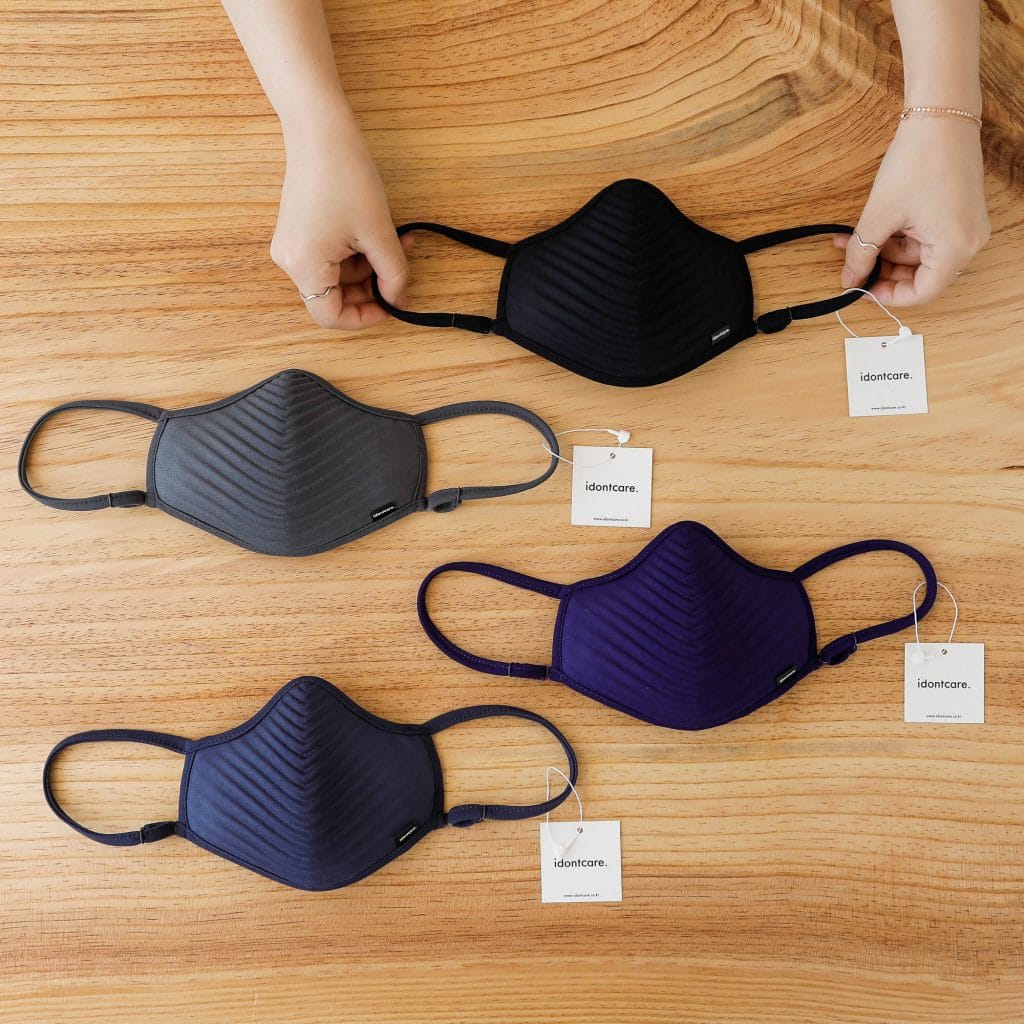 Idontcare is one of the better looking dust masks that I have come across, and it balances a simple and sophisticated look well.
With Korea being known as one of the most fashionable countries in the world (often referred to as the fashion capital of the world), and also being a country with fine dust issues, it makes sense that some companies would join the field. 
The mask comes in three colours – black, biege and grey (which looks more white).
The masks created by Idontcare have received design awards and also won the K design award in 2019. This is a big achievement and goes to show how well received the 'inner mould' system is.
Purchase Idontcare masks here!
---
Fit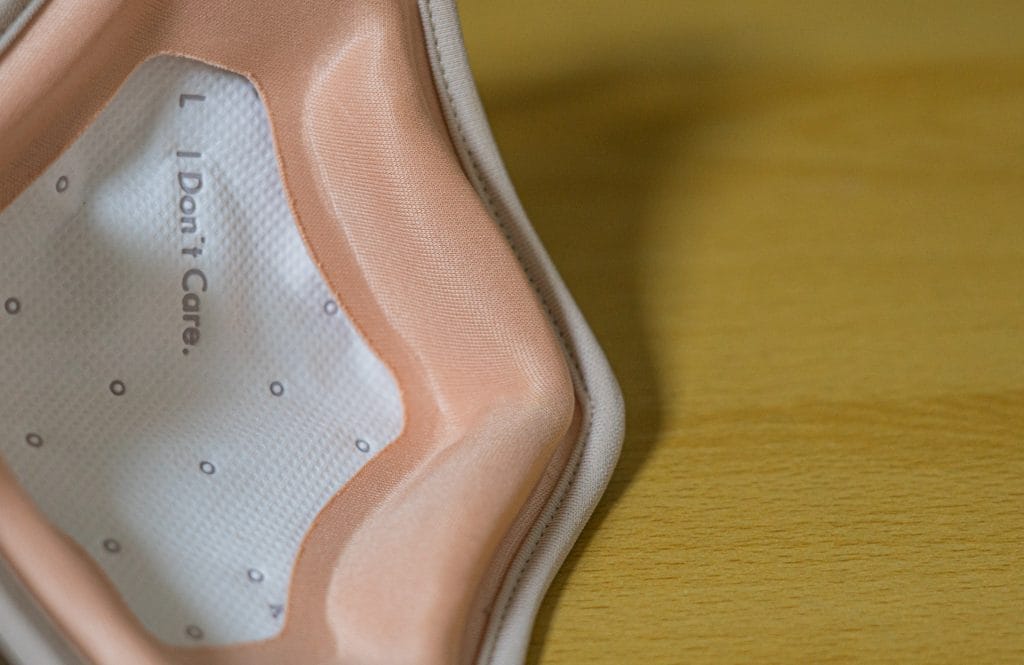 The dust mask comes in different sizes based on the size of your face. However, it is recommended by the company to purchase a mask one size bigger than what you would normally purchase.
The ear-straps are adjustable and make fitting the mask securely very easy and quick.
As I mentioned earlier in the article, the Idontcare fashionable dust mask is the most comfortable that I have ever worn. This is due to the nose cushion that the mask uses.
If you have experience with wearing masks and respirators I am sure that you can appreciate how uncomfortable they can be – especially after being worn for long periods of time. This mask manages to prevent most of that pain.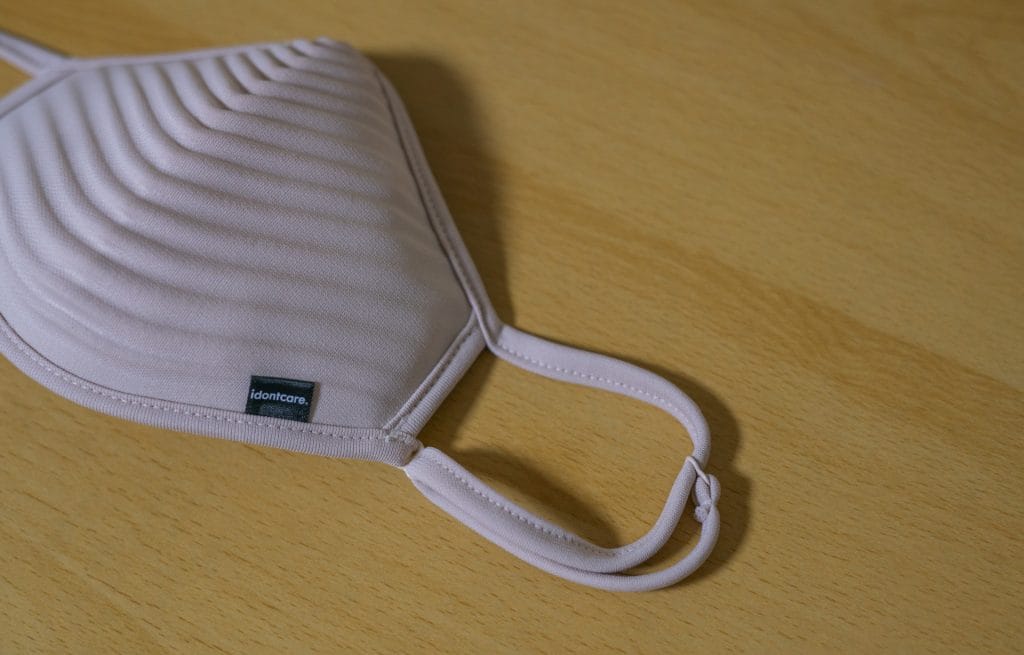 Generally the two points where pain occurs after long periods of respirator wear are the ears and the nose. Thankfully, this dust mask removes pain from the nose totally.
Further, pain on the ears is minimised by the use of flat ear straps that cause less pressure by spreading the weight more evenly behind your ears.
This masks are bigger than most other dust masks and respirators that I have used. Internally the fit is similar, but the masks appear bigger due to the external shell being larger than the seal (which is inlaid slightly).
Totobobo – 99% filtration on a reusable respirator.
---
Filters & Reuse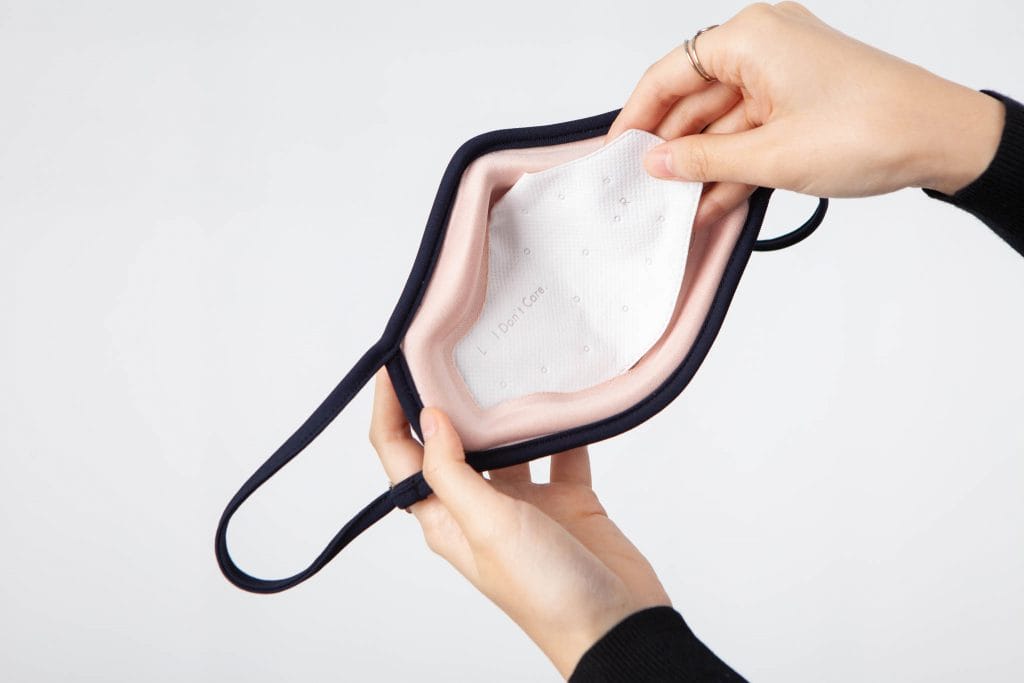 The Idontcare mask can be reused indefinitely due to the inclusion of replaceable filters. Filters can be replaced for 2000KRW (less than $2) each, and filters are purchased in packs of 5.
Each filter is rated to last around 100 hours of use, and with the mask 2 filters are included. This means that with your initial purchase you will get a mask with 200 hours of filtration.
For less than $10, a further 500 hours worth of filters can be purchased.
It's important to remember that these filters must be placed in the mask for filtration to be achieved. Always make sure to have a filter within the mask.
Purchase Idontcare masks here!
---
In the Box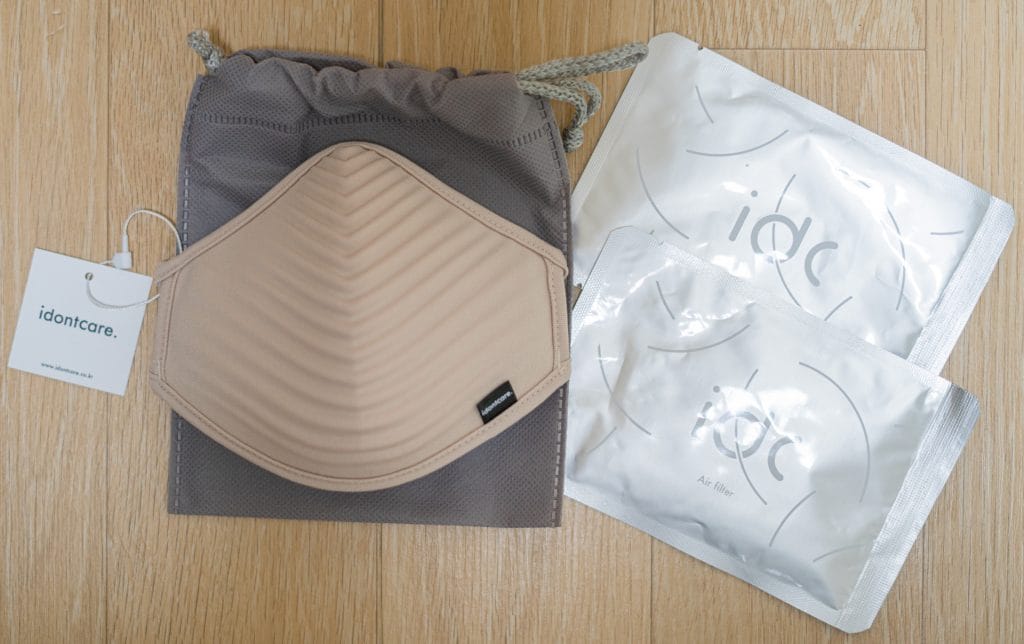 When you purchase a mask from Idontcare you can expect to find a few extras in the box along with the mask itself.
Within the box, you will also find two filters. Further filters can be purchased separately, but it's nice to get an extra filter when you purchase the mask.
You will also get a small carry bag for the mask. This is nice as it allows you to keep the mask safe and clean while you are traveling or if you need to take it off.
---
Cost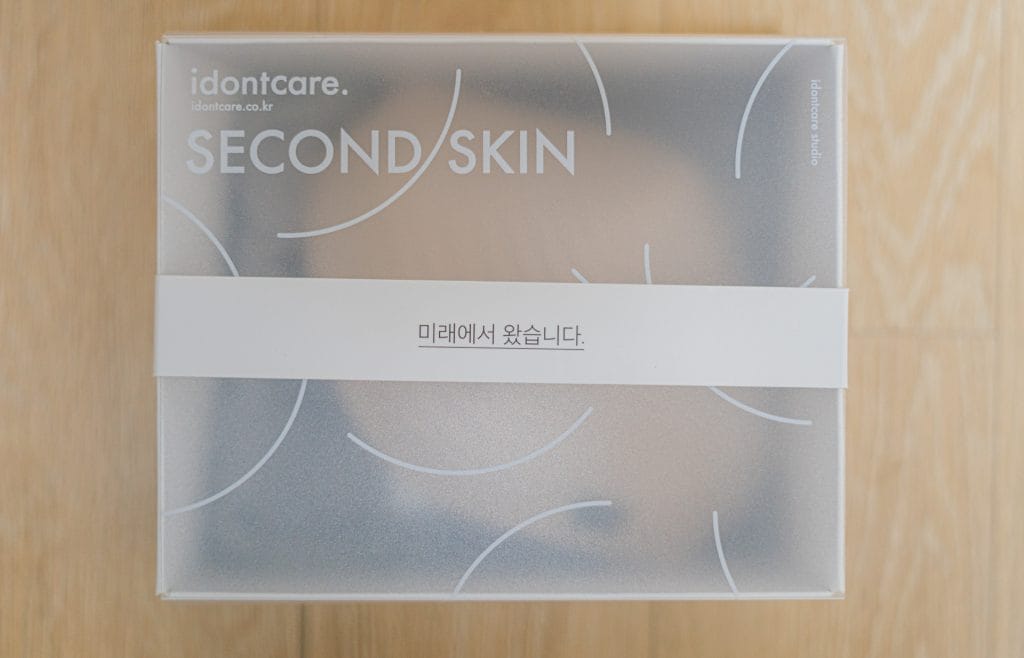 The Idontcare Korea dust mask costs 50,000KRW (or a bit under $50 USD). While this may sound expensive initially, it's important to remember a few things.
Firstly, it's common for reusable respirators to cost $30 USD or more. Similar reusable respirators such as Vogmask, Cambridge mask, and Airinum are all either $30 or more. 
Secondly, these respirators must be replaced after 200-300 hours of wear, depending on the air quality. There is no way to replace the filters, and this means that the masks must be disposed of and re-purchased after use.
The Idontcare mask, on the other hand, can use changeable filters. With 500 hours of filters costing around $10, Idontcare will be cheaper in the long run.
Koolmask Review, the most technologically advanced anti-pollution mask.
---
Where To Purchase an Idontcare Mask
Unfortunately, these masks are currently only on sale on Korean websites. In the future, I hope that this will change however, as Idontcare makes a fantastic product and one that I have come to like very much.
The best place to purchase these masks is on their official website Idontcare.co.kr. However, they can also be purchased on many other Korean shopping malls such as Idus, Funshop, 29cm, and Naver Smartstore.
---
Conclusion
It seems that everyday now there are new entrants into the fine dust mask market. While many of these masks are similar, there are also some that are truly innovative.
I believe that Idontcare is one of these masks. Providing 92% filtration with a seal that is easy to achieve is very impressive.
On top of this, these are fashionable dust masks from the fashion capital of the world. It's hard to find a balance between form and function, but it has been met here. The masks are elegant and work with many outfits.
Idontcare does charge a premium within the reusable dust mask field. However, the cost quickly offsets itself.
If you are looking for a fantastic dust mask and are within Korea, I highly recommend the Idontcare fashionable dust mask.
Purchase Idontcare masks here!
---
FAQ
What Filtration Does Idontcare Provide?
Idontcare masks have 92% particle filtration in lab tests. This means they fall slightly short of the KF94 rating.
Where Can I Buy Idontcare Masks?
Currently, these masks can only be purchased in South Korea. However, they do plan to sell them internationally in the future.
Does Idontcare Have Replaceable Filters?
Yes. This mask features replaceable filters, and the filters are affordable compared to other masks. Further, the filters are very easy to change.
Is the Idontcare Mask Comfortable?
Yes! In fact, this is one of the most comfortable masks that I have ever worn. The only downside is that the mask is on the warmer side, this means it may be difficult to wear in summer.
What are Some Idontcare Alternatives?
There are many alternative masks out there. MeoAir is a wool mask that provides low breathing resistance and high filtration, Cambridge Mask and Vogmask are also very popular.