uHoo's indoor air quality monitor is advertised as being the most advanced indoor air sensor. In this review, I want to investigate these claims – is the uHoo device as great as it claims?
Air pollution is a very important issue that we need to be aware of. It doesn't only impact us and our health only while we are outside. In fact, indoor air pollution is more dangerous for many people.
It's hard to know exactly how bad the air that you are breathing is without a monitor such as uHoo. However, you will probably be surprised at the VOCs present in your room – chemicals that you are constantly breathing in.
uHoo is one of the most popular air quality monitors, and in this review, I am going to look into why this is the case. This is my review of the uHoo air quality monitor.
Wondering about how indoor air pollution impacts us? I recently covered the impacts of air pollution on studying & academic performance.
---
This post contains affiliate links. For more information, please refer to my affiliate disclaimer.
Information on this blog is for informational purposes only. Readers are encouraged to confirm the information herein with other sources. Furthermore, this information is not intended to replace medical advice from professionals. This website assumes no responsibility for the accuracy of the information, which is subject to change without notice.
---
What Is uHoo?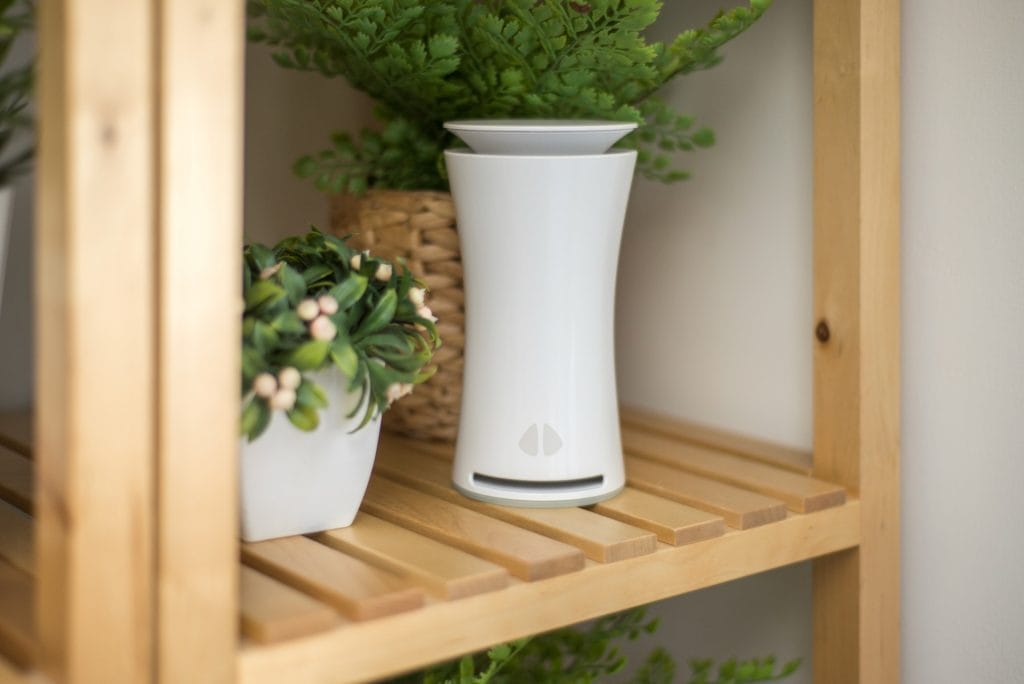 uHoo is an air quality monitoring device that analyses the air within its area and gives detailed reports on the chemicals and pollutants present.
It is a relatively small device that is simple and sleek, and this allows it to fit in nearly any room without drawing attention.
All that the uHoo device requires is power (which can be provided via a micro-USB cable) and WiFi (2.4ghz).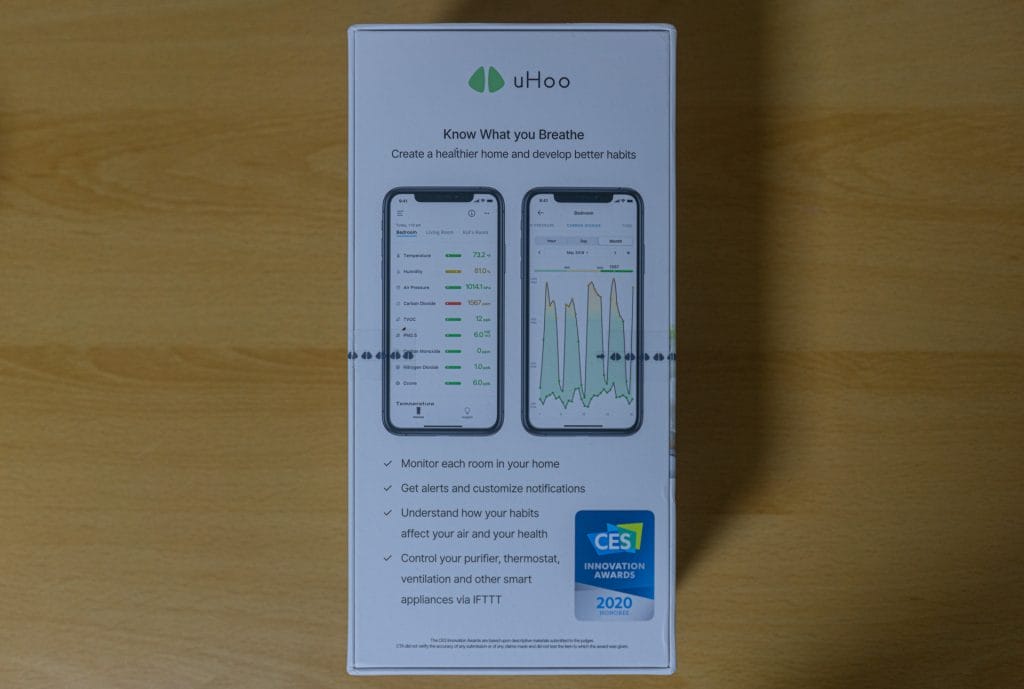 The device can then be connected to with an app that can be downloaded on either IOS or Android. From these apps, the current and past air quality can be analyzed as can the trends over time.
Perhaps most importantly, however, is that the uHoo air monitor can send notifications to your mobile device when air quality is harmful or outright dangerous to your health.
Purchase uHoo Air Quality Monitor (U.S) | Europe
---
What Does uHoo Measure?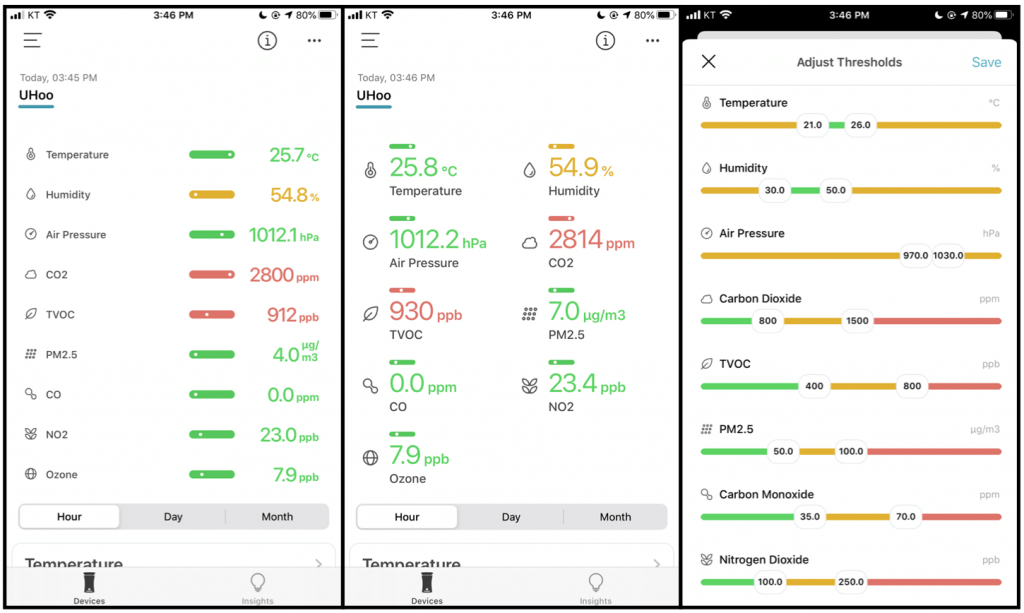 uHoo measures 9 important indicators of indoor air quality. These can be roughly divided into three categories – fine dust (PM2.5), weather elements (humidity and temperature), and other pollutants (such as carbon monoxide, nitrogen dioxide, etc).
The 9 indicators in order are temperature, humidity, air pressure, carbon dioxide, TVOC, PM2.5, carbon monoxide, nitrogen dioxide and ozone.
Although I won't go into full details about the dangers of these pollutants individually (I recommend reading my articles about VOCs and air pollution for that information), they can all affect your health when sub-optimal.
Each of these elements is measured constantly by the uHoo device, and you can set up notifications to be sent once certain thresholds are met. This will always keep you in the know about your air quality.
Further, all of the pollutant information will be graphed automatically within the app, allowing you to see when changes occur. This is particularly helpful for seeing the change when you open the window or turn on an air purifier.
10 facts you should know about air pollution.
---
Setup process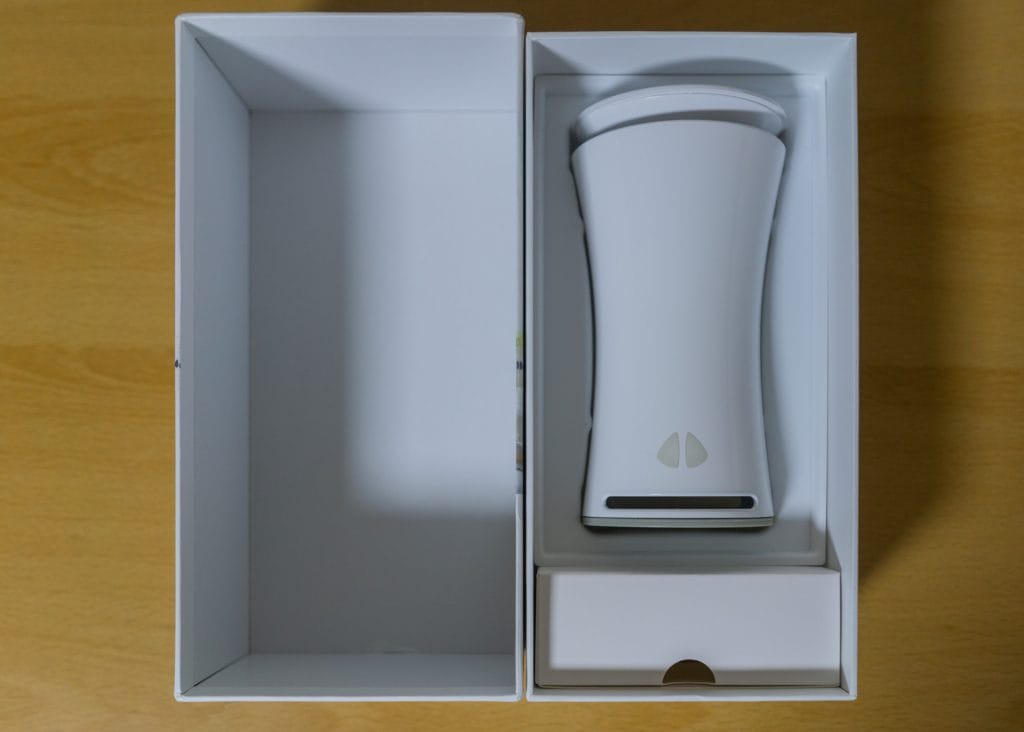 The setup process for a uHoo device is exceptionally easy and intuitive. To begin, simply plug in the device and download the app for your device.
From there, connect to the uHoo WiFi hotspot with your phone – this will allow you to choose which WiFi network to connect the device to. With the device connected, you will be asked to make an account.
It is important to make sure that your phone is connected to the WiFi that you want to connect uHoo to (before joining the uHoo hotspot). Make sure that this WiFi connection is 2.4ghz.
Making an account will let you monitor the uHoo from different devices, and also to add 'family' members. These are other people who have permission to access the data from the uHoo.
Once this is completed, the air pollution monitor will start reporting! It is important to note though, that some readings (such as carbon dioxide, nitrogen dioxide, VOC and ozone) can take up to 48 hours to read accurately.
This is due to a calibration process that takes place when you initially set up the product. The product will also re-calibrate itself over time in order to make sure that it is always presenting the most accurate information.
During this 48 hour period it is important to keep the device in the same place, with power and WiFi. If you need to move it, this process will reoccur.
Purchase uHoo Air Quality Monitor (U.S) | Europe
---
Connectivity & App
The uHoo app is one of the most complicated and detailed that I have seen for an air pollution monitor. That isn't a bad thing however, it will just take some time to get used to.
The app provides graphs for every pollution indicator, and this is incredibly helpful. You can see exactly what changes the air quality by matching it with the time on the graph.
Helpfully, uHoo also included a short summary on each pollutant. These summaries describe not only the dangers from each form of pollution, but also what ranges are considered optimal, hazardous and dangerous.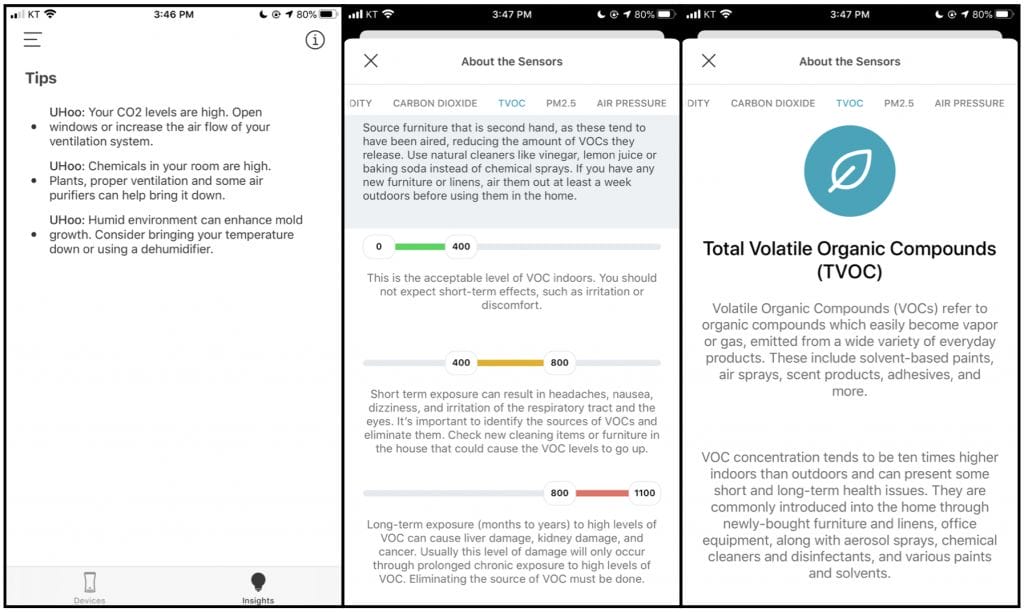 I appreciate having this data within easy reach inside the app itself. Most people purchasing air quality monitors probably don't know the dangers of each specific chemical, and uHoo has realised this.
Within the app, it is also possible to set up integrations. The three most important for most people will be Google Assistant, Alexa and IFTTT.
Integrating with Google Assistant will allow you to ask Google (via the Android OS or the Google Assistant app on IOS) questions about the air quality. This is incredibly helpful for anyone who prefers to use their voice or anyone who has other smart home devices.
uHoo can also be integrated with Alexa, which will allow you to ask about the air quality situation similar to with Google Assistant.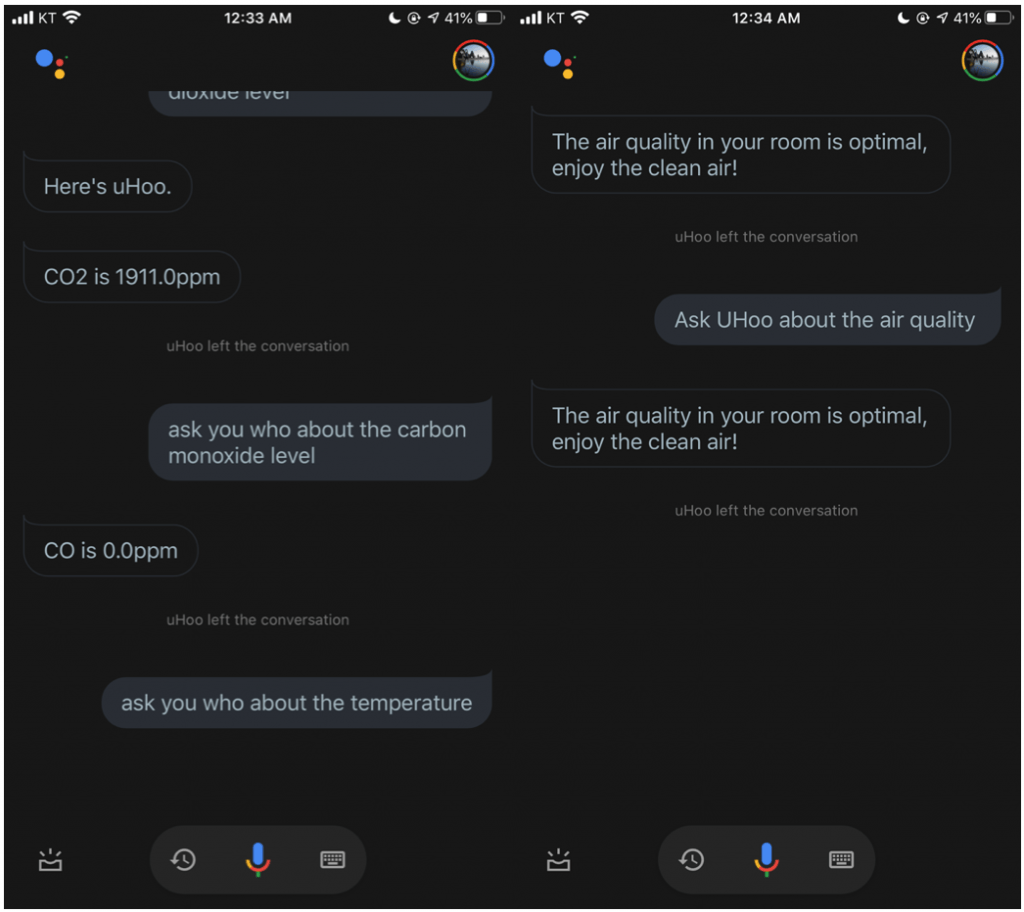 IFTTT is also supported, and this is perhaps the most interesting integration that uHoo offers. If you don't know what IFTTT is, it's an app that allows you to create systems with supported devices and apps.
IFTTT stands for If This Then That, and it is extremely useful. For example, let's say you have an air purifier that supports IFTTT (many modern purifiers do). You can set up a system that automatically turns the air purifier on when uHoo detects a certain PM2.5 fine particle level.
Or, if you have a supported dehumidifier (of if not, you can purchase a smart socket), you can enable it to automatically activate when the humidity reaches a level you set. All in all, IFTTT allows you to create some very interesting and useful systems that can passively keep your air clean.
The uHoo app also allows you to add multiple uHoo devices, this will allow you to set up monitors in different rooms and to monitor the data from each within the app.
Flow 2 portable air monitor full review. Or, check out my Atmotube Pro full review.
---
Design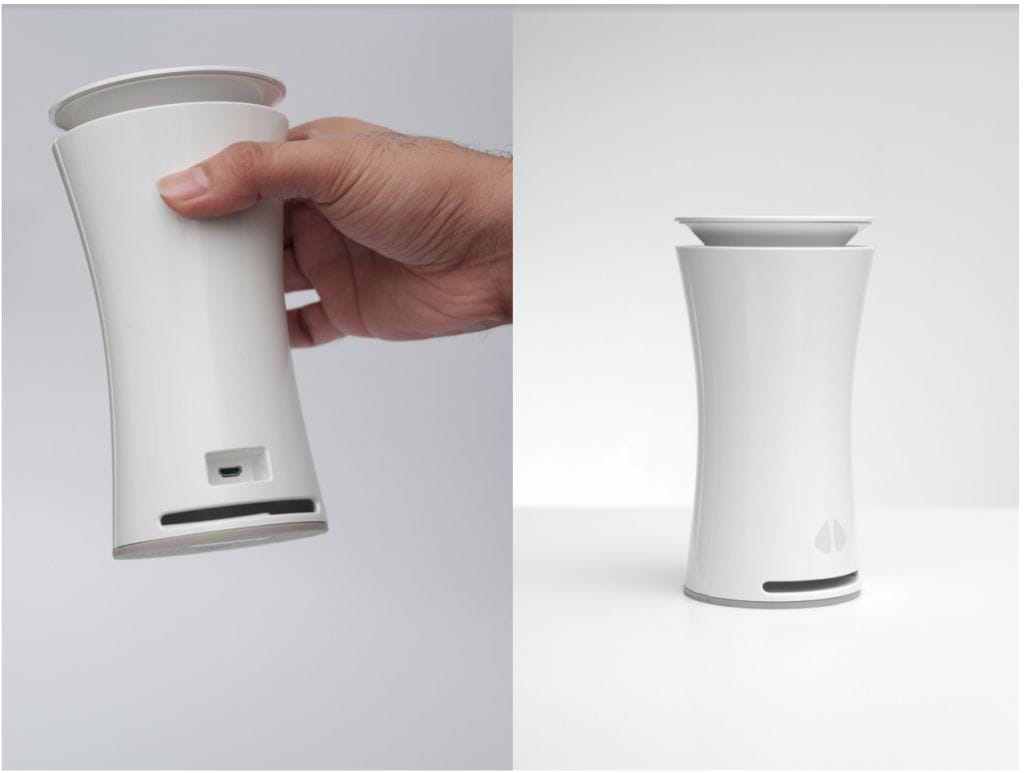 The design of uHoo is one of the most attractive aspects to me. It's an elegant design that can fit into almost any room without drawing attention.
The device is just under 17cm tall, and around 8cm wide. It is a tapered cylinder shape, with an opening in the top and bottom. Other than a small and subtle logo on the front, the only other part that stands out is the USB port (which is inlaid) at the back of the device.
Some air pollution monitors include a screen, and this addition has some benefits and negatives.
Having a screen allows for easy reading of the air quality on the device itself, but it also means that the device has to be obvious, and that it will draw attention. The screens don't always auto-adjust either, meaning that they can be very bright at night.
Since nearly every air pollution monitor provides the majority of information within the partner application, you will most often be referring to that anyway.
Although the lack of a screen doesn't impact my use (I far prefer to be able to check the app from anywhere in the house and am in a habit of using it), some people may prefer to have a screen.
Purchase uHoo Air Quality Monitor (U.S) | Europe
---
Accuracy
Compared to the other air pollution monitors I have in my house, I have found the readings between all of the devices to be very similar.
uHoo reacts quickly when changes occur in ventilation and the environment. When windows are opened the VOCs quickly fall, while the PM2.5 tends to go up (since I live in Seoul).
Although I have no standard that I know is totally accurate to compare to, I believe that uHoo is accurate. It provides similar levels of readings to other air pollution devices and it reacts according to environment changes.
One element that I do appreciate is the division of many of the most important factors. TVOCs are monitored, but so are carbon dioxide, carbon monoxide, nitrogen dioxide and ozone.
Providing this range of data with separate readings for each is incredibly useful makes it easier to manage the levels of each pollutant.
---
uHoo Review – Is Uhoo Worth it?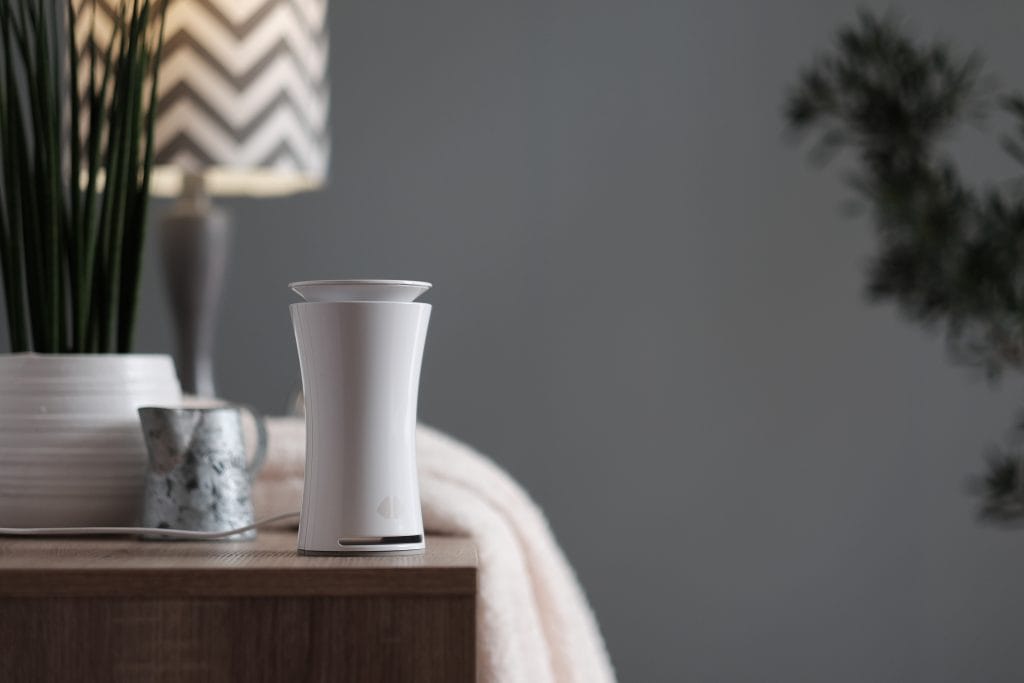 uHoo is a competitively priced air quality monitor that differs from the competition in a few ways. Where most air pollution devices use a screen, uHoo relies on the app. This has both benefits and downsides, and it will come down to your individual needs.
uHoo provides the most detailed air quality reporting that I have seen on an indoor air quality monitor. It also acts on this data, by keeping the user updated with notifications and graphs.
The design of uHoo means that it fits into most homes very well. It's a device that once you set up, you will hardly notice. It does its job without getting in the way.
The connectivity provided by uHoo is fantastic and it can integrate with any device. Unfortunately it does lack Homekit support, however, IOS support can be added via the Google Assistant app.
If you are looking for a fantastic air quality monitor that does its just very well, then I can happily recommend the uHoo air quality monitor.
Pros
Simple, elegant design that allows the uHoo device to fit in anywhere.
Accurate air quality readings are shown in detailed graphs.
Very simple to set up and use. Simply install the app, connect to WiFi, and you are good to go.
Advanced integration with IFTTT. Also supports other assistants such as Google and Alexa.
The app allows for the setting of thresholds for each pollutant. This allows you to choose when to receive notifications.
App provides details into each pollutant and why they are harmful.
Device recalibrates itself to stay accurate.
Cons
No Apple Homekit support. If you use an IOS device you will have to install Google Assistant for voice functionality.
No screen, meaning that air quality can only be checked through the app.
The app can be slow or take a while to load at times. I experienced this on both IOS and Android.
48 hour set-up time can feel like a long time. However, this is acceptable since it keeps the device accurate.
Purchase uHoo Air Quality Monitor (U.S) | Europe
---
uHoo FAQ
How Does uHoo Compare to Other Air Pollution Monitors?
I have tested a few different air pollution monitors such as the Laser Egg, Flow 2 and Atmotube Pro. I found that the uHoo is the most detailed monitor both in terms of measured pollutants and the data it provides. While the device doesn't have a screen, the app is well made and easy to use.
Is uHoo Portable?
No, uHoo is meant to be an indoor air quality monitor that stays in one place. While you can move the device from time to time, it does require power and will re-calibrate after it has been moved.
Do I Need an Indoor Air Pollution Monitor?
While an indoor air pollution monitor is not essential, they are a great way to make sure that the air you are breathing is healthy. Indoor air pollution is very dangerous, and a monitor such as uHoo will allow you to identify the dangers.
Where Can I Purchase uHoo?
Is uHoo Accurate?
While I don't believe there is currently any research behind the accuracy of the device, I believe it to be accurate. I have compared it to other air quality monitors and the results are inline with other devices.