The Atmotube Pro is a portable air pollution monitor and all-in-one weather station that is designed to allow the average user to recognise and react to the local air pollution and weather conditions.
The Atmotube has positioned itself as a device that can be used both indoors and outdoors to monitor the air quality. Where most devices limit themselves to indoors (such as the Kaiterra Laser Egg and uHoo), or outdoors, this device is designed to work in and monitor the most important air pollutants in both. 
After recently reviewing the Flow 2 and Breathe Smart 2, I had many requests from readers to look into the Atmotube Pro as well, as these devices are similar in many of their basic functions. However, they also have some very distinct differences.
In this Atmotube Pro review, I will be covering everything that you need to know about the device so that you can decide if it is best to suit your needs. Not sure if you want the Flow 2 or Atmotube Pro? Check out my Flow 2 vs Atmotube Pro comparison.
---
This post contains affiliate links. For more information, please refer to my affiliate disclaimer. I was sent a product for review, but the article is not sponsored. All opinions expressed in this post are my honest thoughts. I only recommend products that I genuinely believe in.
Information on this blog is for informational purposes only. Readers are encouraged to confirm the information herein with other sources. Furthermore, this information is not intended to replace medical advice from professionals. This website assumes no responsibility for the accuracy of the information, and information is subject to change without notice. Devices mentioned on this website are not medical devices and do not guarantee protection.
---
Monitoring & Device Accuracy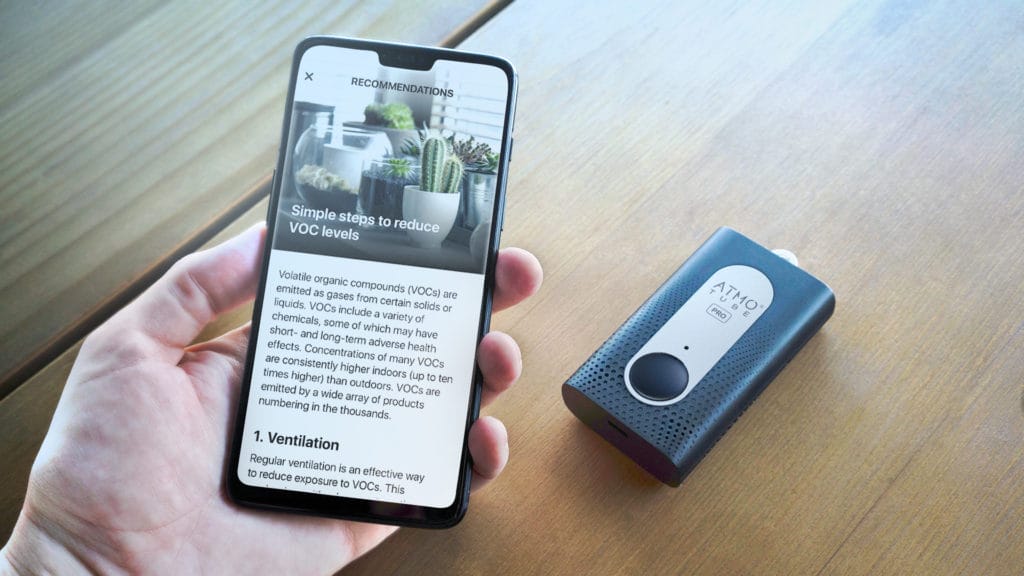 The Atmotube Pro is one of the few air pollution monitors on the market that is officially certified and tested for accuracy. The Atmotube PM sensor (particle sensor) has passed the MCERTS certification – MCERTS Performance Standards for Indicative Ambient Particulate Monitors.
The device uses many Sensirion sensors (for particles, TVOC, and temperature & humidity). For air pressure, the device utilises a BOSCH sensor. For full details about the sensors within the Atmotube Pro, you can refer to the technical specifications.
When tested with particles between 0 – 75µgm³ the device proved to be accurate within 10%. However, it is important to note that this accuracy testing is only for the particle sensors within the device.
The device itself, as well as some of the sensors within, have also been tested by the South Coast AQMD (Air Quality Management District). AQMD tested both the Sensirion sensor and the Atmotube Pro against federal level air quality instruments (worth more than $20,000). You can find the results here.
AQMD found that Atmotube Pro devices feature less than 10% intra-model variability for PM1 and PM2.5, and around 5% for PM10. This means that if you compare different Atmotube Pros, they should provide data similar to each other.

Image from AQMD Atmotube Pro Field Evaluation.
Interestingly, when compared to the federal air quality sensors for both PM1.0 and PM2.5, the Atmotube showed very strong correlations to the data provided by the government sensors. R values of around 0.9 were shown, indicating a strong relationship between the Atmotube readings and the federal device readings. In other words, the PM1.0 and PM2.5 sensors inside the Atmotube are accurate.
When it came to PM10, however, the Atmotube samples showed very weak correlations with the other devices. It severely underreported PM10 levels. Therefore, it is important to note that the PM10 readings that the Atmotube Pro reports are probably significantly lower than they are in reality.
On the other hand, the readings for smaller pollution particles should be very accurate albeit with slightly lower readings than in reality. Overall, these results show that you can trust the PM1.0 and PM2.5 readings, but be a bit wary of the PM10 readings as the device may indicate them to be lower than they really are.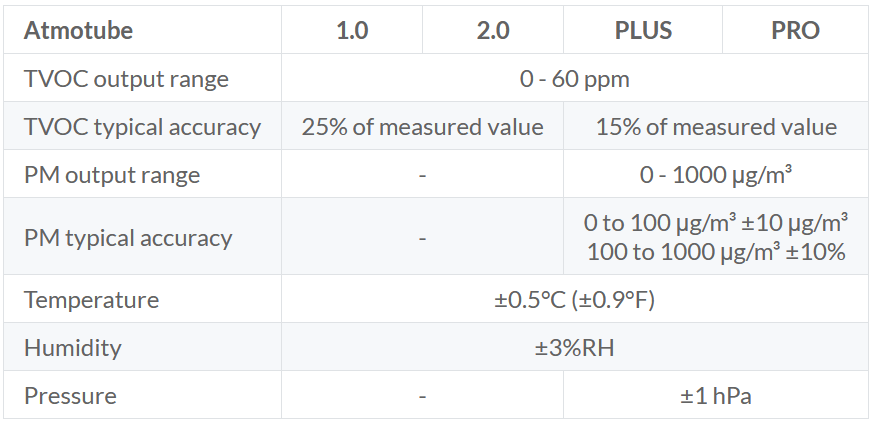 Atmotube sensor accuracy. Source.
In regards to TVOC sensing, the Atmotube Pro features a Sensirion SGPC3. The full data sheet for this component can be found here. This sensor has been shown to have accuracy within 15% of the measured value. This means that the device is easily capable of giving you an indication of the TVOC levels.
Finally, the temperature, humidity and pressure sensors are all accurate to high degrees. The table above shows the accuracy of each of the sensors (the furthest right column). Overall, the Atmotube Pro is a device that is full of great sensor technology.
---
Atmotube AQS
Something that I personally found confusing, and that I think other people may also find confusing, is the AQS (Air Quality Score) that Atmotube uses.
If you understand AQI (if you don't read, this post on understanding AQI!), you will know that the vast majority of AQI systems start at low numbers and go higher as the air quality worsens. That is to say, an AQI of 200 is hazardous, whereas 25 is a 'safe' air quality level.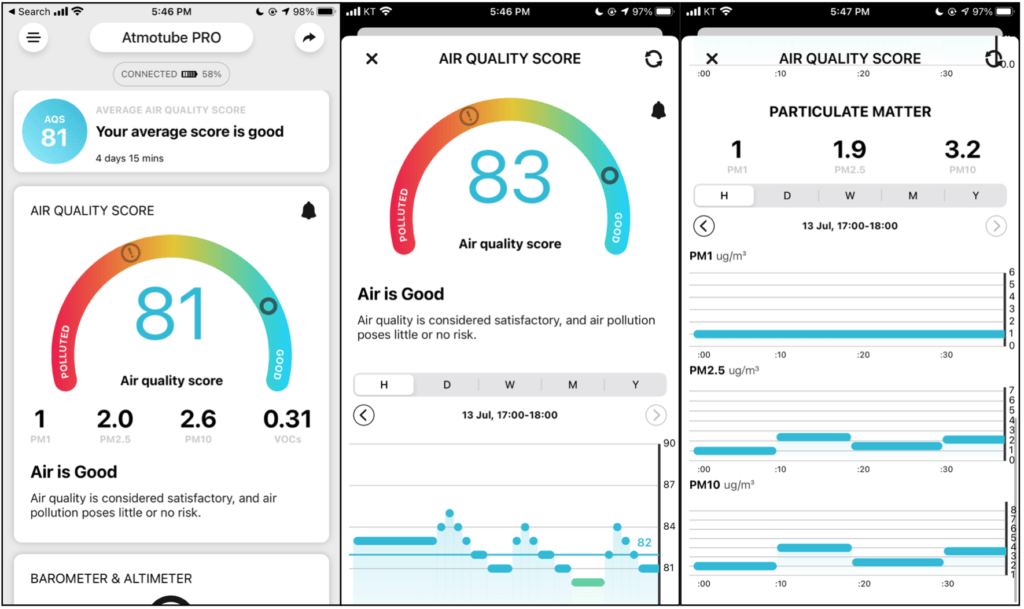 Atmotube has its own system though, and this system starts at 100 (best air quality) and goes to 0 (worst air quality). Therefore, using the AQS, a score of 90 shows much better air quality than a score of 20. Below I have a table for understanding the Atmotube AQS system.
| | |
| --- | --- |
| Atmotube AQS | Air quality |
| 81+ | Good |
| 61-80 | Moderate |
| 41-60 | Polluted |
| 21-40 | Very Polluted |
| 0-20 | Severely Polluted |
This score is displayed well on the app as well, which I will discuss further later. While the AQS may seem a bit confusing at first because it is so different from other systems, the visualisations provided in the app make it far easier to get used to and to understand.
---
Connectivity & Battery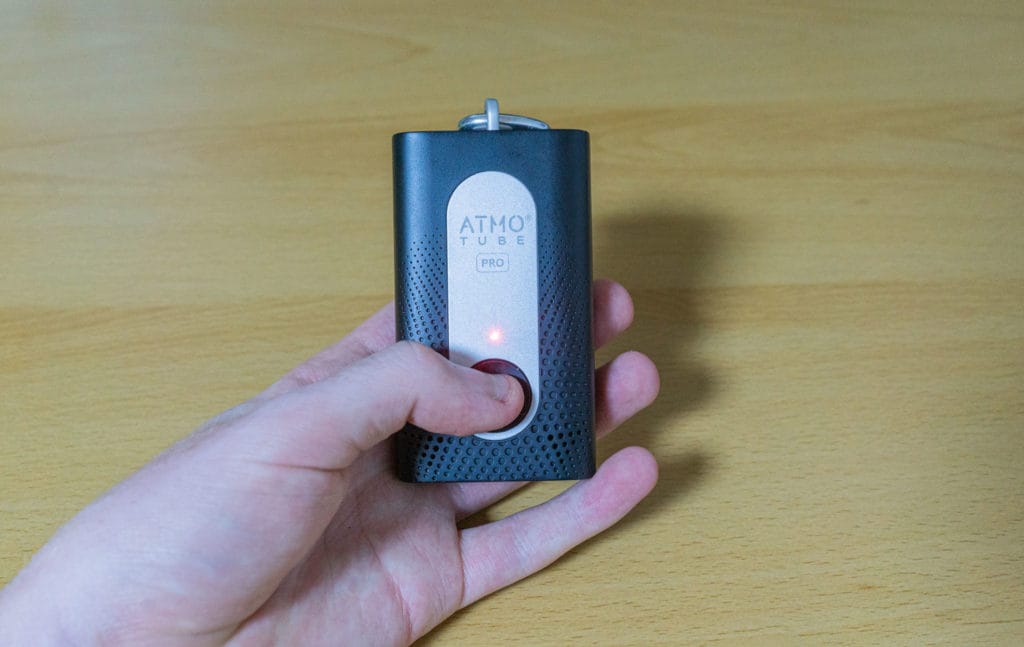 The Atmotube Pro uses Bluetooth 5.0 to connect to any modern smartphone. To access the data on the device, you can download the Atmotube app and connect with that.
The device has internal storage and is capable of keeping a few days of data internally. This means that if your phone battery goes flat, or you can't take your phone somewhere, you can sync the data once you connect to your phone again.
For location data (using the GPS), you will need to have your phone connected to the device. Although the device can store some data internally, you will not get location data unless you have an active connection to your phone and enable GPS for the app.
For charging, the device features one USB C port on the bottom of the device. Although USB-C has been out for a few years now, there are still too many devices using older standards such as Micro-USB. For that reason, I am very thankful that Atmotube decided to include a USB-C port!
This USB-C port charges a 2000mah battery – a battery that has quite frankly astounded me. I was expecting battery life of 24 hours maximum based on other battery-powered air pollution monitors that I have used. However, the Atmotube Pro has lasted me 5 days at this point and the battery is still at 58%!
While the website says that the expected battery life with a particle reading every 10 minutes is around 1 week, I would estimate that the battery life is actually higher. Around eight or nine days seems to be more accurate from my experience. Of course, if you increase the frequency of the air quality checks the battery life will decrease.
Finally, while the device does have to be connected to get detailed results, there is a button on the front of the device that will turn on a light in a colour indicative of the air quality. If you press the button and the light turns blue, you know the air quality is good. If it is red, not so much. This means that you can receive air quality information even when you don't have your phone on you.
---
Design
The Atmotube Pro features a simple and compact design. It comes in a size that is about half the size of my iPhone 8+, in other words, it is quite small. It is also very light, and once you attach it to a bag, bike, or otherwise it is hardly noticeable.
The device is made out of plastic other than the metal strap that can be connected to the loop at the top. While the device is totally made out of plastic, I think this is an acceptable trade-off as it allows the device to be as lightweight as it is.
One change that I would like to see is the top plastic loop being changed to metal. While I haven't had any issues with the quality of the materials on the device this far, the plastic loop does seem like it could break if enough force was exerted on it (for example, if you crash your bike with the device on the handlebars).
The design also features holes on the bottom half of both the front and side. These holes are where the device intakes air. It's important to keep these holes exposed so that the device can effectively monitor the air quality.
Unfortunately, for this exact reason, the device is not waterproof or water-resistant. If it begins to rain you will have to put the device somewhere where it is safe. However, this isn't as big of a problem as it may seem, as the air quality usually gets significantly better when it rains as the particles get captured by the droplets. Further, no other air pollution monitor currently offers any kind of water protection either.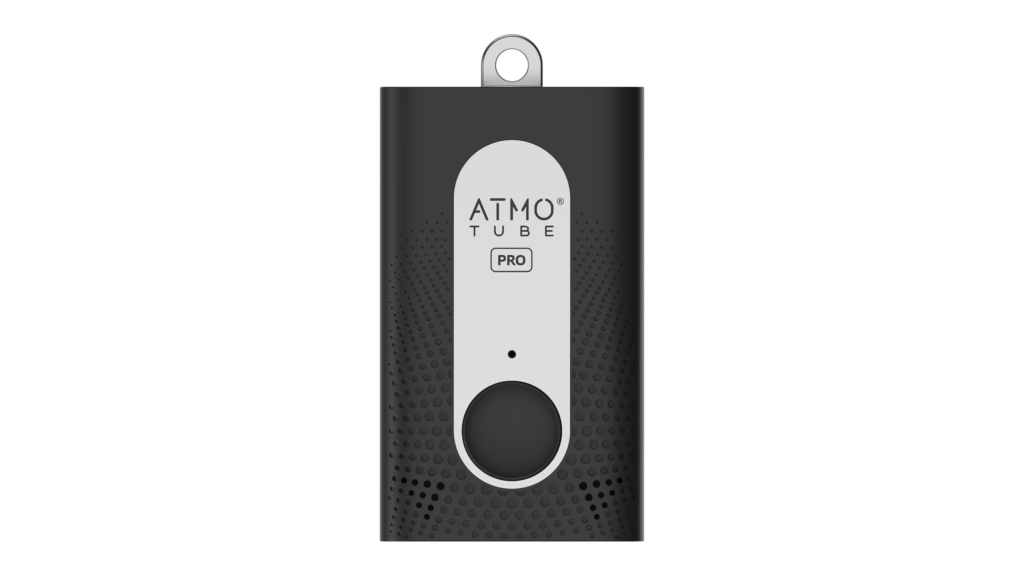 Finally, the device does make a very slight sound. Every 10 minutes when the Atmotube takes a reading you may find it possible to hear a quiet fan sound (this lasts about 3 seconds). This sound is barely audible, and it's far less than what I experienced with the Flow 2. However, it's something to be aware of. It can be concerning suddenly hearing a fan sound that you can't identify!
---
App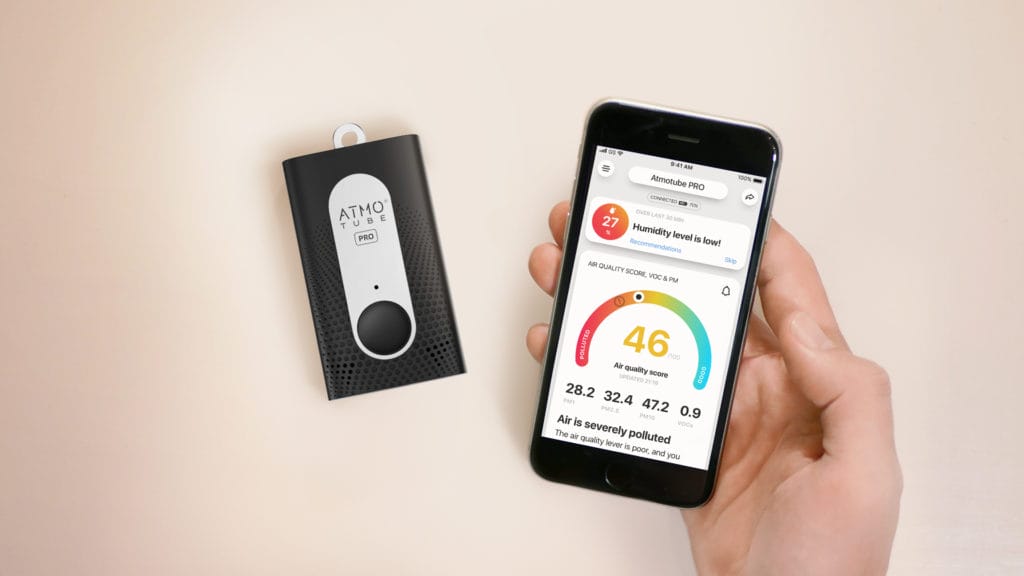 The Atmotube App is one of my favourite aspects of the Atmotube experience. After experiencing many different air quality monitor apps, I have to say that this app is among my favourites. While it doesn't offer the detail of the uHoo app, it provides everything that the user needs in an easy to access format.
When you open the app you will be greeted with a screen that shows the current AQS as well as the levels of the individual pollutants PM1, PM2.5, PM10 and VOCs. Below this, you will find the barometer and altimeter, and below that, you will find the temperature and humidity readings.
All of these cards are presented with graphs and icons that make them easy to understand. While I still find the AQS reading confusing at times (due to the 100-0 scale that it uses), I am beginning to get used to it.
Tapping on any of these cards will take you to more detailed readings of that pollutant. In this screen you can see graphs that show the history in an hourly, daily, weekly, monthly or yearly format. In this screen you can also set notifications so that the device alerts you when the air meets your set levels.
There is also a screen in the app that will explain the AQS and individual readings. This is especially useful for anyone that is unsure about exactly how air pollutants are impacting their health.
Finally, the app also has quite a large settings menu. This menu includes options for updating, calibrating. changing units, notifying and more. The menu is one of the more extensive menus that I have seen on such a device and as someone who loves information and customisation, this is a very welcome addition.
Perhaps most importantly for some people, the settings menu also allows the user to export data and to contribute to a global map of air pollution. This is an optional choice, but some people will appreciate the option to contribute to a greater air pollution database.
---
Data
The Atmotube Pro allows for easy data exporting to a .csv file. This file stores all of the data that the device has recorded, and allows the user to easily plot graphs or make other visualisations. Even if you have no need to export data, it's a nice choice to have.
The above image shows what a typical data export looks like once it is opened in Excel. There are ten data points for each time, and the time intervals are every minute. Also included are latitude and longitude, which allows you to plot your exact position at the time of each data point.
Out of interest, I decided to plot one hour of data (AQS) from the device to see what trends I could find. During this hour I was in my house, and the device shows that the air quality there is relatively good. However, it also shows that the air quality was gradually decreasing – something that I can look into.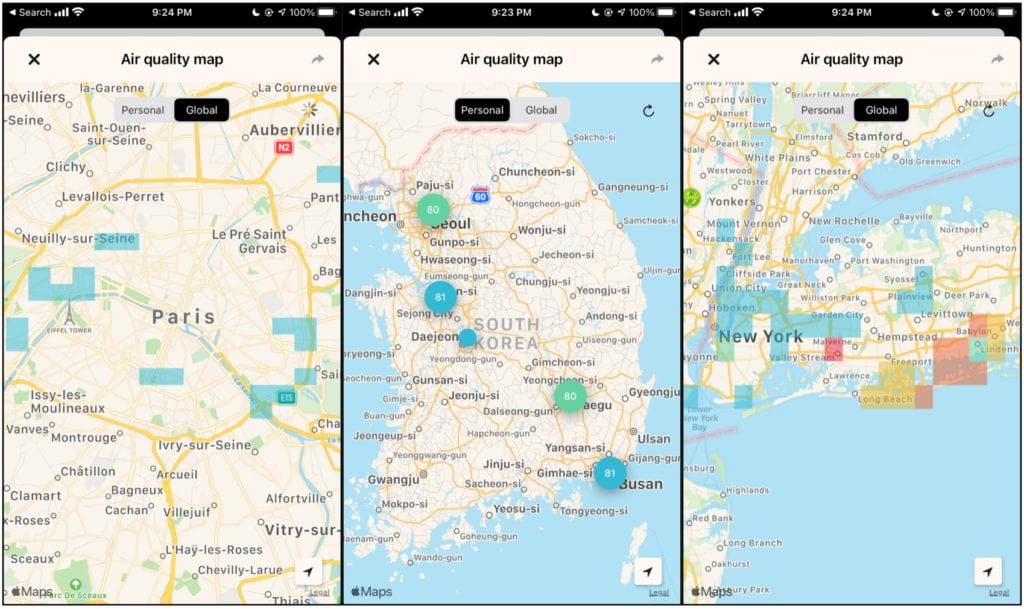 The data that you collect can also be added to a world map (if you decide to opt-in). This map is updated with data from all of the Atmotube devices in use around the world, and allows you to see what the air pollution is like in other areas.
In some areas the map can be rather limited. For example, in South Korea I don't see many data points. However, in areas where the Atmotube is more popular, such as in New York, there is far more data that can be viewed.
The addition of such a map makes you feel like you are part of something larger. While contributing your data is optional, I am happy to contribute so that others with an Atmotube device can see the air quality in my area and plan their trip accordingly.
---
Conclusion
Overall, I have had a great experience with the Atmotube Pro. While I do wish that the AQS system was more similar to other systems (so that it would be easier to compare) and that the device had a metal connection ring, the device overall is one that I feel confident recommending.
The lab and real-life results speak for the accuracy of the device, and this is the most important aspect in an air pollution monitor. While the PM10 monitoring leaves something to be desired, the PM2.5 and PM1.0 readings are accurate and will give the user awareness of the air quality around them. On top of this, the connectivity options are great, and the design is solid.
What truly impressed me with this device though was something that I discussed earlier – the battery life. One week or more of battery life is something that I am very impressed with. One of the greatest issues for me with portable air quality monitors is remembering to charge them every night. The Atmotube solves this issue!
If you are looking for a device that you can take everywhere and that will allow you to monitor the air pollution both on the go and at home, then I would recommend the Atmotube Pro!
---
Atmotube FAQ
Is Atmotube Pro or Flow 2 Better?
This depends on your needs. You can find my full Flow 2 review here. However, I personally prefer the Atmotube Pro. This is due to the far longer battery life, more responsive app, and more extensively tested sensor accuracy.
Do I Need an Air Pollution Monitor?
This is really up to you to decide. An indoor air pollution monitor is a fantastic way to make sure the air you are breathing is healthy – this is especially important since indoor air pollution is often more dangerous and concentrated that it is outdoors. If you exercise outdoors regularly, and air pollution monitor is also a great choice.
How Is Atmotube Pro Different From Atmotube Plus?
The Atmotube Pro is the more expensive model and the main difference is that it measures PM1.0, PM2.5, and PM10. The Atmotube Plus does not measure these pollutants and is focused on VOCs instead. The Pro model also has some other benefits such as a larger battery.
What Does Atmotube Pro Measure?
Atmotube Pro can measure PM1.0, PM2.5, PM10, VOCs, temperature, humidity and air pressure.
Does Atmotube Work Without a Phone?
To retrieve data from the device you will need an active Bluetooth connection to a phone. For GPS data, you will also need a connection. However, the device can store a few days worth of data internally and does not need a phone connection to record pollutant levels.