Note: Purar appears to have ceased operations. Please keep this in mind if you are considering choosing one of their masks.
When it comes to masks, it's often hard to find a balance. The masks that look the best often don't offer much (if anything) in the way of protection. On the other hand, the masks that offer the best protection are often lacking in the looks department… To say the least!
Purar Masks, however, are some of the most unique-looking and fashion-forward masks on the market. Where many companies consider the style of a mask only as an afterthought, Purar designed their mask with style being one of the key focuses.
Of course, a mask that focuses purely on being fashionable is likely to suffer when it comes to functionality. Luckily, Purar masks and filters have been designed by Mann+Hummel, a German company with many innovations in the field of filtration. It was for this reason that I first became interested in the masks that Purar offers.
Protection without skimping on style is one of Purar's biggest marketing points and something that I look forward to investigating deeper throughout this article. I will be looking into the filtration performance of the filter as well as the fit of the mask in everyday use. I will also share my opinions after wearing the mask everyday for over around two weeks.
So, with that being said, this is my full review of the Purar Mask. If you are interested in purchasing the mask then I hope that this review can help you to make an informed purchasing decision. If you are interested in other masks and respirators make sure to check out my many other reviews!
---
This post contains affiliate links. For more information, please refer to my affiliate disclaimer. I was sent a product for review, but the article is not sponsored. All opinions expressed in this post are my honest thoughts. I only recommend products that I genuinely believe in.
Information on this blog is for informational purposes only. Readers are encouraged to confirm the information herein with other sources. Furthermore, this information is not intended to replace medical advice from professionals. This website assumes no responsibility for the accuracy of the information, and information is subject to change without notice. Devices mentioned on this website are not medical devices and do not guarantee protection.
---
Filtration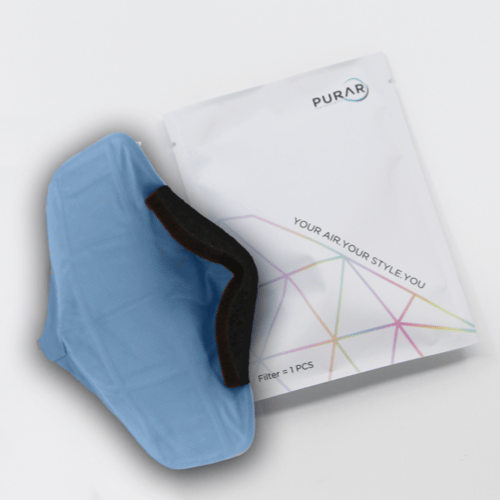 Purar Masks use filters designed by Mann+Hummel (Purar is part of Mann+Hummel), a well known brand when it comes to particle filtration. However, their filters are usually used in industrial applications and the Purar Mask is the first mask to use filters designed by them.
There are two types of filters available on the website: Protect Plus and Lite Comfort. The Protect Plus is advertised as offering > 95% filtration, whereas the Lite Comfort is shown as having > 90% filtration. This gives the user a choice as to what is more important – higher filter efficacy or higher breathability.
I will discuss the filtration lab tests below, but please keep in mind that all of the filtration results that I discuss apply to the Protect Plus filter. If you do choose to opt for the Lite Comfort filters, filtration will be lower and breathability should be higher. I've only tested the Protect Plus filters though and can't personally comment on the differences.
Purar doesn't display their certifications or lab-test results publicly. However, upon request they will provide both the filtration test results along with safety reports. While I do believe that such certifications should always be public, the response was very fast and they provided the lab-test results in full. I've been told that certificates will be made public in the near future.
Testing on both the filters and masks was carried out by Guangzhou Customs District Technology Center. 20 samples were tested and both the filter and masks themselves were tested against the KN95 standard. All of the tested samples (both filters and masks) passed the KN95 (GB 2626-2019) filtration requirements for the filtration efficiency of NaCl particles. Purar Protect Plus filters are officially KN95 certified.
Among the tested samples, the lowest filtration recorded was 98.62%. However, the majority of samples provided > 99% filtration. This testing was carried out using NaCI particles at a concentration of 20mg/m³. Temperatures across the tests ranged from 23.3 to 24.6 degrees celsius and the humidity percentage ranged from the mid to high 30's.
While this may sound a bit technical, it essentially means that the filter used in the masks is capable of filtering ≥ 98.62% of particles at the most penetrating particle size (MPPS) when at the conditions specified. This shows the filter is very efficient at filtering small particles.
It's important to remember that these filtration results apply to the filters rather than to the masks themselves. For the best results, the filter and mask must be fitted correctly with no leaks. Luckily, Purar has also undergone testing on human subjects.
When the mask itself was tested while being worn by a range of test subjects, the lowest filtration efficacy reported was 90.92%. However, this result was an outlier and the majority of recorded results were above 95%. Considering these tests are carried out across a range of test subjects (with many different facial shapes) and with a range of mask samples this is quite a high result for practical use.
KN95 testing also tests the breathing resistance of a mask. The Purar mask + filter passed the inhalation and exhalation breathing resistance requirements. The inhalation resistance passed easily, with the Purar Mask having about half of the resistance that is allowed by the KN95 standard.
Check out Purar Masks. You can also save 10% by purchasing a mask + filter combo.
---
Fit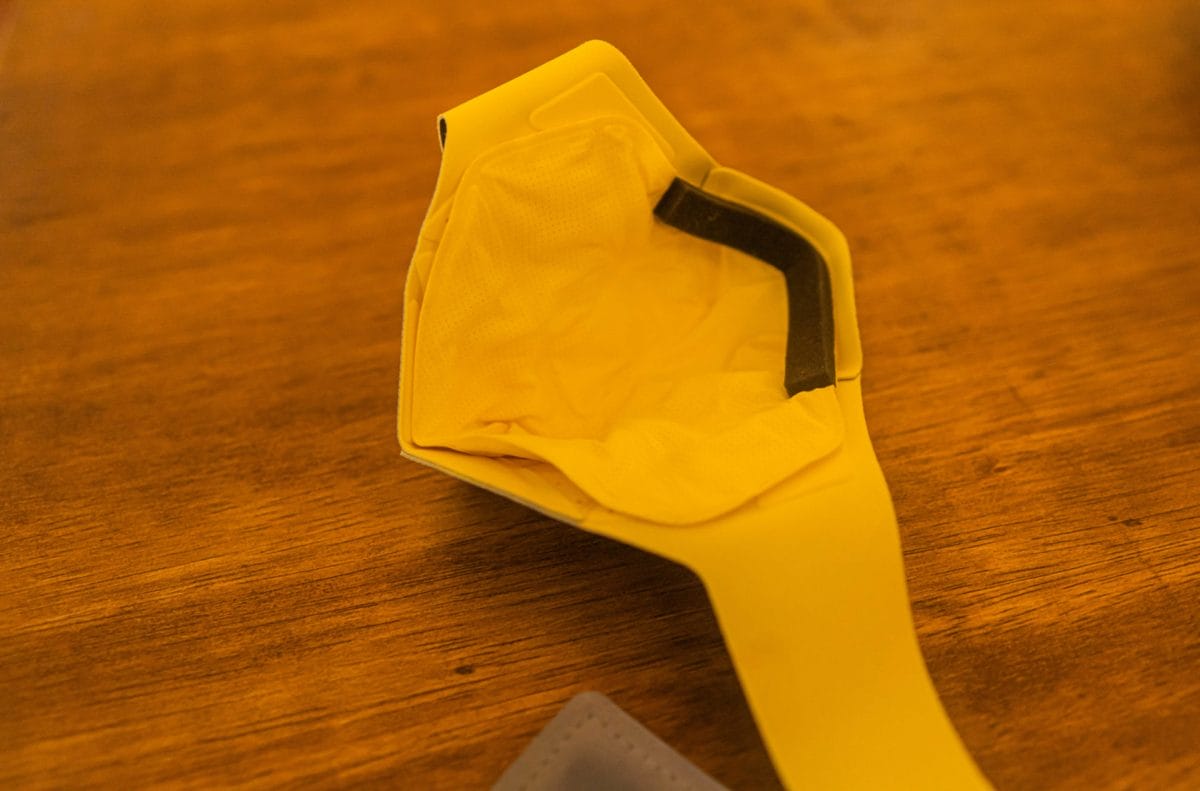 The most unique aspect of this mask (besides the look perhaps) is the fit. Rather than using a traditional dual ear-loop design or a headband design, the Purar Mask relies on a neck-band to achieve a seal.
This is a very interesting design choice and one that I've come to prefer to ear-loops. It's not perfect, but it does solve some issues that I have with more traditional cloth masks. It prevents pressure (and, over time, pain) on the ears and instead places pressure on the neck and nose.
However, with a thick piece of foam around the nose and the fact that our neck is less sensitive than our ears, these two 'pressure' or 'fitting' points are far more comfortable – especially after longer periods of wear.
I also noticed that design is far more convenient for people who have to wear glasses. Often I will remove my mask throughout the day – whether to take a sip of coffee, when I get home, or otherwise. Often ear-loop masks get caught on my glasses and I end up pulling my glasses off too. This mask has no such issues.
Due to the weight of the mask being placed on the wearer's nose and neck as opposed to the wearer's ears, the mask also feels lighter than most other cloth masks that I have tried. While the mask may not be lighter in actuality, it feels lighter as the weight is better distributed.
Something that surprised me is how well the mask stays in place. From the pictures I saw, it looked like the mask was quite precariously fitted as it's held in place around the nose rather than around the ears. However, I was surprised to find that the mask actually fits me very well.
With that being said, larger head movements can cause the mask to move slightly. For example, large head movements such as looking 90 degrees left or right can cause the mask to move slightly causing the seal to be broken.
From my experience this issue seems to mainly be caused only by large head movements. It is also very easy to readjust the mask by pinching the nose-wire. However, it is something that can occur and it's worth being wary of.
When turning your head you will also feel more pressure on the ridge of your nose due to the mask strap being stretched. I found this to not make much of an impact in daily wear, though, as I rarely find myself looking left or right for more than a few seconds at a time.
In regards to the seal, the Purar Mask provided me with a good experience. Before discussing my experiences in more detail I do want to mention that they are only that – my experiences. Everyone's face is different and every mask will fit differently. These are my experiences and they may differ for you.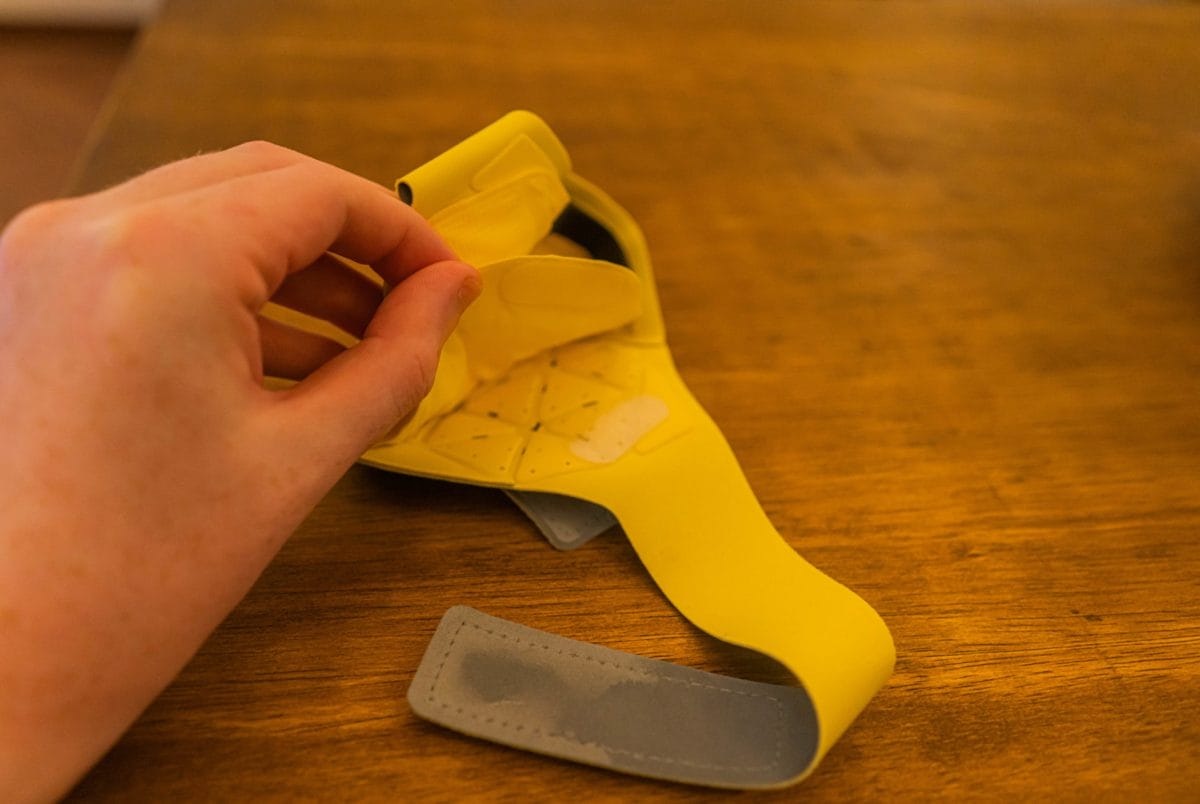 I picked up the small-sized Purar Mask as it seemed closer (in dimensions) to the sizes that I wear from other mask brands. While I initially thought that the mask was too small, I now believe that I purchased the correct size. However, I had to loosen up the neck-strap a decent bit and the mask sits lower down my nose than I am used to.
Usually I find that the weakest point of cloth masks in regards to leakage is near the nose. However, with the Purar Mask I found that the area most prone to leakage was around the bottom of the mask near where it wraps around my chin.
When I tightened the strap, these leaks mostly disappeared. However, that made the mask a lot more uncomfortable to wear. In the end I wasn't able to totally remove leaks around the bottom of the mask but I was able to minimise them to a point where I was comfortable wearing the mask and there being little leakage.
Overall I really liked the neck-strap design of the Purar Mask. I also found the nose-foam to be great – it is long enough, substantial, and capable of removing most leakage. There were some leaks near my chin but these were mostly removable by tightening the mask. The leaks that remained were very minor and I have yet to find a cloth mask that fits with no leaks at all.
Check out Purar Masks. You can also save 10% by purchasing a mask + filter combo.
---
Design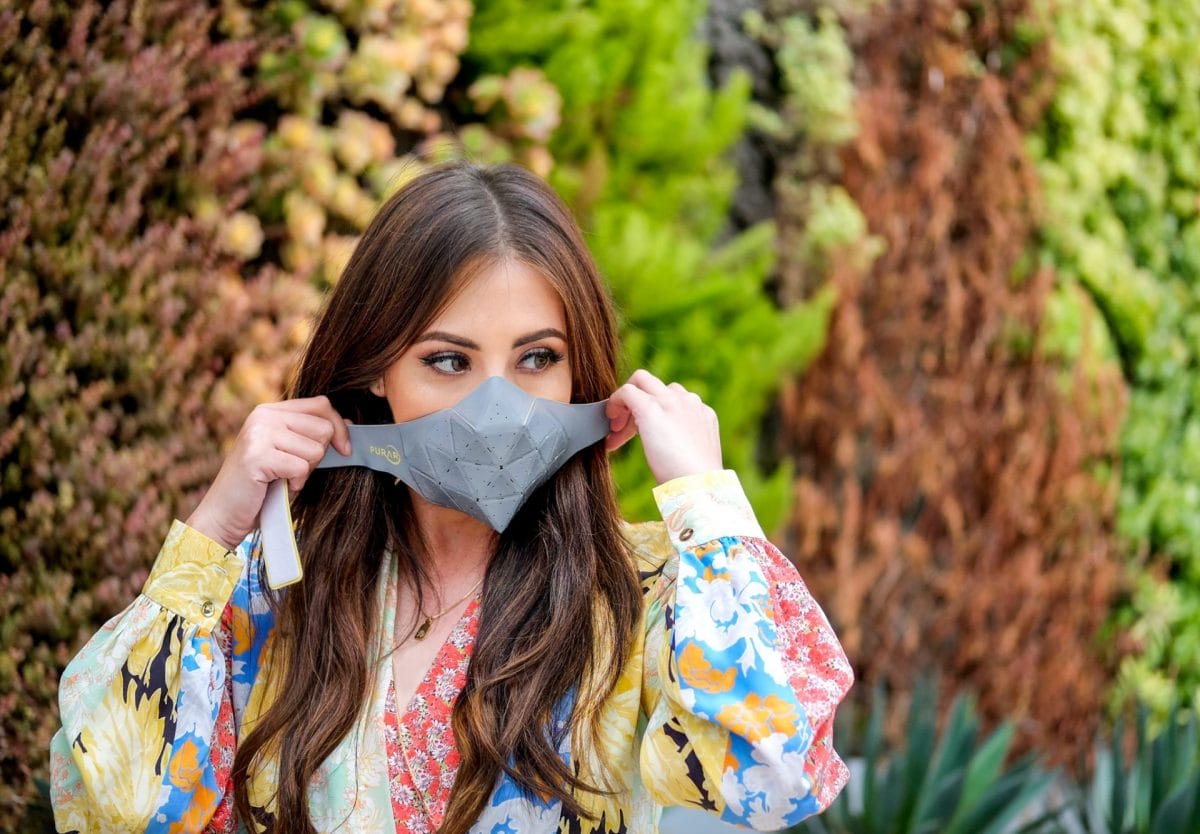 If you're reading this review then you have probably already seen that Purar masks have a unique look. This is one of the focuses of the company and they market it as a fashion-forward mask that doesn't compromise on functionality.
The masks come in a range of two-tone designs. I chose the grey/yellow colour combination as I wanted a mask that wasn't black but I also wanted a mask that didn't overly stand out. Despite the mask looking grey in images, I actually found that it's closer to silver in real life.
While the mask doesn't stand out as much as a silicone mask, it does stand out more than most other cloth masks. Thankfully, I think that the design looks quite good – although, I do wish the colour was slightly muted so that it's closer to grey rather than silver.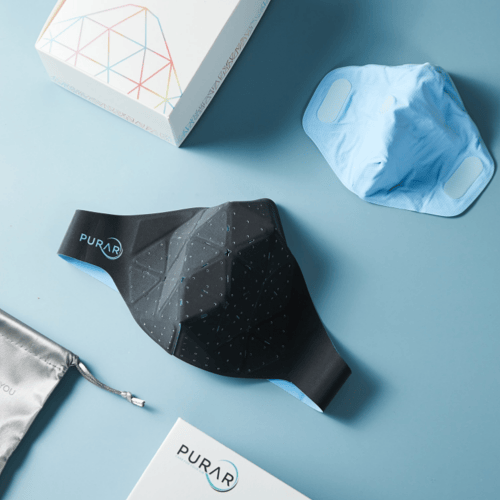 The front of the mask is made up of triangle surfaces. These surfaces are perforated with different shaped holes that allow air to pass through the mask. This gives the mask its distinctive look. From a functional standpoint, the increased surface area of the triangle design allows for better breathability.
All of the mask shell is made from a single piece of material. The neckstrap is part of the mask itself and it's also quite thick, making it feel sturdy. The straps connect with two pieces of velcro that are stitched onto the neck strap.
The filter also fits inside the mask using 4 pieces of velcro. These velcro pads are located at the top, center, left and right of the mask. While there is no velcro that attaches the filter to the mask near the bottom, this wasn't an issue as the filter was usually tucked under my chin. This kept it in place and helped to prevent me from sucking in the filter.
With that being said, the Purar Mask does sit quite close to my mouth and the filter can get in the way at times. I never had a major issue with this, but some people may find it to be annoying. Further, I can imagine this being a bigger issue when exercising.
Check out Purar Masks. You can also save 10% by purchasing a mask + filter combo.
---
Price & Lifespan
Purar masks use a replaceable filter design, meaning that the filters can be easily replaced. This also means that unless the mask shell gets damaged it will last indefinitely – only the filters within need replacing.
Initially you will need to spend $49 USD to get the Purar Mask along with 2 replaceable filters. This is a relatively high initial cost and it comes in more expensive than other masks such as Cambridge Mask and Vogmask. With that being said, neither of those masks feature replaceable filters.
Compared to other masks using replaceable filters Purar sits in the middle. It's more expensive than masks such as Styleseal, Totobobo and Mau Mask, but it's also significantly cheaper than other masks such as the Airinum Urban Air 2.0.
All of this is to say that Purar masks are priced in the mid-high range compared to other reusable cloth masks on the market. With the advantages that the mask provides, many people will be willing to pay the extra price. However, it also means that Purar Masks compete with many other cloth masks.
Personally, I find the price to be reasonable. It's among the higher quality cloth masks that I've tried. With that being said, the Airinum Urban Air Mask and AusAir Airflex 2 (two more expensive masks that are among my favourites) both offer valves and similar quality filters. Therefore, it's really up to preference and fit as to which mask is the best choice.
Filters for Purar masks can be purchased at a price of $21 USD for 3 Protect Plus Filters (higher filtration). Each filter is rated to last around 100 hours or 3 weeks, whichever comes first. The Lite Filters come in at $18 for 3 filters and they should last for the same period of time.
At a price of $7 per filter, with each filter rated to last 100 hours, you are paying approximately 7 cents per hour of wear. This is dependent upon the local air conditions, however, and lifespan can vary a bit depending on the levels of air pollution.
This pricing means that while Purar has a higher initial cost than some cloth masks with replaceable filters, the cost over time is comparable to many other options. Some masks that utilise smaller filters are cheaper in the long run (such as Styleseal and Totobobo), however, Purar masks come out cheaper when compared to other masks with full-mask filters.
Check out Purar Masks. You can also save 10% by purchasing a mask + filter combo.
---
Conclusion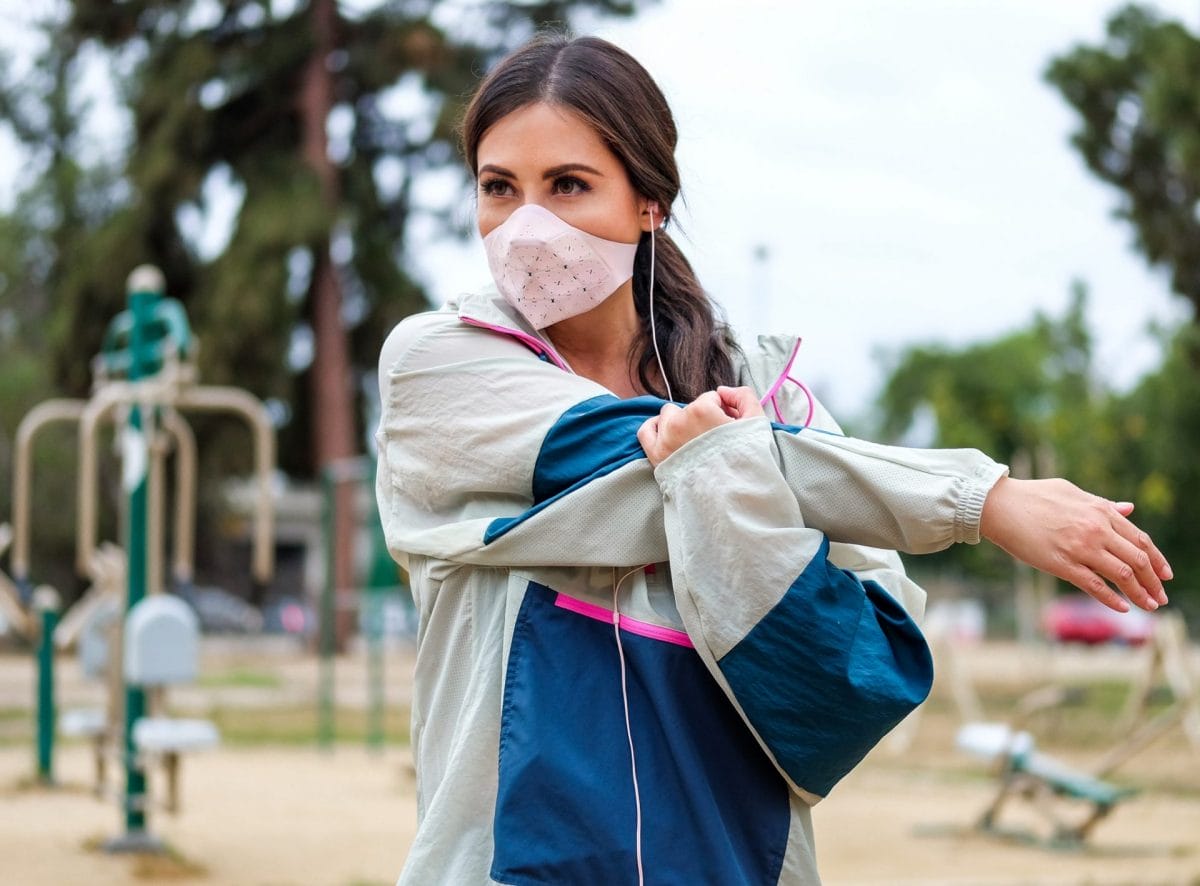 The Purar Mask is interesting for a few reasons. Some of these are instantly obvious such as the unique look and the use of a neck-band rather than a head-band or ear-loops. However, there are also a lot of other, more subtle, differences that make the mask unique.
I wore the mask for a few weeks and I did enjoy using it. The neck-band really does make a difference, and the mask was far more comfortable over longer periods of wear due to this. However, I also found that the band could be somewhat restricting when it came to head movements – turn my head to the far left of right would definitely strain the band and my neck.
In saying that, this is something that you will get used to. I still prefer this system to ear-loops as I often find such masks very uncomfortable after a few hours. Using a neck-band also means that you don't need to worry about interference with headphones or glasses.
On top of this, the mask provides solid filtration and fit. It's rated KN95, and has gone through testing with actual test subjects (rather than just on a test bench). I did find that fully removing leaks was difficult, but I was able to minimise the leaks to the point where I was confident wearing the mask. It's impossible to make a cloth mask that fits all faces and I'm still yet to find a cloth face mask that doesn't leak at all.
Overall I think that the Purar Mask is worth considering for anyone that is looking for a new reusable mask. While it's hard to outright recommend a mask (as everyone has a different facial shape and mask preferences), these masks are very comparable other popular mask brands and many people will even prefer these masks – whether because of the design, KN95 rating, neck-band, or something else altogether!
Check out Purar Masks. You can also save 10% by purchasing a mask + filter combo.
---
Purar Mask FAQ
Do Purar Masks Have an Official Rating?
Yes. Purar Masks have passed and been certified as KN95.
Have Purar Masks Been Lab Tested?
Yes. Purar Masks have had lab testing conducted by Guangzhou Customs District Technology Center.
What Is the Difference Between Purar Filters?
Purar Masks have two filters, the Protect Plus and Lite Comfort. The Protect Plus has > 95% filtration whereas the Lite Comfort has > 90%. However, the Lite Comfort also has lower breathing resistance and is therefore easier to breathe through.
How Long Do Purar Filters Last?
Each filter is rated to last around 100 hours or 3 weeks, whichever comes first.
Do Purar Masks Use Replaceable Filters?
Yes! Purar Masks use filters that can be replaced as needed.
How Do Purar Masks Compare to Other Reusable Masks?
Purar Masks provide similar filtration capabilities to many other popular reusable masks such as the Airinum Urban Air 2 and Cambridge Mask. However, the biggest difference is that Purar Masks rely on a neck-band rather than ear-loops. I've found this design to be far more comfortable over longer periods of wear.