2022 update: O2 Industries has since been acquired by Ventus Respiratory Technologies Inc. New filters and the respirator (Tactical Respirator I) can be purchased here.
Although cloth masks tend to be the most commonly seen and worn masks, there is a whole different mask market out there. This is the market of plastic and silicone masks. One of the most famous and well-liked masks in this area is O2 Canada.
This is a mask that I have wanted to try myself for months. However, stock was very limited and I only recently managed to find a seller in Korea that had some in stock. I am happy to say that I have had the mask for over a week now and have been using it every day.
Although I have referred to the Curve 1.2 as a mask, it's truly a respirator. Respirators differ in that they create a tight seal on the wearer's face – something that the Curve Respirator does well through its silicone seal.
After finally getting to experience the respirator myself. I wanted to share my thoughts. In this O2 Canada Curve Respirator review I will cover the technology behind the mask and also share my personal thoughts after using it. Near the end of the article I also want to compare it to a popular alternative, the Gill Mask.
Over time I will update this review as I experience the respirator further and as the respirator gets older. If I begin to notice obvious wear or anything else important stands out I will be sure to add it here.
Finally, before beginning please keep in mind that this mask does have exhalation valves and that these valves are NOT filtered. Therefore, this mask should not be worn in any situation that requires filtration both ways.
Purchase O2 Canada Curve Respirator | Replaceable Filters
---
This post contains affiliate links. For more information, please refer to my affiliate disclaimer. I was NOT sent a product for review, this product was purchased by myself. All opinions expressed in this post are my honest thoughts. I only recommend products that I believe in.
Information on this blog is for informational purposes only. Readers are encouraged to confirm the information herein with other sources. Furthermore, this information is not intended to replace medical advice from professionals. This website assumes no responsibility for the accuracy of information and information is subject to change without notice. Devices mentioned on this website are not medical devices and do not guarantee protection.
---
Filtration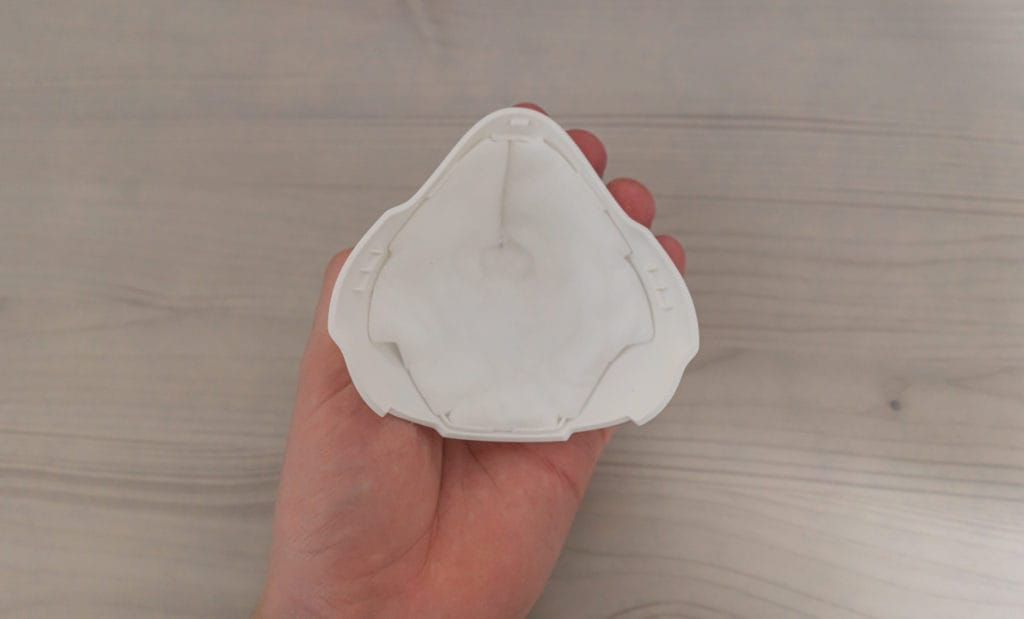 Before we begin discussing filtration it is important to note a few things. Firstly, filtration results are only applicable if the filter is fitted correctly with no gaps. To ensure that the filter is fitted correctly in the respirator, make sure to follow the instruction manual.
Secondly, respirators are only effective if fitted correctly. No respirator or mask guarantees 100% protection and if the respirator isn't fitted correctly and seal-checked the effectiveness of the respirator will drop.
Finally, I want to note that the O2 Curve 1.2 does NOT hold an official NIOSH (N95/N99/N100) rating. Very few reusable respirators hold official NIOSH ratings as there is a large cost associated with such testing. Further, these ratings are usually intended for professional medical use and industrial use whereas O2 Canada makes masks aimed at general consumer air pollution protection.
However, despite not holding an NIOSH rating the Curve 1.2 has been filtration testing by Nelson Labs. Testing has also been carried out by the University of Waterloo and LMS Technologies. The complete test results are available publicly on the O2 Canada website.
Filtration testing is generally carried out with three different particle types – bacterial (BFE), viral (VFE) and particle (PFE, often tested using latex or NaCl). On top of this, some masks and respirators have further testing for fit factor, breathing resistance, and inward leakage.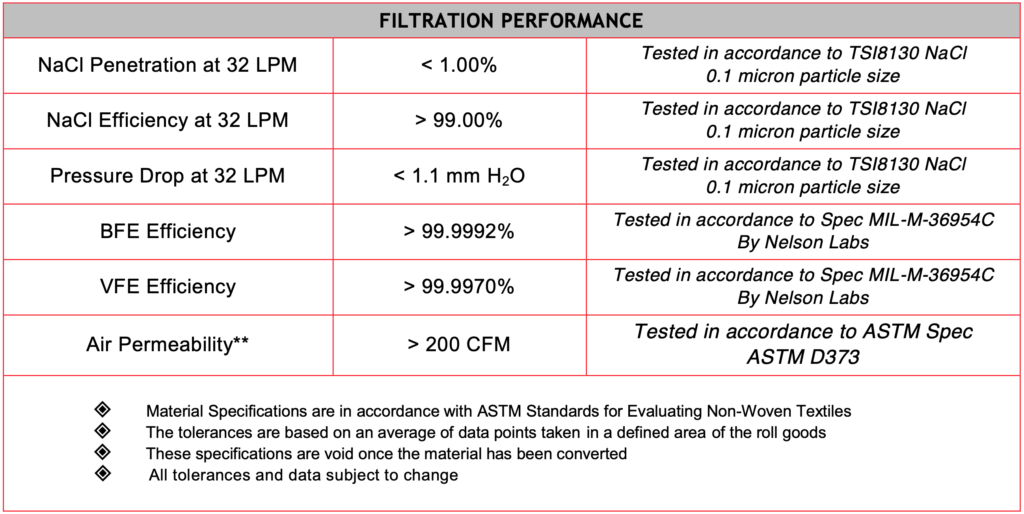 Image from O2 Industries studies and tests page. Source.
The O2 Curve 1.2 is one of the more thoroughly tested masks that I have found, and they provide test results for all of the aforementioned categories. If you are interested in seeing the full results, you can find the certificates on the O2 Canada. However, I will summarise them here and explain their implications.
The Curve Respirator features ≥ 99.9977% viral filtration (VFE, 2.7μm), ≥ 99.99983% bacterial filtration (BFE, 3.2μm), and ≥ 87.8% particle filtration (PFE, 0.26μm mass median diameter). These BFE and VFE results are very good and are easily some of the best-in-class for consumer respirators. The PFE results are significantly lower than the other particle types.
| | | | |
| --- | --- | --- | --- |
| Particle Type | VFE | BFE | PFE |
| Filtration Rate | ≥ 99.99% | ≥ 99.99% | ≥ 87.8%* |
*Nelson Lab results showed a minimum filtration of 87.8% under standard respirator testing conditions. LMS Technologies noted a minimum filtration rate of 99.97%.
All of these tests were carried out following the typical testing procedures based on NIOSH requirements. This means that the testing was carried out at a flow rate of 85LPM (litres per minute). However, under low flow rate testing (32 LPM) the respirator achieved > 99% filtration of 0.1μm particles.
When I saw this result I contacted O2 Canada to see why the Nelson Lab result of 87.8% filtration differed so much to the > 95% filtration they advertise. The Chief Medical Officer gave me an in-depth reply and stated that due to the nature of the testing procedure (which is designed for disposable respirators) there were believed to be leaks in the lab tests.
Further testing with a redesigned process to minimise leaks has been carried out and shows a constant filtration rate (PFE) of > 95%. This testing is carried out with the filter inside the mask and also provides a more realistic filtration rate as the filter is never used alone – it is always inside the mask.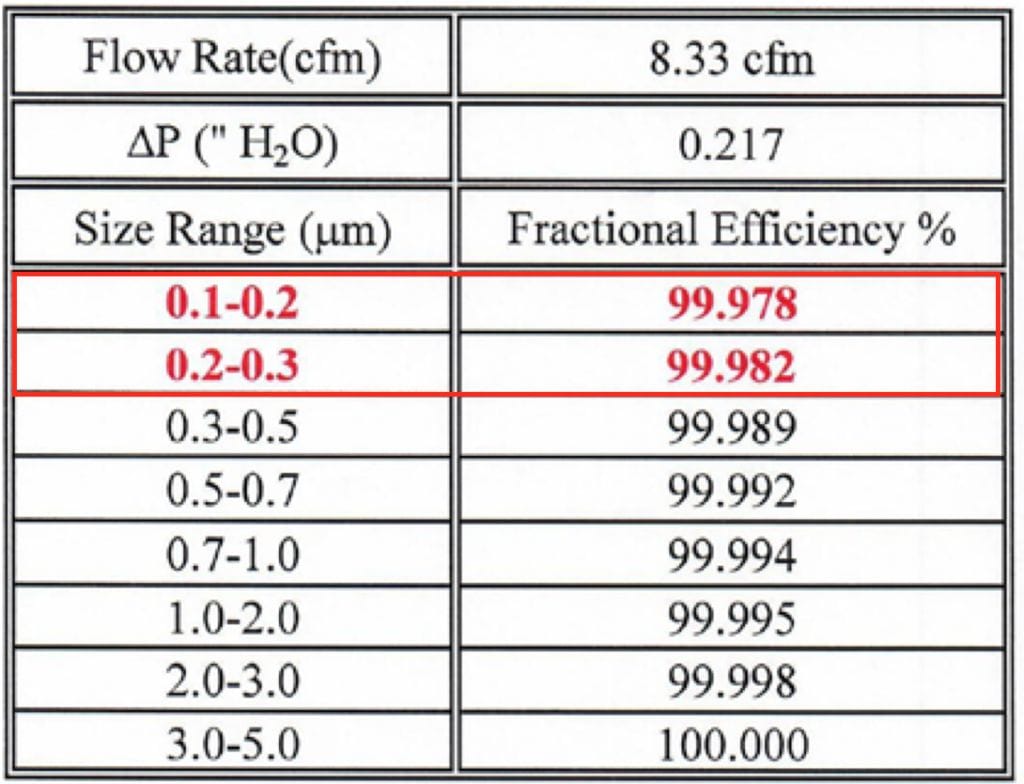 From O2 Canada. Red shows the most penetrating particle size (MPPS).
The filter media used in the Curve Respirator (in a larger size) has also been tested by LMS Technologies, and the filter showed a > 99.9% filtration rate for all particle sizes from 0.1-5.0μm at 235.9LPM. The larger surface skews these results, but it shows that the filter media in the respirator is very capable.
The Chief Medical Officer also mentioned that the company is currently doing some filter and shell redesigns which are being tested under the NIOSH test standards. New test results should be released in the near future, however, they believe in being transparent and want to provide all test results as they come.
The Curve 1.2 has also been tested for inward leakage, and the respirator passed with three tested samples. The exhalation valve leakage was 0.467, 28.16 and 1.550 mL/minute on the samples tested. This falls within the NIOSH requirement of less than 30 mL/minute of leakage.
Curve filters do not feature a carbon layer. In most cases (and especially for fine dust protection), this is not an essential. However, many masks and respirators do feature carbon filters and some people may miss having such a filter.
The Curve Respirator does use a dual-valve design. These valves are not obvious at first glance as they are hidden under the outer cover. However, the mask does indeed use valves. For this reason, the mask shouldn't be used when filtration is required for airflows both ways.
Overall, the Curve 1.2 filter provides strong filtration results and is one of the best filters I have come across. This is especially true when it comes to bacterial and viral filtration which are the highest of any mask reviewed on this site.
Purchase O2 Canada Curve Respirator | Replaceable Filters
---
Fit & Seal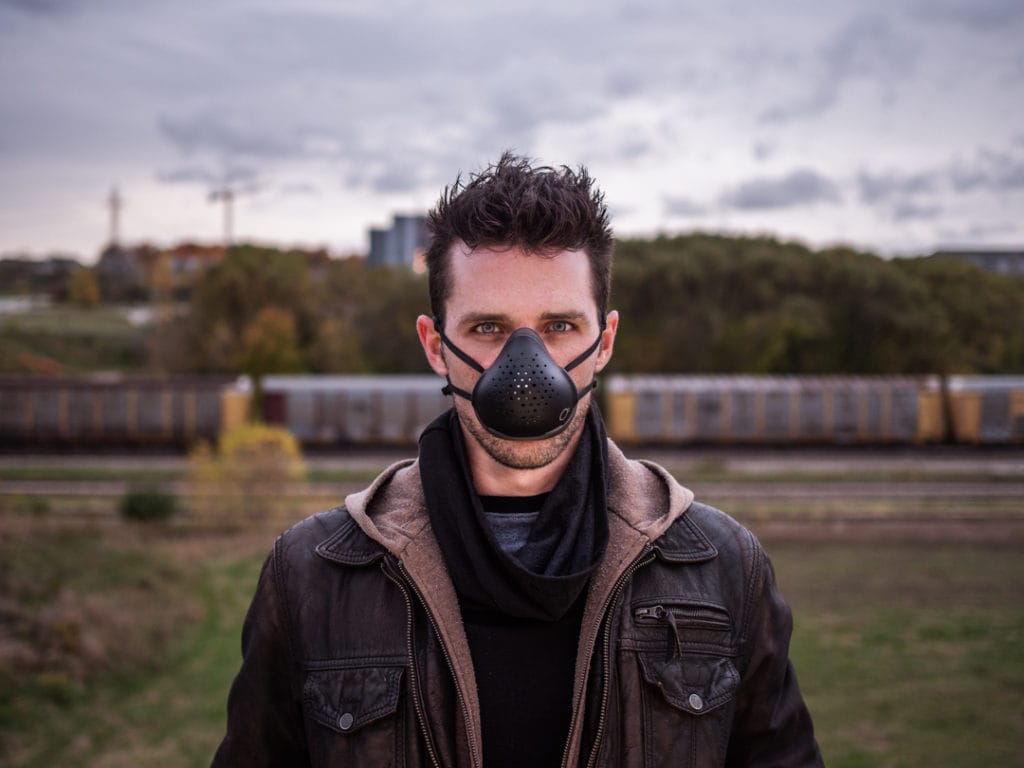 One area in which plastic and silicone respirators are often far superior to cloth masks is with the fit and the seal. When I first experienced a silicone respirator I found it very similar to a diving mask. Initially, it is a lot less comfortable than a cloth mask.
Over time though, you can get used to these respirators and I quickly became used to wearing them. On top of this, they provide far superior fits (provided they are the right size and fit-tested) and, in many cases, allow the user to seal-check the mask themselves.
However, it is worth mentioning that many people find respirators like this very claustrophobic and difficult to breathe through. These masks provide a very different feeling to cloth masks. However, they are often much more effective.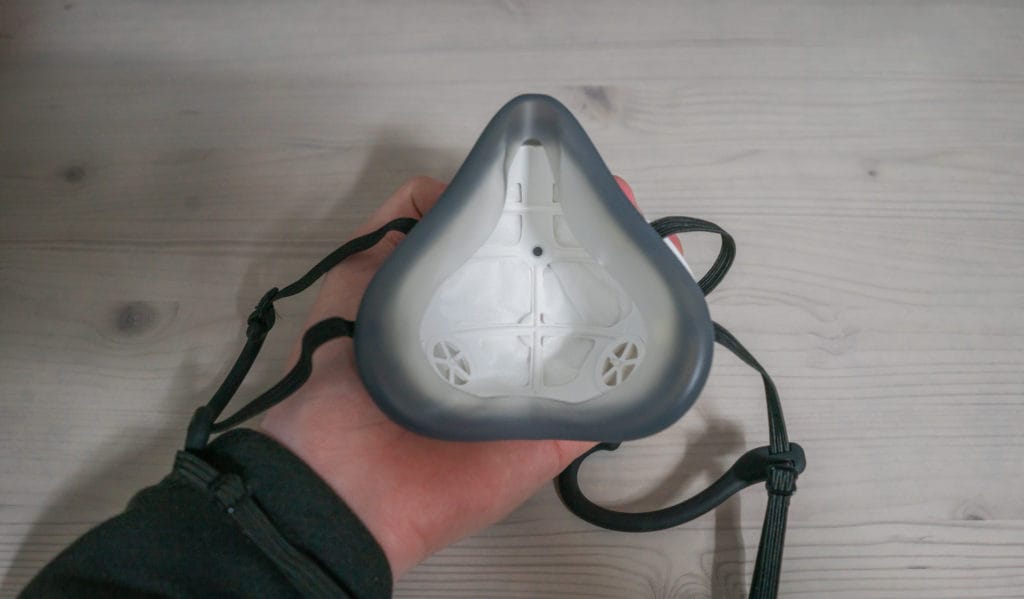 The Curve Respirator is the smallest silicone mask that I have experienced. It is significantly smaller than other masks such as the Gill Mask and the fan-powered Koolmask. This meant that I found the mask more comfortable too.
This smaller size means that the respirator sits on the wearer's chin, rather than sitting below it. This made the mask significantly more comfortable for me (compared to other silicone masks) as it allowed fresh air to reach more of my face while still providing a good level of protection.
Perhaps the most important aspect when it comes to fit on the Curve is the unique ear-hoop and headband design. I have seen this design on some other masks, and I am not totally sure where the idea originates. However, it's a much better fitting system than a traditional ear-band design.
The mask uses two straps on each side, which connect to an ear-loop. These ear loops loop around the wearer's ears and prevent the mask from moving during wear. The bottom of the ear-loops then connect to a further strap which goes around the wearer's neck.
I have always been against the traditional mask ear-band design (think of a typical cloth mask) as this not only provides a sub-par fit, but it's also very painful on the ears over longer periods of wear. Headband designs are always far superior in my opinion. Not only is the fit more secured, but they alleviate the pain on the wearer's ears.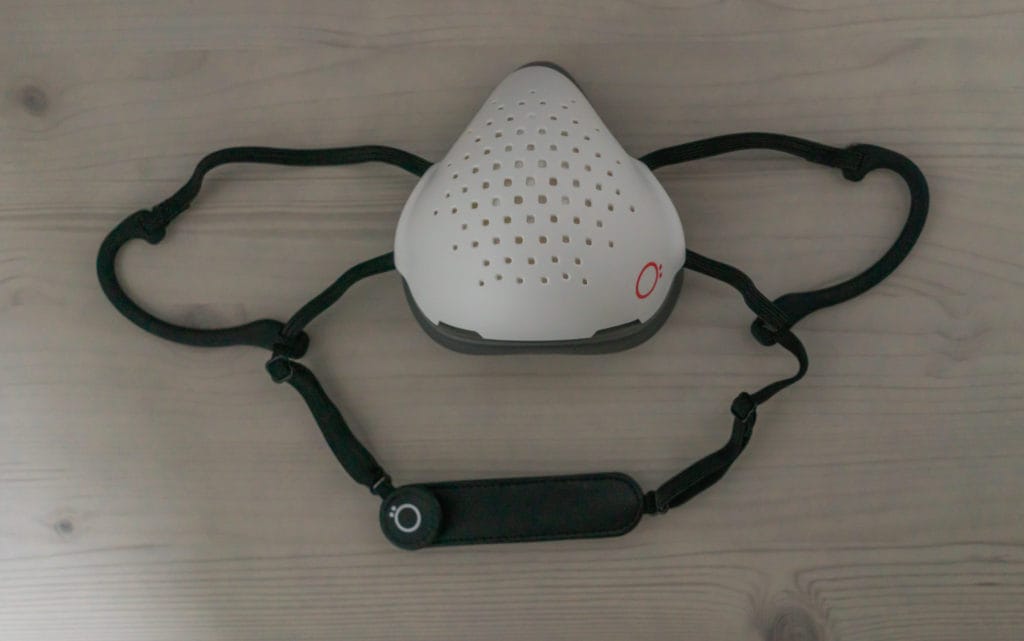 The O2 Canada model that I got uses this strap. However, there is also a sports-strap available (which uses two headbands). I think that the ear-loop design is a good choice though, as the ear loops prevent the strap from falling (which I found often happens on dual headband respirators).
The design isn't perfect though. It did still place a lot of pressure on my ears and I found that my ears became very sore after a few hours of wear. The neckband does remove some pressure from the ears, but you will definitely still notice the pull on your ears.
Overall, I found that once I adjusted the ear-loops and neck-band I was able to get a very good fit using the O2 Curve 1.2. Usually I encounter some leaks when I first don a mask and it takes me some time to adjust them properly. However, I had no such issues with the Curve. After adjusting the straps it fit me well straight away. Further, I have very rarely had to readjust it while wearing it.
My face is quite small and experiences may differ. However, this is the best fitting respirator that I have tried. I am confident wearing it and I know that it won't move unless I make very strong movements. I have, however, read reviews from people with larger faces saying that the mask did not fit well at all. This is something to keep in mind if you are considering purchasing it.
I have noticed two potential issues for some wearers. Firstly, this mask is very hard to talk with. Since it sits so high on the wearer's chin, talking can easily break the seal. I found that I had to try to restrict my mouth movement when talking in order to not dislodge the mask.
Secondly, the neck-strap is too long. I do have a small head, but even when adjusted to its tightest, the neck-strap is too long for me. This complaint isn't unique to me as I saw similar complaints on some Amazon reviews. If your head is on the smaller size, this is something to keep in mind.
Purchase O2 Canada Curve Respirator | Replaceable Filters
---
Design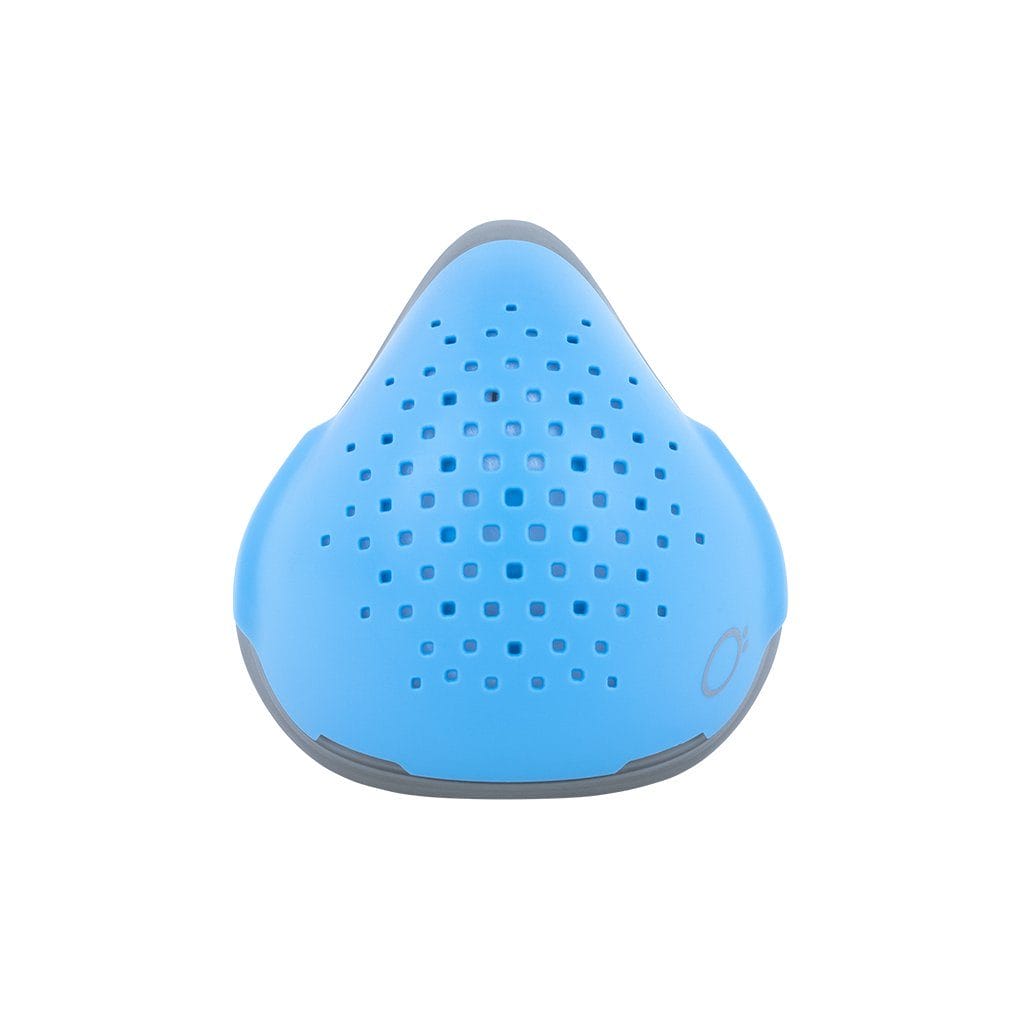 The O2 Respirator is a respirator that instantly stands out. Expect to get some looks if you wear this mask in public. However, compared to other silicone-based respirators such as the Gill Mask and Envo Mask, the Curve is relatively compact.
The O2 Curve Respirator uses a modular design and this is one of its greatest strengths. Three main parts, the outer shell, the inner shell (frame) and the headband. The outer shell and headband can be replaced easily with purchasable parts on their store.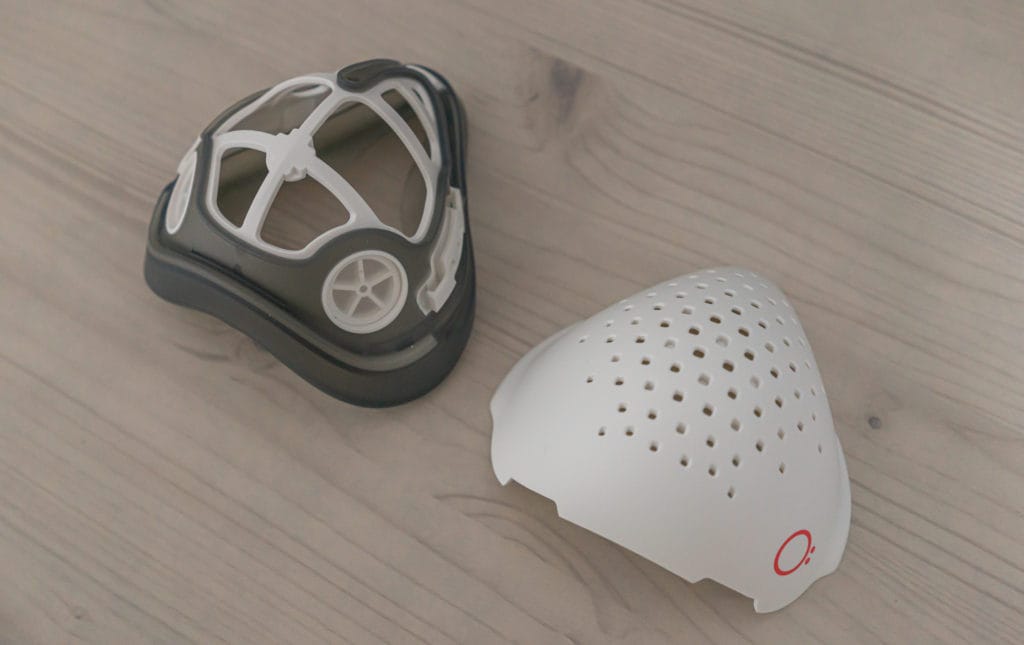 The respirator can easily be taken apart and this makes it very easy to change the filter. However, the filter can be finicky and I did have trouble replacing it while ensuring there were no gaps. The butterfly-like filter design is actually one of the mask's biggest flaws in my opinion.
I found it impossible to ensure that there was no gap at the top of the filter. While there is a plastic beam that covers this area on the frame of the mask, I still worry about a potential leak in the filter gap. I hope that this filter design can be changed in the future and can be changed into one single piece of filter media without folds required.
The Curve is well-built. It is the most premium feeling silicone/plastic mask that I have used and while small, it feels solid. The overall build quality is very good.
Purchase O2 Canada Curve Respirator | Replaceable Filters
---
Cost & Lifespan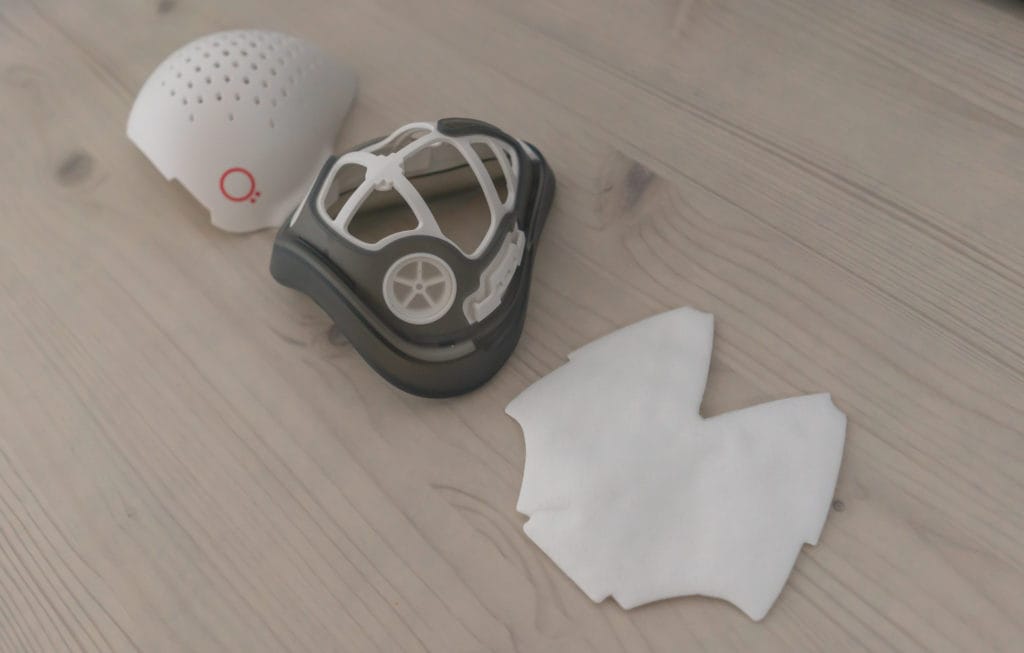 The Curve 1.2 Respirator costs around 50 USD varying a bit depending on local vendors. This is quite a high upfront cost for many people, and can create a feeling of hesitation for anyone considering the mask. However, compared to the current costs of some reusable cloth masks it is cheaper.
Some popular masks, such as Airinum and the R-Pur Nanolight go for much more. However, at the same time there are most definitely cheaper masks. Particularly important to consider is that O2 Canada's biggest competition is probably the Gill Mask, a mask that goes for $20 USD. I will compare these masks a bit further into the review.
The Curve Respirator itself has an indefinite lifespan. Provided that the mask is cared for and doesn't have any excessive force placed upon it (such as accidentally being dropped) I can't see the mask ever breaking. The one exception is the headband, which I can see being worn over time.
O2 Canada uses a modular design, meaning that every part of the mask (with the exception of the inner shell) can be individually replaced. Therefore, the mask itself should last forever, although the strap may need to be replaced from time to time.
The filters should be replaced every 1-2 weeks depending on local air conditions. If being used for typical air pollution protection (such as urban fine dust in Seoul), the filter should last closer to two weeks. However, if used in dustier environments or in areas with a very high AQI (150+) the filter may need to be replaced more regularly.
O2 Curve Filters cost $13 (Canadian) for 5. This is a very affordable price and is one of the more reasonable prices I have seen among reusable masks and respirators. Assuming normal usage in a medium AQI environment, you are looking at $13 every two months to two and a half months.
There is also a second kind of filter that has recently been added – the O2 Max Air Filter. These filters are designed to be more breathable by providing less breathing resistance. O2 Canada recommends replacing these filters every day, and they also cost $13 for 5.
Purchase O2 Canada Curve Respirator | Replaceable Filters
---
O2 Canada Curve vs Gill Mask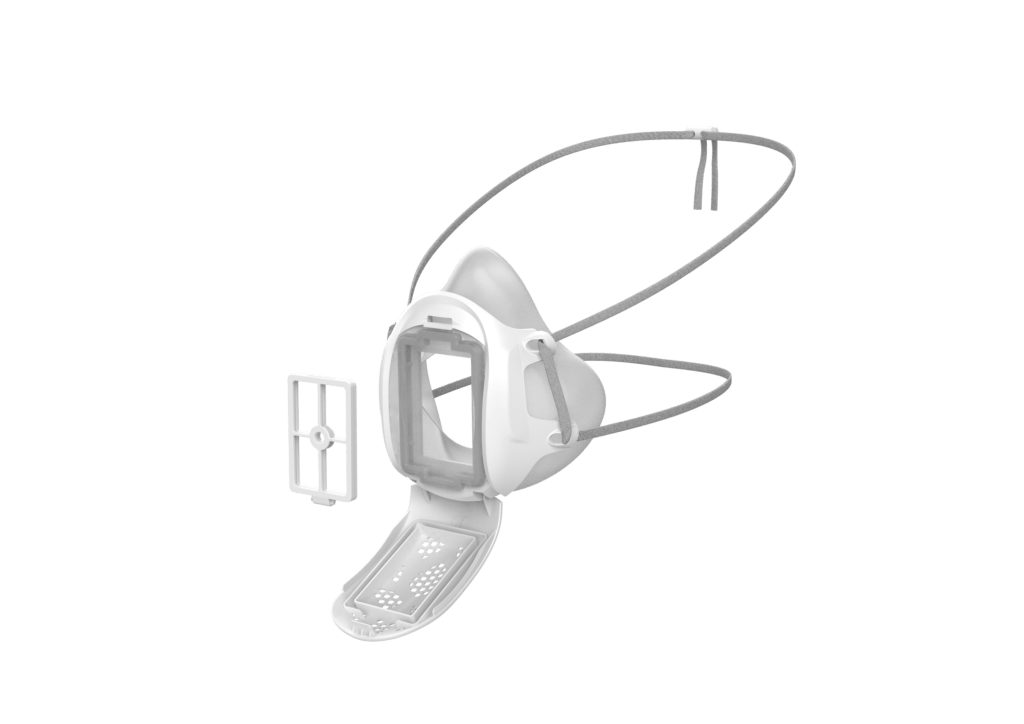 The Gill Mask. I covered this mask in another review.
I have been asked many times already how the Curve compares to the Gill Mask, and it seems like many people are deciding between the two. For that reason, I wanted to include this short section here. If you want to learn more about the Gill Mask, please refer to my full Gill Mask review.
The Gill Mask has a few obvious differences. Although both of these masks are made from plastic and silicone, the Gill Mask is significantly bigger, can make use of any filter, and uses a dual head-band design instead (this is available for the Curve Respirator, but it must be purchased separately).
Both masks are good, but they have different uses. Firstly, I found the Gill Mask to be quite large (even the regular size) compared to the Curve. If you have a larger face, the Gill Mask might be the obvious choice since the Curve only has one size. For people with smaller faces, the Curve seems to be a better choice. I have had some leaking issues with the Gill Mask, but not with the Curve.
Secondly, the Gill Mask is significantly more flexible and cheaper. The Gill Mask has many filters available officially, from bacterial filters to pollution filters. The FP95 filter ( < 98% filtration) can be purchased at a price of 30 filters for $12. While these filters have a shorter lifespan due to lower surface area, they are much cheaper than $10 (approx. USD) for 5 filters.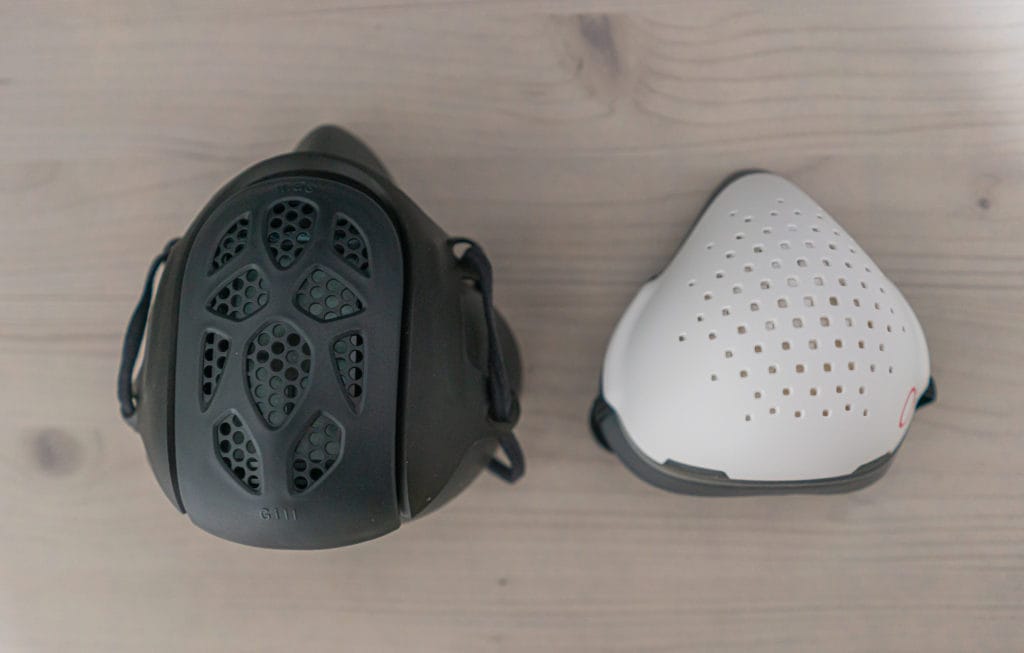 Further, the Gill Mask can use any filter media. If you only need protection equivalent to a surgical mask, you can purchase surgical masks and cut them into 6 or more individual filters for the Gill Mask. This lets the user decide what filter they need and allows for much more flexibility.
On the flip side, the Gill Mask also feels much harder to breathe through. Since the filter surface area is much smaller on the Gill Mask, it is harder to pull air through and to exhale it. While both of these masks are difficult to breathe through compared to cloth masks, the gill mask is definitely harder to breathe through when a high-filtration filter is being used. The Curve has much less breathing resistance and is, therefore, more comfortable in this way.
The Gill Mask head-band design was more comfortable for me. I always prefer head-bands as they alleviate pain from the wearers ears. While a head-band is available for the Curve Respirator, it's another cost that must be added to the mask.
Finally, the Curve Respirator feels more premium. Although I like the design of the Gill Mask there is no denying that the Curve feels more solid and higher quality.
It's a difficult decision to choose between these two masks however I hope this short comparison has made the choice a bit more clear. In the end, it mainly comes down to size, flexibility, comfort, breathability and look. If you are considering between the two, choose which of these factors is most important.
Purchase O2 Canada Curve Respirator | Replaceable Filters
---
Conclusion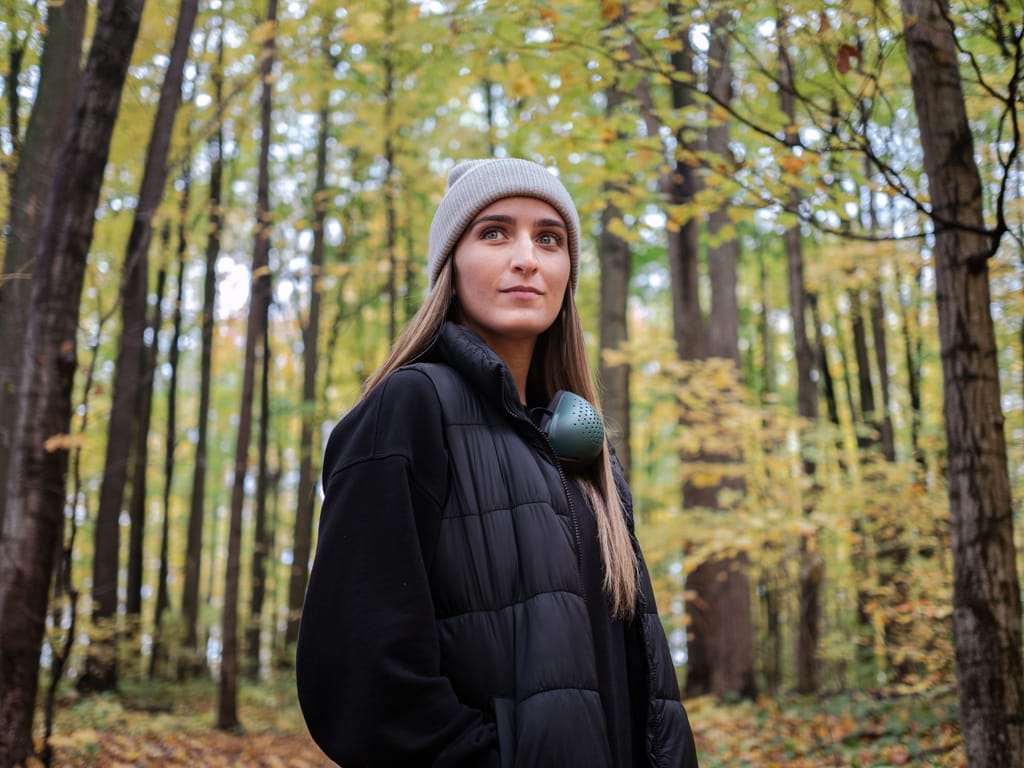 Overall I found that this mask is the best out of the silicone respirators that I have tried. It provides competitive particle filtration and has great viral and bacterial filtering. It provided a fantastic fit and a strong seal. Although I have to be careful when talking otherwise the mask will move.
I found the Curve Respirator to be easier to breathe through and less claustrophobic than the Gill Mask due to the larger filter size and valves. Although the valves mean the mask should not be used for situations in which two-way filtration is needed, it makes general wear much more comfortable.
The mask isn't perfect, however. The ear-straps are uncomfortable over long periods and I wish the mask used a dual headband design like the R-Pur Nano Light instead. The neck-band is also too large for some users and I wish it could be made few centimeters shorter.
As someone with a small face, I found the O2 Canada Curve to be the best fitting silicone respirator that I have ever used. However, I have heard that people with larger faces have had some issues with fitting the mask. Keep this in mind if you are considering purchasing the mask.
Purchase O2 Canada Curve Respirator | Replaceable Filters
---
O2 Curve Respirator FAQ
What Are Some Alternatives to O2 Curve Respirator?
Since the Curve Respirator is a silicone mask most of the popular alternatives are also. Some such popular alternatives are the Gill Mask and Envo Mask.
Is the O2 Curve Respirator N95?
No, the O2 Curve Respirator is not N95. It holds no NIOSH rating.
Does the Curve Respirator Have Third Party Testing?
Yes. The Curve Respirator has been tested by Nelson Labs, LMS Technologies and the University of Waterloo.
Where Can I Buy the Curve Respirator?
You can purchase the Curve Respirator on the O2 Industries website. It is also available on many other platforms such as Amazon and Lazada.
Does the Curve Have a Valve?
Yes. The Curve features two valves which are designed to make exhaling easier. This means that the Curve will only filter inhaled air, not exhaled air.
Is the Curve Respirator Comfortable?
The Curve is, in my experience, significantly less comfortable than most cloth masks. However, it also provides much more protection than most cloth masks and has a higher fit factor.
What Does the Curve Respirator Filter?
The Curve Respirator can filter over 99.99% of viral and bacterial particles. It also features high particle filtration for particles down to 0.1μm. However, it is uses a particle filter and should not be used for gases or aerosols.