Honeywell is one of the most well-known names when it comes to medical and industrial respirators. Therefore, when they recently launched a consumer-focused mask aptly named the Honeywell Dual-Layer Face Cover, many people were interested.
I was among these people. A company with as much experience in respiratory protection and other PPE products must be able to translate their learnings and findings into a mask that performs well in day to day scenarios. After spending almost a month with the Dual-Layer Face Cover I want to assess if this is true or not.
I also noticed that in the past few months Honeywell isn't the only medical respirator company to start producing masks designed for daily wear. The biggest mask manufacturer in the world, 3M has also created a similar mask albeit a disposable one.
If you, like me, are wondering how Honeywell's mask compares to other reusable cloth face masks you have come to the right place. In this article, I want to share the capabilities of the mask in regards to filtration and fit, the cost and lifespan and also how the mask compares to other similarly priced face masks.
Before jumping into this review there are a few points that I want to clarify and that are essential to know before reading further:
Honeywell has made it abundantly clear that this mask is NOT intended for medical use and that it has not been tested against viruses.
All experiences shared are my own. While the mask may or may not fit me, I can't state whether or not you will have similar experiences. Everyone has a different face, and there's no way to tell if a mask will fit you without personally trying it. I can, however, make observations regarding the fit and how these might impact you.
Filtration results apply only to the filter media. The Honeywell Dual-Layer Face Cover uses replaceable filters that slot inside the mask. These filters have filtration qualities rather than the mask itself. As such, these results are theoretical and only apply if the filter is fitted correctly with no leaks as well as the mask itself.
---
This post contains affiliate links. For more information, please refer to my affiliate disclaimer. I was NOT sent a product for review, this product was purchased by myself. All opinions expressed in this post are my honest thoughts. I only recommend products that I believe in.
Information on this blog is for informational purposes only. Readers are encouraged to confirm the information herein with other sources. Furthermore, this information is not intended to replace medical advice from professionals. This website assumes no responsibility for the accuracy of information and information is subject to change without notice. Devices mentioned on this website are not medical devices and do not guarantee protection.
---
Purchase Dual-Layer Face Mask from Honeywell.
---
Price & Competition
Usually, this is one of the last points that I discuss. However, since a lot of people reading this article are likely to not be familiar with other reusable mask options I wanted to provide a background explanation as to the masks that the Dual-Layer Face Cover is competing against.
The price of the Honeywell Dual-Layer Face Cover is $19.99 USD. Although this is the price listed on Honeywell's official website, I noticed that many sites charge significantly more. For example, in Korea, I paid over $50 to get the mask in order to review it. That price does not include shipping.
However, since the base price of the mask is $19.99 I will be mostly comparing the mask to other similarly priced masks in this article. This price actually puts the Dual-Layer Face Cover among the cheapest reusable masks. Many masks priced in the same range are reusable but do not feature replaceable filters.
* do not feature replaceable filters.
As you can see, most of the alternative options are reusable but use built-in filters giving them a finite lifespan. Honeywell's mask, on the other hand, is usable until the user feels the need to replace it. This may occur if the mask gets damaged or simply if it gets too old and dirty. Either way, the lifespan of the mask is significantly higher.
I wanted to mention the price of the mask upfront as I will be drawing some comparisons to these other masks that target the same segment of the market.
Purchase Dual-Layer Face Mask from Honeywell.
---
Filtration
The filter fits well within the mask but does leave a gap at the bottom of the mask.
If you've followed the blog for any length of time you will know that the filtration section is often the longest and most technical section of each mask review. In the case of the Honeywell Dual-Layer Face Mask, it may well be the shortest. This is due to the fact that Honeywell provides very little detail regarding any of its claims.
I reached out to the company to try to get further information regarding the exact testing conditions. However, I was told that Honeywell does not provide additional testing information for these claims (the filtration claims made on their website and on the mask packaging). Therefore, it's hard to pinpoint the exact capabilities of the filter media used in this mask.
So, what are these claims? Well, as per the product description the filter insert has been shown by a third-party laboratory 'to block up to 97% of 3-micron-sized non-viable particles and 0.1-micron-sized aerosolized particles' (source).
These results put the filtration efficacy of the filter insert used in the mask on a similar level to many other reusable masks. While I want to elaborate further and dig deeper into the results, there really isn't much information to work with.
Due to the company recommending that you replace the filters daily (I also reached out to them regarding the length of use and was told that they have no usage recommendations beyond replacing the filters every day) I believe that they rely heavily on electrostatic filtration.
Electrostatic filtration is a common filtration mechanism used in respirators with melt-blown filters. However, it's also a mechanism that loses efficacy relatively quickly, hence the recommendation to replace filters very often.
Since the Dual-Layer Face Cover relies on a filter insert for filtration, it's important to also assess how well the insert fits in the mask. I found that it generally fit well and covered the majority of the mask. While there was a gap on the bottom of the mask, this was largely irrelevant as the seal was formed a few centimetres above this point. The top and sides of the filter align with the mask well and leave only a centimetre or less unfiltered fabric.
Purchase Dual-Layer Face Mask from Honeywell.
Fit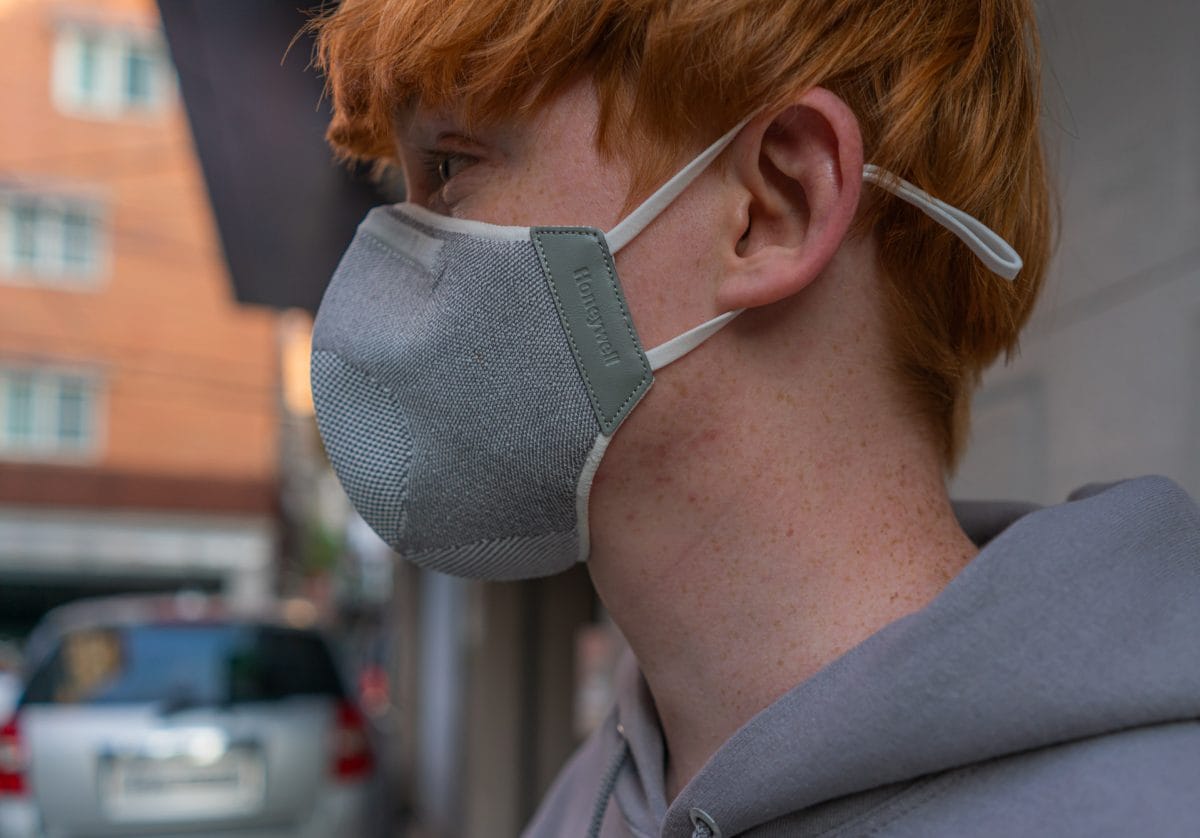 While putting together this review I read through a lot of customer reviews on other platforms such as Amazon and Honeywell's own website. The general reviews of the mask are very good with many customers mentioning that the mask both fits and seals much better than alternatives.
If you are considering purchasing this mask I recommend reading some of these reviews also. I can only provide one point of view on the matter and the fit is something that varies greatly from person to person. When it comes to investigating the fit of a mask, it's best to listen to many opinions!
With that being said, I have a small face for an adult male and I purchased the larger mask (more on this in a bit). My first impression after opening the mask was that it would be far too big – it's a lot taller than most reusable masks that I have donned.
After fitting the mask I found that it fit surprisingly well. Although the mask does overhang my chin significantly, I haven't found that to hinder the fit or to prevent a seal from being formed. As you can see in the image above, the mask actually almost touches my neck.
Honeywell's Dual-Layer Face Cover uses a very traditional mask formula that utilises a mask shell into which the filters are inserted. For the fitting, the mask relies on a sturdy wire nosepiece that protrudes 4-5cm on either side of the nose bridge. Adjustable earloops that are made from flat elastic are used to keep the mask in place.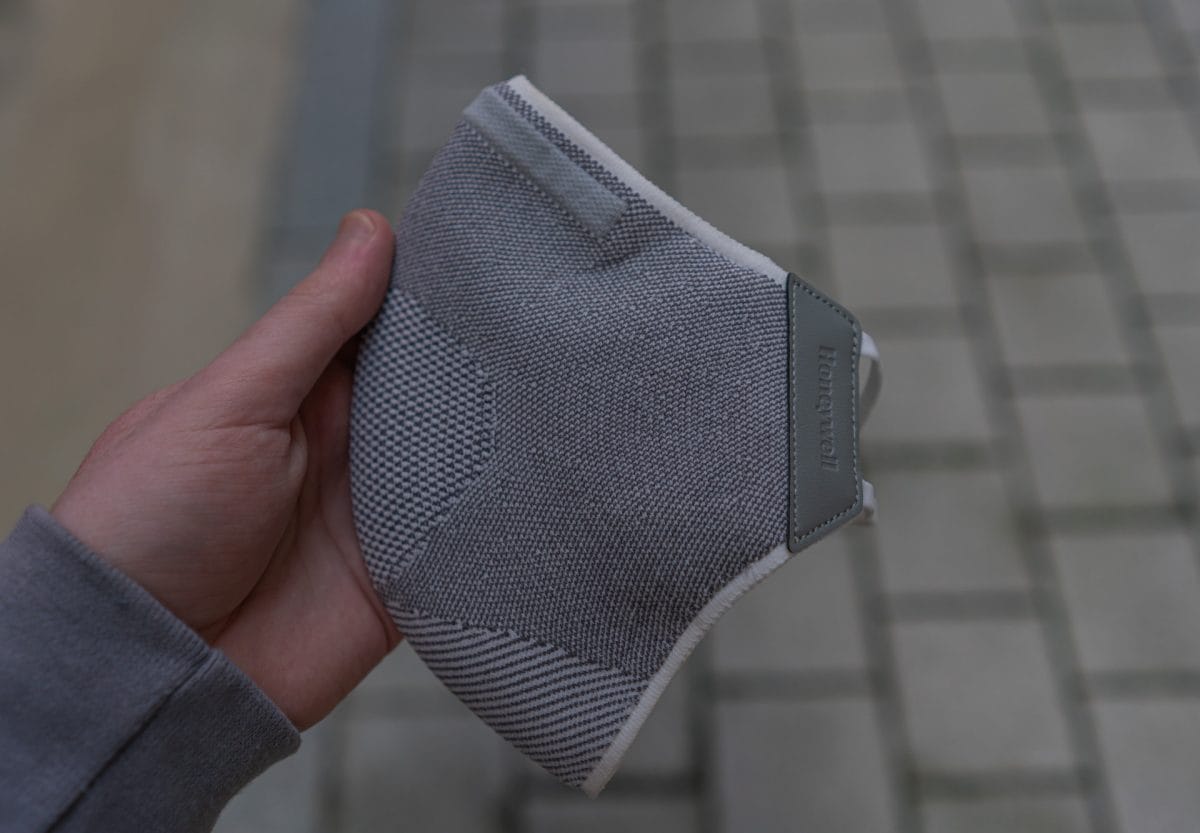 When it comes to sizing, there are two sizes. These are, rather confusingly, listed as youth/adult (S/M) and adult (one-size). Why couldn't they just be listed as S/M/L? The sizing system is confusing, and this is from Honeywell's own website. Is youth/adult small or medium? It shouldn't be both. Further, why is the adult mask listed as 'one size' when there is also a youth/adult mask?
What makes this so difficult to understand is that according to ppe.honewell and Amazon, both of these mask sizes have the exact same dimensions! I had to visit the Honeywellstore website and only there did the dimension images show different sizes between the two masks.
It might seem like I'm being pedantic here, but I am unable to confirm exactly what mask I purchased as there is no size mentioned on the packaging or mask itself and the seller I bought from said that the mask was only available in one size. I'm sure I won't be the only confused buyer and masks aren't like clothes – size (which is directly related to fit) is of utmost importance and the nature of their usage means that they can't be returned.
Images from Honeywellstore. To my knowledge, the dimensions (9.1 x 6.25 inches) are the larger mask (adult, one-size) whereas 5.66 x 5.43 apply to the smaller mask (youth/adult).
I would appreciate clear sizes – small, medium and large or something along those lines. I believe that Honeywell should also clarify each size. This would go a long way towards clarifying the sizing and make it much easier for users to pick the correct mask. It appears that the largest complaint on both Amazon and Honeywell is regarding the mask size being far too big.
I wanted to mention this fact because the mask that I purchased is too large for me and it will be too large for many people. I believe that I got the larger (adult) size as this mask would be far too large for youths.
From my experience wearing the Dual-Layer Face Cover, I found the mask to provide a decent but not perfect seal. I would find that at times I was able to remove all leaks, but there would be other times that I would don the mask and not fully be able to remove leaks around the bridge of my nose.
The wire nosepiece is very sturdy and holds its shape well, even after hours of wear. This stronger nosepiece could also lead to fitting issues for people with sharper noses. I found the best fit when placing the top of the mask on level with the bottom of my eyes.
Along with the nose bridge, the bottom of masks are often prone to leaking as well. Even with a large overhang on my mask (due to buying the 'adult' size which is far too large), I found the bottom of the mask to seal well and I didn't have leakage issues in that location.
Purchase Dual-Layer Face Mask from Honeywell.
---
Comfort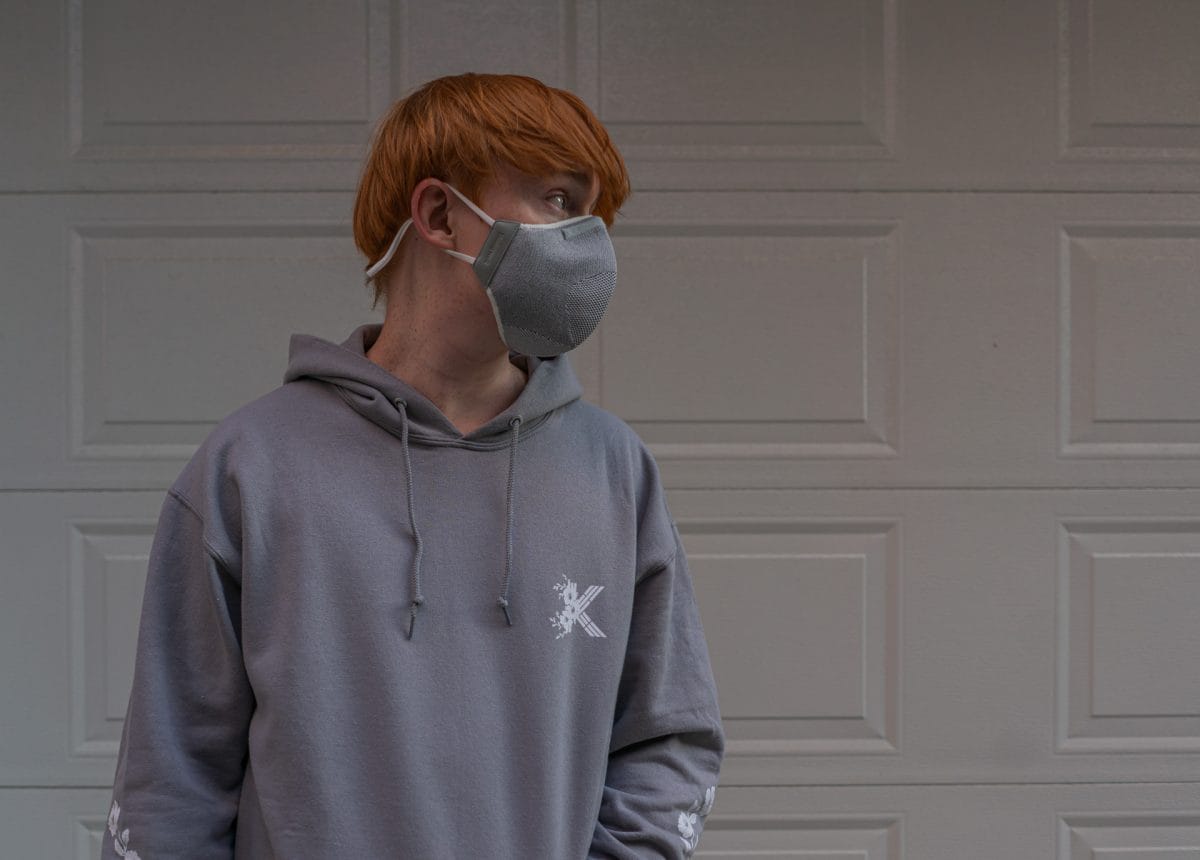 Honeywell has found a good balance between comfort and protection (filtration + fit). While these two factors don't need to be mutually exclusive, it's often the case in reusable masks where a more protective mask is often less comfortable and vice versa.
Breathability
I first want to address the breathability of the mask as this is the factor that is most noticeable when it comes to donning the Dual-Layer Face Cover. To put it simply, the mask is breathable but it's not as good as some other reusable cloth masks.
This mask uses melt-blown insertable filters. Melt-blown filters are the industry standard and what you will find in the vast majority of masks. However, more recently there's been a lot of innovation in the nanofibre field and more and more masks are moving to such filters.
In comparison to a standard N95 respirator, the Dual-Layer Face Cover offers lower breathing resistance and therefore is more comfortable in this regard. However, compared to masks that utilise nano-fibre filters (such as Happy Masks, Bloo Masks, and Craft Cadence Nanofibre Mask) the breathability of the Honeywell mask is less.
As someone who has worn masks every day for almost 18 months at this point, I found the breathability of the Honeywell Dual-Layer Face Cover to be comfortable to breathe through. Breathability is comparable to a KF94 or KN95 respirator.
Filter Collapse
The second factor that I like to consider when it comes to comfort is filter collapse. This refers to when you're breathing and the filter gets 'sucked in' to your mouth. This should occur on all properly sealed masks to some degree, however, on some masks it is significantly more severe than on others.
In the Dual-Layer Face Mask the filter slots into the mask with two straps on either side of the mask. While this design means that the filter is very simple to replace, it also means that there is no central mounting point between the mask and filter.
The filter insert is held in place by two straps on the left and right of the mask.
This leads to filter collapse when the mask is fitted without leaks. I noticed when breathing that the sides of the filter were pulled towards my mouth and would often touch my lips. Luckily, the filter itself is quite sturdy and I never had the filter pull into my mouth.
Filter collapse on the Honeywell Dual-Layer Face Cover was not a reason to use a different mask. I have made this mask my daily mask for the past month despite this inconvenience as I have found it to be only that, an inconvenience.
With that being said, this issue becomes more prevalent and frustrating when breathing heavily. For this reason, I would not recommend this mask for anyone who will be exercising or otherwise exerting themselves while wearing it.
Earloops
The third factor to consider is the mounting mechanism. In this case, that is the two ear loops used on the mask. Typically there are two different designs used on masks – headbands (more common in respirators and heavier masks) and ear loops.
Headbands tend to provide a more secure fit and therefore seal. However, they are also inconvenient (especially for masks that need to be worn daily). Masks with headbands are both more difficult and take more time to don and doff. This is where earloop masks have an advantage as they are more convenient albeit at the cost of being more prone shifting.
Most importantly, earloop masks also tend to cause pain behind the ears. If you are wearing a surgical mask, you may not notice this as these masks are intended to be worn loosely (compared to a respirator). On a respirator or heavier mask, though, pressure behind the ears becomes a much bigger issue. This is where headbands provide a big advantage as the weight is more evenly distributed and therefore usually more comfortable.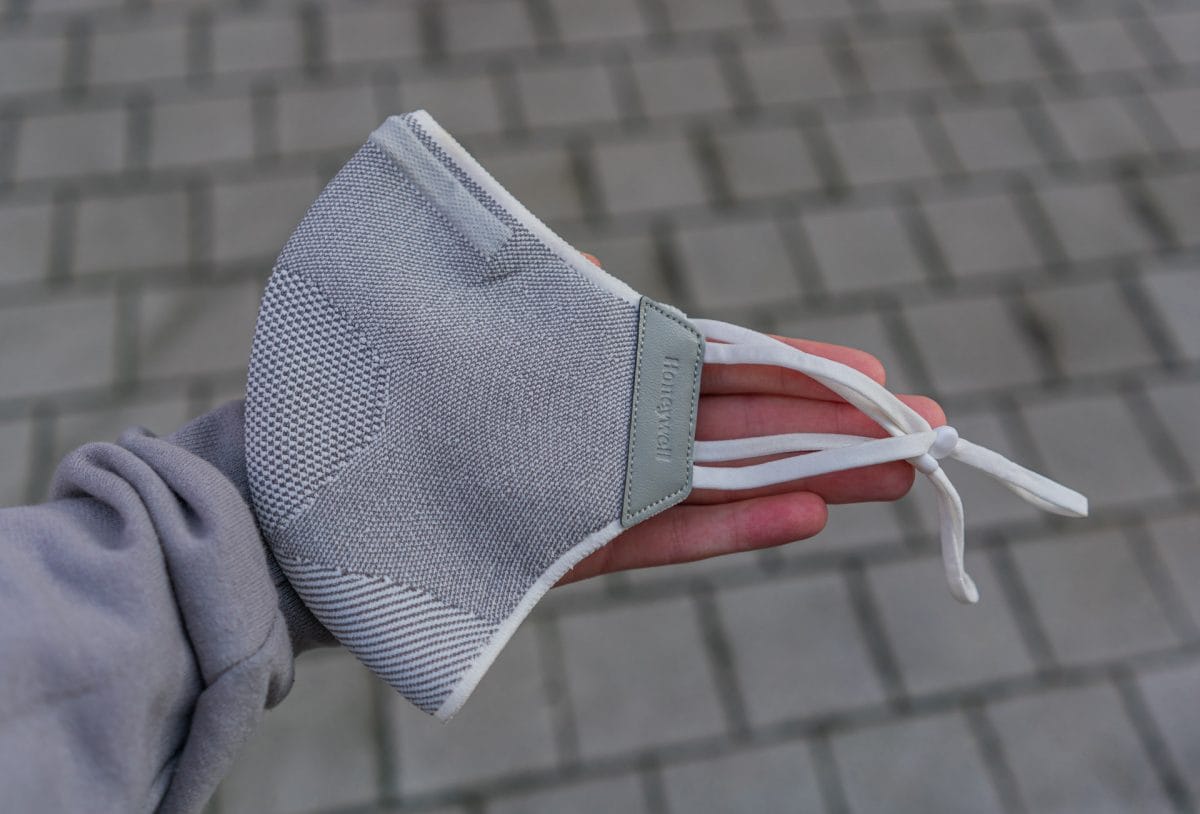 With that background being explained, let's dive deeper into the Dual-Layer Face Masks's ear loops. This mask relies on simple ear loops that are stretchy and also adjustable due to the inclusion of a plastic bead on each loop. The loops are also flat, making them distribute weight more evenly behind the wearer's ears.
I found these earloops to be more comfortable than masks such as Cambridge Mask and Vogmask. While I can't pinpoint exactly why this is, I believe it is due to the elastic used. Further, the mask is quite light and therefore not too much weight is placed on my ears.
While the ear loops are comfortable, they do still cause some discomfort and minor pain after wearing the mask for extended periods of time. I found that after wearing the Dual-Layer Face Cover for a couple of hours I would begin to experience discomfort behind my ears.
If you are looking to wear the mask for long periods of time without breaks I recommend investing in a headband. These bands are very cheap and can be used with almost any ear loop mask. Of course, it's also easy to make such an attachment yourself using household supplies.
Overall I found the Honeywell Dual-Layer Face Mask to be a comfortable mask to wear in day to day use. While the ear loops were not ideal for extended periods of time and did cause some pain, this is something that I have found with nearly all masks that rely on ear loops. As such, I don't hold this against Honeywell
Purchase Dual-Layer Face Mask from Honeywell.
---
Lifespan & Price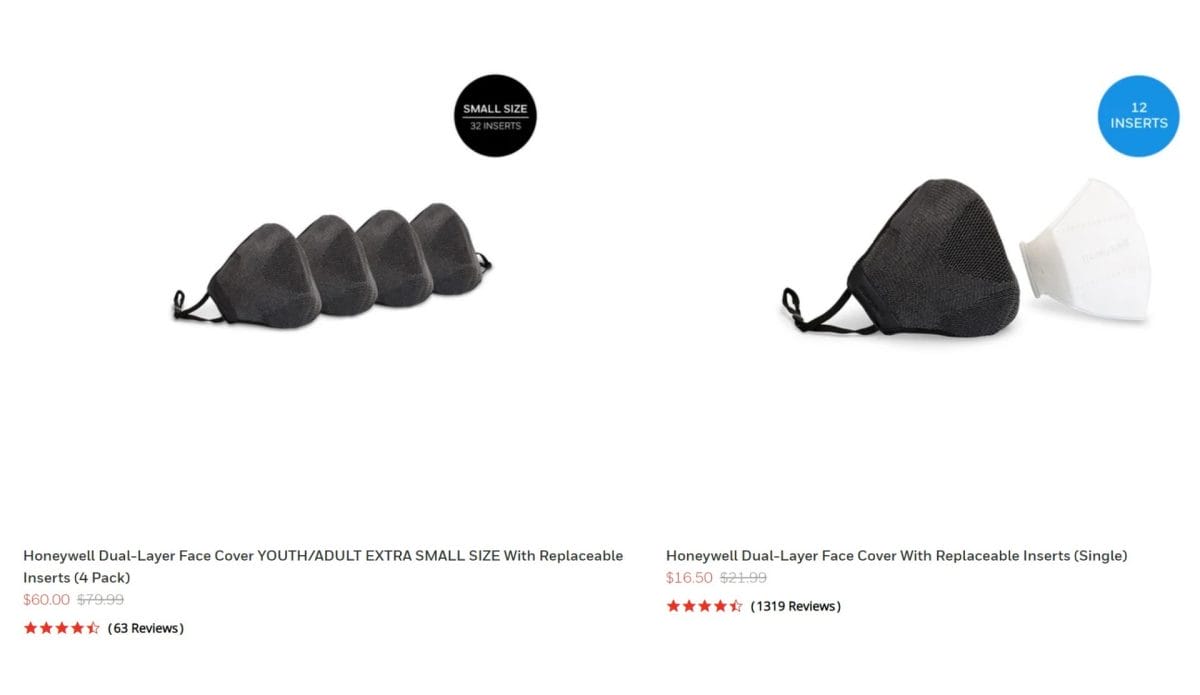 As mentioned above, the Honeywell Dual-Layer Face Cover uses filter inserts. This means that the mask itself (sometimes called the mask 'shell') is theoretically usable for a very long period. While there is no definitive time at which the mask should be replaced, it should be replaced if it gets damaged.
Therefore, the mask itself will last. The filter media used within the mask is recommended by Honeywell to be replaced daily. These filters can be purchased in different quantities from 12 ($19.99) to 48 ($49.99). Bulk pricing is also offered for large purchases if necessary.
The mask itself also comes with 12 filters included. Therefore, at Honeywell's recommended usage you will get just under two weeks of use from the initial purchase. I have heard from reviews that this number has been reduced to 8 filters on some products.
With filters costing around $1 each, you will be looking at $30 per month to use the Honeywell Dual-Layer Face Cover. This is significantly cheaper than KF94 or KN95 respirators which are often $2-$4 per mask (and are made from the same filter media and therefore lifespan).
This pricing makes the Honeywell Face Cover more expensive than many other reusable masks on the market. However, this cost difference is largely due to the fact that Honeywell recommends using each filter for only one day whereas many other companies recommend using filters for 50-100 hours of wear.
In the end, the majority of the filters are made using the same, or very similar, filter media. This means they will also have similar usage times. While some people will likely use the filters for longer than one day, it's always recommended to follow the manufacturer's instructions.
Compared to masks that advertise longer lifespans, such as Happy Masks and Naroo Mask, the Dual-Layer Face Cover will come out significantly more expensive over the long run. These masks can be used for a few months without replacement filters due to the use of nanofibre (or microfibre) filters. These masks are also similarly priced.
Purchase Dual-Layer Face Mask from Honeywell.
Final Thoughts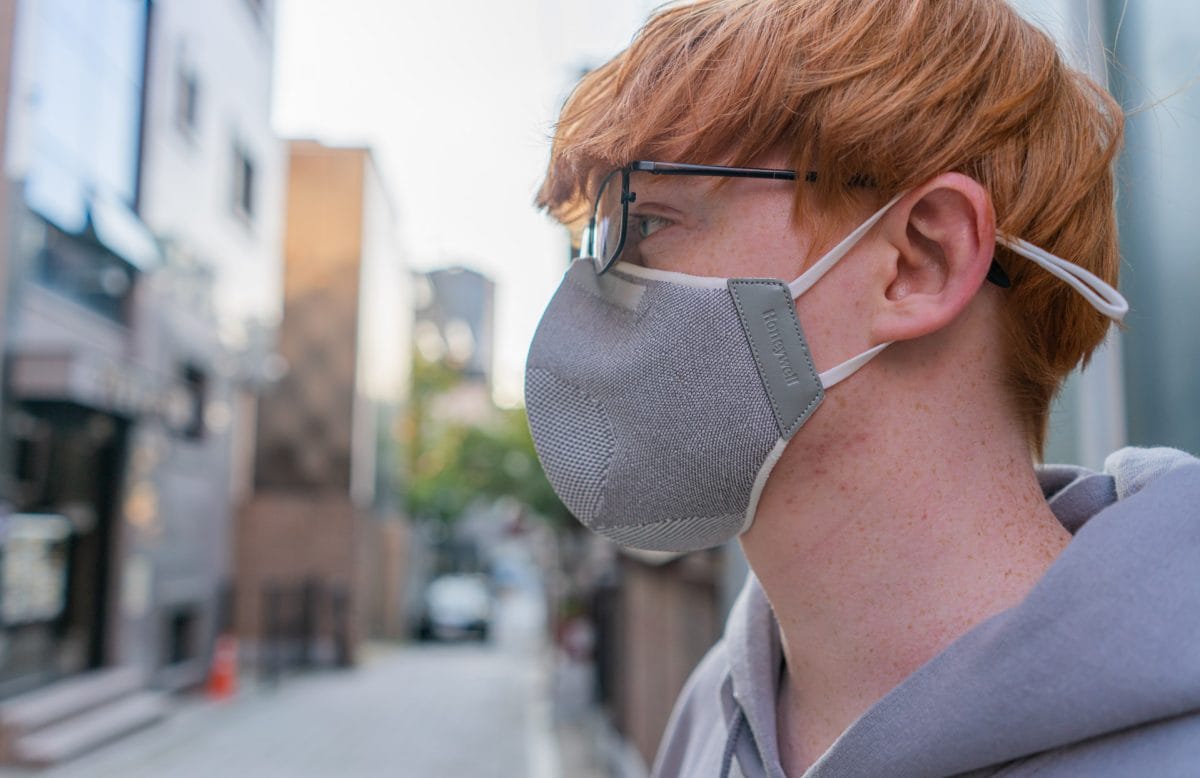 Overall, I was quite happy with the Honeywell Dual-layer Face Mask. I found myself often reaching for this mask because it's comfortable and fits well. It's not perfect, however, and I do wish that Honeywell would make a few changes to the mask.
Firstly, I would like to see slightly larger filters that fully cover the interior surface of the mask. I also believe that a third point of attachment between the filter and mask (in the centre of the mask) would solve one of the biggest problems with this mask in its current form – filter collapse.
On top of this, I found that it was hard to seal the mask properly. While I was able to form a seal that I was content with, I would still experience minor leaks. There are very few cloth masks that I have tried that don't leak, but if Honeywell could find a way to solve this problem (perhaps by adding a strip of memory foam?) this mask would be even better.
Finally, I believe that Honeywell needs to be more transparent. I asked a few questions and had very short replies that provided no further details at all. The company mentions that they had third-party lab testing, yet they are unwilling to share any details at all. I understand that there is a multitude of reasons as to why they might not want to share this information but I also believe that all mask companies should do as much as possible to be transparent.
Overall, the Dual-Layer Face Mask is a mask option that should be considered by anyone looking for a mask to wear in day to day life. The filter media is capable, the mask is comfortable, and it's also much cheaper over its lifespan than a standard respirator.
Have some thoughts on this mask to share? I would love to hear more in the comments. Have further questions? Please also feel free to pose them down below!
Purchase Dual-Layer Face Mask from Honeywell.
---
Dual-Layer Face Cover FAQ
What Can the Dual-Layer Face Mask Filter?
As per Honeywell's words 'The insert has been shown by a third-party testing facility to block up to 97% of 3-micron-sized non-viable particles and 0.1-micron-sized aerosolized particles'. However, the mask is not a medical device and has not been FDA cleared or approved.
Where Can I Buy the Dual-Layer Face Cover?
What Are Some Alternative Mask Options?
If you are looking for an alternative reusable mask option I recommend checking out this post.
How Often Should I Replace the Filters?
Honeywell recommends replacing the filters daily.