When I finally got around to reviewing the Airinum Urban Air Mask 2.0 I was quite impressed with the mask overall. It provided a solid fit, was built with good materials and had good filtration in lab tests.
The one big downside of the Urban Air Mask 2.0 (and Airinum's other masks, such as the Air Mask Active) is the cost. They're pricey masks. While in many ways you are getting what you pay for, they are masks that some people won't be able to justify purchasing. For this reason, I was very interested when Airinum told me that they would be releasing a new mask called the Airinum Lite Air Mask.
When I imagined the Airinum Lite Air Mask (LAM) I thought that it would be similar to Airinum's other mask, but would be a cut-down version. However, I was quite surprised to find that the Lite Air Mask is actually totally unique – it's been completely redesigned and using it is totally different.
The Airinum Lite Air Mask is releasing today, on February 23rd. I've been using the mask for a couple of weeks now and wanted to write this article to share my thoughts on the new mask. On top of sharing my thoughts, I will also cover some of the science behind the mask.
If you have tried the mask yourself, I would also love to hear your thoughts. Please feel free to comment on the post to let other readers know how you found your time with the mask. With that being said, let's get this review started!
---
This post contains affiliate links. For more information, please refer to my affiliate disclaimer. I was sent a product for review, but the article is not sponsored. All opinions expressed in this post are my honest thoughts. I only recommend products that I genuinely believe in.
Information on this blog is for informational purposes only. Readers are encouraged to confirm the information herein with other sources. Furthermore, this information is not intended to replace medical advice from professionals. This website assumes no responsibility for the accuracy of the information, and information is subject to change without notice. Devices mentioned on this website are not medical devices and do not guarantee protection.
---
Filtration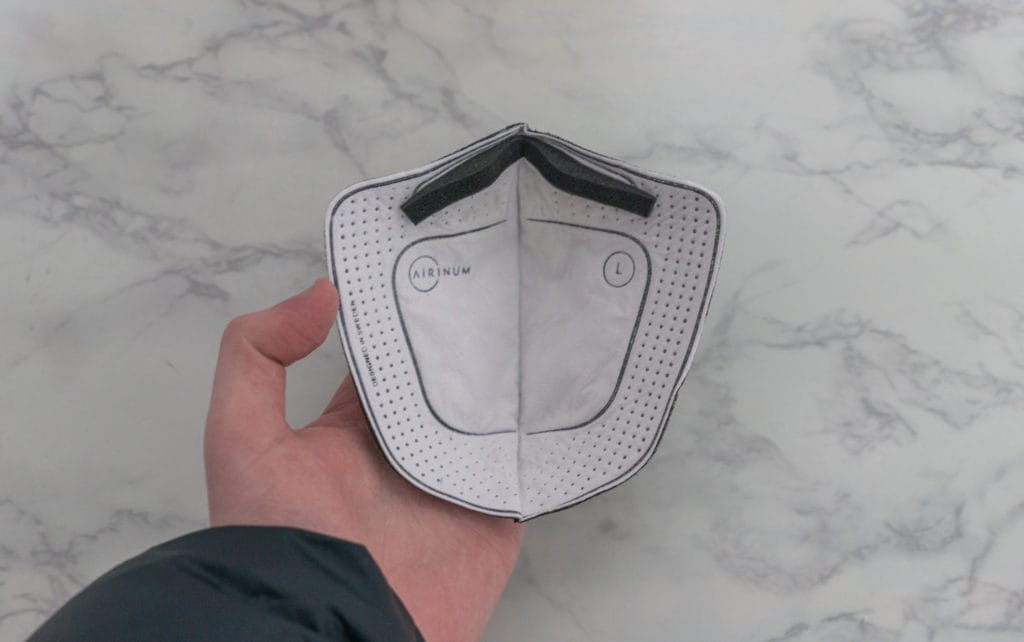 Before going any further in this section it's important to note that filtration results apply to the filters of a mask rather than the mask itself. While mask ratings and certifications (such as N95, KN95, KF94, etc) apply to the mask itself, filtration testing usually only applies to the filter. Luckily, the LAM also holds a KN95 certification.
For this reason, it's important to make sure that the filter is properly fitted inside the mask and that there are no gaps where air can pass unfiltered. Further, it's important to make sure that the mask is fitted as best as you can manage so that there are no leaks (or minimal leaks).
The Airinum Lite Air Mask uses a different filter to the Urban Air Mask 2.0, but the filtration specifications are the same. These results are available publicly and can be found here. If you want a more in-depth look at the filtration results of the Lite Air Mask please refer to my Urban Air Mask review as I went into great detail there. In this review, I will just touch on the filtration capabilities.
Testing for the Lite Air Mask was carried out by TTRI (Taiwan Textile Research Institute) and RISE (Research Institutes of Sweden). Nelson Labs tends to be the most well-known respirator/filtration testing lab and as such, the TTRI and RISE reports may look unfamiliar at first. However, they are both accredited testing laboratories.

Since RISE carries out their testing following a different methodology to Nelson Labs, Airinum masks do not have the typical set of PFE (particle), VFE (viral) and BFE (bacterial) filtration results. Rather, they were tested using DEHS and NaCI (CNTAC Testing) particles. Both of these are generally used for standard particle filtration efficiency testing (PFE).
At a flow rate of just over 1L/s, the filter media used in the Airinum Lite Air Mask showed a filtration rating of ≥ 94% at 0.1μm. The filter then showed a filtration rating of ≥ 98.5% on all larger particles up to the largest tested particles at 3.0μm. On particles between 0.15μm and 3.0μm, the filtration rating always stayed above 99%.
It is worth noting that this testing was carried out on a larger piece of filter media much larger than what is inside the mask. However, this testing should be able to give some indication as to how the filter performs. Further testing was also carried out by CNTAC in Foshan, and they measured the results below.
Across 20 samples at a flow rate of 85L/min (the standard flow rate for NIOSH testing as well as KN95 testing), the lowest recorded filtration result was 98.3%. It is worth noting that out of the 20 tested samples, every mask had ≥ 98.3% filtration and 17 masks had ≥ 99% filtration against particles at the most penetrating particle size.
It is also worth noting that this mask adheres to the KN95 standard and has received the certification. This makes it one of the few reusable cloth masks (along with the Urban Air Mask 2.0) to hold an official rating. You can find the full certification here. If you would like to read more on the KN95 standard, please refer to this mask rating comparison article.
The Airinum Lite Air Mask also makes use of a carbon filter. This filter helps to reduce odours and can also help with the filtration of volatile organic compounds along with some other pollutants. The addition of a carbon layer is always a good thing!
Purchase Airinum Lite Air Mask
---
Design
One of the first things that you will notice upon unboxing the Airinum Lite Air Mask is how light the mask is. Especially before the filters have been fitted, the mask shell is very light and it feels easy to wear.
The shell is made from a combination of 92% polyester and 8% spandex, and this is what gives the mask such a lightweight design. This material also provides little breathing resistance, meaning that is less effort required when inhaling and exhaling.
The interior of the mask uses an overhanging piece of fabric around the edges in order to keep the filter in place. I found this system to work quite well and the filter reached all the way to the edges of the mask surface with few gaps.
Although the filter fit is solid and I didn't encounter any issues regarding the fit of the filter in the mask skin, I did occasionally have issues with the nosepiece of the Airinum Lite Air Mask.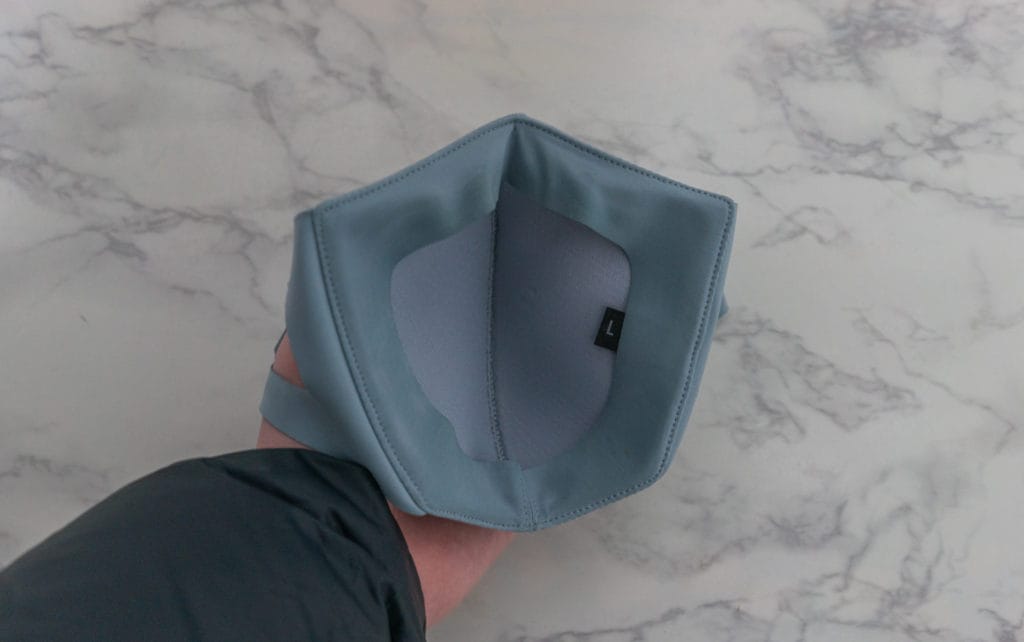 Similar to masks like the AirFlex from AusAir, the Lite Air Mask relies on a piece of memory foam to create a secure seal around the wearer's nose. While I did find the seal to be good, I ran into some issues with the top of the filter popping out of the mask skin sometimes.
This is caused by the fact that the memory foam is built into the filter, rather than into the mask skin itself. While the filter sits snugly in the rest of the mask skin as it's very thin, it can pop out of the top at times since the filter is much thicker in that area (filter + memory foam layer).
All in all, I found this to be a minor issue as it wasn't something that happened to me when wearing the mask. Rather, sometimes I would have to adjust the top of the filter and the mask skin before donning the mask. Once on, however, I didn't have this issue – it just occurred between wears and required a little adjustment.
The mask feels like it is made totally from one piece of material. While this isn't the case, as the ear loops are made from elastic, it means that the loops don't feel like they were added as an afterthought. There are masks out there that I've found to have very weak straps, but luckily this isn't one of them.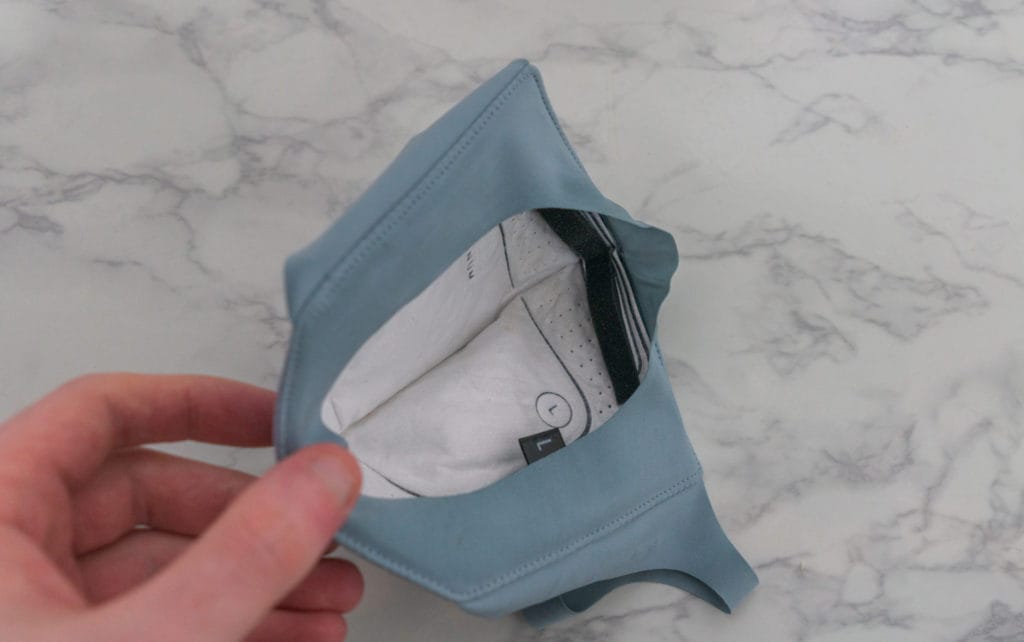 The ear loops on The Airinum Lite Air Mask are a couple of centimetres thick and are made from a soft but stretchy type of elastic. The elastic doesn't feel overly loose or too tight. In my case, I think it could have been tightened slightly, but everyone will have a slightly different fit.
I found that the ear loops are comfortable even during long periods of wear. I much prefer this thicker design as opposed to more string-like ear loops which can put a lot of pain on the wearer's ears after long periods of wear. I would still recommend a headband attachment for longer periods of wear though, and luckily Airinum includes a small head clip.
Overall I feel like the Airinum Lite Air Mask has a solid design. It's lightweight but doesn't feel cheap and the air-mesh material provides little breathing resistance meaning that you don't need to worry about the added difficulty of breathing through unnecessary layers.
Purchase Airinum Lite Air Mask
---
Fit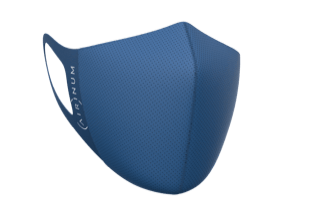 The most important factor of any mask is the fit. While filtration capabilities are important, these capabilities will not apply unless a mask is fitted correctly and leaks have been removed. Of course, a perfectly fitting cloth mask is very hard to find since everyone's face is different.
With that in mind, please remember that this section is based purely on my own experience with the mask. You may have a different experience to me, and the mask may fit you better or worse than it does me. With that being said, please feel free to share your experiences in the comments so that other readers can read more opinions as opposed to just mine.
The Airinum Lite Air Mask has quite a tight fit and sits close to my face. I can feel the filter against my face at times. When breathing in, the filter comes in contact with my lips. This doesn't feel like filter/mask collapse, however, and rather occurs because the mask has a low profile.
While the filter doesn't go in my mouth, it does pull in when I inhale. Some people might find this annoying, and it's something to keep in mind. While it doesn't bother me in day-to-day wear, I wouldn't recommend this mask for exercising as the filter can get in the way.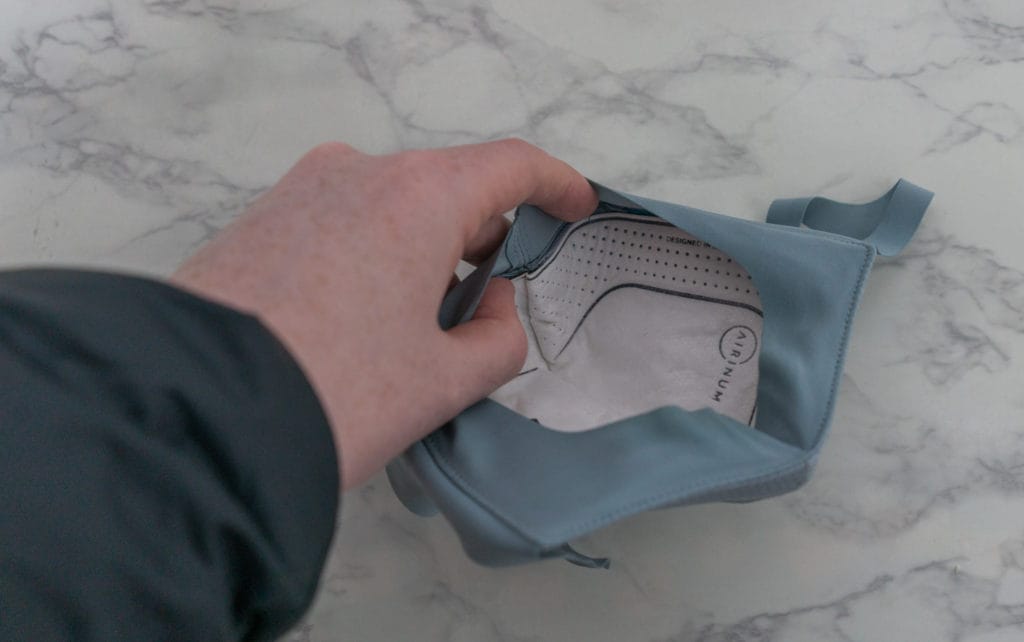 The Airinum Lite Air Mask sits a few centimetres under my chin and doesn't move much due to this. Even when active, the mask stays in a good position and doesn't need to be regularly adjusted like some masks.
As I mentioned above, I did find the elastic ear straps to be a bit too long for me, and the mask was a bit loose when I relied on these. This allowed some leaks on the bottom of the mask (under my chin). Luckily, when tightening the mask by using a headband, these leaks almost totally disappeared.
Due to the memory foam around the nose area, I found that this mask had minimal leakage on the top. Often this is the worst area when it comes to leaks, and I was impressed by the lack of leaks. While there were small leaks sometimes after wearing the mask for a while, small adjustments allowed me to quickly fix these and carry on.
From my experience, the weakest point of the mask in regards to leaks is between where the ear loops connect to the mask skin. I did notice some ear leaking here at times and I was able to minimise these leaks but not remove them.
In saying that, I have not yet found a perfectly fitting reusable cloth mask. So far all (cloth) masks I have tried have had some minor leaks and it's more of a matter of minimising these leaks as much as possible as opposed to removing them.
The Airinum Lite Air Mask is the same. It was one of the better-performing cloth masks that I have tried when it comes to leakage. However, there is still some leakage and I was not able to fully remove this.
Purchase Airinum Lite Air Mask
---
Cost & Lifespan
The basic Airinum Lite Air Mask pack comes in at $49 USD. This pack includes the mask as well as two filters. While this price is much cheaper than the Urban Air Mask 2.0, it's still more expensive than some other popular masks such as Cambridge Mask and Vogmask. It's also more expensive than some other masks with replaceable filters such as Metamask.
Replacement filters for the mask can be purchased for $24 USD for a pack of three filters. Similar to masks like the AirFlex and Urban Air Mask, the Airinum Lite Air Mask uses more complex filter pieces with memory foam attached to the filter itself, rather than to the mask skin.
In the long run, the mask will come out cheaper than using disposable masks due to the reusability. The mask skin only needs to be purchased once, and it should last a long time – especially considering that it is treated with Polygiene's Stays Fresh technology. This coating should prevent odour-causing bacteria from growing on the surface of the mask.
The filters should be good for around 100 hours of wear, however, this can vary depending on the local air quality conditions. For example, if you are wearing the mask in an AQI over 100, you might need to consider replacing the filter more regularly.
Purchase Airinum Lite Air Mask
---
Conclusion
The Urban Air Mask 2.0 is one of my favourite masks but it has one big downside – the cost. For this reason, I was hoping that the Airinum Lite Air Mask would have similar strengths while decreasing the cost somewhat.
However, I was surprised to find out just how different the two masks are. The only similarity between the masks that stood out is in the filter design/quality. Other than this, the masks are very different and if I didn't know they were both made by the same company I would never guess it.
Despite being very different to what I expected, I have enjoyed using the LAM. The mask is easy to wear, and I find myself reaching for it whenever I'm heading out – whether for a quick trip to the convenience store or for a longer trip that will keep me out for hours.
I like the light and breatheable materials that the mask uses as it makes the mask very comfortable. The ear loops are thick and soft, making them mostly comfortable even after hours of wear. Another strength of the mask is the filter system. Many masks with replaceable filters suffer from issues where the filter doesn't cover the whole interior of the mask or where the filter easily moves.
Luckily, one of Airinum's biggest strengths has always been in their filters. The filters in the LAM fit well and reach right to the edges of the mask. Besides some issues near the memory foam on my nose (which I discussed earlier) the filter fits perfectly and doesn't need to be adjusted much at all.
Compared to masks such as the Cambridge Mask, Vogmask, and MetaMask the LAM is still more expensive. However, you do get the added bonus of replaceable filters (when compared to Cambridge Mask and Vogmask) and you do get a more comfortable mask – at least in my opinion.
I hope that this article can help you make an informed purchasing decision and allow you to purchase the mask that best suits your needs. If you are interested in checking out the Airinum LAM, please feel free to visit their website at the link below. Further, if you have tried the mask for yourself I would love to hear more – please feel free to leave a comment on this post!
Purchase Airinum Lite Air Mask
---
Airinum Lite Air Mask FAQ
Does the Airinum Lite Air Mask Have an Official Rating?
Does the Airinum Lite Air Mask Have Lab Tests?
Yes. The Airinum LAM filter & mask have been tested by RISE, TTRI and CNTAC.
Where Can I Buy the Airinum Lite Air Mask?
How Long Does the Filter Last?
Does the Mask Have Replaceable Filters?
Yes! The Airinum LAM uses replaceable filters.
What Is Better, the Airinum Lite Air Mask or Urban Air Mask 2.0?
This will come down to your needs. The Urban Air Mask 2.0 has some benefits in the fact that it uses valves and it has a more durable design. However, the Lite Air Mask I found to be more comfortable and it's also more affordable.