Recently when Air Filtration Solutions reached out to me to inquire about reviewing some of their products, I was instantly interested. Why? Because among their Stealth Mask range are some of the highest-rated masks available.
In today's review, I want to look at the highest-rated device in Stealth Mask's lineup – the N100 Stealth Respirator. As the name implies, this N100 respirator is NIOSH certified and designed for professional and occupational use.
The N100 Respirator Dust Mask is available on Stealthmask's U.S website. It's important to note that the same respirator is offered by a different name – Stealth P3 Dust Respirator Face Mask – on European sites such as Stealthmask.co.uk.
While I am not involved in a field that requires me to don such a respirator, I've been using the N100 Stealth Respirator for a few weeks, and I'm here to share my thoughts on the device.
If you are a professional looking for a high-filtration device, I hope that this review can prove beneficial. On the other hand, if you're looking for an air pollution mask that provides the utmost protection, you might also be interested in this article.
If you're looking to use this device in a professional setting, everything shared in this article should stay relevant. The most significant differences will come in the lifespan of the filters, which will likely be greatly decreased due to the higher concentrations of dust particles.
Although the N100 Stealth Respirator is intended for use in workshops, hospitals, construction sites and factories, I know people who have been seeking an ultra-high filtration plastic mask for air pollution.
If you live in an area with very high fine dust levels (such as Seoul during peak days), this might be a device worth considering. While the mask is larger and heavier than many pollution-focused devices, it's not much bigger than some other silicone masks on the market.
With that being said, before getting started on my N100 Stealth Respirator review, there are a few disclaimers to make:
NIOSH certified devices require professional fit-testing.
No mask is effective unless adequately fitted with a leak-free seal.
All experiences shared in this article are purely that – my experiences. I can't determine whether a mask will fit you. Everyone has a different face and, therefore different fit.
On a sidenote – Yes, I am aware of the juxtaposition between the mask and the photos in this article. While the Stealth Respirator would normally be worn in more hostile environments, I wanted to ensure good lighting and decided to take photos in a studio. Don't worry, I know that's not the intended use of the mask!
---
This post contains affiliate links. For more information, please refer to my affiliate disclaimer. I was sent a product for review, but the article is not sponsored. All opinions expressed in this post are my honest thoughts. I only recommend products that I genuinely believe in.
Information on this blog is for informational purposes only. Readers are encouraged to confirm the information herein with other sources. Furthermore, this information is not intended to replace medical advice from professionals. This website assumes no responsibility for the accuracy of the information, and information is subject to change without notice. Devices mentioned on this website are not medical devices and do not guarantee protection.
---
Purchase & learn more about the Stealth Respirator.
Filtration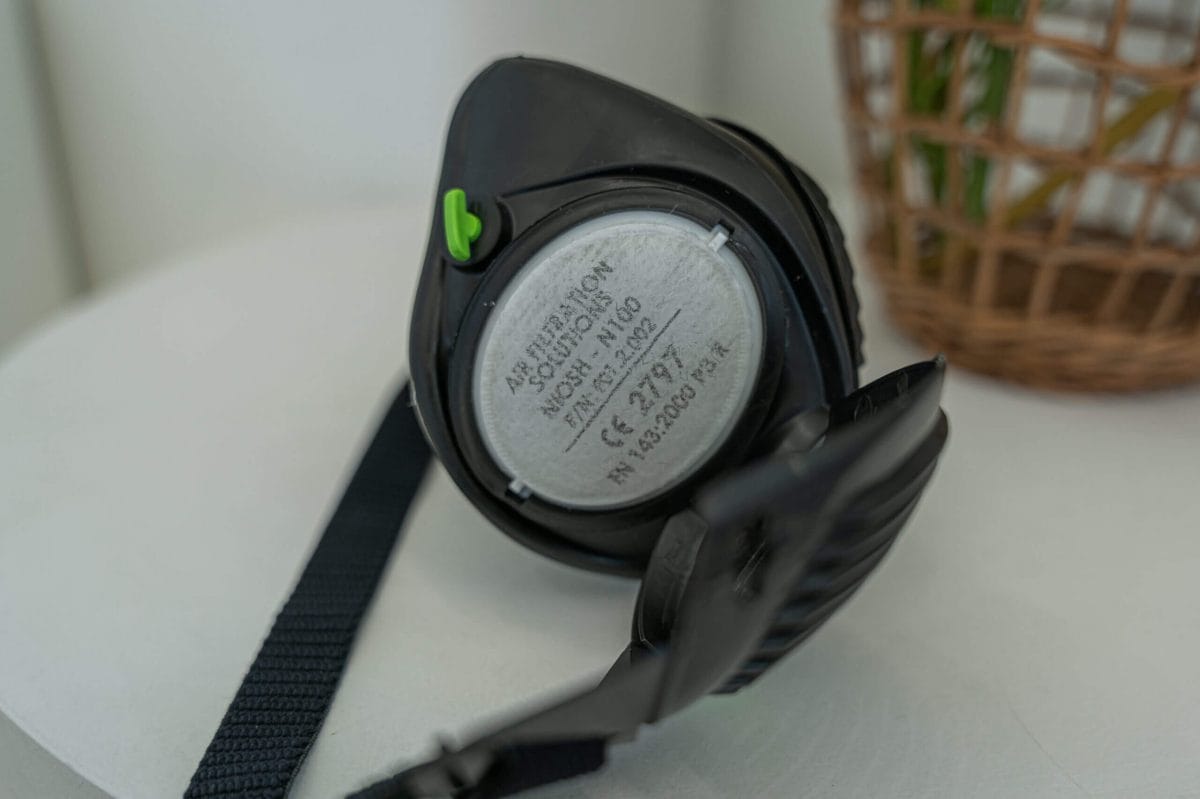 Before discussing the filtration of the N100 Stealth Respirator, it's important to emphasise that the filtration specifications listed here only apply if the device has been fit-tested and is used following the manual.
The N100 Stealth Respirator is officially certified N100 by NIOSH. However, with the number of false claims and counterfeit devices on the market, it's always important to confirm the authenticity of a certification.
Luckily, NIOSH provides an up to date database of all certifications that it has given out. Air Filtration Solutions, the manufacturer behind Stealth Masks, is registered and its results publicly displayed. They can either be viewed here or by manually visiting the database and inputting the certification number.
Among other requirements, the NIOSH N100 certification requires that a device have > 99.97% filtration of 0.3um particles at a flow rate of 85L/min. This is the highest certification that NIOSH gives for non-oil-based particles.
The N100 Stealth Respirator surpassed the > 99.97% filtration requirements and was only penetrated by 0.001% of particles during penetration testing. This shows the filter can prevent > 99.999% of particles from reaching the wearer.
The N100 Stealth Respirator is also offered in Europe with the P3 certification as per EN 143:2000 to abide by local regulations. While this standard is less stringent than the N100 standard in regards to filtration – it requires only > 99.95% filtration as opposed to > 99.97% – it also tests TIL (total inward leakage).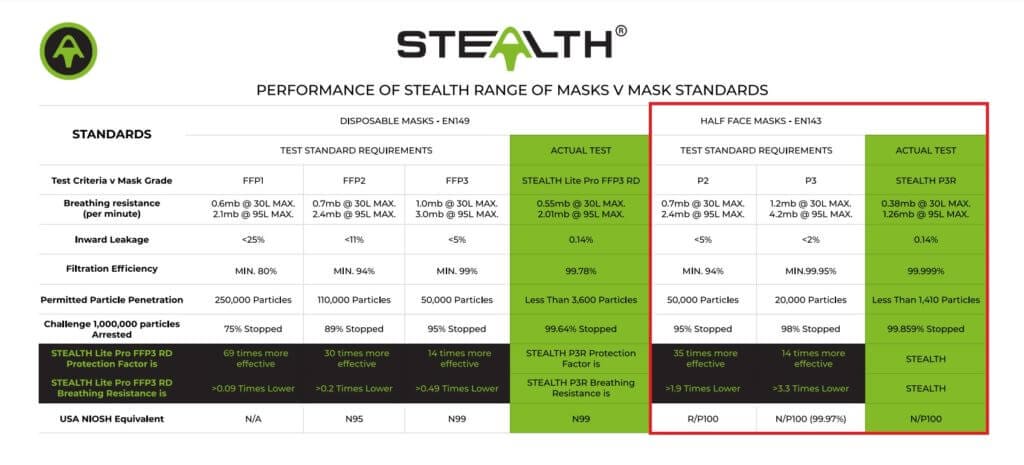 The discrepancy between the inhalation resistance mentioned in this article and the resistance shown above is due to the differences in the EN and NIOSH standards.
Despite the N100 Stealth Mask holding the P3 standard in the European Union and the UK, the device is the same. That is to say, the North American and EU devices both offer > 99.999% filtration. The European version is just certified P3 to abide by local regulations.
What is most interesting about the additional European EN standard is that it tests devices for TIL (total inward leakage). This test is carried out on a range of human subjects as it assesses the leakage that a range of sample devices have. This additional test is useful because it tests real-world leakage on actual human subjects, which NIOSH does not test for.
Across the tested subjects, a TIL of < 2% is required for P3. Stealth Mask far surpassed this on the N100 Stealth Respirator, with results showing the masks averaged a TIL of 0.14%. This testing accounts for a range of head movements and shows that the mask should leak minimally for most people.
The P3 standard also tests the filtration of a respirator against paraffin oil. Paraffin oil is used in a second test to determine the performance of a filter against oily mists as opposed to solid (NaCI) particles used in standard N100/FFP3 testing.
Two inhalation valves are located on the inside of the device.
Inhalation resistance of the N100 Stealth Respirator was also tested. NIOSH requires an inhalation resistance of ≤ 35 mm H2O. The Stealth Respirator showed a Mbar resistance of 2.94, which converts to 30 mm H2O. Therefore, the inhalation resistance comes in just under the requirement.
Typical N95 respirators from popular brands such as 3M exhibit an inhalation resistance of 15 mm H2O or less. However, these respirators offer lower filtration and higher filtration efficacies tend to lead to lower breathability. Therefore, while comparing the breathability of the Stealth Respirator to an N95 device doesn't make much sense, it offers a point of comparison as most people have donned an N95 respirator at some point.
It's also important to consider exhalation resistance. The N100 Stealth Respirator makes use of a valve that I found to be very effective. The valve allows exhaled air to bypass the filter and quickly exit the device. This means that exhaling through the Stealth Respirator is exceptionally easy with minimal resistance.
Exhalation valve (bottom centre)
Of course, the inclusion of a valve also means that the device offers only one-way filtration. On an occupationally focused device such as this, one-way filtration is not an issue. However, it's important to keep in mind that this mask should not be used in any situation requiring filtration for inhaled and exhaled air (two-way filtration)
Interestingly, N100 Stealth Mask filters have a prefilter attached. This second layer of filter is designed to catch larger particles before reaching the fine particle filter. This allows more particles to be loaded on the filter before the finer filter becomes clogged.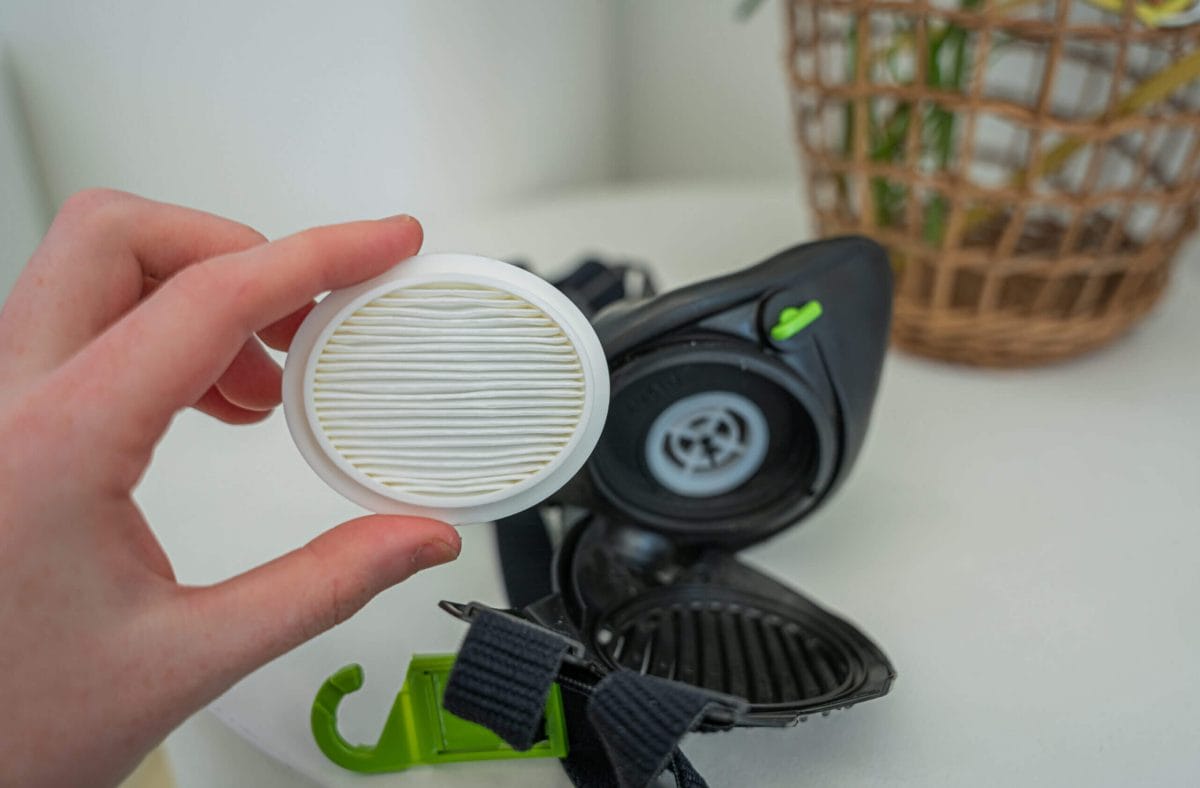 The backside of the filter.
All of this data is provided on Stealth Mask's website under the certifications and references section. Both the P3 and N100 certifications can then be authenticated using the relevant databases.
That concludes this section on filtration. Overall, the N100 Stealth Respirator has two significant advantages when it comes to the filter. One of these advantages is the obvious, the fantastic filtration. The second big advantage of the device is the TIL results which indicate the mask should fit a wide variety of people with minimal leakage.
While the breathability regarding inhalation resistance is substantially higher than most disposable N95 devices, it compares favourably against many other half face reusable respirators. The N100 Stealth Respirator will likely feel significantly more breathable for anyone familiar with half-face respirators. However, the resistance can feel much higher for anyone coming from lower filtration devices.
Purchase & learn more about the Stealth Respirator.
---
Fit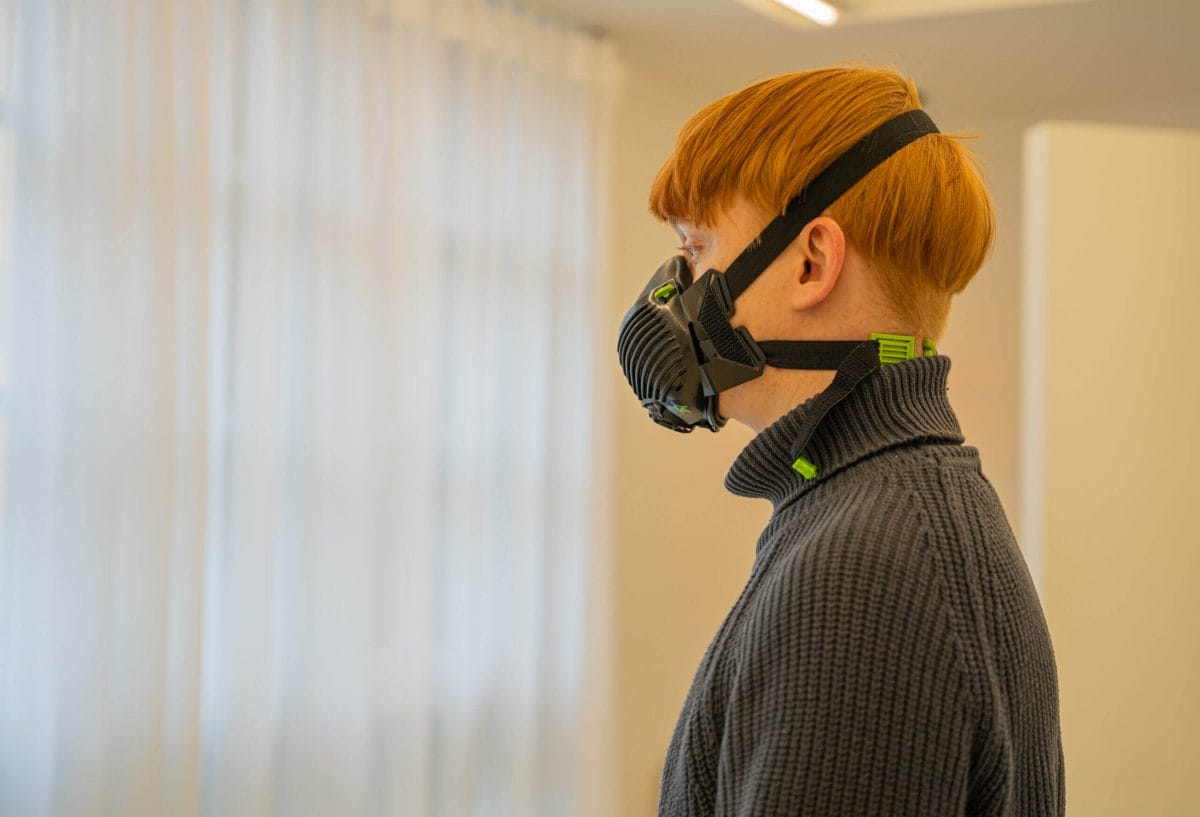 One of the biggest advantages of plastic and silicone masks is the fit. Not only that, but half-face respirators tend to offer a superior fit to standard filtering facepiece respirators. With both of these two advantages going for it, surely the N100 Stealth Respirator provides a good seal?
I will reiterate that everything shared in this section applies to my time with the mask. Again, I can not determine if the mask will or will not fit you. Everyone's face is different, and these are merely my experiences and observations.
With that being said, the TIL testing that was carried out as part of the P3 certification process indicates that the respirator should fit a wide range of adults with minimal leakage. As always, I also welcome you to share your experiences with the N100 Stealth Respirator. If you've tried this mask, how did it fit you? Please feel free to share in the comments!
I encountered very few leaks throughout my time using the N100 Stealth Respirator. While the Stealth Respirator is a large device that I felt would be too large for me (I chose to don the large respirator over its smaller counterpart), it fit perfectly in the majority of situations.
I recently praised Envo Mask and Flo Mask for providing fantastic seals, and I believe this respirator compares to them. While the form factor between the three devices is very different, they all have what I would consider to be fantastic seals.
To achieve this leak-free seal, I did have to tighten the mask a bit further than I would consider comfortable for long periods. However, more on that later. While loosening the mask a just a centimetre or two (on the head strap) made it significantly more comfortable, I did notice minor exhalation leaks underneath my eyes.
These leaks weren't serious, but ideally, they wouldn't occur. With that being said, since tightening the mask could remove them altogether, this wasn't a big deal. If needed, the mask can be tightened slightly when needed and then relaxed when comfort is more important.
The device retained its seal when making large head movements. Looking left, right, up, down, and circling my head encountered no issues and the mask remained sealed throughout. Even when shaking my head in a way that I never would normally didn't dislodge the respirator.
This is due to the thick headbands that secure the mask. The headbands are far thicker than you will find on filtering facepiece respirators, and despite the N100 Stealth Respirators large size and heavyweight, the headbands felt very solid and kept the device in place.
While the thickness of the straps plays a role in the good fit of the respirator, the sturdiness of the straps is also important. The straps were a good balance between being too loose and too tight, and they ensured that the device didn't stray from its initial location on my face.
To achieve the best fit, I sat the device's peak between my iris's. If I sat the respirator lower on my face, I would experience leaks on both sides of my nose. Luckily, moving the device a few centimetres higher prevented this issue from happening.
The N100 Stealth Mask comes in two sizes, S/M and M/L. While the size naming is confusing, it's essentially an M and L size. The S/M size will better fit anyone with a smaller face and less pronounced facial features. The M/L size will provide a superior fit for anyone with a larger face.
Stealth Mask provides a sizing guide on its website, and this can be used to choose the correct mask. However, while the guide mainly sees the S/M as a mask for females, it will also fit anyone with a smaller face. I have a pretty small face, and I found the S/M to fit well.
Overall, the Stealth Respirator has a good fit that I found comparable or better than other half-face respirators, especially the common devices from brands like 3M. Compared to filtering facepiece respirators that are made from plastic, such as Envo Mask and AirHead Mask, the Stealth Respirator provided a similar seal but was less prone to dislodging during head movements.
Purchase & learn more about the Stealth Respirator.
---
Comfort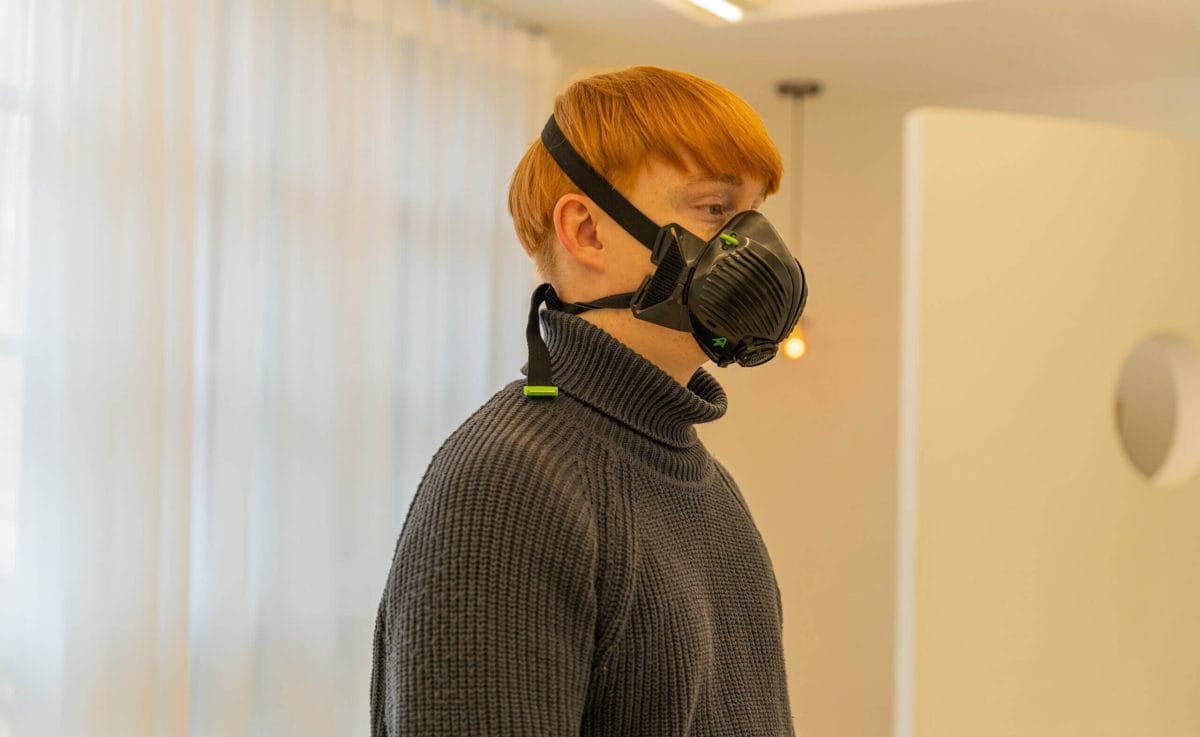 When I first saw the Stealth Respirator, comfort was the most significant potential issue that crossed my mind. Half Face respirators tend to provide excellent protection and a better fit than their smaller counterparts, but this often comes at the expense of comfort. While no half-face respirator is entirely comfortable, some are steps above others.
While wearing the Stealth Respirator, I found the device to be comfortable with a few caveats. I will discuss each of these in more detail soon. However, overall the device is comfortable to don for a couple of hours. After that time, I found that I needed to remove the mask for a few minutes before donning it again.
The first point of comfort that needs to be mentioned with the Stealth Respirator is breathability. Inhalation resistance is comparatively low compared to most half-face respirators. However, anyone coming from smaller respirators will find the resistance significantly higher.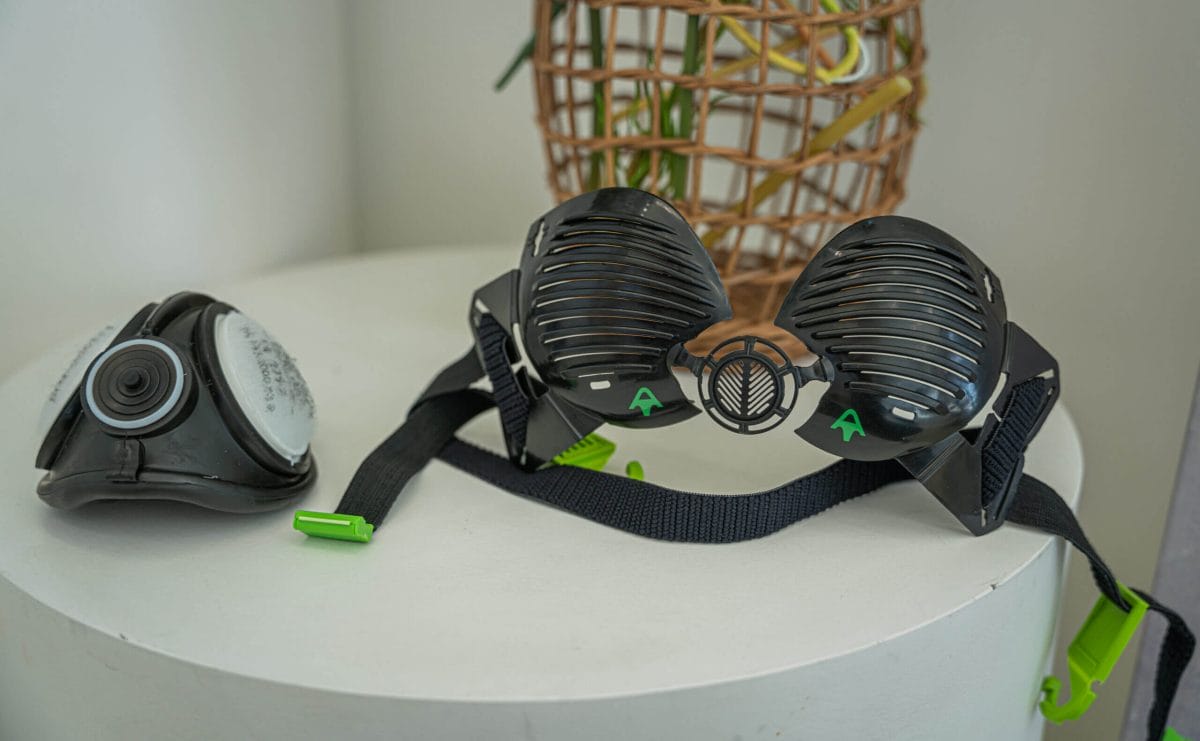 With that being said, I never felt like breathing was difficult with this device. While higher than many filtering facepiece respirators, it felt easier to inhale through than other silicone masks such as Gill Mask and AirHead Mask.
Exhalation with the Stealth Respirator is effortless. The exhalation valve is very effective, and it ensures that there is little breathing resistance and pressure drop for exhaled air.
The Stealth Respirator has three valves – two for inhalation and one for exhalation. One minor issue that I encountered was that the inhalation valves would often touch my face when I inhaled. While this wasn't a big issue by any means, it was a minor annoyance at times.
The second important pillar is the mounting mechanism when it comes to comfort. Usually, there are three options – earloops, headbands and neckbands. The Stealth Respirator uses headbands, and these are a good choice considering the heavyweight of the device.
Headbands on the Stealth Respirator are thick and divide the weight well across my head. Interestingly, the lower headband uses two plastic clips that can easily connect and make donning the mask a far more straightforward process.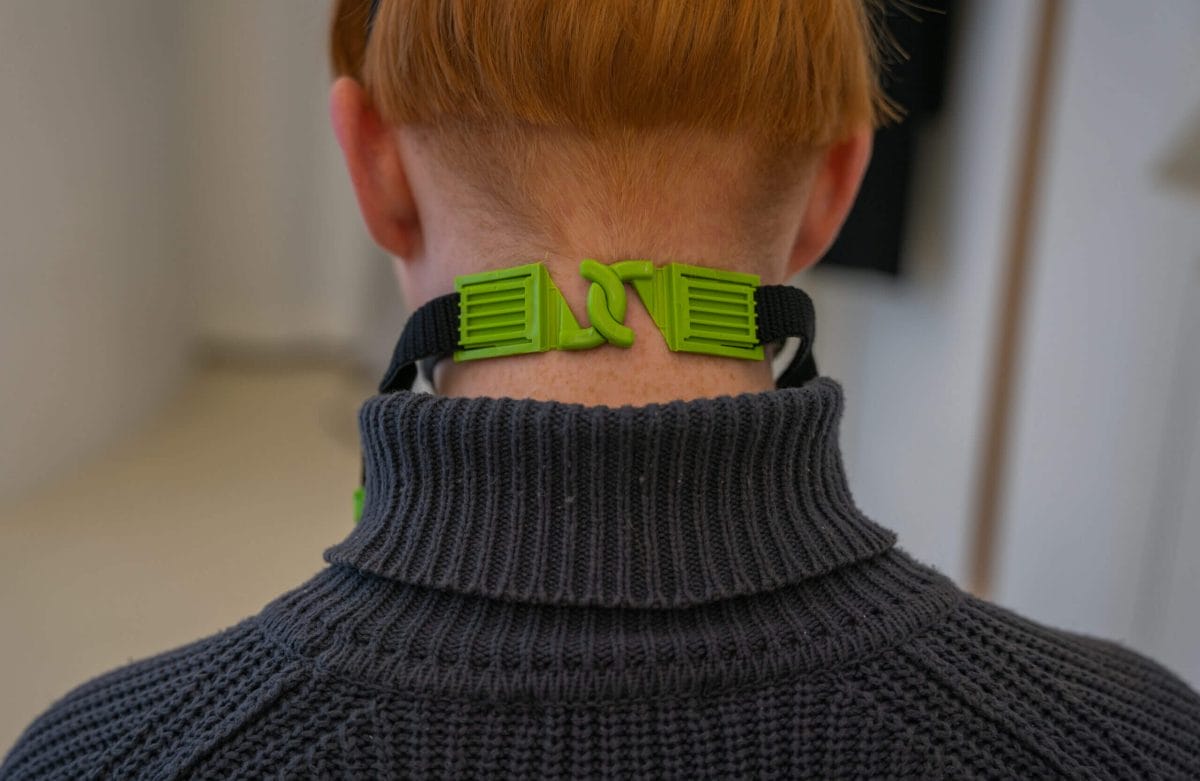 While this clip is convenient for donning and doffing the mask, I did find it to cause discomfort at times. Particularly when I had to look up. Looking up would force the clip into my neck, which wasn't ideal. While most people won't look up regularly, this could be an issue on construction sites or other locations where vertical head movement is needed.
Although the mask is weighty, it's lighter than many half-face respirators. Due to the thick headbands, I noticed the weight less than I did on other masks such as Airhead Mask. Further, the smaller size of the mask makes it easier to wear than cartridge-based respirators.
With that being said, as I mentioned earlier, I would need to remove the mask every few hours. I had to tighten the straps more than I would have liked for the best fit. While that made the seal leak-free, it did make the mask a bit uncomfortable after a few hours of wear.
'Mask face' did occur after I doffed the Stealth Respirator. Notably, marks on my left and right cheek persisted for a few minutes after removing the device. While this wasn't a significant issue, it is something that you might want to keep in mind.
Purchase & learn more about the Stealth Respirator.
---
Price & Lifespan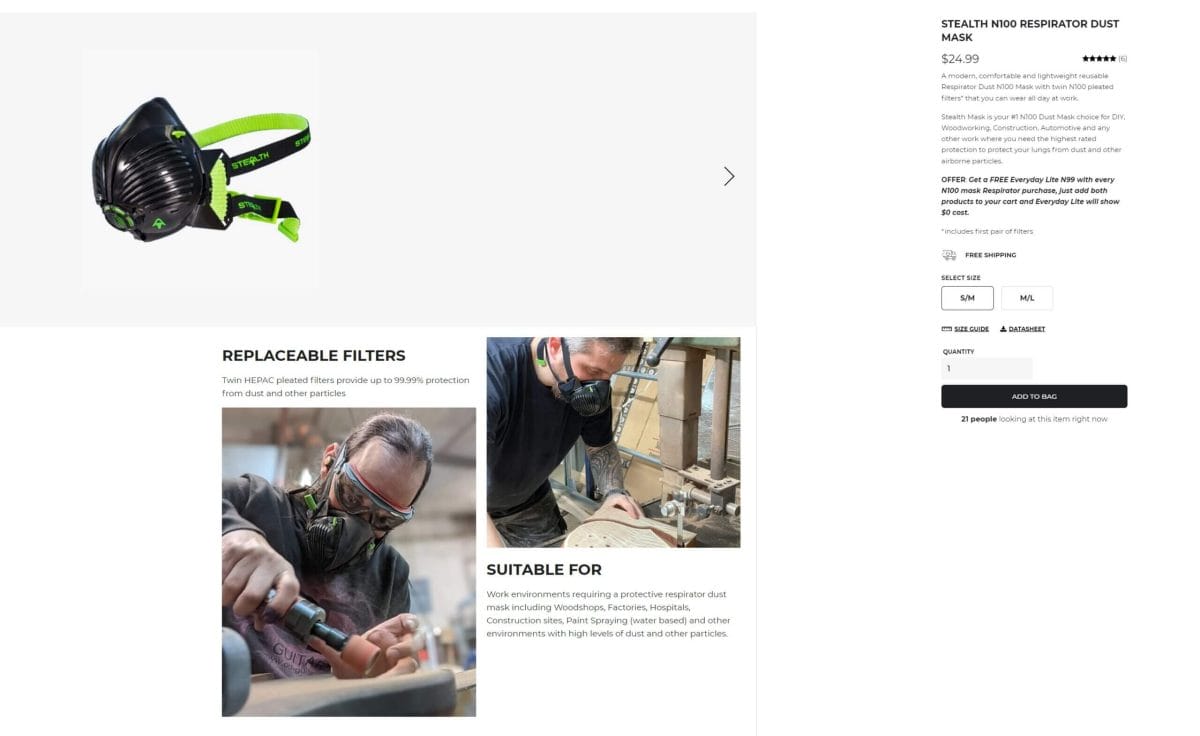 The Stealth Respirator is a device that uses replaceable filters. As such, the mask shell has an indefinite lifespan and shouldn't need to be replaced for a long time to come. The exception, of course, is if the device itself gets damaged so that it is no longer safe to use.
If the device gets cracked, or if damage otherwise removes the integrity of the mask seal, the devices should not be donned and should be replaced as soon as possible. However, besides severe damage, the respirator itself should be reusable for many uses.
The basic respirator back starts at $24.95 in the U.S and £24.95 for British shoppers. This basic 'starter kit' also comes with two filters pre-installed. However, it doesn't include any extra filters or accessories.
With that being said, the entry cost for the Stealth Respirator is lower than most of the competition. While it's hard to define exactly what competes with this device – is it more flexible half-face respirators or smaller, (generally) less performant silicone/plastic masks such as Gill Mask and Castlegrade?
Either way, this device is similarly priced to cheaper silicone respirators that lack its certifications. But, on the other hand, it comes in cheaper than many half-face respirators in both upfront cost and filter pricing.
Replacement filters cost $14.99 or £11.50 for a pair. This is an interesting price difference considering that the masks are priced the same in both regions. However, the price is comparatively affordable either way due to the lifespan of the filters.
Stealth Masks themselves state that filters should be replaced every 28 days (or sooner) if the mask is used daily for 8 hours. This is a significantly longer maximum lifespan than most respirators that use filter media 'sheets' as opposed to cartridges.
However, filters should be replaced more regularly if breathing becomes laboured. This will depend on the conditions in which you use the mask but expect to replace the filter more often if you commonly work in an environment with high pollutant concentrations.
If you are wanting to stay on top of filter replacements, Stealth Mask offers a subscription service. If you sign up for this service, you will receive a pair of filters or multiple pairs, at regular intervals. If you consistently use your Stealth Dust Mask Respirator, this is a great option.
Purchase & learn more about the Stealth Respirator.
---
Conclusion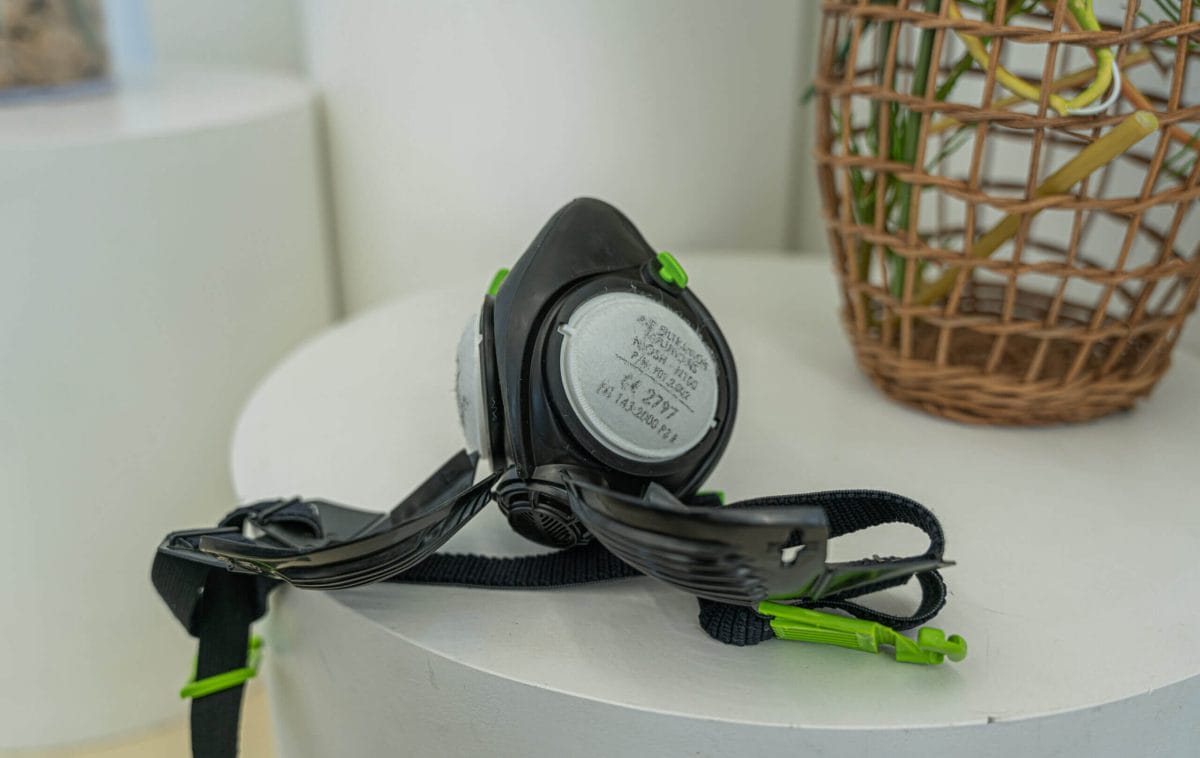 The Stealth Respirator from Stealth Mask is a product that bridges the game between the smaller filtering facepiece respirators and much larger half-face respirators. It does well in this role and is capable of providing fantastic protection to anyone dealing with non-oil-based particles.
It has significant strengths such as the N100 and P3 rating. While in terms of pure filtration, the N100 standard is more stringent, the P3 testing requires TIL testing on a range of subjects as well as paraffin oil testing. This testing indicates that the mask should seal well across a range of people and leakage should be minimal. While the Stealth Respirator has these strengths and more, it also has some flaws.
The build quality leaves something to be desired, the neck clasp can be uncomfortable, and the mask isn't ideal to wear for more than a couple of hours at a time. With that being said, these issues were minor compared to the strengths offered by the device.
If you're working in a workshop, on a construction site, or somewhere else that requires respiratory protection within the N100 specification, this device is one that you should consider. The price of the Stealth Respirator is also comparatively low, considering the ongoing cost of filter replacements.
Although Stealth Mask's respirator is not designed to be used for air pollution protection, the device is capable of this also. While it is a heavy device, and one that you will likely only want to don on the worst days, it's a great device to have in your arsenal. Further, if you live in an area prone to wildfires and wildfire smoke, this is a high-filtration device worth having on hand for days of extremely high pollutant concentrations.
Purchase & learn more about the Stealth Respirator.
---
Stealth Respirator FAQ
What Certifications Does the Stealth Respirator Hold?
The Stealth Respirator has been certified both N100 and P3.
What Filtration Does the Stealth Respirator Offer?
The Stealth Respirator offers filtration > 99.9% on tested particles.
Has the Stealth Respirator Been Lab Tested?
Yes. The Stealth Respirator holds both N100 and P3 certifications.
Where Can I Buy the Stealth Respirator?
Does the Stealth Respirator Use Replaceable Filters?
Yes. Filters can be purchased in pairs and replaced by the user.
How Long Can I Use Stealth Respirator Filters For?
Filters can be used for up to 28 days.
---
Stealth Respirator (N100/P3) Review - Stealth Mask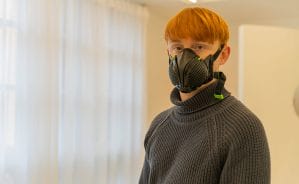 The Stealth Respirator is an N100 (or FFP3, depending on region) half-mask respirator with up to P100 filters. The respirator is compact, breathable, and easy to wear. However, it's not the most comfortable.
Pros
N100/FFP3 (depending on region)
Surpasses both N100 and FFP3 requirements
Breathable for an N100
Large silicon seal
Exhalation valve decreases humidity and exhalation resistance
Affordable
Long-lasting filters
Cons
Neck clasp can be uncomfortable
Cheap-feeling build quality
No valve blocker available