One of the things that I appreciate the most about this website is the community that it has built. I never realised how many people were as interested in masks as I am. However, after creating this website I've had an incredible amount of comments and emails asking questions, sharing opinions, and more. It's by far my favourite aspect of this website.
I mention this because it is often my community that lets me know about specific masks. In the case of Puraka Masks, this was what happened. A reader sent me a message letting me know some of their experiences with different masks and in that email, they mentioned Puraka Masks – a mask brand that I hadn't heard of until then.
After doing some research into Puraka Mask I discovered that they were masks worth trying. They offer a range of different designs that implement replaceable filters. These filters offer decent particle filtration and also include a carbon filter. On top of this, the masks are also very affordable.
Puraka is a company based in Seattle that was created by parents after the west-coast wildfires of 2017 and 2018. Puraka aims to make masks that offer good protection while retaining good breath-ability and being accessible by everyone.
In this review, I want to have an in-depth look at Puraka Masks. I will begin by looking at the filtration of the masks and then move on to other aspects such as the fit, design, cost, and more. I hope that this review can help you make an informed purchasing decision. If you are interested in the best masks, please feel free to refer to my article on the best reusable masks.
---
This post contains affiliate links. For more information, please refer to my affiliate disclaimer. I was sent a product for review, but the article is not sponsored. All opinions expressed in this post are my honest thoughts. I only recommend products that I genuinely believe in.
Information on this blog is for informational purposes only. Readers are encouraged to confirm the information herein with other sources. Furthermore, this information is not intended to replace medical advice from professionals. This website assumes no responsibility for the accuracy of the information, and information is subject to change without notice. Devices mentioned on this website are not medical devices and do not guarantee protection.
---
Filtration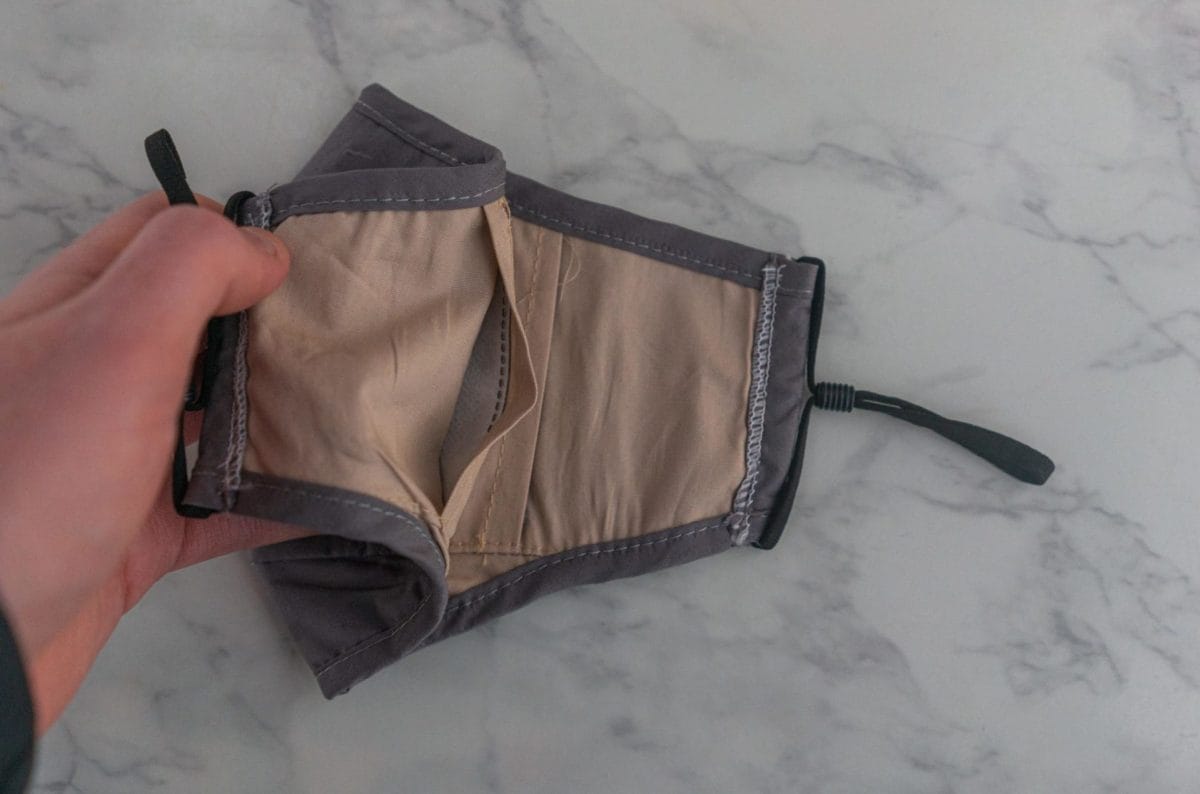 In the first section, I want to discuss the filtration of Puraka Masks and what the filter is capable of. Since these masks use a replaceable filter it's important to keep in mind that these results only apply to the filter (rather than to the mask itself).
On top of this, for the best protection it's vital to ensure that the filter is fitted correctly within the mask and that the mask is fitted properly with minimal leaks. A mask that is not sealed correctly will only provide part protection against particles and may provide no protection.
With that being said, Puraka Masks have been tested under the GB/T 32610-2016 standard (KN95). This standard is a national standard of the PRC (People's Republic of China) and these tests are commonly used to test both respirators and masks. The masks adhere to the requirements of the standard.
In testing carried out by a Chinese laboratory with particles of a count median diameter of (0.075±0.020)μm the minimum filtration result recorded was 97.9%. This means that 97.9% filtration was the worst result recorded across the samples tested.
Further testing was carried out on the mask by TUV SUD to determine BFE (bacterial filtration efficiency). TUV SUD is a German-based safety company that tests a variety of different factors. In this testing, 5 mask and filter samples were tested for filtration against bacterial particles.
The recorded samples consistently showed filtration of just over 98%, with the average BFE filtration being 98.13%. This indicates that in an ideal situation (with the mask fitted correctly and with no leaks) the mask should be capable of filtering a large majority of bacterial particles.
Puraka Masks have also been tested against the other specifications set by the KN95 standard. This includes breathing resistance and total inward leakage – the mask passed both specifications. The breathing resistances were significantly lower than required by the standard (71pa/350pa and 61pa/250pa for inhalation and exhalation respectively).
The filter is melt-blown and relies largely on electrostatic filtration. This means that the filters should never be washed and that they will lose filtration efficiency when they become damp or wet. They should also be replaced frequently as they will lose their electrostatic charge (and therefore filtration). 
This filter appears to be a common filter size. I've seen many reusable cloth masks utilising a filter of similar dimensions to the one sold by Puraka Masks and the filter can be used interchangeably with other filters of the same size and dimensions.
Finally, the filters used in Puraka Masks include a carbon layer. Carbon filtration helps to provide protection against volatile organic compounds (VOCs) and also provides some odour filtration. 
Overall, Puraka Masks have gone through a range of different lab tests. They have performed well in these tests and the masks are capable of relatively high filtration with relatively low breathing resistance.
Learn more and purchase masks at PurakaMasks
---
Fit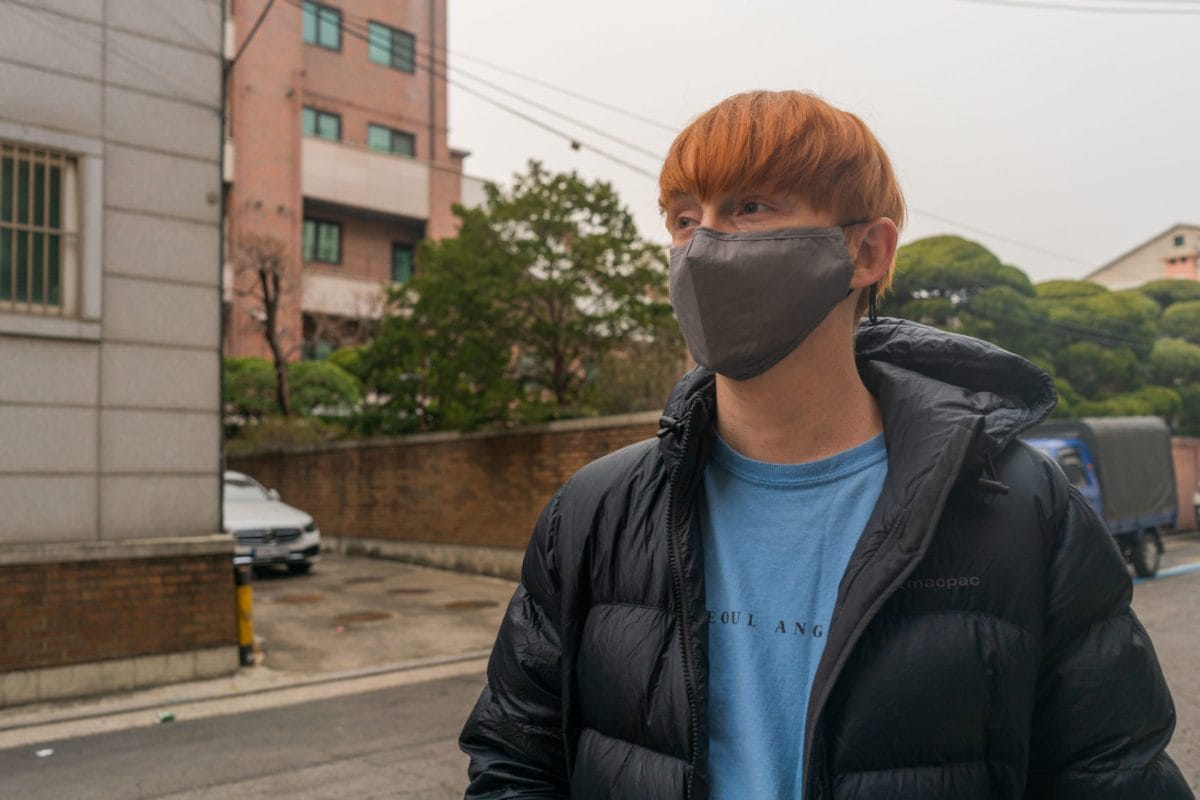 Fit is even more important than filtration in many cases, as a mask that doesn't fit correctly will not provide the filtration that it is capable of. With this in mind, fit should always be amongst your priorities when it comes to choosing a mask.
I will also preface this section by saying that I have not yet found a single cloth mask that fits me perfectly and that has no leaks. While some reusable cloth masks do fit better than others, there is no perfect fit that I have found yet. 
Silicone masks tend to be better fitting but these run into other issues. Firstly, they are often very large and can be uncomfortable to wear. On top of this, they tend to be much more 'ugly' and they will often draw looks. I can understand why this bothers a lot of people and I also find it difficult to wear some silicone masks for this reason.
Therefore, despite having a (generally) worse fit, many people still turn to cloth masks – me included. I also finally want to mention that this section is based purely upon my experiences with the mask. Everyone's face is different, and even if this mask fits me well it may not fit you the same. Please keep that in mind when reading through this section.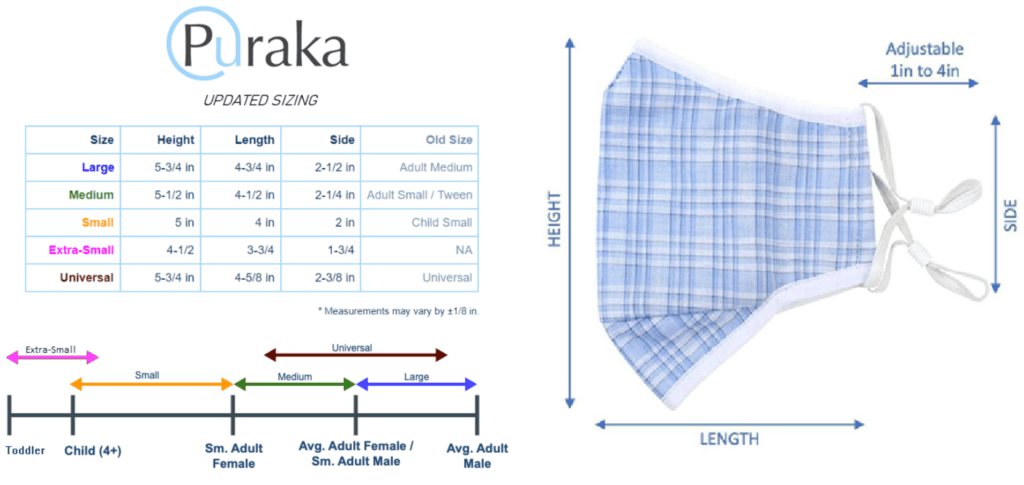 Puraka Masks come in a variety of sizes. There are currently four sizing tiers – extra small, small, medium, large. Extra small and small are intended for children, medium for younger teens/adults with small faces, and large are meant for adults with larger faces. There is also a universal size that covers both medium and large, however, I have not had the chance to try this size.
As a young male adult with a small face, I found that the medium size fit me much better than the large. The large size is too loose around my nose, and the chin wrap doesn't wrap around my chin. For this reason, I ended up sticking with the medium size and I believe their guide is right (since I am an adult with a small face!).
I found that the Puraka Mask tends to be in between other masks in terms of its fit. That is to say, it is as loose-fitting as masks such as Re-mask but it also isn't as tight-fitting as masks such as the Airinum Lite Mask or AirFlex. 
The large mask (above) was a bit too big for me.
The materials used in Puraka Masks make them quite stiff, and this helped the mask to seal along the top. There is a wire nose-piece located around the nose area of the seal. This wire is quite strong and requires some force to bend.
I found the mask to provide a good seal around the bottom of my face. The chin wrap performed well and helped to prevent any leaks on the lower side of the mask. I did notice some leaks around my nose and near the ear straps though. 
The leak near my nose occurred because there is a small gap between the wire and my nose. Since my nose is quite angled I was unable to fully prevent this leak and there was always a small gap. However, as I mentioned earlier this is an issue I have encountered with nearly every mask. I find that a piece of memory foam generally fixes this issue.
I also discovered that the mask can leak between where the ear loop connects to the mask. It seems as though the surface between the ear loops is too long, and when the ear loops are taught it pulls the corners closer together creating a hole between the loop.
This issue could be solved by shortening this surface or potentially even by putting a piece of wire in this space. I'm not sure exactly what the best way to solve this issue would be, but I did find that the mask tends to leak a bit near my ears due to the hole that is created when the ear loops are pulled tight. This did not occur on the large-size mask and only seemed to be an issue on the medium-size mask.
Overall, I found that a decent fit was achievable. While there were some leaks that I was unable to fully remove, these leaks were able to be minimized and I was comfortable wearing the mask. With that being said, I do think that the leak near the ear loops is something that should be looked into.
While the medium-size fit me much better, the tension on the ear loops would create a gap in the seal of the mask. On the other hand, the large mask was a bit too large around my face (specifically under my chin) but this issue didn't occur.
Learn more and purchase masks at PurakaMasks
---
Design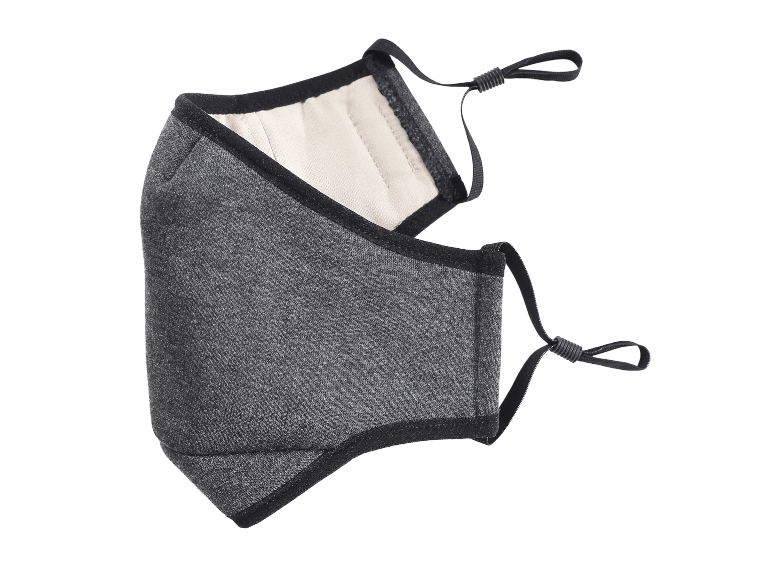 Puraka Masks come in a variety of different designs. Where most masks may have different colour schemes or artwork, Puraka Masks actually have a variety of masks made from different materials in a way similar to Metamasks masks.
I tried both the essential mask and one of the winter collection masks. The winter mask was significantly thicker and definitely lived up to its name – even in the cold winter of Seoul, this mask kept my face warm. This mask is made from cotton and polyester. The essential masks have a cotton outer layer.
The masks are generally quite comfortable and I didn't notice any obvious discomforts when wearing them. The ear-loops are made from a thick elastic that can be adjusted with plastic beads. The elastic is quite thick and this meant that the loops were quite comfortable. Of course, as with any ear-loop they will become uncomfortable over long periods of wear though.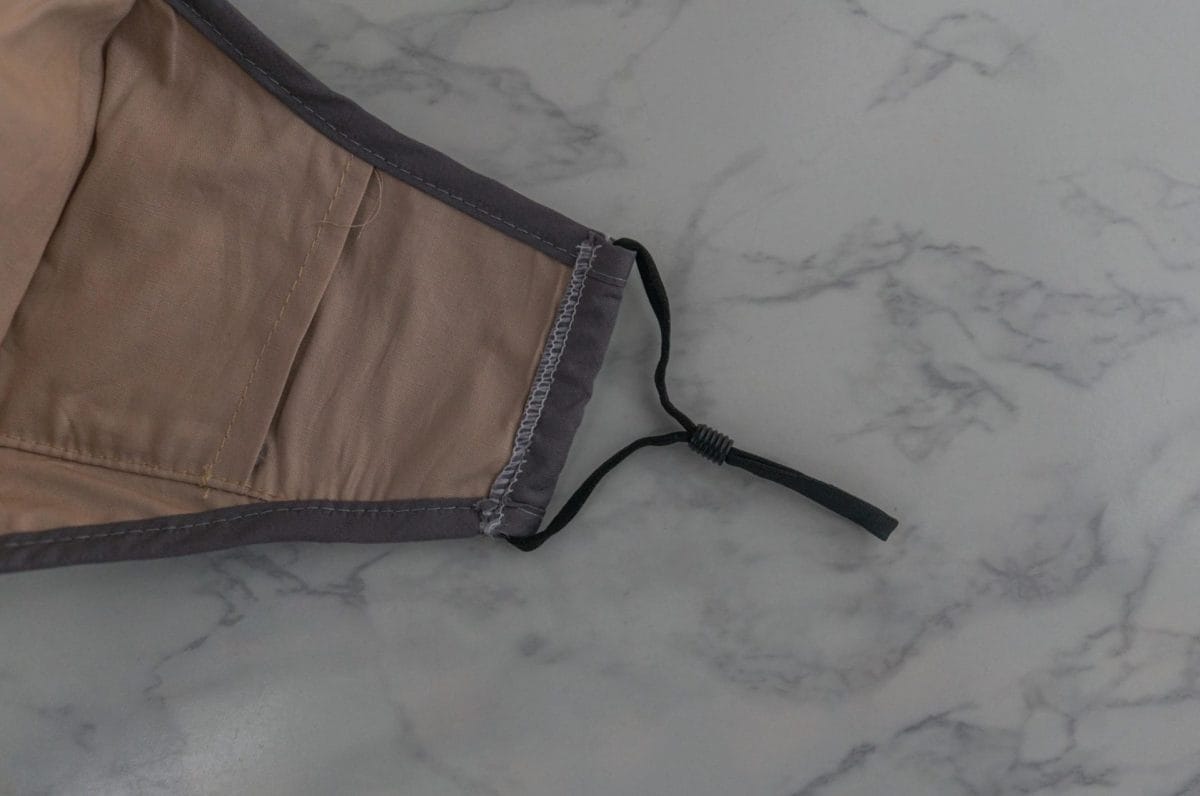 Inside the mask, you will find the filter slot. This slot covers the center of the mask but does leave two large, unfiltered gaps on either side of the mask. The mask does appear to have some filtration built into the mask shell, however, as it has passed the KN95 filtration requirements.
There is a chin wrap on the bottom of the mask similar to that seen on Bloo Mask. I've always been a fan of chin-wraps as they help to provide a better fit with virtually no downsides. While they do make the mask slightly bigger and more weighty, the addition is very small and for the extra fit that a chin-wrap can provide it is well worth the trade-off.
As previously mentioned, the ear-loops on the mask are relatively comfortable. While I do always prefer headbands, these are easy to purchase separately (they are very cheap too!). I found that the ear-loops remained comfortable for a few hours and I found them causing less pain behind my ears than other, thinner, ear loops cause.
Overall I found the design of Puraka Masks to be solid. I like the different collections of the mask that provide different benefits and the choice that the user has. On top of this, the masks are quite comfortable and I found wearing them to be more comfortable than many masks I have tried.
Learn more and purchase masks at PurakaMasks
---
Cost & Lifespan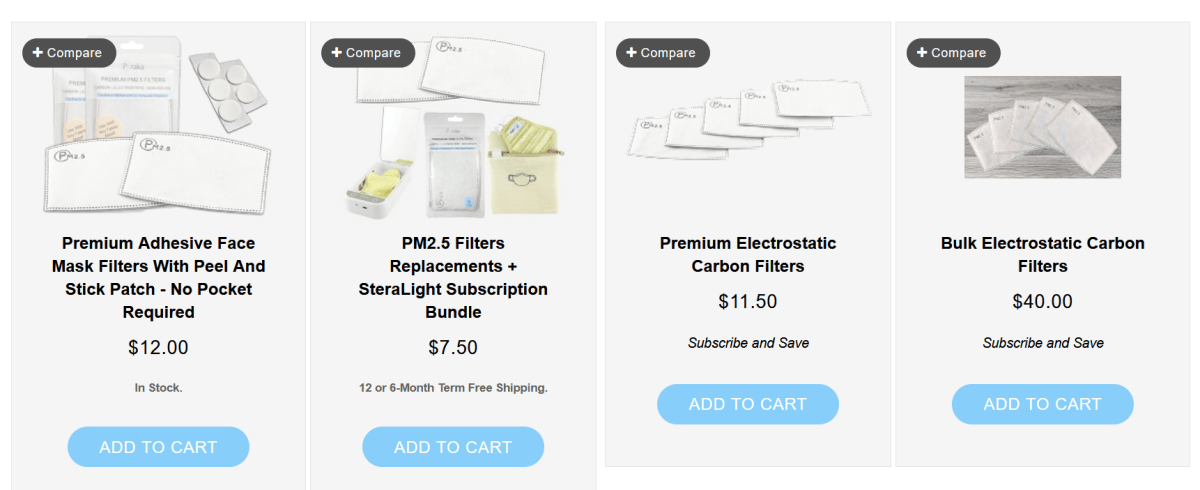 There are a variety of different filter packs.
By now you might be wondering about the cost. Luckily, the cost of a Puraka Mask is quite reasonable compared to many of the other masks on the market. For context, masks such as Cambridge Mask and Vogmask (two of the most popular reusable cloth masks) go for around $30.
The Essential Collection (the standard collection) of Puraka Masks start at $15. The mask should last indefinitely provided that you care for it and store it in a safe place. On top of this cost, you can also choose to include 5 filters for a further $5.
There are a variety of different filter purchase methods available. Puraka offers a monthly subscription service that you can sign up for which will deliver your chosen number of filters each month. On top of this, there are also bulk purchases starting at 50 filters for $40.
If you would prefer to purchase less filters they start at a price of $1.15 each (in a 10 pack). These packs decrease in price (per filter) up to 40 filters where each filter costs 80 cents. These are common filters, but even considering this these filters are some of the cheaper filters for reusable masks.
After contacting Puraka about the filter lifespan I was told that each filter should last for around 16-24 hours of use (based on local AQI). This means that if you wear the mask for 2 hours per day it should last between 8 and 12 days. However, if the filter becomes visibly damaged it should be replaced earlier.
There's no clear system deciding when a filter should be replaced. However, typically the breathing resistance will begin to increase and when this increases notably the filter should be replaced. Further, if you wear the mask for more than 2 hours per day it should be replaced more regularly.
Overall, these filters are some of the more affordable filters on the market. Conveniently, if you already have a surplus of these standard-sized filters from other masks they can be used in masks from Puraka. Just make sure to check their lifespan and filtration.
I do wonder about the lifespan of the filtration that is in the mask itself. While I have no filtration results I might consider replacing the mask occasionally to make sure that the mask itself retains some filtration.
Learn more and purchase masks at PurakaMasks
---
Conclusion
Over the past few months, I've had a few requests to review Puraka Masks and I can see why. The masks have a design that makes them not only protective but also fashionable. Of course, they cover the basics too with good filtration and test results and they have a decent fit.
Although I wasn't able to get the perfect fit myself (there was a small leak near my nose), you may well have a different experience with the fit. Since there are so many different facial shapes and dimensions in the world, it's impossible for me to determine whether this mask will fit you well or not.
In saying that, I mentioned previously that I have not yet found a perfectly fitting (leak-free) cloth mask. I found Puraka Masks to be similar to other cloth masks that I have tried in regards to leakage – especially masks such as Metamasks and Cambridge Mask.
The mask also provides good filtration and has very affordable filter replacements. There are very few more affordable masks on the market, and I appreciate the pricing of Puraka Masks as I believe that protection such as that which is essential in our current times, should not be expensive.
Puraka Masks were also comfortable and these are some of the few masks that I would consider using without a headband. While I do still prefer to use a headband accessory, I can easily wear these masks for hours at a time without experiencing too much discomfort.
If you are looking for a mask that is affordable and that provides good filtration please feel free to check out Puraka Mask's official website at the link below. If you have any further questions or comments please feel free to include them in the comments below!
Learn more and purchase masks at PurakaMasks
Puraka Masks FAQ
Does Puraka Mask Have an Official Rating?
Puraka Masks do not hold an official rating, however, the mask and filters have been lab tested.
Has Puraka Mask Been Lab Tested?
Yes. Puraka Masks adhere to the KN95 standard and have also had further BFE testing from TUV SUD.
What Filtration Does Puraka Mask Have?
In testing carried out by a Chinese laboratory with particles of a count median diameter of (0.075±0.020)μm the minimum filtration result recorded was 97.9%. In BFE (bacterial filtration efficiency) testing carried out by TUV SUD the recorded filtration was > 98%.
How Does Puraka Mask Compare to Other Reusable Masks?
Puraka Masks are some of the most comfortable cloth masks that I have tried. They are also much more affordable than many other reusable cloth masks. With filtration > 97% in testing and BFE filtration of > 98% the masks also offer comparable filtration to many other popular reusable masks.
Does Puraka Mask Use Replaceable Filters?
Yes! These masks use a common-size replaceable filter. The filters can be replaced and they can even be used in other masks.
Where Can I Buy Puraka Masks?
If you are interested in purchasing Puraka Masks you can do so at their official website.