Happy Masks is a U.S-based company that recently came on my radar while researching nanofibre masks. Soon after, a few readers contacted me asking if I would be able to do a review as they were interested in purchasing the mask. Today I am happy to bring you my Happy Masks review.
Happy Masks advertise some quite interesting features. The most important of these features is the very lightweight nanofibre filter that retains efficiency even after being washed. The mask is also very breathable, has a beak design, so it doesn't interfere with speaking, and has very good filtration results in tests.
With these features, I quickly became interested in the mask and wanted to try it myself. Happy Masks was kind enough to send me a mask so I could write my thoughts and share some of the science behind the mask.
Happy Masks sells two types of masks, the Pro Series and the Base Series. Both masks use the same filter, but the design of the masks is different, and the Pro series is designed to last longer. This review is of the Pro Series mask from Happy Masks.
If you've tried these masks yourself, then I would love to hear your thoughts in the comments below. I always value other opinions, and I would be interested to see what others have experienced with Happy Masks. With that being said, this is my Happy Masks review.
Please note: There is some confusion as there are two mask brands – Happy Masks and Happy Mask (no plural). This review is for Happy Masks, found at HappyMasks.com. I have NOT reviewed masks from happy-mask.com.
---
This post contains affiliate links. For more information, please refer to my affiliate disclaimer. I was sent a product for review, but the article is not sponsored. All opinions expressed in this post are my honest thoughts. I only recommend products that I genuinely believe in.
Information on this blog is for informational purposes only. Readers are encouraged to confirm the information herein with other sources. Furthermore, this information is not intended to replace medical advice from professionals. This website assumes no responsibility for the accuracy of the information, and information is subject to change without notice. Devices mentioned on this website are not medical devices and do not guarantee protection.
---
Filtration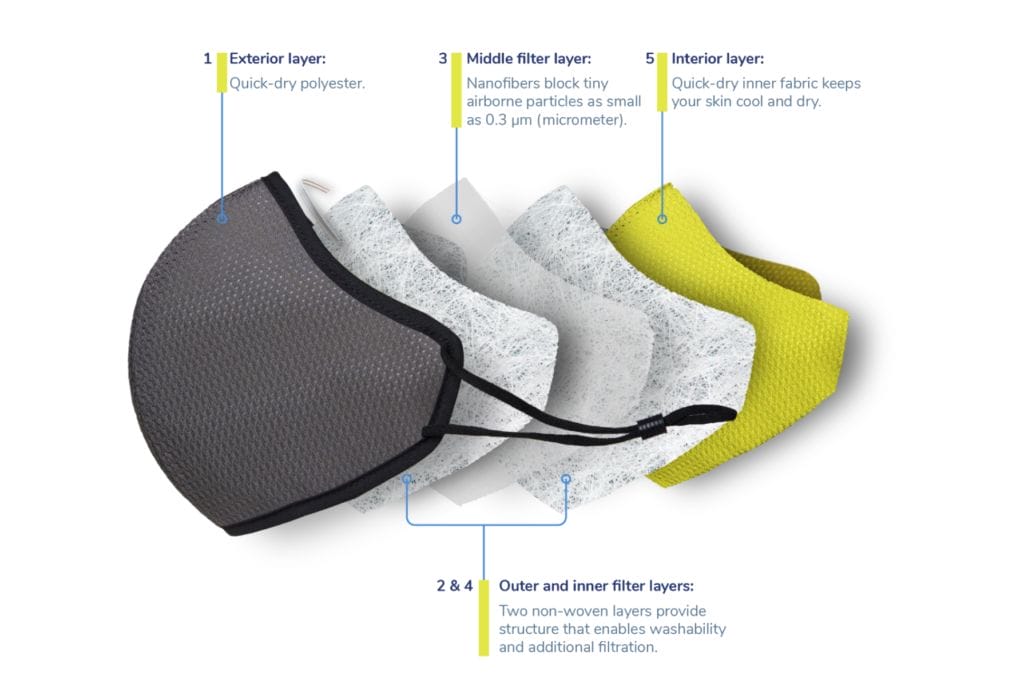 Fit and filtration are the two most important factors of any mask, and they both go hand in hand. Filtration testing is important to see how effective a filter actually is, and a good fit is required to make sure that air actually passes through the filter.
In this section, I will discuss the lab results that I was provided by Happy Masks. I will have a look into what they mean and how they can be interpreted. Further, I will also discuss a few unique aspects of the mask.
It's important to note that this testing applies only to the filter, not the mask itself. Further, as previously mentioned, it's vital to make sure that the mask is fitted as well as possible so as to minimise leaks – leaks indicate that not all of the air is being filtered, meaning that you are breathing unfiltered air.
Happy Masks have one big advantage when it comes to filtration, and that is due to the fact that the masks use a nanofibre membrane filter. Nanofibre filters can be found in some reusable cloth masks, but they are still much less common than cheaper-to-produce melt-blown filters.
Meltblown filters are cheaper to produce and easier to make, and that is why the majority of masks on the market rely on them. However, they also rely very heavily on electrostatic attraction – something that can be lost due to a variety of factors, such as moisture in exhaled air.
On top of this, Meltblown filters can't be washed and require very specific cleaning methods to retain filtration efficacy. Even then, they drop in efficacy far more quickly than nanofibre filters which rely much more on other filtration mechanisms.
I recently interviewed Revolution Fibres on the benefits of nanofibre filters, and I recommend reading that article if you would like to learn more. In brief, nanofibre filters typically are usable for longer, have much lower breathing resistance, can be washed more easily, and retain more filtering efficacy through washes. The use of a nanofibre filter in Happy Masks is very advantageous.
In fact, I was shown test results from OSH, a Taiwanese respirator testing laboratory. In the tests, unwashed (new) filters were compared to filters that had undergone 50 washes. I was told that the masks were washed for 3 minutes in water with a drop of dish detergent.
The masks were then removed from the water, rinsed, and left to air dry. 5 masks were tested this way, and each was exposed to this process 50 times. These five masks were then tested against five masks that had not been washed. The end results showed no difference in filtration efficacy between the unwashed masks and those washed 50 times.
This is a very impressive result, and it's in line with what I expect from nanofibre filters. Since the filter is built into Happy Masks (and can't be removed or replaced), this is especially important. The filter is good for around 250 hours of wear and can be washed in detergent when needed.
In lab tests, the filter has also performed very well, and the filter is one of the most capable that I've seen. The mask has been tested for NaCL (a particle filtration efficiency test), BFE (bacteria filtration efficiency), and VFE (viral filtration efficiency). BFE and VFE testing was carried out by Nelson Labs, and NaCL testing was by TTRI (Taiwan Textile Research Institute).
For both the BFE and VFE tests (with five samples tested), the filter achieved > 99.9% filtration. This was carried out using particles with a mean particle size of 3.1μm at a flow rate of 28.3 litres/minute. In all of the VFE tests, there were no detected plaques downstream of the mask.
In the NaCL testing carried out by TTRI, 10 samples were tested, achieving an average filtration rate of 99.97%. The lowest recorded result out of the tested samples was 99.93%. This testing was carried out at a flow rate of 85l/min with a particle size of 0.075μm.
| | |
| --- | --- |
| Particle Type | Filtration |
| NaCL | ≥ 99.93% |
| VFE | > 99.9% |
| BFE | > 99.9% |
Due to the nanofibre construction of the filter, the mask is also exceptionally light and provides relatively low breathing resistance. The only other masks I have tried with such low breathing resistance are the Bloo Mask and Airgami – both of which are incredibly breathable.
---
Design
Happy Masks have a very simple design and this is one of their strengths. The mask is very lightweight, and it's made from materials that help it achieve this. The nanofibre filter and mask skin are very thin, as are the ear loops.
This helps make the mask very easy to wear. It's a mask that can easily be donned and doffed, and wearing the mask feels much more freeing than wearing a larger mask such as the AirFlex Mask or a Cambridge Mask.
Despite being so light and thin, the mask doesn't suffer from mask collapse. This occurs with many lighter masks as they tend to be made from less sturdy materials – materials that can easily interfere with breathing. Happy Masks utilise a 'beak design' with the front of the mask protruding a few centimetres in order to prevent difficulties breathing.
Due to this, I also found talking in my Happy Masks to be much easier than with many other masks. I never got the interior layer in my mouth, and this is a big advantage, as there aren't many things more frustrating than accidentally eating your mask!
There is a thin wire nose-piece near the top of the mask, which is meant to allow for a tighter fit around the wearer's nose. The wire is very bendable and easy to adjust. The piece of wire goes around my nose and protrudes onto my cheeks slightly, but not much.
Following the light and simple design of the mask, the ear loops are made from an elastic string that is very lightweight. Both earloops come with a small bead on them, allowing the user to adjust to the mask's tightness.
These strings are thin, however, and can cause some pain behind the ears after long periods of wear. This is somewhat offset by how light the mask is, though, and I found the pain to be less than some other masks that rely on ear loops. However, I prefer masks that use neckbands and headbands.
Also worth noting is that the materials used don't appear to have any strong scents. While it may sound unusual, I've come across many masks that have odd scents when they are new. While these don't prevent me from wearing masks, they can be uncomfortable when initially donning them. Luckily, Happy Masks don't appear to have any such issues.
---
Fit
While filtration is often the aspect that many customers focus on when purchasing a mask, the fit is just as important, if not more so. A mask that isn't fitted correctly will not filter air, and in that case, the actual filtration specifications of a mask are useless.
As I mentioned in the design section, Happy Masks rely on the wire nose-piece and earloops to achieve a good fit. There is no foam around the nose area, and a secure seal relies entirely on the wire. The ear loops are adjustable and allow for some degree of fitting the mask.
I am using the medium mask, and I found that to achieve a decent fit, I had to pull the beads on the ear loops about halfway up the elastic string. It might just be my face shape, but I had to essentially halve the length of the ear loops to achieve a comfortable fit. Luckily, that's no big deal since the loops are designed to be adjusted.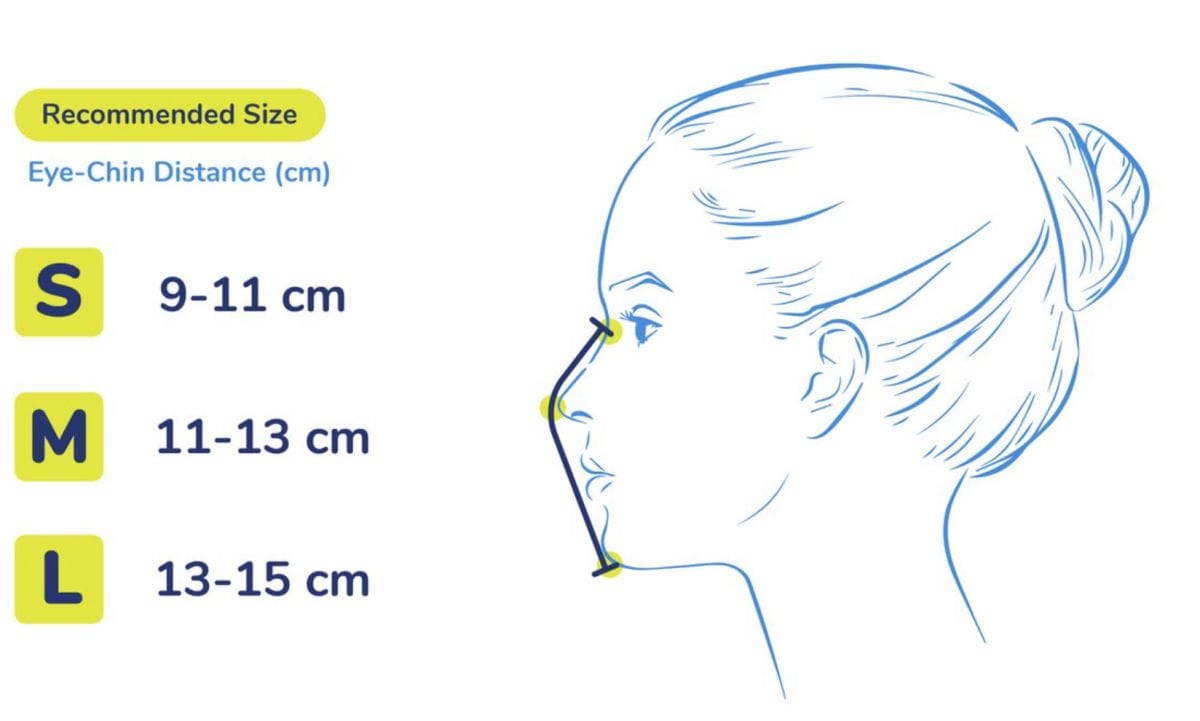 When tightened, the mask sits quite deep under my chin – it sits about 3cm back from my jawline. This appears to be a good design choice, as I have noticed no leaking on the bottom of the mask. Since it sits quite far back, it's also a sturdy fit that doesn't move when I am doing physical activities.
The most common area to experience leaks with cloth masks is around the nose. Since this is the most varied surface with large angles, it's hard to achieve a perfect fit here. On the other hand, the cheeks and chin are quite flat and allow for a far less difficult seal.
Even when I tightened the mask, I had some leaks around my upper nose area. While I could get the mask to seal around the sides of my nose, I had difficulty with the topmost point of the mask. I could still feel the majority of the air exiting through the filter, but I could feel warm air exiting near my eyes.
This leak did become much smaller after adjusting the mask properly and tightening it, as I mentioned earlier. However, it is still there even after spending a good amount of time adjusting the mask and trying to remove it. In saying that, I have experienced very few cloth masks where I have been able to remove leaks around the nose area fully.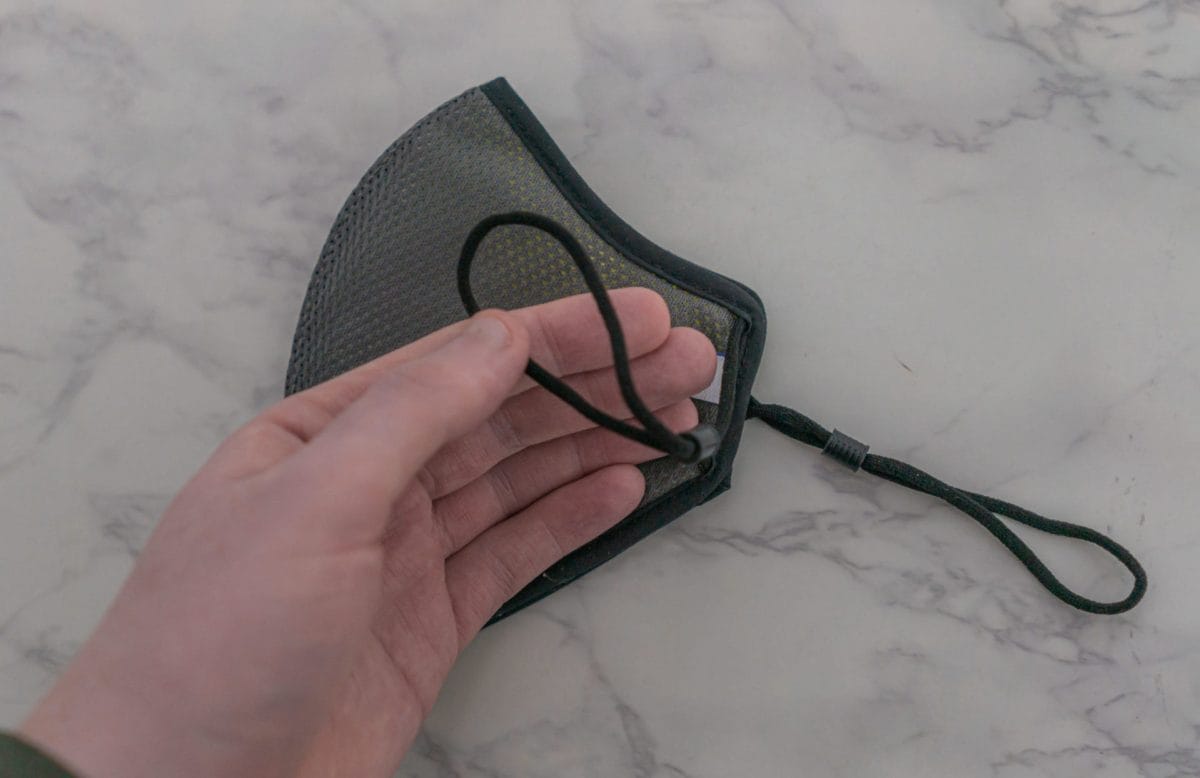 I would be interested in testing the mask with either a longer piece of wire that is a few centimetres longer on both sides or with a piece of memory foam around the nose. I'm unsure if these would remove the leak entirely, but I would be interested to see the results. I have been told that Happy Masks is currently testing a longer piece of wire based on customer feedback.
June 2021 update: Happy Masks has since released an updated version of the mask that features a longer nose-piece, and that is shaped slightly differently. After testing this mask over a few weeks, I found the fit to be much better than the model I initially reviewed. While there are still minor leaks, the fit has been improved significantly. I will keep my initial thoughts here as I believe that it shows how Happy Masks is open to customer feedback and how they are constantly working to improve their masks.
I found the beads on the earloops to be surprisingly sturdy, and they didn't move much, even after doing physical activities with the mask. Often beads move a bit during wear and loosen the mask, but my Happy Masks mask does not have such an issue.
Overall, I found that the fit was decent for a cloth mask. While I couldn't fully remove the leak near my nose, I was able to minimise it. Further, there are very few cloth masks that I am able to remove the leaks on fully – it's very hard to create a mask that fits everyone perfectly.
Other than the aforementioned area, the mask didn't leak in my experience. Both the bottom and sides fit well and sat close to my face creating an effective seal. Something interesting that I noticed is that it's much harder to identify leaks on this mask compared to most other masks due to the low breathing resistance of the filter.
---
Lifespan & Cost
Happy Masks do not feature removable filters. As such, the filters can't be replaced, and the whole mask should be replaced once it gets damaged or reaches the end of its lifespan. Fortunately, due to the filter design, the mask can be washed.
When washing the mask, make sure to hand wash. The masks should never be machine washed as they are delicate and require soft handling. For the exact washing procedure, Happy Masks has a short one-minute Youtube video explaining the process.
The masks have been tested for filtration efficacy after 50 washes, and there was no drop in filtration. This means that provided you are washing the mask as the video shows, there should be no need to worry about a loss of efficiency. However, if the mask gets damaged or the filter becomes difficult to breathe through, the mask should be replaced.
Further, Happy Masks should be replaced after 250 hours of wear. If you wear the mask for 2 hours daily, this equates to around four months of wear. While this does depend on local air quality conditions, you should be able to expect to get around this lifespan from each Happy Mask.
The masks themselves cost $24 for the Pro Series. This means you are looking at around $1 per 10 hours or 10 cents per hour of wear. In the long run, this will come out much cheaper than disposable masks. Even better, Happy Masks have significantly better filtration efficacy than most disposable masks.
---
Conclusion
Out of all of the reusable cloth masks I tested on this website, Happy Masks have some of the best filters. Not just in regards to filtration in lab tests but also in regards to breathability, lifespan and overall comfort.
I believe that nanofibre filters are the way of the future regarding masks and filtration. I am very happy to see this technology being used in Happy Masks, as it's still much less common in reusable masks than melt-blown technology.
Happy Masks are also very light and are very easy to wear. This is one of the least intrusive masks I have worn, and it's easy to put on for a short trip outside, such as when I go shopping On the other hand, it's also proven quite comfortable over longer periods of wear.
I am also very happy to see that Happy Masks was willing to listen to customer feedback and improve their masks based on common complaints. They were quick to act on feedback about the wire nose-piece and to try to solve the issue. While I still encounter minor leaks around the nose (especially when active), the fit is significantly better than on the previous iteration of the mask.
In fairness, I want to mention again that there are very few masks where I can remove leaks fully. I have only used 3 or 4 cloth masks that allow me to remove leaks fully, and even these encounter issues at times (such as when exercising). Everyone's face is different, and this mask may fit others better or worse than mine.
The sturdy 'beak' design of the mask also means that there is little mask collapse, and I found speaking in this mask to be very easy. For this reason (along with the low breathing resistance), I feel like this would be a good mask for exercising in provided that it fits correctly.
Finally, I also want to mention that I believe this mask would be a good choice for children. Realistically, children's masks are hit and miss because you will never be able to achieve a leak-free seal on children – they are just too active and love to touch/adjust their masks. Happy Masks are quite loose-fitting but can still achieve a decent seal.

Happy Masks FAQ
Do Happy Masks Have an Official Rating?
Happy Masks have no official certification (N95, KN95, KF94, etc). However, they do have third-party testing from Nelson Labs and TTRI.
Have Happy Masks Been Lab Tested?
Yes. Happy Masks have had NaCL filtration testing done by TTRI, and VFE, and BFE testing has been carried out by Nelson Labs.
Do Happy Masks Use Replaceable Filters?
No. Happy Masks have a nanofibre filter sewn into the mask. As such, the filter can't be replaced.
What Is the Lifespan of Happy Masks?
Happy Mask's Pro Series lifespan is around 250 hours of wear.
Can Happy Masks be Washed?
Yes! The masks can be hand-washed and have been shown to retain filtering efficiency after being washed 50 times.
---
Happy Masks Pro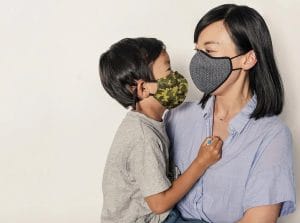 Happy Masks is an American company producing some of the most breathable masks on the market. Using nanofibre filters, the Happy Masks Pro are not only highly breathable, but also very comfortable. On top of this, they offer good filtration against a range of particle types and are reusable, even after being washed many times.
Product Brand: Happy Masks
Pros
Exceptionally breathable
High filtration
Lightweight and easy to wear
Affordable
Long lifespan
Retains filtration after being washed
Cons
Prone to leaks around the top of the mask
Looses some integrity after being washed
Lightweight design means the mask can shift easily