Portable air pollution monitors are becoming more and more common these days as air quality worsens in many areas of the world. While most large cities have official air pollution monitoring stations, we usually have no way to measure local air pollution – something which can vary greatly.
That is where the two devices in question today become important. The Flow 2 and Atmotube Pro are two of the most well-equipped portable air pollution monitors on the market today and they are both very capable devices.
However, it can be hard to choose between the two. While both monitors are capable devices, they also have very different strengths, weaknesses, and are better in different situations. With that in mind, today I want to compare the Flow 2 to the Atmotube Pro.
I have also reviewed both of these devices individually, so if you are interested in learning more please check out my individual reviews. I have also included a link to my Breathe Smart 2 review as this is a good device for anyone wanting to monitor PM2.5
---
This post contains affiliate links. For more information, please refer to my affiliate disclaimer. I was sent a product for review, but the article is not sponsored. All opinions expressed in this post are my honest thoughts. I only recommend products that I genuinely believe in.
Information on this blog is for informational purposes only. Readers are encouraged to confirm the information herein with other sources. Furthermore, this information is not intended to replace medical advice from professionals. This website assumes no responsibility for the accuracy of the information, and information is subject to change without notice. Devices mentioned on this website are not medical devices and do not guarantee protection.
---
Sensors
The most important aspect of both devices is the sensor array that they sport. In regards to pollutants, the Flow 2 measures more with a total of 6 concentrations being measured (PM1, PM2.5 and PM10, nitrogen dioxide and volatile organic compounds). On the other hand, the Atmotube measures PM1, PM2.5, PM10 and volatile organic compounds.
| | | | | | |
| --- | --- | --- | --- | --- | --- |
| Sensor | PM1 | PM2.5 | PM10 | VOC | NO₂ |
| Flow 2 | ✓ | ✓ | ✓ | ✓ | ✓ |
| Atmotube | ✓ | ✓ | ✓ | ✓ | X |
While the Flow 2 does feature an additional NO₂ (nitrogen dioxide) sensor, the Atmotube Pro also includes an array of sensors for other environmental factors (altimeter, temperature, humidity and air pressure sensors). These sensors may not be as useful as the pollutant sensors, but they are a welcome addition and they do have an impact on air quality.
Further, I found that the inclusion of these sensors makes the Atmotube Pro a weather station on top of a portable air quality monitor. I found myself checking the app more regularly than I did with the Flow 2 as the weather insights allowed me to quickly check not only the local air quality, but also the local weather conditions.
| | | | | |
| --- | --- | --- | --- | --- |
| Sensor | Altimeter | Temp | Humidity | Pressure |
| Flow 2 | X | X | X | X |
| Atmotube | ✓ | ✓ | ✓ | ✓ |
In saying that, the addition of a nitrogen dioxide sensor in the Flow 2 might prove more useful for some people. Nitrogen dioxide is a dangerous chemical compound that is most often emitted by fossil fuels – especially vehicles.
If you are looking for a portable air pollution monitor for an activity such as biking or running, or if you exercise or often walk near busy roads, the NO₂ monitor within the Flow 2 is very valuable. It can allow you to find safer routes and will help you avoid this dangerous pollutant.
Purchase Flow 2 | Atmotube Pro
---
Accuracy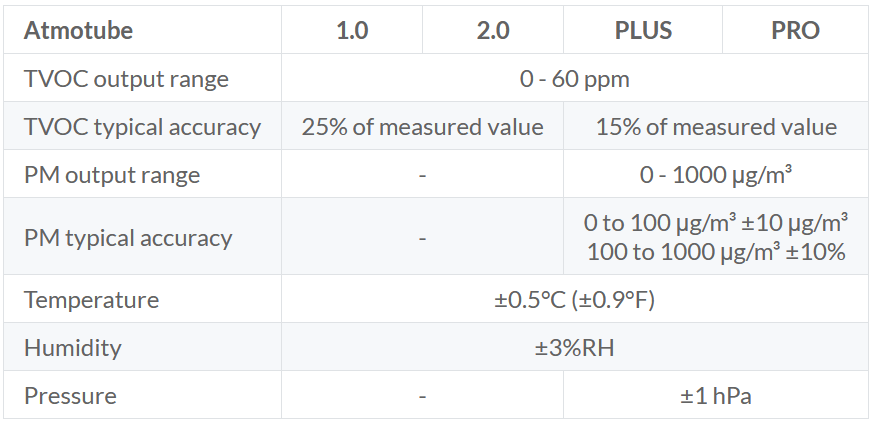 Atmotube sensor accuracy & range
I cover the accuracy of each device more in the individual reviews (which can be found here, Flow 2 review | Atmotube Pro review). However, I will briefly cover the accuracy of both device here. Firstly, it's important to remember that no portable air quality monitor using consumer-level sensors will be entirely accurate.
Often, the readings that they give will vary a lot from official devices. However, what these air quality monitors can do is inform us about the trends air quality and give us an overview of the air quality. This is particularly true for pollutants that are harder to measure (such as VOCs, due to chemical interference).
With that being said, both of these devices are somewhat accurate. From lab tests on Plume Lab's website, the Flow 2 is shown to be accurate within 10% for PM1 and PM2.5, within 20% for PM10, within 5% for nitrogen dioxide and within 1% for VOCs.
On the other hand, the Atmotube Pro has been tested by AQMD against federal level air quality sensors. The Atomtube Pro data for PM1 and PM2.5 showed an R value of 0.9 when compared to the official sensors, showing that it shows very similar trends to the official devices. Interestingly, the PM10 readings were far less accurate and no strong relationship was found between the Atmotube and the official sensors. The device also has accuracy within 15% for VOCs.
Overall, both devices are somewhat accurate but neither should be fully relied upon for individual readings. Rather, the devices are better used as a guideline and they can show overall trends.
Purchase Flow 2 | Atmotube Pro
---
Design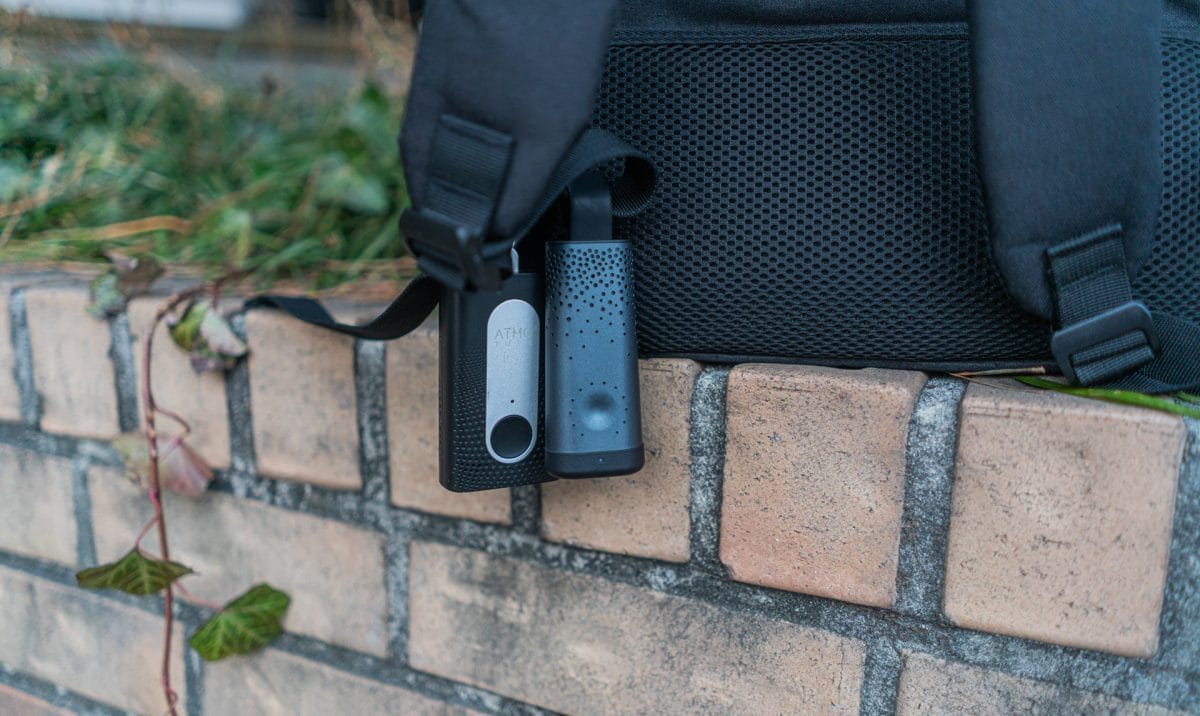 Both products feature very different design languages and this is reflected in how different the devices look. Really, the only similarity between the two is the inclusion of holes across the device so as to allow them to intake air for monitoring.
The Flow 2 has an extremely minimalist design, and nothing on the device moves. There is a button on the front, but it is touch sensitive and doesn't physically move when pressed. When you press the button, some LEDs will light up to show the current air quality.
Flow 2 is significantly lighter than the Atmotube Pro, and it's also smaller. The device is slightly taller than the Atomtube, but it's also only just over half the width. This means that the device is much more compact – however, both are very small and are significantly smaller (in height and width) than a modern smartphone.
The biggest downside of the Flow 2 design-wise is the use of a plastic strap at the top. Although I haven't had issues with this strap myself, some of my readers reported that the strap wears out over time and that it isn't as good as the strap on the previous generation.
The Atomtube Pro, on the other hand, uses a metal carabiner hook to attach the device to other objects. This method feels much more reliable and it's something that I appreciate. However, unlike the Flow 2, the Atmotube Pro is primarily made out of plastic and it does feel less premium.
With that being said, the Atomtube Pro does feature a far better battery. As such, I can easily forgive the bigger form factor and slightly lower build quality. In this scenario, the bigger size allows for a bigger battery and that is a big bonus.
It is worth mentioning that both devices have fans inside (to pull air into the sensors) and this is the same reason that both devices have many holes in them. This means two things, firstly, the devices can be audible at times. Neither is loud, but you may hear them in an otherwise silent room. This also means that neither device is waterproof or water-resistant at all.
Purchase Flow 2 | Atmotube Pro
---
App
Flow 2 app
Both devices rely on a paired smartphone and app to report their data. This means that a Bluetooth connection with a device will be needed, especially if you want to visualise the data.
The Flow 2 app (pictured above) has a much more modern feel. The app is very clean, straightforward, and easy to use. On the main screen you will get an overall AQI reading, individual pollutant readings, and a map highlight showing the air pollution readings everywhere that you have been.
This function is very useful and something that the Atmotube doesn't support. However, keep in mind that you will need to enable the GPS on your phone for the Flow 2's mapping function to work.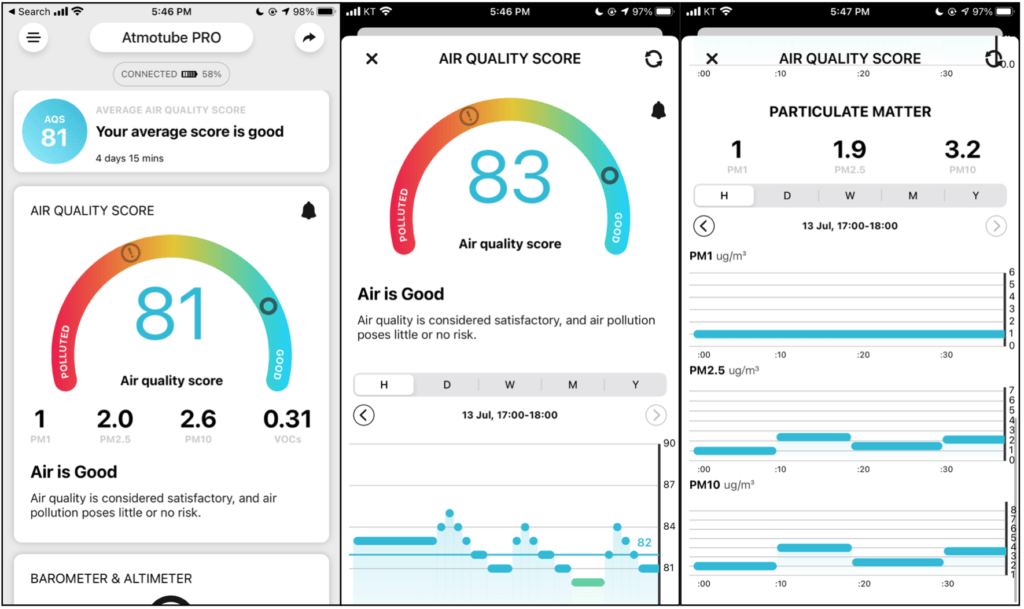 Atmotube App
The Atmotube app, on the other hand, has a very different design language. At the top of the Home Screen you will find an overall air quality score, which is a reading that considers all of the individual pollutants (PM1, PM2.5, PM10 and VOCs). Underneath this, you will see other weather highlights such as a barometer and altimeter.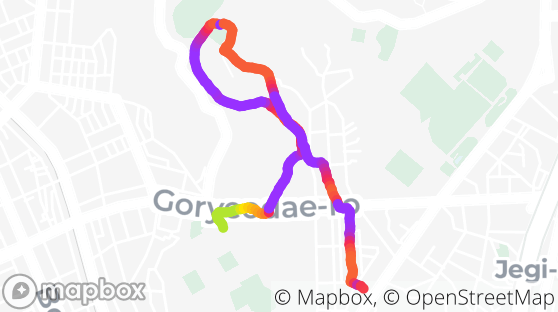 Flow 2 pollution map.
The Atmotube uses graphs rather than maps to visualise its data. While the Atmotube app has a lot more data, I prefer the visualisation of the Flow 2 app and the maps that it provides. In saying that, I actually prefer the Atmotube app for quick weather/air quality checks.
The home screen reading is easier to read, and the insights provided below the reading are very interesting and informative. A strength of both devices is that they both allow you to export data, meaning that you can analyse and visualise the data on a computer if needed.
Compared to other air quality applications on the App Store and Play Store, both of these apps function well and are either comparable or better than other options. Of course, both integrate their respective devices making them the best options if you own one of these products.
Purchase Flow 2 | Atmotube Pro
---
Battery Life & Charging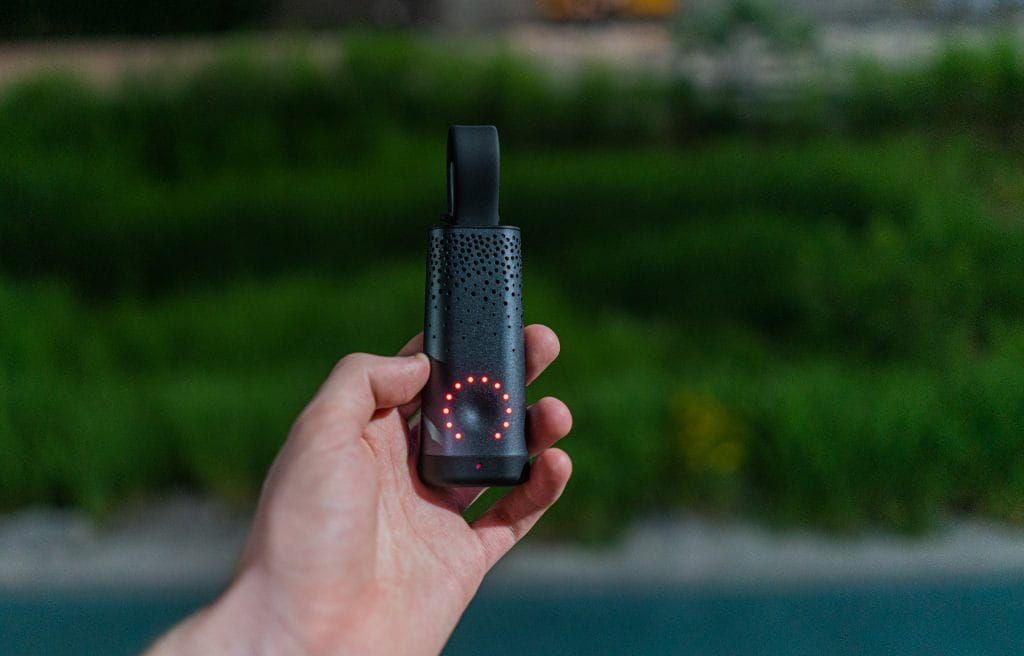 To be totally frank, the battery is the biggest reason that I would choose the Atmotube Pro over the Flow 2. The battery on the Atmotube is fantastic. I often get a week of use before I need to charge it again! While the Flow 2 is listed as having a 3-day battery life, I found 2-days to be more realistic. Even less if you take readings regularly.
I found it a hassle to always need to remember to charge the device every evening and for this reason I preferred the Atmotube Pro. However, if you don't mind needing to charge every night or two then the Flow 2 is a fine choice.
Flow 2 also makes charging much easier as there is an included dock. This dock allows the Flow 2 to easily charge, and it also allows the Flow 2 to function as an indoor air quality monitor when it is docked. I appreciate the quality of the dock too – it's very well made! While not as good as a dedicated indoor air quality monitor (such as the HI-300), it's a good balance.
Both devices use USB-C for charging and charge quickly. While the Flow 2 uses a dock to charge, the Atmotube Pro just has a USB-C port in the bottom of the device that can be used to charge the device.
With all of this being said, the Atomtube Pro is a better device (in regards to battery life) if you want a purely portable device. However, the easy of being able to use the Flow 2 as an indoor air quality monitor also makes it a good choice for people who want a monitor that works well while out and about and at home.
Purchase Flow 2 | Atmotube Pro
---
Other Features
Both devices allow over-the-air updates through their companion apps. This means that you may get notifications to update the devices over time. The process for both devices is painless and very fast – something which I appreciate as it may help improve the lifespan of the devices.
Both devices also have opt-in features that allow you to plot data from your device on a larger map. This means that your pollution data can go towards creating a live pollution map that every Flow 2/Atmotube Pro owner can contribute to. While this map may not be as accurate as official maps, local air pollution varies a lot and these maps can help tell other users exactly which streets to avoid.

Exported data from the Flow 2.
As mentioned previously, both devices also allow for exporting of data. This is extremely useful for anyone that wants to look deeper into their air quality monitor data as it allows the use of powerful tools and software such as Excel.
Purchase Flow 2 | Atmotube Pro
---
Conclusion – Is Flow 2 or Atmotube Pro Better?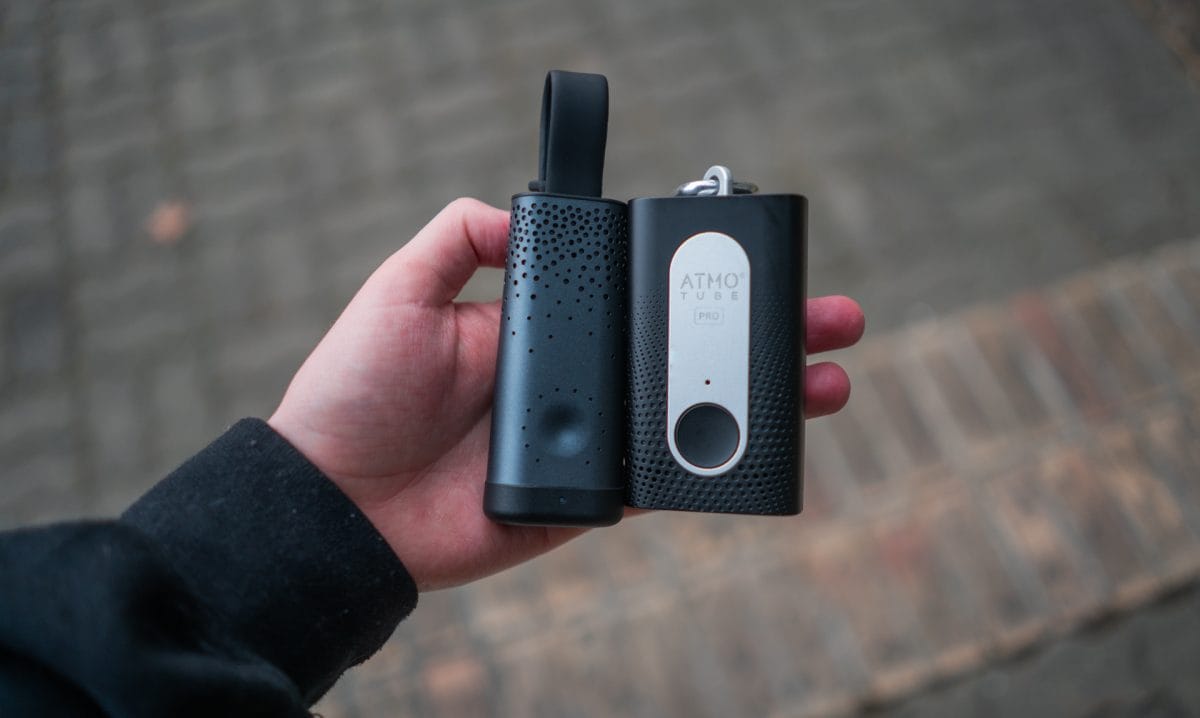 Although it's probably not the answer you are looking for, it's impossible to say that one device is inherently better than the other. Both devices excel in different areas, while not doing so well in other areas. With that being said, I do have some recommendations for picking between the two devices.
The strengths of the Atmotube are as follows:
Fantastic battery life
Addition of other sensors make the device a full weather station
App provides easy to access and read insights into local air pollution
The strengths of the Flow 2 are as follows:
Design of the Flow 2 is very solid
Included USB-C dock allows the device to be used easily indoors and outdoors
Mapping function provides valuable insights into daily commutes
Nitrogen dioxide monitoring
Both devices have comparable accuracy, and in my experience, they tend to provide similar data most of the time. On top of this, both devices offer good designs that feel solid – although, Flow 2 does feel more solid. Both apps are also well-made, and while I prefer to Atmotube app I know many people will prefer the Flow app.
From my experience, I would say that the Atmotube Pro is a good device for anyone that wants a more general air and weather monitor. However, Flow 2 is perhaps a better choice for people who regularly walk, jog, run, or bike for exercise. The nitrogen dioxide sensor is a great addition and anyone that is often near busy roads will appreciate the addition.
Do you have either of these devices? If so, which one did you choose and why? If you've tried both, which one do you prefer? I would love to hear more experiences with both devices. Please feel free to leave a comment on this post with your thoughts!
Purchase Flow 2 | Atmotube Pro
---
Flow 2 vs Atmotube Pro FAQ
How Much Do Flow 2 and Atmotube Cost?
At the time of writing, the Flow 2 costs $199 on the official store whereas Atmotube Pro costs $179 on their official store.
Where Can I Buy Flow 2 and Atmotube?
Which Device Has a Better Battery Life?
The Atmotube Pro has a battery that lasts between 7 and 10 days in my testing. On the other hand, the Flow 2 battery lasts around 2-3 days.
Which Device Is Smaller?
The Flow 2 is a little taller, but it's also narrower. However, the Atmotube is quite a bit heavier than the flow.
Which Device Is More Accurate?
Both devices are somewhat accurate and feature similar accuracy. However, PM1 and PM2.5 readings seem to be slightly more accurate on the Atmotube whereas PM10, VOC and nitrogen dioxide readings seem to be a bit more accurate on Flow 2.