With silicone and plastic masks picking up a lot of popularity recently, I wanted to look at a popular device I've frequently encountered. The G-Series masks from Castle Grade both look and sound intriguing, and it's past time that I gave them a look!
The G-Series masks (G7, G8, and G9) make many promises that make them devices worth looking into. Not only are they supposed to provide an excellent seal due to their silicone-based design, but they promise to lower waste due to the smaller filter media used.
However, silicone masks also tend to present some problems. Some suffer from breathability issues, while others contain hot microclimates after some usage. I'm curious to see if Castle Grade's G-Series suffers from these issues or if they've found a way to overcome what could otherwise limit my usage of the mask.
As always, if you have experience with either the G7, G8, or G9, you are welcome to share your thoughts below. I am always interested in hearing my readers' experiences, and it's essential to share when it comes to masks. Experiences can vary widely between individuals, and a mask that fits me well may not fit you well.
With that being said, let's jump straight into this review of the Castle Grade G-Series masks!
---
This post contains affiliate links. For more information, please refer to my affiliate disclaimer. I was NOT sent a product for review, this product was purchased by myself. All opinions expressed in this post are my honest thoughts. I only recommend products that I believe in.
Information on this blog is for informational purposes only. Readers are encouraged to confirm the information herein with other sources. Furthermore, this information is not intended to replace medical advice from professionals. This website assumes no responsibility for the accuracy of information and information is subject to change without notice. Devices mentioned on this website are not medical devices and do not guarantee protection.
---
Filtration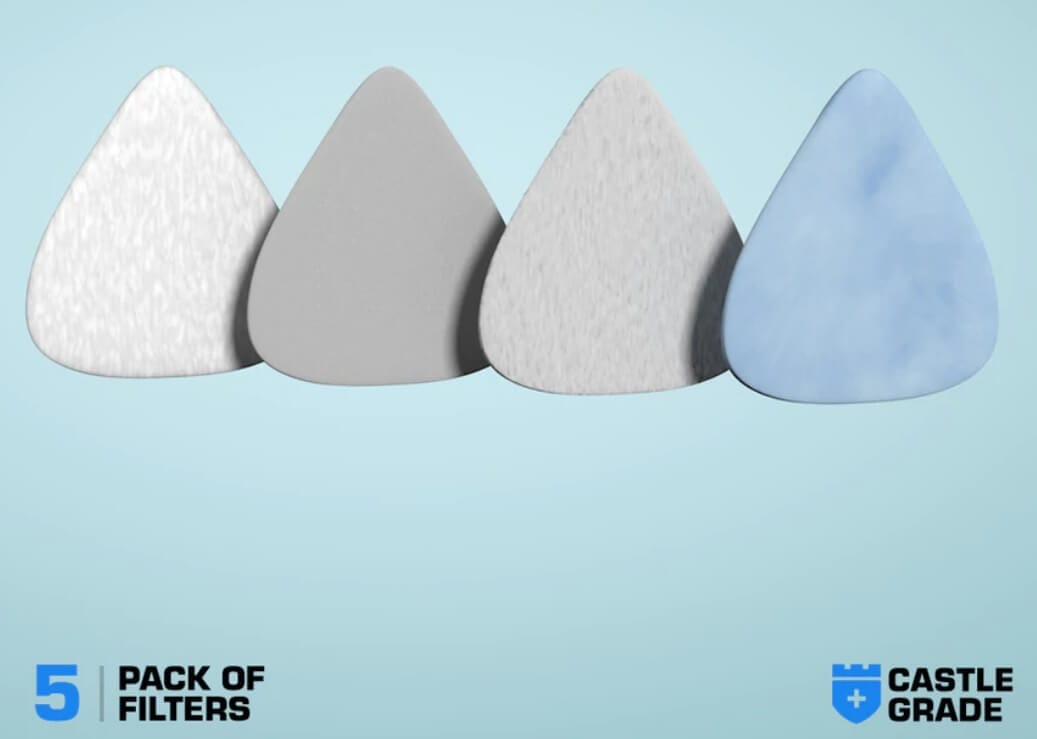 The G7, G8, G9, and G10 (which I am unsure is still sold) all use the same filter media. Nelson Labs have tested this filter media according to NIOSH's 42 CFR 84. This standard is the PFE (particle filtration efficiency) standard with which NIOSH-certified respirators are tested.
With that being said, it's important to note that the Castle Grade G-Series devices do not hold an official certification. They do not have a respirator certification and therefore can not be considered as such.
What they do have is particle filtration efficiency testing. This test is designed to challenge the filter media against fine articles particles. Alongside testing the filtration efficiency, the lab also tests for breathability (pressure drop).
The results mentioned below apply only to the filter media. This is because these lab tests were not carried out on the device itself but rather only on a larger piece of filter material. While, in theory, these results should apply to the mask also, it's essential to ensure that the filter is fitted correctly and that the mask has no leaks.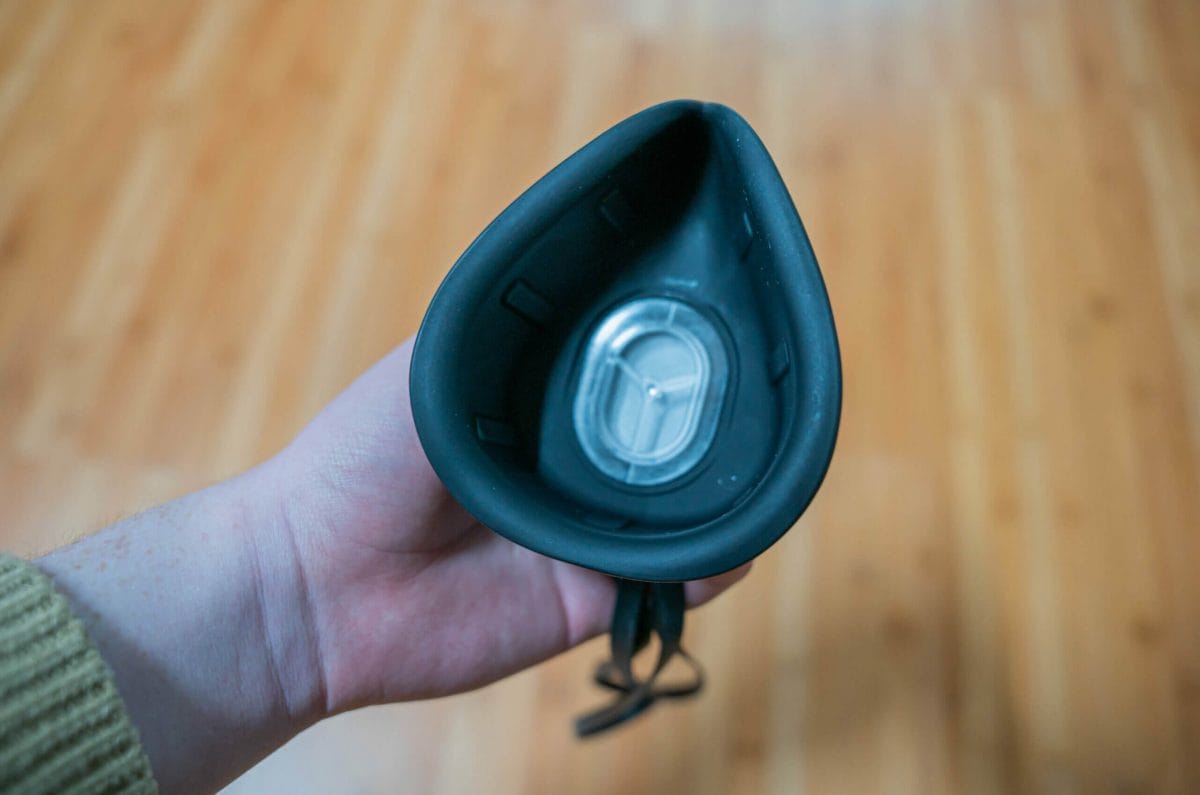 With that out of the way, we can look at the filtration results that Castle Grade achieved with its G-Series filters. Across 20 tested samples, the highest recorded particle penetration was 2.58%. Flipped around, this indicates that the worst-case PFE for G-Series devices is 97.42%.
While the average filtration across the samples is higher at around 97.9%. Although this isn't best-in-class, and some reusable masks have a PFE of over > 99%, this is an acceptable result.
My personal opinion is that when masks achieve > 95% filtration efficiency, it's better to find the device that fits best. At this point, a better fitting device is often the better choice as it's not the filter in the mask that is a liability but rather the seal.
The lab tests also covered breathability (airflow resistance), measured by pressure drop (mm H2O). These results were fascinating because the airflow resistance on the G-Series filter media was considerably higher than I would have expected.
With airflow resistance around 45mm H2O, Castle Grade masks are significantly less breathable than N95 respirators, which must have < 35mm and < 25mm on inhalation and exhalation resistance, respectively. On top of this, standard N95 devices exhibit far lower breathing resistance, with many sitting at or under 15mm H2O.
I found the Castle Grade G-Series devices harder to breathe through than most masks I review. However, until I saw the lab results, I believed this was due to the small surface area of the filter media. As it turns out, it's due to both the low surface area and the filter media itself.
The breathability is lower than silicone/plastic masks like Gill Mask and Envo Mask. However, compared to its closest competitor, the Tactical Respirator 1 from Ventus Respiratory, the breathability on G-Series devices is also significantly higher.
Overall, the filtration of the G-Series masks from Castle Grade is decent but not impressive. If the mask fits you well and seals without leaks, this device can provide high filtration and will prevent the vast majority of particles from reaching you. With that being said, breathability leaves a lot to be desired.
I will discuss breathability in more detail in the comfort section of this article. Despite the lab tests showing relatively poor breathability, I didn't find the breathability of the mask to be too uncomfortable outside of exercise. If you plan to exercise with the mask, it might be worth looking elsewhere.
Purchase Castle Grade G-Series Masks
---
Fit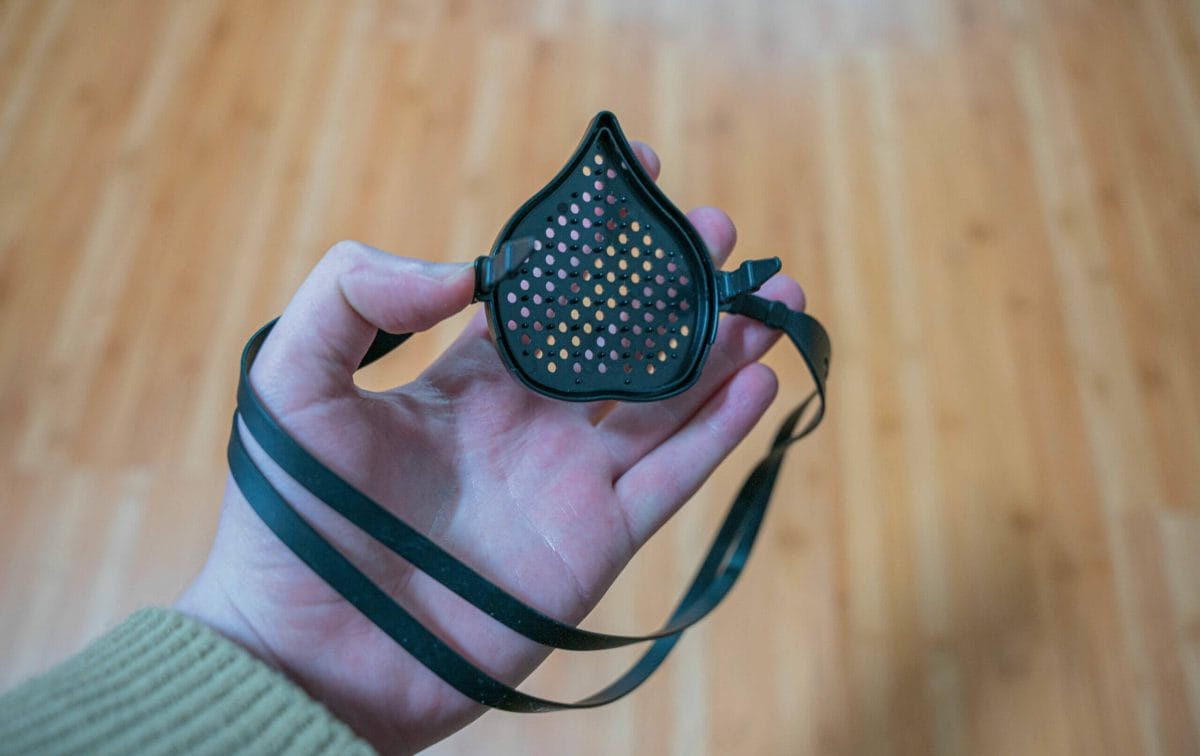 Even though filtration is often considered the most critical factor when purchasing a mask, the fit is equally important. While filtration specifications apply to the filter, a well-fitting mask will ensure that particles need to pass through the filter before reaching the wearer.
As with all reviews, my thoughts and experiences shared in this section are merely that – my thoughts and experiences. I can not determine whether or not a mask will fit you. Everyone has different facial features, and your experiences may vary. Unfortunately, the only way to judge a mask's fit is to try it yourself.
With that being said, I can share my experiences with the device, and I hope that these can be helpful to you when deciding which mask to purchase. If anyone reading this has tried a mask in the Castle Grade G series, please feel free to share your thoughts in the comments. Comments help future readers and are always much appreciated!
Castle Grade offers three sizes on their G-Series masks. The G7 mask is the smallest, and this is designed with children in mind. The G8 mask is larger and is considered a small size for adults. Finally, the G9 mask is the largest, which is the mask that most adults will be purchasing.
I purchased the small mask (G8) as my face is relatively small for an adult. However, Castle Grade states that 70% of customers prefer the G9 (large) mask. I'm unsure if this is simply due to its customer demographic or if people prefer the larger mask. I'm happy with the size I purchased, and I feel like the larger device would sit too far up my nose to seal correctly.
When it comes to fit, there are a couple of key factors to consider. The first of these is the mounting mechanism – in the case of the Castle Grade G-Series devices, this is a headband that splits into a dual-headband. The second factor is the sealing material – in the case of this device, that is silicone.
I've always been a big fan of headbands for mounting, and if you follow this blog, you are probably already well aware of that fact. While headbands can be less convenient than earloops because the mask is harder to don and doff, they almost always provide a superior fit.
Castle Grade offers a headband (included) and an earloop (optional accessory). I didn't purchase the earloop and used the headband during my time with the mask. While some people may prefer the convenience of the earloops, I would recommend headbands for anyone that wants better comfort and fit.
Headbands are more sturdy and less likely to allow the mask to shift during wear. On top of this, they distribute the device's weight more evenly, which provides (usually) a better seal at the top of the device.
Castle Grade G-Series masks are a bit different in this respect. Most masks use a dual-headband design with two headband connections to the mask itself. However, the G7, G8 and G9 connect in only one location on either side of the mask. While I would have thought this would lead to more leaks, I found the G8 mask to provide a good fit overall, albeit with some minor leaks.
The mask's design means that the straps connect to the device about 2/3rds of the way down the device. Since the head strap only connects to the device at one point on either side, the Castle Grade mask is slightly bottom-heavy. Due to this, I found that the top of the mask (right at the peak of the seal) would often not fully seal.
While the deep seal of the device largely mitigated this issue, there were minor leaks around the bridge of my nose. However, these leaks didn't seem to occur on inhalation and rather only occurred on exhalation when the pressure in the mask was significantly higher than outside the device.
While this doesn't necessarily indicate that the device isn't entirely filtering inhaled air (it's not uncommon for respirators to leak slightly on exhalation even when fitted correctly), it did cause my glasses to fog up. While this issue wasn't as severe as I have experienced on many cloth masks, the device did have more exhalation leakage than devices such as Gill Mask and Envo Mask.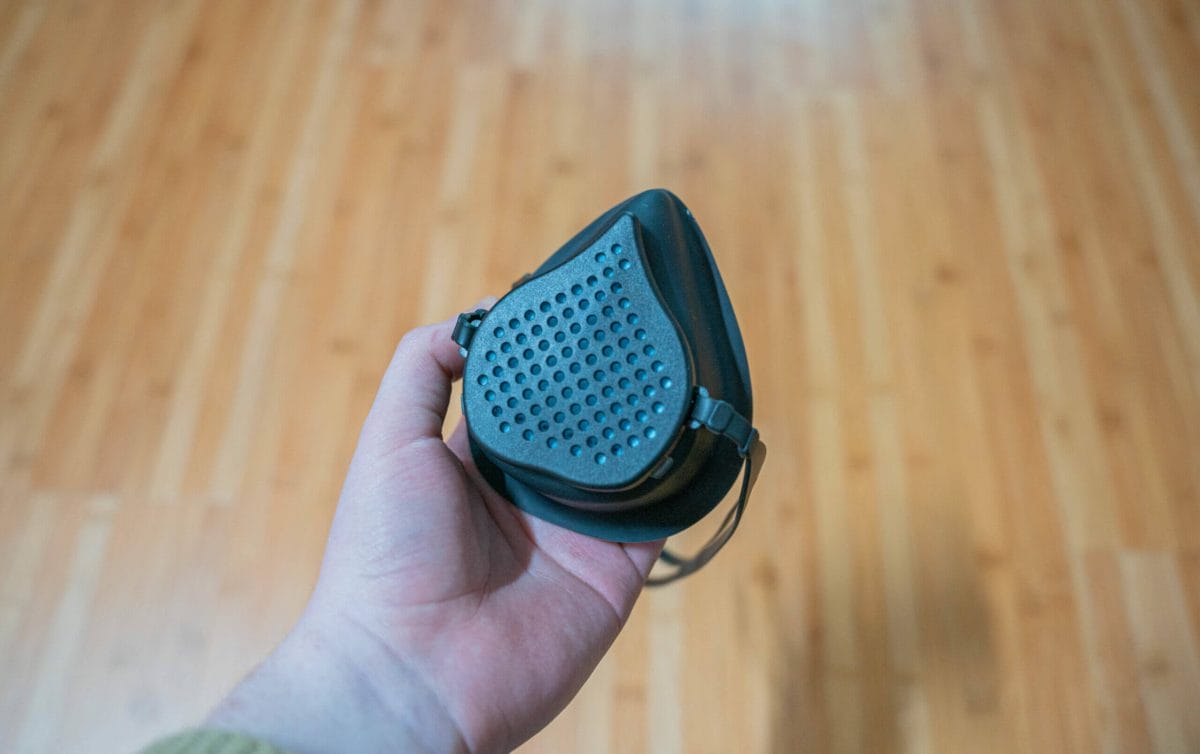 I never experienced any leaks across the bottom of the Castle Grade mask, and I found that the mask didn't exhibit leaks during my experience except at the top of the device. These leaks were minimal, however, and I don't feel like they decreased the integrity of the seal as there were no noticeable inhalation leaks.
The most comparable mask regarding fit is the Ventus Respiratory Tactical Respirator 1 (formerly O2 Industries O2 Curve 1.2 Respirator). While many silicone masks are much bigger (such as Gill Mask, AirHead Mask and Envo Mask), the Tactical Respirator is the only smaller form-factor silicone device that I have reviewed on this website thus far.
When I reviewed the device, I said that Curve 1.2 was the best fitting mask that I have tried. Since then, that award has moved to Envo Mask (filtering facepiece respirator) and the Stealth Respirator (Half-face respirator). However, Curve 1.2 was a close second place to Envo Mask. I would say that the Castle Grade G-Series masks come in slightly behind Curve 1.2 due to the exhalation leakage.
I found that the best fit with the Castle Grade G8 was when I placed the bottom of the mask level with the bottom of my chin. This put the top of the mask slightly above my irises and minimised leaks with the device.
I tried to place the device higher on my face initially, similar to how I would fit the Ventus Tactical Respirator (Curve 1.2). However, the Castle Grade device would leak near the peak of the mask when fitted like this. As such, I lowered the mask and found that it had a much better fit.
Purchase Castle Grade G-Series Masks
---
Comfort
Although often not considered as important as filtration and fit, comfort is the third pillar of masks. While filtration and fit directly impact the performance of a mask, comfort is the factor that will dictate whether you want to don the device or not. When it comes to daily use instead of situational use, comfort is even more important.
For anyone unfamiliar with silicone masks, the Castle Grade G-series devices will be a substantial change from what you are familiar with. I've always compared silicone masks to diving masks, and even with a smaller device like the G7, G8 and G9, this stands true.
With silicone masks, especially those with a smaller filter surface area, such as the G-Series devices, you can distinctly feel the mask being sucked in and out. While this isn't uncomfortable at all or even frustrating, it is something that you will need to become accustomed to.
While silicone masks do take some getting used to, they often provide a superior seal to cloth masks and are a good choice for anyone looking for the best protection in a smaller form factor. However, it's worth mentioning that silicone masks do take some getting used to, as while I think they are more comfortable in the long run, many people give up on them after donning them for a few hours or days due to the different feeling.
Perhaps the most crucial factor to consider when it comes to comfort is breathing resistance. Breathing resistance is often split into inhalation resistance and exhalation resistance. These two variables are measured in pressure drop – the difference between the internal and external pressure of the filter.
Due to the low breathability of the filter media and the small surface area of the filter, neither inhalation nor exhalation resistance on G-Series masks is great. No valve is used on this device, so both inhaling and exhaling will be met with resistance.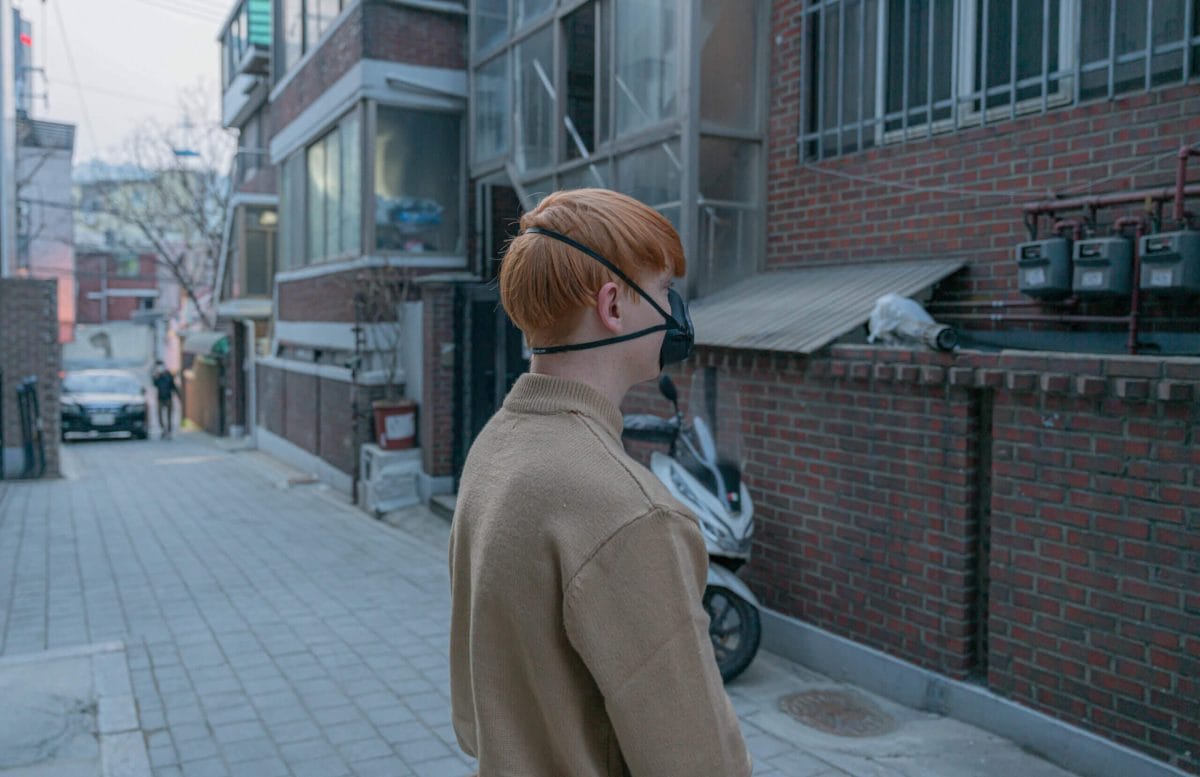 Although breathing resistance is quite high, Castle Grade G-series masks are comfortable in other areas. The dual head strap design is good at alleviating the pressure that would otherwise cause discomfort over long periods of wear. It's substantially better than earloops and more comfortable than many comparable head loop devices.
Despite the relatively high breathing resistance, the microclimate within the mask isn't uncomfortable. While I wouldn't recommend the mask for anyone exercising, the device did an excellent job remaining comfortable and not overly humid or hot within.
The interior of the Castle Grade G-series mask did get warm, but it was never bothersome. With that being said, I did test the mask during winter, and experiences could differ in hotter climates.
The longest time I donned the G-Series mask without a break was 5 hours. This was during an inter-city bus ride, and the bus's interior was too warm for me to be comfortable. However, even during this rather uncomfortable ride, the mask never proved to be an issue.
The mask's interior became quite damp, and while it would have been preferable not to don a mask at all, the Castle Grade device did well. No mask would have been entirely comfortable in that situation, and it remained cooler than the other mask that I took on the trip, the AusAir AirWeave.
Overall, I would rate the Castle Grade device's comfort about 6.5/10. While the device is comfortable, the high resistance is a big letdown. Although the high resistances didn't impact me much in day-to-day use, I can't justify wearing the G8 after donning masks with far better breathability.
Besides the breathability issues, the mask is comfortable. The headband is great and remains comfortable even after hours of wear. The seal was not irritating, and while the mask did get warm, it was never uncomfortably hot.
Purchase Castle Grade G-Series Masks
---
Lifespan & Cost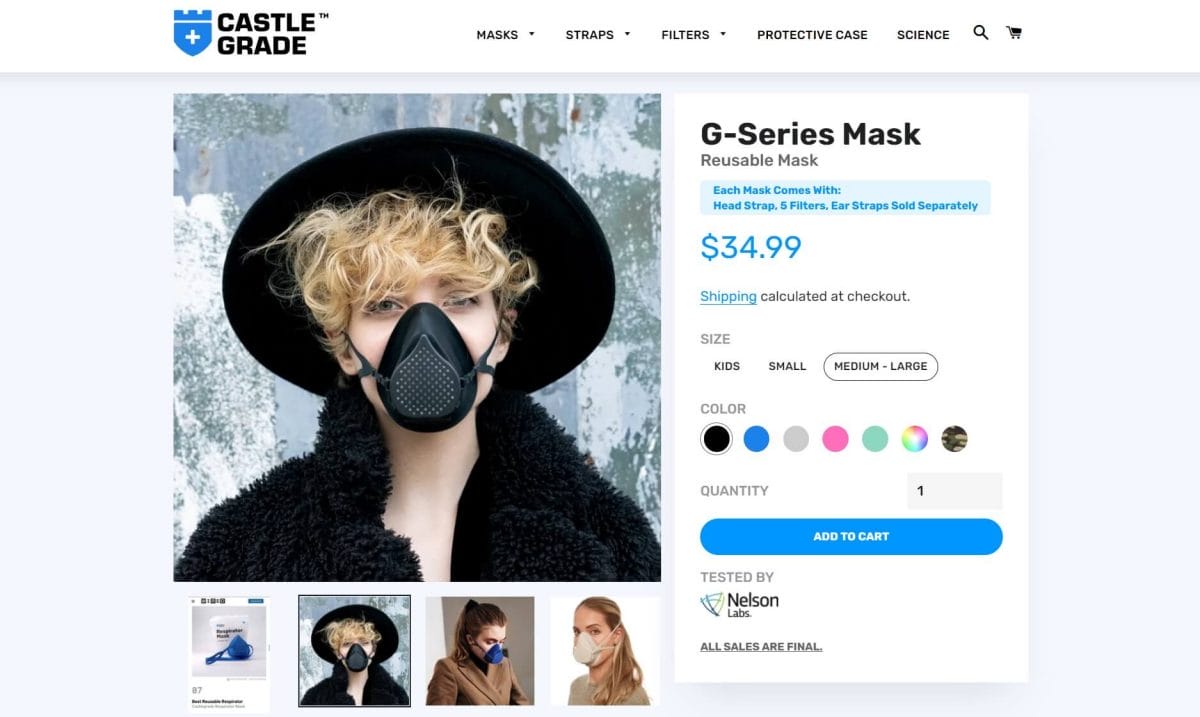 Castle Grade sells the G8 and G9 adults masks for $34.99. The G7 for children is slightly more pricey at $39.99. Although I'm not sure why the children's mask would cost more, the price seems reasonable considering filters are included with the base kit purchase.
With that being said, the base kit comes with five replacement filters. This is a larger number of filters than most manufacturers include by default, and it's nice to be able to get some usage out of the mask without making an extra purchase from the get-go.
The closest competitor to the G8 and G9 is the Ventus Respiratory Tactical Respirator 1. Surprisingly, this device has dropped hugely in price since O2 Industries sold the device. A price drop from $50 to $30 makes the Tactical Respirator very comparable to the G8 and G9.
A cheaper silicone mask option is the Gill Mask and Gill Mask Pro. These devices are larger, but they offer similar strengths (great seal, small filter media and therefore low waste, good fit with head straps). The Gill Mask Pro offers better breathability too.
Replacement filters for the Castle Grade G-Series devices are on the more affordable end. You can purchase five Filters for $12, 10 for $22 and 25 for $53. While these prices should inherently be lower than many competing devices due to the smaller filter size, it's not uncommon for filter replacements to be more expensive.
Considering that each filter is rated for 32 hours OR 1 week (32 hours breathing time, one week of usage), one replacement pack can easily get a single user through a month. Despite the higher initial price to purchase the mask itself, this means that the device will come out cheaper than disposable masks in the long run.
Purchase Castle Grade G-Series Masks
---
Conclusion
The Castle Grade G8 (also G7 and G9) mask offers decent filtration in a small form factor (for a silicone mask). In addition, the device provides a good fit, and the seal is leak-free once fitted and adjusted correctly.
However, the device isn't without flaws, and there is one major flaw with the G-Series devices. That is breathability. While the device performs fine in day-to-day situations, it is not a mask that I can recommend exercising in. Any higher heart-rate activity will likely cause discomfort as the breathing resistance increases.
With that being said, the device also has a range of strengths. One of these is the headband. The headband is comfortable, easily adjustable, and wide enough not to place too much pressure on any single area. Even after wearing the device for a few hours, I found the headband comfortable.
While it will vary from person to person, I also found that the Castle Grade G8 had a good fit. Initially, when I donned the device, there were some leaks. However, these were easily removed with some minor placement and headband adjustments.
If you're looking for a relatively small form factor silicone mask, the Castle Grade G7, G8 and G9 might be for you. They are solid masks for day to day wear, and they are both easy to don and wear for long periods.
If you're interested in other comparable masks, I have a list of the best reusable masks here. This list covers many masks, from cloth masks to larger silicone masks.